Vast Untapped Riches in the Rainforests
Stock-Markets
/
Metals & Mining
Jun 18, 2007 - 09:10 AM GMT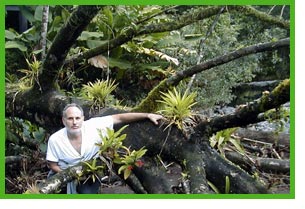 Martin Weiss writes: I've just returned from Hispaniola, after a few days by its serene seashores and a visit to its lush rainforests.
The island, shared by the Dominican Republic and Haiti, was discovered by Columbus on his very first voyage to the Americas in 1492.
And earlier this year, Money and Markets' Sean Brodrick was also there, trekking along the border area with Haiti. That's where Falconbridge of Canada has been mining nickel for almost 25 years and where other major companies — like Placer Dome and Gold Fields of South Africa — also have mining operations.
But Hispaniola is not the only place where jungles and mines converge.
All over the world — in South America, Africa, Australia and Asia — jungles are among the last sources of vast, untapped mineral riches. And almost everywhere, the culture of conservation has, at one time or another, clashed with the culture of wealth creation.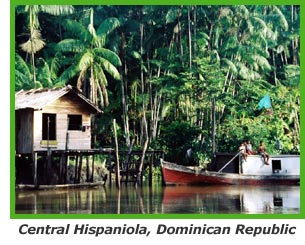 This raises two urgent questions for investors:
How can they reap the riches without upsetting the balance of nature?
And how can you enjoy the profits without leaving home?
I've Found Some of The Answers in Brazil
For solutions to challenging dilemmas like these, I first tap into my own experience. And my first encounter with the rainforest was in 1953, when I lived a few hundred miles from the Amazon.
Next to our house, I had a jungle virtually all to myself — to explore the amazingly diverse flora and to observe the surprisingly abundant fauna.
Indeed, according to the U.S. National Academy of Sciences, in every four-square-mile area of rainforest, there are up to 1,500 species of flowering plants, 750 species of trees, 125 species of mammals, 400 species of birds, 150 species of butterflies, 100 species of reptiles, and 60 species of amphibians.
I don't think there were that many where I lived. But I felt the forest was like my second home; its animals, like my personal friends.
Now, fast forward half a century to 2007, and one thing becomes crystal clear:
The Brazilian Forests Are in Trouble. But Mining Companies Are Part of the Solution.
The Amazon is the largest rainforest on the planet, covering an area nearly the size of the lower 48 states … spanning Brazil, Venezuela, Peru and Bolivia … and generating at least 20% of the Earth's oxygen.
But every year that passes, the Amazon shrinks by about five to ten thousand square miles. And every time I return, it seems significantly smaller. My cherished homestead of the 1950s is gone. Some of my favorite jungles are no more.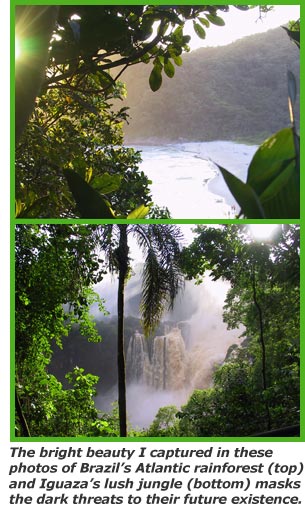 I've seen this shrinkage in the states of Amazonas and Pará.
I've also seen it in Brazil's Atlantic Rainforest and in the forests near Iguaçu Falls (Iguazu in Spanish).
Nearly everywhere, their bright beauty masks dark threats. And almost nowhere do we see this trend changing dramatically.
But here's the key fact few people understand: In Brazil, the primary culprit of deforestation is not the mining companies.
It's the cattle ranchers, who cause 60% to 70% of the damage.
It's the farmers, who cause another 30%.
It's the loggers, who are responsible for most of the rest.
And even in the mining industry, nearly all the harm is caused by wildcat miners who are invading the lands of native Brazilians.
I know. I have visited with the chiefs of the Yanomami, the Sataré-Maué and other tribes. I've talked to leaders of the rubber tappers. I've even debated this issue with the founders of Japanese immigrant towns in the eastern Amazon.
These leaders are only marginally concerned about the big, well-managed mining companies. What they want most is to curtail the cattle ranchers and the farmers. Plus, they want protection from the thousands of mining wildcatters who flaunt the rules, pollute the rivers, and spread contagious diseases.
These wildcatters are also a threat to the established mining industry … and therein lies the kernel of a solution: All over the globe, international mining corporations are becoming — or should become — allies in the battle to protect the world's surviving forests, while prudently exploiting their vast riches.
They know, or they're learning, that their future depends on conserving a stable physical environment … and avoiding an unstable political one.
This is especially critical in the Amazon, which has some of the largest metal and mineral deposits in the world: Gold, bauxite, copper, coal, chromite, kaolin, manganese, tantalum, iron ore, tin ore and even diamonds.
Indeed, if you include its mining operations outside the Amazon, Brazil is now a leading producer of 46 industrial minerals, 22 metals, and 4 fuel minerals — each exported to the global marketplace.
That means very large flows of money and very big profits for investors.
Consider, for example, one company I've been telling you about for quite some time: Companhia Vale Do Rio Doce (RIO).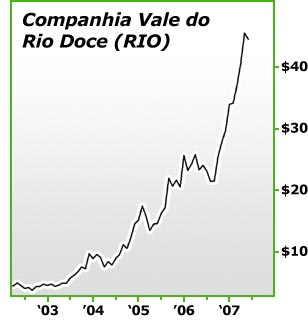 In October 2002, you could have bought this Brazilian resource stock for $3.61 per share on the New York Stock Exchange. So back in those days, it was almost like a small cap.
But not any more! Just this month, it traded as high as $47.10, over thirteen times its 2002 cost.
And it's not the only global resource company to enjoy that kind of appreciation. Indeed, in his latest report , Sean shows us how …
Scores of Global Mining Companies Have Created Super-Rich Investors
Just in the last two years, from June 2005 to June 2007 …
Inner Mongolia Baotou Steel Rare-Earth, a company specialized in diversified minerals, is up 561%.
Sino-Platinum Metals is up 627%.
Jabiru Metals is up 658.4%.
Yunnan Aluminium is up 661.7%.
Jiaozuo Wanfang Aluminum has catapulted 949%.
Tournigan Gold has skyrocketed 979%.
Mercator Minerals has jumped a whopping 1,022.7%.
Quaterra Resources has soared 1,042.4%.
Summit Resources is up 1,223.5%.
MEO Australia is up 1,283.8%.
Sundance Resources, an Australian copper company, is up an amazing 1,493.8%.
Platinum Australia has catapulted 1,569.6%. And …
Liberty Mines has truly gone through the roof, up an even 1,800%.
And that's just a fraction of his list!
Why such sharp rises in such short periods? As Sean explains in his most recent web posting , there are typically FOUR factors driving up global resource stocks:
First, mining reserves are often worth several times more than the total market cap of the entire company. So to catch up with the rising value of these resources, their shares may have to double … triple … quintuple … even sextuple in value.
Second, when natural resource prices really surge, investors stand to make even more money. And as long as the unprecedented economic explosion and construction boom in Asia continue, this pattern is likely to continue as well.
Third, when the currencies of these global companies — like the Brazilian real or the Australian dollar — appreciate, you get another nice boost in the dollar price of your shares.
Fourth, as their profit margins improve, you could see still larger gains.
You'll find that these four forces are especially powerful among many of the smaller companies in the early stages of exploration and development — provided you pick the right ones.
And it's also especially valid among companies that are prudently and responsibly exploiting vast untapped resources — not just in the Amazon, but across the far reaches of the planet.
Papua New Guinea , for example, includes the eastern half of New Guinea Island and about 600 smaller islets, atolls, and coral reefs. It's mostly covered by tropical and savanna rainforests. Plus, it's rich in cobalt, copper, natural gas, gold, nickel, crude petroleum, and silver.
Right now, future development is in doubt due to concerns about mine-related pollution and tribal attacks against multinational mining, oil, and gas installations in highlands areas. So I'm waiting for that to change. When it does, there could be some great bargains.
The Rum Jungle of Northern Territory, Australia: In the late 19th century, this swamp along the East Finniss River, near Darwin in Australia's Northern Territory, was named the "rum jungle" when construction workers went on a drinking binge after their wagons became bogged down in the soggy soil.
A half century later, in the 1940s and '50s, geologists discovered large deposits of uranium oxide — and the area became Australia's first full-scale uranium mine.
The original mine was closed down in 1971 due to pollution. But recently an Australian company, Compass Resources, has proposed exploiting the largely untapped veins of cobalt, nickel and copper in the area. Sean will keep you up to date with the details.
The Jungles of Vietnam, Cambodia and Laos: Sky-high mineral prices and the easing of tensions between Vietnam and the U.S. are fueling a new push by global mining companies into the dense jungles of the Mekong delta.
They're searching for the area's gold and copper, iron ore, nickel, zinc and lead. And Australia's BHP Billiton is exploring for bauxite in eastern Cambodia's Mondolkiri area.
Another Australian company, Oxiana Resources, is producing gold ore (173,000 ounces last year) and copper (61,000 tons last year) in Laos's Savannakhet province.
And in 2006, New Zealand's Zedex and the Canadian-run Olympus Pacific Minerals began operating a gold mine in Phu Ninh, in Vietnam's jungle province of Quang Nam.
Indonesia , sometimes called the "Amazon of Asia," has vast jungles spread across 13,667 tropical islands, with sizable deposits of coal, gold, bauxite, nickel, copper, silver, tin and iron ore. Companies like PT Freeport Indonesia produce 110,000 tons of gold and 220,000 tons of silver annually at mines in Ertsberg and Papua.
Here too, the environmental issues are a threat — both to the local people and to the companies themselves. Many steps have been taken. More are needed.
Everywhere around the globe, international mining companies will come under increasing pressure to develop new, environmentally safe mining techniques — and I predict that most will hasten to align themselves with the preservation of the forests.
For investors, meanwhile, the development of mineral resources in the rainforests offers enormous opportunities. The untapped riches are so vast — and the potential profits to share so large — it's highly likely the conflicts will be overcome.
And as always, the key is to pick the best players in the right regions. Or, if you'd prefer ETFs …
Here Are Some Vehicles
1. PowerShares Dynamic Basic Materials Fund (PYZ) , which tracks the Dynamic Basic Materials Sector Intellidex Index. It normally keeps at least 80% of its assets in basic materials companies such as Freeport McMoRan Copper & Gold and Alcoa. And in just the past six months, it's up over 21% compared to less than 10% for the S&P 500.
2. iShares Dow US Basic Materials ETF (IYM), which invests in companies like Newmont Mining Corp, Monsanto and Dow Chemical. It, too, has outperformed the S&P 500 by nearly two to one, up 19.7% in the past six months, 30% in the past year and delivering a total return of 73% in the past three years.
3. ETFs in countries best positioned to tap into these vast resources, such as iShares MSCI Malaysia (EWM), up 26.8% so far this year; and my personal favorite, iShares MSCI Brazil (EWZ) , up nearly 20%.
As always, invest prudently. Keep a good portion of your wealth in liquid, conservative investments. Hedge against declines. And protect your aggressive investments with stop-loss orders.
Good luck and God bless!
By Martin Weiss
This investment news is brought to you by Money and Markets . Money and Markets is a free daily investment newsletter from Martin D. Weiss and Weiss Research analysts offering the latest investing news and financial insights for the stock market, including tips and advice on investing in gold, energy and oil. Dr. Weiss is a leader in the fields of investing, interest rates, financial safety and economic forecasting. To view archives or subscribe, visit http://www.moneyandmarkets.com .
© 2005-2019 http://www.MarketOracle.co.uk - The Market Oracle is a FREE Daily Financial Markets Analysis & Forecasting online publication.

Only logged in users are allowed to post comments.
Register/ Log in