Gold Strongest Market of 2009, Even Central Banks are Buying
Commodities
/
Gold & Silver 2009
Nov 10, 2009 - 03:53 AM GMT


There is only one market making new highs – gold. Stocks, bonds, commodities, currencies, whatever, are nowhere near gold's level. Gold is the strongest of the strong. Central banks are starting to buy it, as evidenced by India's recent purchase. Russia and China plan to buy more to hold as reserves.
Gold's luster is starting to shine bright as the strongest currency and asset in the world – a tough combination to beat and a hard act to follow. Below is a comparison of the industrials to gold. In my opinion this chart is a national disgrace, as is the chart of the dollar that follows.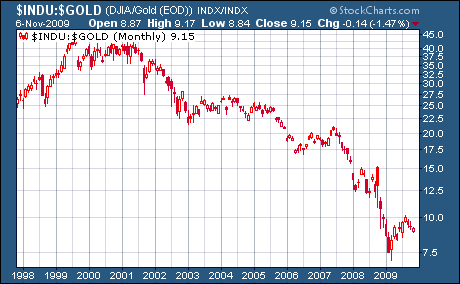 Remember, however, that gold, commodities, and all goods, are priced in dollar bills: Federal Reserve Notes; or in Euros, Pounds, Yen, etc. All world currencies are paper fiat currencies, and they present an illusion of the highest order.
According to the Constitution, gold is money – not paper bills of credit. Likewise, the Constitution mandates gold and silver coin as legal tender and as the medium of exchange – not paper money or bills of credit.
It is an illusion with purposeful intent that prices gold and other goods in paper money. If paper money continually debases and loses purchasing power, than why should one accept it as a measure of value, let alone a medium of exchange of or for value?
If paper money has no real value, how can things priced in it have any real value? Is there any real value in such a system? This is the question Wall St. and the financial wizards on high should be asking. What the hell kind of system is this that has been sold to the American people? Is it real or fake?
What kind of a system can come to the edge of the abyss one day; and a few months later claim to be OK?

Perhaps one that climbed out of the abyss to start with; in which case, I suggest it should be returned from whence it came – post haste. Congressman Ron Paul is the only one in Washington that understands gold's place according to the Constitution.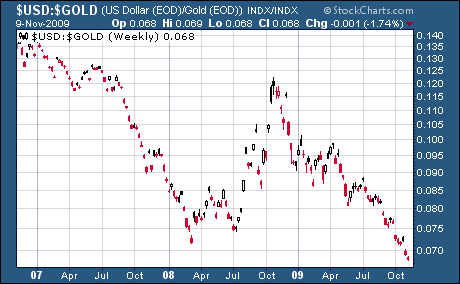 Gold

Gold is showing its luster as other assets fall to the wayside. The sovereign of sovereign's added $49.50 for the week (+4.73%) to close at 1095.20 – a new all-time closing high. Gold has and is outperforming all assets of any stripe. It is the strongest of the strong.

Last week's daily chart showed a negative MACD crossover. This week's chart shows a positive MACD crossover is now in control. RSI is bumping up into overbought territory, but that is a sign of strength – not weakness.

If a pullback were to occur, the first support area is the upper yellow band near 1070.00. More significant support lies at 1022 – 1000.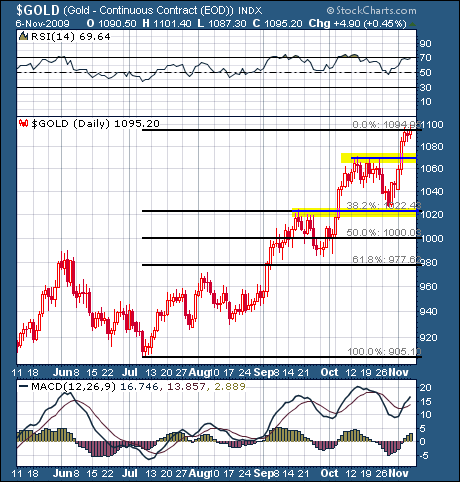 The weekly chart shows the inverse head and shoulders breakout with the potential upside target being 1300.00. RSI is at 73.50 - into overbought territory.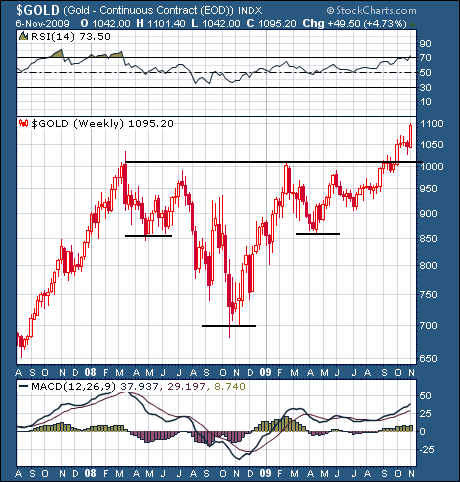 Silver

Silver had an excellent week, adding $1.08 for a +6.59% gain, closing at $17.39. This week's gain almost made up the entire loss of the previous week (-7%). If you like volatility and action, you'll love silver.

Last week's daily silver chart was chock full of negative indicators: negative MACD crossover; CMF money flows; negative RSI divergence, 50 dma broken below, etc.

After this week's move up, MACD looks like it's getting ready to put in a positive crossover. Silver's fortune may rest on gold's back. Price is bumping up into overhead resistance at 17.50, as marked by the upper horizontal black trend line (17.50). If a confirmed breakout above resistance can hold, then an assault on the Oct. highs near 18.00 is likely.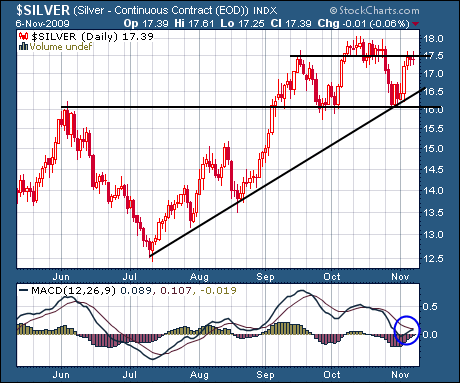 The weekly chart shows silver sitting on its 61.8% Fibonacci retracement level from its April 2008 highs.

Notice the significant overhead resistance from 16.50 to 19.00 represented by the yellow band that connects back to the April – July 2008 highs.

It may require a few assaults to eat away the resistance built up during those months in 2008. Then again – silver can rock & roll when it wants to.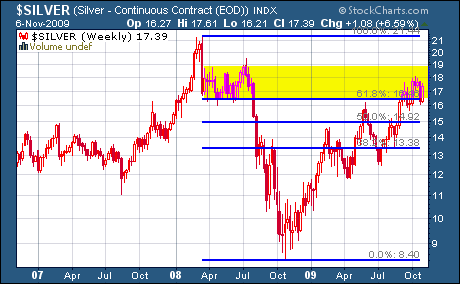 The above is a short extract from the full market wrap report that can be accessed on our website listed below. Stop by and check it out.
Honest Money Gold & Silver is the only newsletter that offered a money backed guarantee to new subscribers if gold did not make a new high by the end of the year (2009). Call it lucky or whatever – the new highs are here and the guarantee is now off the table.
We felt confident in this call as we have been following gold's inverse head and shoulders formation since early summer; suggesting an upside target of $1300.00 months ago. For a free trial subscription email us at the address below.
Good luck. Good trading. Good health, and that's a wrap.
Come visit our website: Honest Money Gold & Silver Report
New Audio-Book Now Available - Honest Money
Douglas V. Gnazzo
Honest Money Gold & Silver Report

About the author: Douglas V. Gnazzo writes for numerous websites and his work appears both here and abroad. Mr. Gnazzo is a listed scholar for the Foundation for the Advancement of Monetary Education (FAME).
Disclaimer: The contents of this article represent the opinions of Douglas V. Gnazzo. Nothing contained herein is intended as investment advice or recommendations for specific investment decisions, and you should not rely on it as such. Douglas V. Gnazzo is not a registered investment advisor. Information and analysis above are derived from sources and using methods believed to be reliable, but Douglas. V. Gnazzo cannot accept responsibility for any trading losses you may incur as a result of your reliance on this analysis and will not be held liable for the consequence of reliance upon any opinion or statement contained herein or any omission. Individuals should consult with their broker and personal financial advisors before engaging in any trading activities. Do your own due diligence regarding personal investment decisions. This article may contain information that is confidential and/or protected by law. The purpose of this article is intended to be used as an educational discussion of the issues involved. Douglas V. Gnazzo is not a lawyer or a legal scholar. Information and analysis derived from the quoted sources are believed to be reliable and are offered in good faith. Only a highly trained and certified and registered legal professional should be regarded as an authority on the issues involved; and all those seeking such an authoritative opinion should do their own due diligence and seek out the advice of a legal professional. Lastly Douglas V. Gnazzo believes that The United States of America is the greatest country on Earth, but that it can yet become greater. This article is written to help facilitate that greater becoming. God Bless America.

Douglas V. Gnazzo © 2009 All Rights Reserved
© 2005-2019 http://www.MarketOracle.co.uk - The Market Oracle is a FREE Daily Financial Markets Analysis & Forecasting online publication.

Only logged in users are allowed to post comments.
Register/ Log in