How to Profit from Crude Oil's Next Surge
Commodities
/
Crude Oil
Jul 18, 2007 - 10:23 AM GMT

Sean Brodrick writes: I have bad news: If you think oil prices are high now, you ain't seen nothin' yet. The good news is that you can profit from oil's next move. That should help you pay your soaring bills when gasoline accelerates past $4 a gallon. More on that in a moment. First, let's talk about why energy prices are on the move.
About a month ago, I gave you "Three Triggers for Higher Oil Prices." Just to refresh your memory, they are: 1. the potential for monster hurricanes in the Gulf of Mexico, 2. spreading violence in the Persian Gulf, and 3. a potential al Qaeda attack on U.S. oil facilities.
Since then, oil prices catapulted from $66.26 to as high as $75 a barrel yesterday. And guess what? None of those three things I warned you about have even happened yet!
Mind you, I think these scenarios are only getting more likely. For example, we haven't seen any hurricanes in July, but we usually don't. Historically speaking, August, September and October are the busiest months for tropical storms.
You're probably wondering why oil prices have been rising even without these catalysts. The reason is simple: The supply/demand picture for oil is tight and getting tighter.
In fact, I'm here to tell you that even if NONE of those big three things happen, we could still see $90-per-barrel oil this year! And if one or more of those dire events I warned of actually happens, prices could spike even higher.
Let me explain …
Oil Prices Are Riding the Wave of Global Expansion
Why is oil going higher? Simple — the global economy is growing, business from Brazil to Singapore is booming, the world's population is trading in bicycles for cars, and global oil demand can't keep up.
Some critical facts …
The global economy is growing at about 4.5% per year.
As a result, The International Energy Agency (IEA) projects in its Medium Term Oil Market Report that global oil demand will grow 2.2% a year, on average. By 2012, it should reach 95.8 million barrels per day (bpd) vs. 86 million bpd this year.
At the same time, spare capacity — almost all of which is in Saudi Arabia — is going to approach the vanishing point.
Even worse, the IEA expects supply increases from non-OPEC oil producers and biofuel producers to start dwindling even earlier — around 2009.
All that boils down to an ugly picture from the IEA …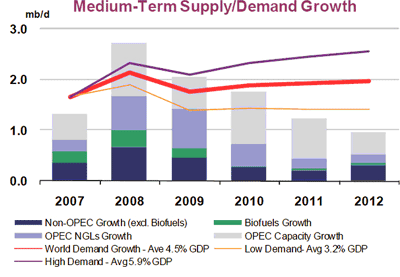 As you can see, even with moderate GDP growth, the world's oil demand growth is going to start outpacing supply growth by 2010!
And even if the global economy slows down, global oil demand growth will start outpacing supply in 2011!
In other words, the "Big Squeeze" will start within four years … regardless of what economic scenario you believe in.
Plus, the IEA has more gloomy news for us:
We're getting between 3% and 4% LESS out of existing oilfields every year.
Mature producing areas and many recent deepwater projects are declining at even sharper rates — 15% to 20% annually!
All told, the oil industry needs to add three million bpd of new supply each year just to offset declines in existing fields.
Yet the oil majors are having trouble finding oil. For example, last year was the first time — EVER — that Exxon didn't replace its reserves through its own drilling, according to Oppenheimer research.
The situation is complicated by another fact: More and more of the world's oil reserves are under the thumbs of national oil companies, such as Saudi Arabia's Aramco, Mexico's Pemex, and Venezuela's PDVSA. These companies aren't as efficient as Western majors at finding oil, and the countries that have the remaining large oil deposits often scare off or even forbid outside investment.
Sounds bad, right? It is. However …
The IEA Is Probably Being Too Optimistic About Global Oil Supplies!
If anything, the Big Squeeze might come sooner than the International Energy Agency's 2010-2011 forecast. Here's why …
The IEA is expecting OPEC to ramp up production by about 600,000 bpd next year to 32 million bpd.
But OPEC's latest report reveals that the cartel's production is actually FALLING — down to 30.06 million barrels a day in June. That's a drop of 96,600 bpd from May.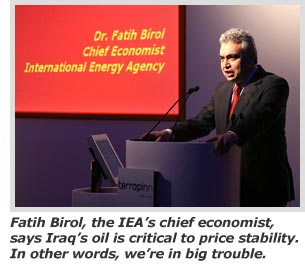 What's more, according to the IEA's own chief economist, Fatih Birol,
"If Iraqi production does not rise exponentially by 2015, we have a very big problem, even if Saudi Arabia fulfills all its promises. The numbers are very simple, there's no need to be an expert."
Well, the latest OPEC report shows that Iraq's production is falling the fastest of any of the cartel members — a drop of 78,000 barrels per day in June.
You know what the situation in Iraq is like. Civil war … chaos … madness! Do you think Iraq will experience "exponential" growth in its oil production anytime soon? No way!
And Iraq isn't the only OPEC member with declining production. In June, Kuwait and Venezuela saw declines of 38,300 and 34,000 bpd, respectively. Saudi Arabian production also fell — by 33,300 bpd. The Saudis say they can turn the spigots back on. Let's hope that's true.
Meanwhile, oil production is declining in some non-OPEC countries, too. I'm talking about places like the U.K., Norway, and Mexico.
Goldman Sachs Group Inc. said in a report on Monday that Saudi Arabia, the United Arab Emirates, and Kuwait must increase production by the end of this summer. According to the Wall Street firm, this production increase is "critical" to avoid prices surging above $90 a barrel in the fourth quarter of this year.
Here's How You Can Prepare For Even Higher Oil and Gas Prices
First, you can buy a fuel-efficient car. To see the EPA's list of the most fuel efficient cars, click here .
Second, talk to your boss about telecommuting two or three days per week. You'll save time and money. And you'll help America kick its addiction to foreign oil in the process. While it's unlikely that we can totally eliminate our dependence on Middle Eastern oil, the less we use of it, the less of a stranglehold the Saudis have over us.
Third, invest in underloved oil and gas stocks that are going to ride the wave of higher prices. I just recommended two issues to my Red-Hot Resources subscribers on Monday — stocks that trade at eight and nine times earnings. For some reason, Wall Street just can't see these gems waiting to be scooped up — even with oil prices poised to go sky-high!
Of course, if you don't like the potential volatility of individual stocks, you can also consider a good ETF like the Energy Select SPDR (XLE) .
One caution: 33% of the XLE is in two stocks, ExxonMobil and Chevron. For that reason, you might also want to check out a mutual fund like U.S. Global Investors Global Resources Fund (PSPFX) . This no-load fund's holdings are more spread out through the energy complex, with top holdings Schlumberger, Noble Corp., and White Nile each taking up less than 3% of the total portfolio.
I mentioned both of these funds back in that June column on energy. Since then, they've done pretty well: The XLE is up over 4% since then, and PSPFX is up about 9%!
Remember, if you're buying stocks or funds on your own, do your homework first. Only you can decide what's right for your own portfolio. But whatever you do, get ready for a wild ride in energy prices this summer!
Yours for trading profits,
By Sean Brodrick
P.S. It's not too late to get in on my latest energy picks in Red-Hot Resources , either. Just call 1-800-430-3683 and tell 'em Sean sent ya. We'll jump-start your portfolio with my latest oil picks, along with two core uranium positions that look poised for blast-off. You can also subscribe by clicking here .
This investment news is brought to you by Money and Markets . Money and Markets is a free daily investment newsletter from Martin D. Weiss and Weiss Research analysts offering the latest investing news and financial insights for the stock market, including tips and advice on investing in gold, energy and oil. Dr. Weiss is a leader in the fields of investing, interest rates, financial safety and economic forecasting. To view archives or subscribe, visit http://www.moneyandmarkets.com .
© 2005-2019 http://www.MarketOracle.co.uk - The Market Oracle is a FREE Daily Financial Markets Analysis & Forecasting online publication.
Comments
Bill
20 Jul 07, 20:25
$90 crude oil


The solution to the energy price situation is--elimination of the cause of the volatility--the futures market. Outlaw it, ban it, suspend it, destroy it. If need be, eliminate the individuals who practice it! At one time the futures markets had a calming effect on prices of commodities, no longer! The hedonistic thirst for quick and easy money have morphed a positive into a negative. Call your elected officials and demand that they stop these profiteering speculators!




Only logged in users are allowed to post comments.
Register/ Log in