Gold Breakout - Are You Awake Yet?
Commodities
/
Gold & Silver
Jul 23, 2007 - 10:42 AM GMT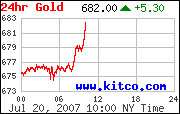 How about that gold chart below? Does that look like evidence of a crash to you? Give me a break.
Notice anything peculiar in the gold market? If you are real astute you have noticed a predictable oscillation in the gold price this past year or so. This is interesting. This is kind of like looking at a glass half full or half empty. Volatility in a given market can be a good thing or a bad thing.
If your desire is to see a price go straight up with no deviations along the way then you are bothered and upset by these trending see saw effects. If however you are an experienced trader you can see volatility as an opportunity to make money. As I have said repeatedly let the price of gold drop further down. I would like to see it get in the mid 500s.
"Out of crisis comes opportunity,"…"A down market lets you buy more shares in great companies at favorable prices. If you know what you're doing, you'll make most of your money from these periods. You just won't realize it until much later." The Davis Discipline – Fifty Years of Successful Investing On Wall Street, John Rothchild
Who was this Davis fellow? One of the 400 richest Americans per Forbes magazine, with assets of $427 million that grew from an initial investment of 50,000 dollars.
"He turned his attention to buying sound and promising companies in the unpopular industry." The Davis Discipline – Fifty Years of Successful Investing On Wall Street, John Rothchild
I personally do not believe gold will drop below 600 but we can hope. Why would I like to see gold descend down to 550 an ounce? Because I know the price will climb back up again and what did I say volatility spelled? Opportunity . It is a fact that your serious money is made during periods of price oscillations.
When a stock drops very low and to a 52 week bottom then just may be the time to buy. And then when the 52 week peak reaches sell for a profit. This is a process that can be repeated over and over thus making money. Now there is one other consideration to keep in mind. If a stock is doing real well and moving forward during any phase of the gold price oscillation then take notice. When a 52 week high occurs you just may be witnessing a further breakout and the time to buy is as the stock ascends to new heights.
"But he stuck to his plan and invested strategically rather than nostalgically." The Davis Discipline – Fifty Years of Successful Investing On Wall Street, John Rothchild
These differences may be difficult to notice but this is why you subscribe to good experts such as Doug Casey. Casey is probably in my opinion the best overall investor/speculator in this market. If you follow this mans advice you will only come out ahead. But I digress and the point I am driving home is the fact that this market is presenting now some wonderful opportunities to make some serious money.
Let me state these simple principals again. When a stock is low it just may be the time to buy. If a stock is ascending its 52 week peak and shows no signs of stopping then maybe there is something you need to find out about that company. Could be an Aurelian type that just discovered the mother lode. But again this is where you need the guidance provided for by so many good minds in this market.
"…surges were unpredictable. To avoid missing them, you had to stay in stocks permanently and, you had to reinvest your capital gains and dividends. This was and is a crucial and often overlooked factor…" The Davis Discipline – Fifty Years of Successful Investing On Wall Street, John Rothchild
I asked the question in the title of this article if you are awake yet? While this sounds silly this is an important consideration to keep in mind. This is not the type of market you just pick and buy your favorite company and go to sleep and forget about it. This gold market is a churning cauldron trying with each turn to suck the life out of its investors.
This market more than any other is a market you must stay awake in and stay sharp and alert. You snooze you lose. But if you keep your eyes focused and your mind engaged in attentive gear you can make serious money.
"…the way to build wealth is to spend less than you make and put the balance to work in stocks [preferably gold stocks]. The Davis Discipline – Fifty Years of Successful Investing On Wall Street, John Rothchild
You still worried about the gold price dropping further? There are many astute investors who would love to see this happen just to buy your shares at fire sale prices. It does take nerves of steel to invest in this type of market. To be truthful most investors really will remain happier staying put in their grandmothers withering 401 K. But the choice is always left to the individual and what that individual wants out of life.
If all you want is to sit down and watch the evening news with a cold beer in your hand you better stay in those predictable and safe mutual funds drawing 2% a year. Let me guess what you're doing. The gold price drops normal and then you panic and sell your gold stocks. Do you ever wonder why someone else is so quick to buy those shares from you? Because they know the price is climbing higher again. Daaaaa. Are you awake yet? Every time you liquidate your holdings for a loss someone smarter than you is buying them for the inevitable and likely re-appreciation.
"But, as Peter Lynch would later advise, he specializes in what he understood…" The Davis Discipline – Fifty Years of Successful Investing On Wall Street, John Rothchild
If you are going to speculate in gold stocks then study and come to an understanding of what you are attempting to do. Ever heard the term "buy low" "sell high?" How do you buy low unless the market is down? Are you awake yet? You sell a blasted stock after the thing has moved up. Not during a temporary down turn. But the failure to observe this principal is why there are always fewer winners than losers. You have to have a plan before you purchase your first stock. And you have to have figured out for your self a pre determined selling strategy also.
And for these reasons it is so important to educate yourself so you will know what the heck you are doing and what is happening. Professionals can guide you if you're willing to part with a few of those dollars you presently spend on pizza and coke every month. Nothing is easy. A lot of money can be made in this market but you seriously do have to be awake. Here is a philosophy we need to learn well. Learn, earn, and return. Educate yourself, and then watch your portfolio grow. Let's look at that gold price one more time before we leave.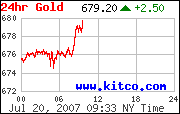 If the above chart is not representative of a bull market in action then all of us need to go back to Grandma's 401K.
We are living in the last days. Recognizing these events and challenges Gold Letter, Inc. reviews undervalued gold, silver, uranium and other resource stocks under valued and poised to rise in this time of increased demand for all resources.
Natural resources, such as gold and uranium, will only escalate in value as the world continues to experience unprecedented growth. Gold Letter's 10 best performing stocks are up over 2,000% and GL's top 55 performing stocks are up over 500%. Close to 90% of all Gold Letter's recommendations since inception in January, 2003 are up over 250%. GL charts are computer generated and updated every hour while markets are open.
Click here to order Gold Letter
"Some analysts believe gold is asserting its position as a wealth guarantor in times of market volatility, following Bear Stearn's announcement that two of their stressed hedge funds are now essentially worthless after investing heavily in the US sub-prime market." 'Gold hasn't just risen because of the dollar, it's risen against sterling as well,' said BullionVault.com analyst Adrian Ash. 'A lot of people are concerned about Bear Stearns (nyse: BSC - news - people), and the level of fear you're seeing in the market is bringing people back to gold.' Click
Send me an email!
By David Vaughn
Gold Letter, Inc.
David4054@charter.net
The publisher and its affiliates, officers, directors and owner may actively trade in investments discussed in this newsletter. They may have positions in the securities recommended and may increase or decrease such positions without notice. The publisher is not a registered investment advisor. Subscribers should not view this publication as offering personalized legal, tax, accounting or investment-related advice. The news and editorial viewpoints, and other information on the investments discussed herein are obtained from sources deemed reliable, but their accuracy is not guaranteed. © Copyright 2007, Gold Letter Inc.
© 2005-2019 http://www.MarketOracle.co.uk - The Market Oracle is a FREE Daily Financial Markets Analysis & Forecasting online publication.

Only logged in users are allowed to post comments.
Register/ Log in