American Grain Harvest Impact on Agri-Food Prices
Commodities
/
Agricultural Commodities
Feb 01, 2010 - 01:48 PM GMT


The North American Agri-Food harvest is either complete, or almost complete. We say that as much of the corn crop remains still in the field due to being wet, frozen, or covered with snow and ice. For all the best efforts of those involved in the Global Warming Scam, the winter of 2009-10 has been far more powerful than their now clearly questionable documentation would have suggested. Despite the weather, the North American 2009 harvest appears to have been good, with both corn and soybeans seeming bountiful.
Analysts can talk of nothing but the size of the North American harvest. As they do, it seems to get larger on a daily basis. As they think about that bounty, they ponder what seems is going to be a good harvest in South America. One might think that the world is in an era of Agri-Food plenty that will last indefinitely. However, that thinking would be wrong. A good harvest in both North and South America had nothing to do with intentions and effort. It was simply chance, and not likely to be repeated. Now, the harvest is being consumed. Grains are grown to be eaten, not preserved as a curiosity.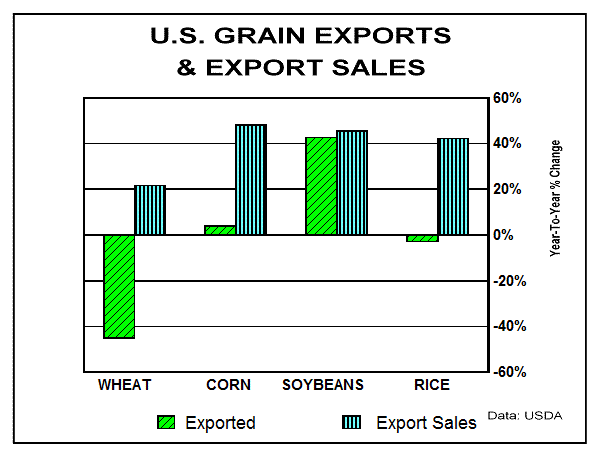 In a hungry world, when Agri-Food supplies are plentiful in some region, consumers will be found buying. Our first chart this week, above, is the year-to-year percentage change for the major U.S. grains on two measures, that which has already been exported and export sales yet to be completed. For each of wheat, corn, soybeans, and rice, the right-hand bar represents the percentage change in export sales. The left-hand bar is the percentage change in already completed exports.
For examples, consider soybeans. This grain is one of which China has become a major net importer. For the current crop year, U.S. soybean exports have risen more than 40% from a year ago. At the same time, export sales are also up in excess of 40%. North American soybeans seem to go directly from the field to the rail car to the port to China.
Wheat has been the bountiful grain of recent times. That may change as plantings of wheat have plunged and will fall further. Sorry, but wheat is not produced in a factory. As can be observed in that chart, U.S. wheat exports for the current crop year are down more than 40% from a year ago. That situation, however, is turning around. As shown in the graph, U.S. export sales not yet completed are up more than 20%. Again, in a world essentially short of food, those with the grains are making huge sales gains.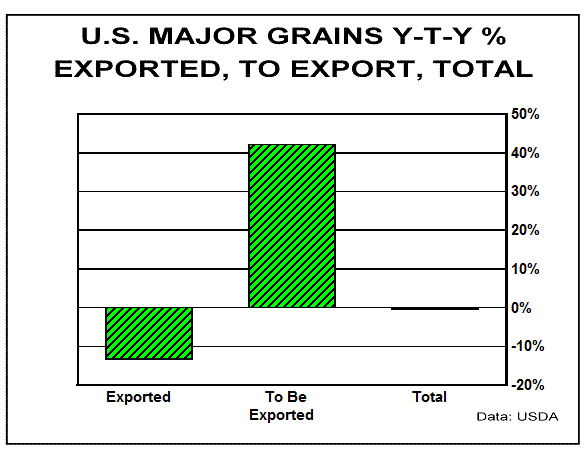 Our second graph above brings it all together. The left-hand bar is the percentage change from a year ago of U.S. grain exports, measured in millions of tons. Yes, they are off due to the drop in wheat sales noted in our first chart. The global recession also caused a massive destocking of all goods, including grains. However, the second bar is an indication of today's demand for U.S. grain. Total U.S. export sales not yet completed are up in total more than 40% from a year ago. A hungry world is now being served by North American Agri-Food producers. How many industries or economic sectors have unit sales at the margin up 40%?
As we mentioned in the beginning, the harvest in North America has been exceptionally good. That seems to be the likely case in the South American harvest now in process. Combined, those two harvests are filling the storage bins. However, we must note that this is as good as it will be.
Two good harvests, here in the U.S. and in South America, at the same time occurred purely due to chance. These results were not due to planning, good intentions, or genius. That reality means that the stored amount of Agri-Foods in the Americas is as good as it is ever going to be. The odds of again having this level of Agri-Food bounty are somewhere between slim and none, as they say.
The global reserve of Agri-Food grains, taking rice, wheat, corn and soybeans together, relative to demand will likely never be this high again. Certainly from now through the Fall of 2012 grain reserves will decline. As prices are set at the margin, the prices for Agri-Food grains will likely rise for the next two years. We are now experiencing generational lows for many Agri-Food prices.
Some of you will be able to tell your grandchildren of living in an era of soybeans less than $10 and corn under $4. And they will respond to you, "Yes Grandpa, that is why we keep our corn in the bank." The implication of the passing of historic lows for Agri-Food prices is likely to be positive for the value of Agri-Food investments. Investors might derive great benefit from researching Agri-Food investments at the present time. To start learning about Agri-Food use this link:
http://home.att.net/~nwschmidt/Order_AgriValueRECENT.html
By Ned W Schmidt CFA, CEBS
AGRI-FOOD THOUGHTS is from Ned W. Schmidt,CFA,CEBS, publisher of The Agri-Food Value View , a monthly exploration of the Agri-Food grand cycle being created by China, India, and Eco-energy. To receive the most recent issue of this publication, use this link: http://home.att.net/~nwschmidt/Order_AgriValue.html
Copyright © 2010 Ned W. Schmidt - All Rights Reserved
© 2005-2019 http://www.MarketOracle.co.uk - The Market Oracle is a FREE Daily Financial Markets Analysis & Forecasting online publication.

Only logged in users are allowed to post comments.
Register/ Log in