CNBC Protects Bad Guys Who Took Huge Bailouts from Taxpayers
Politics
/
Mainstream Media
Mar 04, 2010 - 08:37 AM GMT


The economy is in trouble because banks borrowed massively, and they borrowed many multiples more than they could afford. CNBC acts as if over-borrowing by U.S. consumers created a global financial crisis. This myth protects Wall Street banks.
Predatory Lending: Consumers Need Protection
At times individual borrowers overreached, flipped houses, or lied about income. But those weren't our only problems. Borrowers were often targeted and actively misled. Wall Street supplied the funds to predatory lenders. Then it packaged up those loans into phony securitizations.
In the past decade, lending fraud lawsuits against Ameriquest and FAMCO made the news. Instead of cracking down, regulators removed the brakes. America suffered an epidemic of predatory lending after that.
By the time of Wall Street's 2008 bailout, delinquencies on subprime mortgage loans made in 2005 and 2006 exceeded 37 percent and were climbing. The brand new (at the time) 2007 loans had a default rate of almost 26 percent and climbing. The loans made in 2007 defaulted almost immediately, a classic situation for fraud. That doesn't include other risky mortgage products made to borrowers with better credit. Meanwhile, subprime loans made by Warren Buffett's Clayton Homes division were performing just fine. The delinquencies were in the low single digits and constant.*
Wall Street banks bear most of the responsibility for this debacle. Most of the CDOs that came to market in 2007 defaulted very rapidly. At the end of a Ponzi scheme, the schemers speed up (as they did in 2007), because they are desperate to hide losses in new securities. Wall Street banks disguised the risk on their own books, passed the problem to investors, or bet against their own trash to make even more money.
CNBC Blames Taxpayers Not Banks' Titanic Losses and Enormous Bailouts
I appeared on CNBC on Tuesday to discuss consumer protection. Everyone else in the clip below is on CNBC's payroll.
CNBC editor Rick Santelli wants to blame taxpayers for a problem created by Wall Street Banks (and denies predatory lending is an issue). He suggests losses are the fault of individual borrowers, yet is silent on the titanic losses and enormous bailouts for the Wall Street Banks.
CNBC contributor Bill Isaac has long been a denier of mortgage problems. In 2007, he told Mortgage Banking:

"I believe that [the housing market's] already showing signs of leveling out. I believe that over the rest of 2007 and 2008, we'll be seeing the market stabilize and improve. Generally as a nation as a whole, I don't have any concerns."
By 2007, dozens of mortgage lenders had already imploded.
Isaac is wrong again when he says banks were not involved. Here are just a few examples: JPMorgan Chase bought troubled Washington Mutual and Bear Stearns. Goldman Sachs ran Goldman Sachs Alternative Mortgage Products. Bank of America bought predatory lender Countrywide and Merrill Lynch.

Hundreds of billions of losses--not merely paper write-offs, actual losses--have subsequently occurred due to foreclosures and delinquencies. We've had a negative feedback cycle of falling housing prices leading to more foreclosures and delinquencies. Denial is not an option.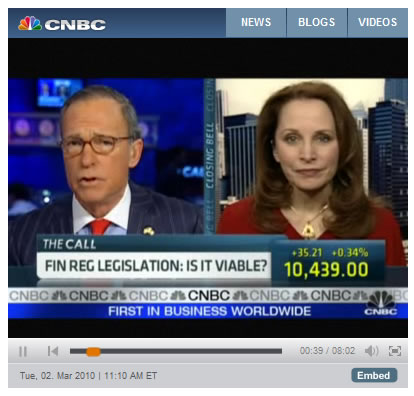 Give Taxpayers an Even Break: Banks were Responsible
Wall Street got bonuses, taxpayers paid the bill, America got a deep recession, and the world got the worst financial crisis in history. Financial holocaust deniers obstruct solutions that can help prevent the next crisis and would stick taxpayers with the bill again.
By Janet Tavakoli

web site: www.tavakolistructuredfinance.com
Janet Tavakoli is the president of Tavakoli Structured Finance, a Chicago-based firm that provides consulting to financial institutions and institutional investors. Ms. Tavakoli has more than 20 years of experience in senior investment banking positions, trading, structuring and marketing structured financial products. She is a former adjunct associate professor of derivatives at the University of Chicago's Graduate School of Business. Author of: Credit Derivatives & Synthetic Structures (1998, 2001), Collateralized Debt Obligations & Structured Finance (2003), Structured Finance & Collateralized Debt Obligations (John Wiley & Sons, September 2008). Tavakoli's book on the causes of the global financial meltdown and how to fix it is: Dear Mr. Buffett: What an Investor Learns 1,269 Miles from Wall Street (Wiley, 2009).
© 2010 Copyright Janet Tavakoli- All Rights Reserved
Disclaimer: The above is a matter of opinion provided for general information purposes only and is not intended as investment advice. Information and analysis above are derived from sources and utilising methods believed to be reliable, but we cannot accept responsibility for any losses you may incur as a result of this analysis. Individuals should consult with their personal financial advisors.
© 2005-2019 http://www.MarketOracle.co.uk - The Market Oracle is a FREE Daily Financial Markets Analysis & Forecasting online publication.
Comments
Lynne
04 Mar 10, 16:46
home loan applications


Sorry to say, Rick is right. I know many ppl that fudged #'s on their home applications. All Rick is saying is that the blame goes all around. If you are one of those ppl that cannot understand a contract, you need a lawyers help. If the banks made you sign your lives away by telling you lies, you need a lawyer to sue them. Ricks been against all the bailouts, so stop trying to make him seem like he not for the taxpayer. Rick is also always bringing up Barney Frank and his dirty doings with Fannie and Freddie. Sorry to say, there is no market oracle here!



keltic
05 Mar 10, 02:21
home loan applications


Lynne you sound really nieve.

It's the banks responsibility to lend to people who can afford the loan. Do it's DD.

To say otherwise is just ignorant. Banks have regulations to insure they perform for their share holders. To blame the public for a bank saying I will give you 700000 on some ninja loan with no deposit is ridiculous.

Do you know what a ninja loan is? Look it up on google.

Wall st are having their cake and eating it too. How on earth they weren't left to fail is anyones guess.

America has lost its moral compass.

Regards

Australia



Lynne
08 Mar 10, 09:51
Ninja loans


Oh ninja loans, you mean when banks made people borrow money with the use of martial arts? Next time you sign a contract, I recommend a ninja lawyer!




Only logged in users are allowed to post comments.
Register/ Log in