Investing in the Melting Tundra
Stock-Markets
/
Metals & Mining
Aug 15, 2007 - 11:50 AM GMT

Sean Brodrick writes: On Sunday, I arrived in Yellowknife — a town steeped in rich gold mining history. I had a lot of time to reflect on that history as I took a long walk through town.
Why was I out in the brisk, sub-arctic August weather? Because my cab driver brought me to the wrong hotel from the airport. I didn't discover this until after he had driven off. I tipped him well, too!
The history of Yellowknife starts before man walked this forest primeval, in the time of the glaciers. The glaciers gouged an irregularly-shaped,11,000-square-mile depression in the earth's surface. As the glaciers receded, the Hay and Slave rivers were formed.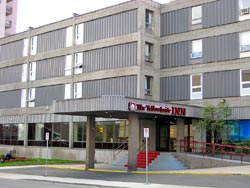 My cab driver dropped me off at this (wrong) hotel … thanks a lot, pal!
The Hay rises on the eastern slope of British Columbia's Rocky Mountains and flows generally north-northeast. The Slave pours out of Alberta and Saskatchewan's Athabasca Lake, flowing north-northwest. These two rivers meet at that glacier-gouged depression, and their waters created the ninth-largest lake in the world and the deepest in North America, Great Slave Lake. The lake is named after the Slavey tribe of Indians.
The white man's history in the area begins when Samuel Hearne, an explorer for the Hudson's Bay Company, reached the shores of Great Slave Lake in 1771. Accompanying Hearne on his travels were members of the Tatsanottine, a small Athabaskan-speaking North American Indian tribe. Hearne called them the "Copper Indians," but everyone else called them the Yellowknife Indians because the tribe made knives and other tools from yellow copper. The town of Yellowknife was named after these intrepid native explorers.
For a long time, visitors in this neck of the woods were after fur pelts. They took them from animals that were often clustered so thick it was like setting traps at a petting zoo. However, there was more than fur to be found …
Yellowknife Discovers The Yellow Metal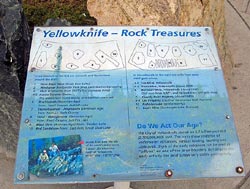 Yellowknife used to be known for pelts … now it's known for rocks.
In 1896, a prospector named E.A. Blakeney found some gold samples while passing through Yellowknife Bay. However, Blakeney quickly moved on. He was heading to a much bigger gold rush — the Klondike!
So gold was forgotten at Yellowknife until prospectors Johnny Baker and Herb Dixon paddled down the Yellowknife River and made a gold discovery in 1933. This date is generally viewed as the birth of the area's gold camp.
However, the boom didn't arrive until government geologists discovered gold on the east side of Yellowknife Bay a year later. And by 1935, the staking rush was on. Yellowknife became a boom town practically overnight.
Its population swelled to 1,000 by 1940, and by 1942 five separate gold mines were frantic beehives of activity. One of them, the Con Mine, started production in 1938 and produced more than five million ounces of gold.
In 1944, new exploration at the Giant Mine on the north side of town demonstrated there was a lot more gold in Yellowknife than anybody had imagined. It looked like the boom was ready to kick into higher gear. Then gold mining slowed drastically as all the miners left for a bigger cause — World War II. Operating costs skyrocketed. Was it the end of the boom?
Not a chance! The miners were back in 1946, and things picked right up where they left off. The Con Mine expanded and new mines started up. The momentum continued until 1952, when the Negus Mine closed.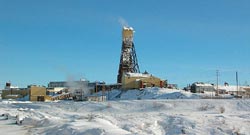 The Giant mine was the last one to close …
Ironically enough, Yellowknife finally got its own government in 1953, just as the gold rush was winding down. Then, in 1967, it became the capital of the Northwest Territories. The inflow of government workers proved to be as big a boom as gold ever was!
That was fortunate since most mines were shut down by the 1970s because of depressed gold prices. Some operations did manage to survive until very recently, of course. For example, the Con Mine closed in November 2003 after 65 years in operation. The Giant Mine was the last to go when it closed in 2005.
These days, Yellowknife is considered one of the best places in the world to view the Northern Lights. But it was just a stop over for me. After buying a hat, a scarf, and some gloves (it's darn cold!) … I boarded a helicopter and headed for a place that was more remote … a place with even better views … and most importantly, a place with a whole 'nother kind of mining operation to check out …
Spending My Time at an Arctic Diamond Mining Camp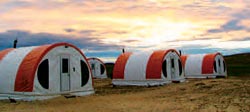 My deluxe accommodations at the mining camp.
On the way to the camp, we flew over tundra split by meandering streams and dotted with ice-cold lakes. Most of the caribou have moved on for the season. I spotted a few Canadian geese hanging around, but apparently they can no longer fly. I would worry about them surviving the winter, but the wolves will likely get them first.
Upon arrival to the small-but-busy camp, I found out that I'm bunking in a Weatherhaven hut … also known as an "arctic palace." That night, it rained like Noah was building an ark, but it was clearer and chilly by the morning. Lovely weather for what we're doing, which is flying around in a helicopter and looking at rocks.
Mark, who is the head geologist and co-founder of the company (and a very nice guy), is taking me to things he thinks are interesting. There are two other people up here visiting … they're from a film company making a promotional video for the company. Mark is starring in it, and since he's been talking to me a lot, I guess I'll be in it too.
We're mainly looking at diamondiferous kimberlite, the kind of rock you find diamonds in. The base rock surrounding it (making up this corner of Canada) is some of the oldest rock in the world — it's been here for three billion years! The kimberlite is much younger — roughly 500 million years old.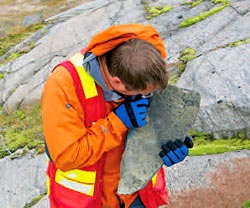 Time to inspect the kimberlite!
Because the kimberlite formed much deeper in the Earth, it erupted in carrot-shaped cones through the surrounding base rock. So the team here is searching for a very small amount of rock in a much bigger area to start with.
So how do they go about looking? They scan for scattered kimberlite on the surface, which is called "float." Then they do surveys with magnetics and soil samples to hunt down the main areas of interest. Next, they drill to find out if they're in the right spot.
By the way, even if you find a kimberlite pipe (as they're called), finding one that's worth mining is rare. Of the 6,200 kimberlite pipes known to exist, less than 1% have been developed into producing mines!
As you can see, diamond mining is an arduous and risky venture. But the rewards can be spectacular. I can't wait to learn more about what the team is finding here. Stay tuned!
Yours for trading profits,
By Sean Brodrick
This investment news is brought to you by Money and Markets . Money and Markets is a free daily investment newsletter from Martin D. Weiss and Weiss Research analysts offering the latest investing news and financial insights for the stock market, including tips and advice on investing in gold, energy and oil. Dr. Weiss is a leader in the fields of investing, interest rates, financial safety and economic forecasting. To view archives or subscribe, visit http://www.moneyandmarkets.com .
© 2005-2019 http://www.MarketOracle.co.uk - The Market Oracle is a FREE Daily Financial Markets Analysis & Forecasting online publication.

Only logged in users are allowed to post comments.
Register/ Log in