The U.S. Housing Real Estate Bubble the "Experts" Missed
Housing-Market
/
US Housing
Apr 02, 2010 - 02:02 AM GMT


When many people mention the collapse these days, the most common response I've heard is "everyone knew it was coming." Perhaps you've heard the same.

This just goes to show you that the mind can play tricks on people when time has passed.
People tend to forget the details of events even as recent as a couple of years ago.
It is for that same reason that most people either don't remember the miserable track records of the media's hand-picked "experts," or else they have selective memories of only certain episodes. Either result can be disastrous.
Anyone who is being honest with their conscious will admit that virtually no one was aware of the inevitable real estate-induced economic collapse, even after the emergence of what I consider to have been obvious signs in late summer of 2007. In fact, the initial tip-off for the few who were in tune to the realities of the real estate market surfaced in the first quarter of 2007, only to be confirmed in the spring.
In other cases, perpetual doomers who had been saying the same thing for many years certainly didn't serve to alert many due to their long track record of "crying wolf."
By August of 2007, even those who were modestly ahead of the curve knew the collapse was in the early stages.
And when the Dow Jones Industrial Average shrugged off these troubling difficulties and soared to all-time highs of around 14,200 in early October, I sent out a call to those who would listen to begin shorting the banks. The rest is history.
As I and my associate continued to spend countless days contacting the media to alert investors of what would eventually turn into America's financial apocalypse, just as I had predicted in my book with the same title,
these efforts would be wasted in vain
.
By the spring of 2008, after Bear Stearns was handed to JP Morgan at the complete risk of tax payers, I felt the critical need to do all that I could to alert the public that this was just the very early stages of what was to come. So I began posting my insights online in May, commencing with
this article
.
While I continued to contact the media for another year, my efforts were once again of no use. I finally realized that I had been black-balled by the criminal media industry.
As I began to study the tactics and psychology of this industry, I soon realized why I had been banned. I have discussed what I feel to be the reasons why the media has banned me in the past, but I will summarize them here:
(1) My analysis of the United States was so brutally accurate, it threatened to alert the masses of widespread fraud, criminal activity and incompetence from the public and private sectors. This would not be good to educate a population that the media and Washington had worked so hard to keep in the dark.
(2) My detailed treatment of America's #1 and #2 problems - free trade and healthcare, being very hot political issues, would threaten political agendas and corporate interests, especially with an election on the horizon.
(3) My argument for a depression was irrefutable in my opinion. No expert anywhere would be able to thwart this analysis. This would threaten the revenues of Wall Street.
(4) It was clear to media executives that I could not be bought off by being provided with a media stage so as to market myself in exchange for (potentially) millions of dollars that would result from leveraging any media "celebrity" that might result from coverage. As a result, I posed a threat to Wall Street because I would expose the truth. This of course, posed a threat to the financial media, as Wall Street is their largest financial client.
By early 2008, I realized precisely how the media worked. This explained why I was banned.
And I'm never going to forget this. You shouldn't either because I can guarantee you that a good portion of your investment losses were directly due to the media preventing me from warning you about this collapse.
Unlike a few select individuals who were allowed to sell their doom and gloom investment strategies on financial networks (despite the fact that you might think this does not bode well for Wall Street's business, it actually does in many ways), if given the chance, I would have insisted investors pull out of the market completely and wait for the collapse. The only exception to this is if I would have been interviewed regularly. In that case, I would have tried to guide investors over each time period. I would have offered detailed forecasts and guidance.
Those who were provided with regular media appearences failed to guide investors appropriately. They were concerned with generating business for themselves. And that, they did.
I don't sell securities and I didn't even have a newsletter back in 2008, so I had absolutely NO agendas or bias.
Thinking about these things and considering my track record, especially when held to the track record of the media hacks, you should be OUTRAGED.
You should be on a relentless mission to do whatever you can to ensure the media changes.
Of course, this would require an inexaustible effort from numerous individuals, all working together, organized, with a plan, and with a passion.
If you do not act now, if you do not organize with relentless drive and an effective strategy, I will guarantee you that
the media will be responsible for screwing you over and over
.
And don't come running to me when it happens. You have been warned; many, many times. I have already told you what you must do to prevent this from happening again. So if you do not act now and forever, until you have made a sufficient impact, you will only have yourselves to blame when you get taken.
I won't have anymore sympathy for you being taken by Wall Street because the key to prevent this cycle of fraud is to ensure that the media becomes more responsible.
You need to let the media know you understand their game and you won't listen, read or watch until they get rid of the hacks, idiots, liars and agenda-filled, biased losers with miserable track records.
I have provided you with the key to avoid getting blasted by the market. It's up to you to make it work.
Even in 2008, most of the so-called experts (the liars and idiots in the media club) were in denial.
I ask you to research what these individuals were saying.
There were hundreds of hacks who got it completely wrong.
Sadly, as is always the case, virtually everyone has forgotten just how wrong these "experts" were.
The first real estate "expert" that comes to (my) mind is "Dr." Danielle Babb, promoted by FOX Business as a real estate expert.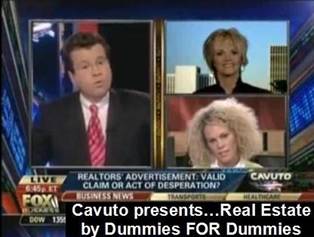 I recall Babb arguing with Peter Schiff that real estate had bottomed (note I only recall this from researching track records on You Tube. I DO NOT HAVE CABLE TV because I don't like to waste my time with trash; I suggest you get rid of your cable as well).

You can imagine Schiff LOVED the opportunity to go up against an individual who obviously had no idea what she was talking about.

Let's have a look (I was unable to find the clip on YouTube, but I found it on Babb's own website).

Check the video dated November 20, 2007.

http://www.drdaniellebabb.com/index.php?option=com_content&view=article&id=218&Itemid=281

It's no wonder why Schiff is seen by so many as a prophet.

He was consistently matched up against clueless idiots!

Let's have a look at Babb a few days before this.

Wow. She is up against a REALTOR?

These are experts?

It looks more to me like "interviews with airheads."

Once again, Babb states that it's a "good buying opportunity" for anyone who plans to stay in their home for seven years.

Then she states that now (November 2, 2007) is a good opportunity to buy real estate as long as you don't plan to flip it by next spring.

http://www.youtube.com/watch?v=qdN-jxo4D7g&feature=player_embedded

Babb seems confused, perhaps unsure of herself when asked to lay it on the table.

It shold be apparent that this is a women who is not a real estate analyst, at least not by definition.

In fact, she appears to be more clueless than the everyday person on the street.

Since that interview, real estate has declined on average by about 25% (rough estimate).

And of course, notice how Cavuto endorses the realtor, pumping her up so as to create the perception of credibility.

The only problem is that Cavuto is an idiot and has no idea what he is talking about.

I'll get back to Cavuto in the future.

Finally, notice that Babb's real occupation is revealed. She is a REALTOR, not a real estate expert.

To show you how the media continues to screw people, watch here, just a few months later, as Dr. Babb, apparently humiliated by her dreadful call in real estate, now markets herself as an online money expert.

http://www.youtube.com/watch?v=q2hCwdo3fAs&feature=player_embedded

How can the media EVER acknowledge Babb again??

This is by NO MEANS an isolated event. It's a very common practice with the media.

They don't conduct any due diligence whatsoever.

Once you are in the media club, you are in for life as long as you abide by the rules of the game, which usually means serving as an industry hack (since the media obtains most of its revenues from corporations).

Next, just two months later, Babb appears on FOX, and completely flip flops!

Notice she is introduced as a real estate analyst.

http://www.youtube.com/watch?v=Y2QurRVnctw&feature=player_embedded

What real estate research firm does she work for?

I suppose neither FOX nor Babb understands the proper use of the term "analyst."

Hopefully, you now realize that the media makes its guests out to be experts with bogus titles.

Then, six months later, Babb appears on FOX Business along with another "expert," a writer for the Wall Street Journal blog.

Notice how the host states that "Danny has been on the front lines of the real estate market for a long time."

She claims that she was getting "thousands of emails per week.'

I would imagine that she got a few dozen per week telling her to stay off the air.

http://www.youtube.com/watch?v=8rkWritDu6U&feature=player_embedded

For those who don't keep a written record of these "experts," it appears that Babb knows what she's talking about because she has been placed along side of a complete idiot and hack, who claims that "we have come out of the largest real estate bubble in history; maybe not as big as Japan...."

So we have already come out of the mess in 2008?

This bubble wasn't more severe than in Japan?

During this second segment, Fannie and Freddie were in the process of being moved into conservatorship by the U.S. Government. Over the next 6-8 weeks, we saw the collapse of the financial industry - Washington Mutual, Lehman, AIG, the forced buyout of Merrill and so on. Yet, you don't hear any of these clowns warn about these things.

As you can imagine, as a member of the media club, Babb continues to pump her "get-rich-quick" BS on TV. But wait a minute.

I thought she was a real estate expert.

Notice the sheep who calls in, complimenting her without having bothered to have researched her track record. He is typical of the sheep who listen to the media.

http://www.youtube.com/watch?v=UumyhDVZuDo&feature=player_embedded
Here she is again in April 2009, on Cavuto,.

http://www.youtube.com/watch?v=6j_xfVjWaRc&feature=player_embedded

Her media appearances go on and on and on.

Not that her bio would even matter at this point. It should be clear to you that she is nothing more than an opportunist, similar to Kevin Trudeau.

She looks for a market and positions herself as an expert with the media's help.

And when that doesn't pan out, she looks for the next gig.

Let's have a look anyway...

"Dr. Danielle Babb is a consultant for real estate organizations, where her primary goal is to help them survive the coming wave of technology. She has a Ph.D. in Organization and Management with a Technology Emphasis, and M.B.A. with a Technology Emphasis, and a Bachelors degree in Business. Dr. Babb is an adjunct faculty member at seven area colleges, including: Indiana Wesleyan University, Capella University, Baker College, American College of Computer and Information Sciences, Walden, and North Central University, where she teaches courses on IT practices affecting all areas of business. Dani is a California Licensed Real Estate Professional."

Aas I have discussed in the past, you should always be skeptical of anyone who makes a point to call him/herself a "Dr.," when they have a Ph.D. The designation is often used as a way to add instant credibility, despite the fact that the "Dr." often does not have a doctorate in the field which they claim to have expertise!

She teaches online courses related to IT practices?

That doesn't sound too revealing to me. But it certainly has nothing to do with real estate.

Note also that she does not state where she got her Ph.D. from. You should wonder what she is hiding.

Could it be that her degree was from a diploma mill?

This is just one of many examples that build a good case that the media should be sued for misrepresentation at the very least.

Perhaps the most pathetic outcome of this is that more people have read her book discussing how to make money teaching online than have read any of my books!

That is the result when one person is a part of the media club while the other has been black-balled by the media.

On the other hand, maybe her book offers an easy way to make money.

After all, if Babb can make money teaching online courses, who can't?

Notice that she's in with Simon and Schuster and Wiley, while I can't get anyone to publish my books.

I predict that someday (not anytime soon) once the real estate market strong again, Babb will return as a "real estate expert."

I'm confident you will see her on TV, introduced as a real estate expert.

She will change her website to reflect her "real estate expertise," much like it was in 2007.

I hope you remember her track record.

One thing I'll say about Babbs. She's an attractive lady, which could account for at least part of the reason why she is in the media club (you will recall one of my articles on CNBC and FOX's Babes and Bimbos).

I hope you are starting to realize what a fraudulent industry the media is.

You need to research this and remember who these clowns are, so you can black list them as liars, idiots or frauds.

Regardless how you decide to categorize them, the key is to avoid what they say for the rest of your life.

I want you to research other "experts" track records.

Check You Tube and other sources for Ben Stein, Kudlow and the others.

It's a good exercise that will condition you to do this from now on.

Now, as I am going to show you here, with just a few charts....nothing more than these charts, everyone should have been aware of the widespread and devastating consequences of the largest real estate bubble in U.S. history.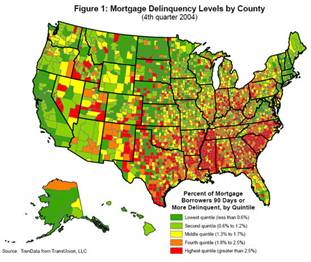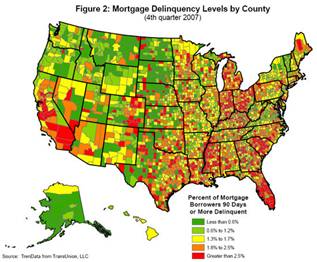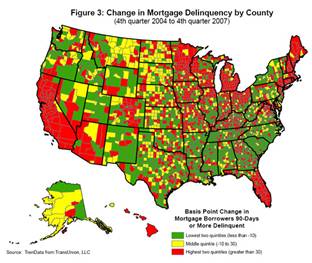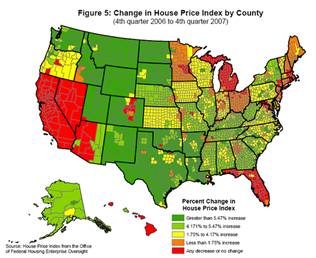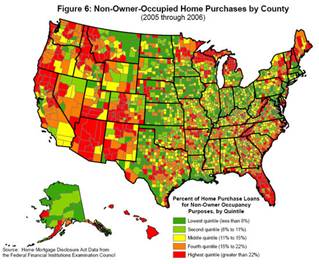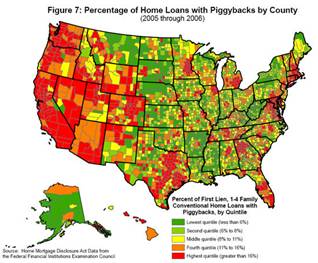 Now, I only recently found these charts so I didn't have the benefit of using them in my own analysis.

And as many of you know, my analysis was fairly detailed and specific, with comprehensive ramifications.

Regardless, even if you had been aware of these charts you should have been able to see that there would be a big problem in the real estate market.

Even if you were unaware of the mortgage-backed securities market, the shear size of the outstanding mortgages, you should have realized that all that was required for a mortgage was to fog a mirror.

That said, can you ever excuse or forgive the so-called experts the media turns to for missing this?

This is supposed to be their expertise. Americans (mistakenly) rely on these individuals to guide them through or alert them in advance to problems of this magnitude.

They failed, as they always have.

You should never trust the media again.

If you do, you will only have yourselves to blame.
Those who read America's Financial Apocalypse (2006) and Cashing in on the Real Estate Bubble (2007) were not only alerted to the catastrophe we see today, but were provided with SPECIFIC ways to profit that have yielded over 100% gains since then. Click here and here for some examples.

If you want access to institutional-level research, analysis and investment guidance, subscribe to the AVA Investment Analytics newsletter today. www.avaresearch.com

If you want a chance to make $100,000, check this offer.



By Mike Stathis

www.avaresearch.com
Copyright © 2009. All Rights Reserved. Mike Stathis.
Mike Stathis is the Managing Principal of Apex Venture Advisors , a business and investment intelligence firm serving the needs of venture firms, corporations and hedge funds on a variety of projects. Mike's work in the private markets includes valuation analysis, deal structuring, and business strategy. In the public markets he has assisted hedge funds with investment strategy, valuation analysis, market forecasting, risk management, and distressed securities analysis. Prior to Apex Advisors, Mike worked at UBS and Bear Stearns, focusing on asset management and merchant banking.
The accuracy of his predictions and insights detailed in the 2006 release of America's Financial Apocalypse and Cashing in on the Real Estate Bubble have positioned him as one of America's most insightful and creative financial minds. These books serve as proof that he remains well ahead of the curve, as he continues to position his clients with a unique competitive advantage. His first book, The Startup Company Bible for Entrepreneurs has become required reading for high-tech entrepreneurs, and is used in several business schools as a required text for completion of the MBA program.
Restrictions Against Reproduction: No part of this publication may be reproduced, stored in a retrieval system, or transmitted in any form or by any means, electronic, mechanical, photocopying, recording, scanning, or otherwise, except as permitted under Section 107 or 108 of the 1976 United States Copyright Act, without the prior written permission of the copyright owner and the Publisher. These articles and commentaries cannot be reposted or used in any publications for which there is any revenue generated directly or indirectly. These articles cannot be used to enhance the viewer appeal of any website, including any ad revenue on the website, other than those sites for which specific written permission has been granted. Any such violations are unlawful and violators will be prosecuted in accordance with these laws.
Requests to the Publisher for permission or further information should be sent to info@apexva.com
Books Published

"America's Financial Apocalypse" (Condensed Version) http://www.amazon.com/...
"Cashing in on the Real Estate Bubble" http://www.amazon.com/...
"The Startup Company Bible for Entrepreneurs" http://www.amazon.com...
Disclaimer: All investment commentaries and recommendations herein have been presented for educational purposes, are generic and not meant to serve as individual investment advice, and should not be taken as such. Readers should consult their registered financial representative to determine the suitability of all investment strategies discussed. Without a consideration of each investor's financial profile. The investment strategies herein do not apply to 401(k), IRA or any other tax-deferred retirement accounts due to the limitations of these investment vehicles.
© 2005-2019 http://www.MarketOracle.co.uk - The Market Oracle is a FREE Daily Financial Markets Analysis & Forecasting online publication.

Only logged in users are allowed to post comments.
Register/ Log in