Europe WANTS a Lower Euro
Currencies
/
Euro
May 09, 2010 - 07:14 AM GMT


The euro is in devaluation mode … in a sharp 17 percent decline against the dollar over the past five months. And I've written extensively on why, and why it still has further to go.
Now I believe a covert policy decision has been made by the European Central Bank (ECB) to use currency devaluation as a tool for the European monetary union (Emu) to survive.
Of course, each individual country within the Emu doesn't have the luxury of devaluing their currency when times are tough. They're locked into a monetary union of sixteen countries. And monetary and currency policy decisions are made by the ECB.
That puts countries like Portugal, Ireland, Italy, Greece and Spain (the PIIGS) at a competitive disadvantage when trying to salvage themselves from debt burdens and feeble economic activity.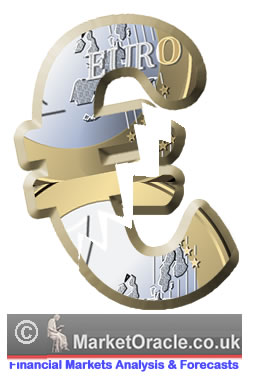 The Emu will do whatever is necessary to save the floundering euro.
But now, it's becoming evident that the Emu as a whole is prepared to take such drastic measures to keep the euro intact!
I think we'll find that the ECB will aggressively reverse course on exiting from the emergency monetary policies they put in place to deal with the financial crisis of 2008 … returning to emergency mode, and in a big way. They'll likely be forced to openly buy up the government debt of the weak economies to keep them breathing — i.e. print money, and a lot of it.
The plan requires that Germany, the core of the euro, participate in serving the interests of the lowest common denominator in Europe: The PIIGS. Of course, they've already done so by agreeing to provide bailout funds to Greece. But the next moves in the playbook will likely drag Germany headlong into it.
Germany: Swimming with the Fishes
Germany is the biggest, most robust country in the euro zone. It was among the first major economies to emerge from recession. Its economy is expected to grow by 1.5 percent this year, and 1.8 percent next year. So things are going relatively well for the Germans following the harsh recession.
Why, then, would Germany agree to be dragged down by the weak and expose themselves to potential inflation problems in the process? Why not just hit the eject button and remove themselves from the euro?
Here in a nutshell lies the problem: Germany has a lot to lose if other euro countries end up in shambles. It's exposed on two fronts …
First, Germany is on the hook for $668 billion in PIIGS sovereign debt. Not to mention the fresh $30 billion they've agreed to give Greece.
A default, or worse, a string of defaults would be disastrous for German banks and European banks in general. European banks bought about half of the general government bond market last year.
And second, if these countries continue their downward spiral, Germany's intra-Europe exports (10 percent of total exports) promise to dwindle with it.
So what does Germany gain from sacrificing for the weak?
For one, it averts the problems mentioned above. And two, it will enjoy a much weaker euro in the near future, thus providing a nice kicker for its exports outside of continental Europe.
ECB Already Taking the Plunge
ECB President Trichet would not discuss the euro's value in his recent press conference.
Europe, the IMF and the ECB demonstrated this week that it's ready to go all out to keep monetary union intact. They announced a massive multi-year bailout for Greece. And perhaps in a bigger move, the ECB is now accepting Greek junk bonds for collateral — jeopardizing the credibility and independence of the central bank.
As I was watching the ECB press conference following its monetary policy meeting this week, central bank President Jean-Claude Trichet looked flustered and measured his words very carefully. And two things gave me a sense that they had a plan, which included a much weaker currency:
He adamantly said a Greek default is "out of the question."
And a biggie … he ignored all questions about the value of the euro, despite its slippery slide!
The Swiss National Bank must have sensed something, too. This week it chose to back away from buying euros as an intervention tactic to curtail the strength of the Swiss franc. Perhaps, the SNB knows that gobbling up euros at current prices is a recipe for losing money.
In sum, financial crises and sovereign debt crises typically go hand in hand. As do sovereign debt crises and currency devaluations. So be prepared to see a continued decline in the euro and other global currencies … and more capital flowing into the U.S. dollar in search of a safe haven.
Regards,
Bryan
This investment news is brought to you by Money and Markets. Money and Markets is a free daily investment newsletter from Martin D. Weiss and Weiss Research analysts offering the latest investing news and financial insights for the stock market, including tips and advice on investing in gold, energy and oil. Dr. Weiss is a leader in the fields of investing, interest rates, financial safety and economic forecasting. To view archives or subscribe, visit http://www.moneyandmarkets.com.
© 2005-2019 http://www.MarketOracle.co.uk - The Market Oracle is a FREE Daily Financial Markets Analysis & Forecasting online publication.
Comments
Oliver P. Dunne
10 May 10, 04:28
Euro against British Pound Sterling


What is your openion in relation to how the value of the Euro will go in relation to British Pound Sterling in the near future.

Will I get good value for the euro now.




Only logged in users are allowed to post comments.
Register/ Log in