Ratio of Gold Price to Stock Market
Commodities
/
Gold and Silver 2010
Jun 21, 2010 - 11:10 AM GMT


As anyone that has bought and sold a house in the past few years can attest, value is indeed neither fixed nor necessary reliable. Valuing a house, or any other asset, is as much science as carving up a chicken in the moon light at midnight with precision surgical instruments. The tools, such as present value, are precise mathematical calculations. However, the inputs border on being sorcery.
Valuation of Gold is in that realm of semi sorcery, but it still is an essential task for the investors. Numbers being tossed to investors of $5,000 based on a nonsensical calculation of the last high adjusted for some mythical inflation measure serve no purpose. The lack of science overwhelms the precision of the calculation. Likewise, absurd forecasts of $10,000 in the near future serve to delude some into thinking that if they do not buy Gold and a news letter today they are without hope.
Valuation does give us some kind of investment framework within which to invest, and to do so it must be somewhat pragmatic. It must also challenge our opinions of the markets. Under valuation or over valuation do not make markets go up or down. They do, however, serve as yellow flags. Valuation in 1999 said the price of Gold was ridiculously low, and should be bought. That under valuation did not make Gold go up. It did serve to say that the widespread opinion in the financial and economic community that Gold was a historic anachronism was utter nonsense.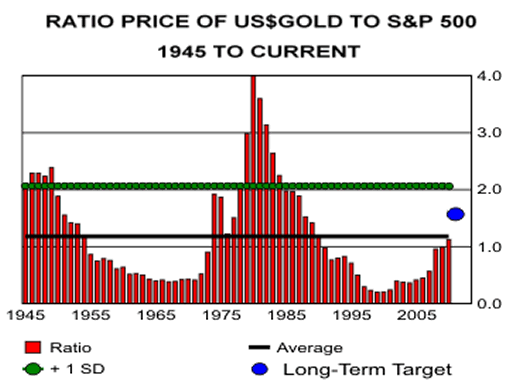 Our fist chart, above, is of the ratio of the price of $Gold to the S&P 500 at the end of each year since 1945. With almost 66 years of data it may not be a perfect measure, but it certainly is a reasonable start. Solid black line is the average of that ratio over 66 years. Line of green circles is that average plus one standard deviation. Probability of a data point above the green line is less than 1 out of 6. An investor can quickly with calculator determine that both the $5,000 and $10,000 predictions border on the near impossible. That blue dot is the current position of our $1,760 long-term target.
The calculations in that chart allow some valuation of both $Gold and U.S. paper equities. That has been done in the following table. In short, $Gold and U.S. paper equities seem fairly valued in relation to each other. Based on the long-term value, neither is a buy at this point. However, a continued advance in the price for $Gold would begin tipping the scale toward paper equities. However, remember these calculations are only yellow flags. The data does allow for a further advance of $Gold over time.

VALUATION
DATA PERIOD: 1945 TO PRESENT

If S&P 500 = 1118

$Gold should = $1,318 + 5%

If $Gold = $1,257

S&P 500 should = 1,066 - 5%
As we possess no clay tablet dictating the proper data history for the first graph, we created the second chart, above. It is the ratio of the price of $Gold to the S&P 500 for the past 22 years. Here we find a far different picture. Only two times in this current era has the ratio been higher than it is at the present time.
Using the data in that second chart we created the valuation data in the following table. Here the situation looks for more attractive for paper equities rather than for Gold. Reality will be obviously somewhere between the two outlooks. We can, however, easily dismiss some projections that clearly do not fit any of the data.
VALUATION
DATA PERIOD: 1989 TO PRESENT

If S&P 500 = 1,118

$Gold should = $ 636 -49%

If $Gold = $1,257

S&P 500 should = 2,208 +98%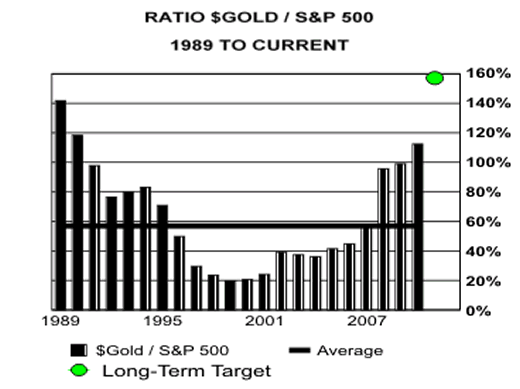 Valuation is often similar to the old story about three blind men attempting to describe an elephant.
None will develop the correct description of the shape of the elephant. They will, however, be able to eliminate a lot of the possibilities. It has no feathers. None find fins. No horns are reported. Finally, let valuations and forecasts serve you. Let not you serve valuations and forecasts.
Ned W Schmidt CFA, CEBS
To subscribe to The Value View Gold Report use this link: www.valueviewgoldreport.com
RHODIUM TRADING THOUGHTS is published presently on an irregular basis, and is available only at our web site: www.valueviewgoldreport.com
To receive THE VALUE VIEW GOLD REPORT click on a link at bottom of one of pages, or send check(US$149) or credit card information to: Schmidt Management Company, 13364 Beach Blvd. Suite 812, Jacksonville FL 32224. Fax orders can be sent to 215-243-7161. Our phone number to place an order is 352-409-1785. Subscriptions cannot be cancelled or refunded.
Copyright © 2010 Ned W. Schmidt - All Rights Reserved
© 2005-2019 http://www.MarketOracle.co.uk - The Market Oracle is a FREE Daily Financial Markets Analysis & Forecasting online publication.

Only logged in users are allowed to post comments.
Register/ Log in