Gold and Crude Oil are Mandatory Investments
Commodities
/
Investing 2010
Jun 28, 2010 - 07:29 AM GMT

I put out my first major buy signal in gold way back in early 2000, when gold was trading at about $260 an ounce. I said then that gold was an easy double, moving to at least $500 over the next two years.
I told my readers to add to their gold positions in October 2004, when gold crossed above the $400 level …
And again in September 2005, when gold blasted through $450 an ounce.
I added again, even telling subscribers to increase their core gold allocation from 10% to 25% — in September 2008, when gold closed above the $860 level.
And my latest recommendation on gold came when it closed above $1,162 on the 27th of April.
Now, gold has thrust to as high as $1,261.
For those who have been following me from the get-go, your gains on gold could be as much as $1,000 an ounce — or more than 384%.
The gains in select gold mining shares could be even more dramatic — 800% … 900% … even more than 1,100%.
But gold has much more to go to the upside.
My minimum target, which I've often cited for the record is $2,300 an ounce — with a very high probability that the yellow metal will ultimately exceed the $3,000 level, and perhaps move as high as $5,000 by late 2012.
And I am even more convinced the above targets are possible now that Washington and China are acting in concert to revalue the yuan higher, and the dollar lower, ushering in the next phase of the Great Dollar Devaluation.
Why Gold Is Real Money
If I sound like a die-hard gold bug, I'm not.
In fact, I was bearish gold for most of the 1980s and 90s, and only turned bullish again in 2000.
And when gold reaches its peak according to its cycles — with the top likely coming in 2012 — I will probably turn bearish again on the yellow metal.
But not until then. As long as the financial crisis continues as it is …
As long as paper money is in question and doubt …
As long as the leaders in the U.S. and Europe continue to deny that the world needs a new monetary system … I will be bullish gold.
After all, gold is real money.
Unlike stocks or bonds, gold has no debts, no earnings, no boards of directors, no funny accounting statements, and no obligations to anyone but itself.
Gold is the purest investment in the world. While paper money can be printed or devalued at will, as is happening now ad infinitum, the same cannot be said for gold.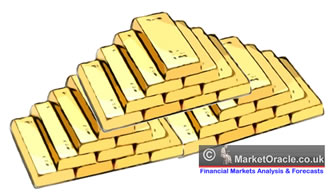 Gold is the purest investment in the world.
That's also why, in fact, the central banks of countries that do have money … that do have decent balance sheets … or strong assets like oil … are smart enough to be buying gold. India. Russia. China. Saudi Arabia. Singapore. And more.
I like to focus on the monetary aspects of gold, because in the end, that's what really drives the gold market. (Psychology and social mood drive ALL markets. Everything else is secondary.)
When investors do not have confidence in government, they love gold. When they do have confidence in government, paper money will suffice.
But there's also no denying the supply and demand picture for gold. It's supportive of the fact that so many investors do not trust government anymore, there's simply not enough gold to go around.
Keep in mind that all the gold that's ever been mined in the history of the world (about 165,000 metric tons) can fit into a cube measuring only 62.3 feet on each side.
Meanwhile, gold production continues to decline. Just one example: Over the last 10 years, gold production in South Africa has plummeted more than 50%.
So, the way I see it, plunging production, rising demand — and a severe lack of investor confidence all over the world in the euro and the dollar …
Add up to one thing: Much higher gold prices to come. And it's why, for me, gold is still the most important asset to own going forward.
If you haven't already followed my recommendations in gold, it's not too late. Moreover, do not let any pullbacks in the price of gold shake you out of any of your current gold positions.
Here are four primary ways to consider in order to grab your stake in gold, looking to hold these gold plays until at least 2012 …
1. Bullion. For small amounts, a convenient vehicle is one-ounce and 10-ounce gold ingots. But don't go overboard or you'll find yourself with transport and storage issues.
2. SPDR Gold Trust (GLD). Each share of this exchange-traded fund represents 1/10 of an ounce of pure gold. All the costs of storing and insuring the metal are covered for you.
Don't worry either about all the pundits out there telling you that if there's ever a run on a gold ETF, there might not be enough gold to go around and the ETF could default.
That is a risk, but not until, in my opinion, gold reaches well over $2,300 an ounce. In the meantime, it's an overblown risk mostly bandied about by physical gold and coin dealers who want you to buy their gold at all too often higher markups.
3. Gold mutual funds. My favorites include Tocqueville Gold Fund (TGLDX), U.S. Global Investors Gold and Precious Metals Fund (USERX) and U.S. Global Investors World Precious Minerals Fund (UNWPX).
You can pack them away, with a view toward holding them for at least a couple of years. In my view, these funds could double, triple, even quadruple, over that timeframe.
4. Select gold mining stocks. But be careful here. The irony of today's bull market in gold is that some gold mining companies may actually go out of business as the price of gold soars.
Reasons: Some still hedge too much of their gold production and/or reserves. Others don't have access to adequate capital financing. As I always remind my Real Wealth Report subscribers, you need to be very selective when it comes to gold shares.
But Gold Is Not The Only Hard Asset You Should Own …
Not by a long shot. I believe every investor needs to follow what the world's biggest company with the world's largest cash flow and biggest profits — is doing. Yes, I'm talking about CHINA.
Indeed, while the rest of the world has been consumed by the global financial crisis, China has been reaching into its deep pockets and circling the globe to corner much of the world's oil supplies.
China Is In The Process Of Cornering A Large Portion Of Global Oil Supplies
Its deals are growing more ambitious as Beijing outsmarts the rest of the world and looks to meet its burgeoning oil demand. In the past decade, China's oil consumption has doubled to 8.6 million barrels a day.
And it's estimated that it could easily double again in the next decade as the number of Chinese joining the ranks of the middle-class swells.
For instance …

In April, China's Sinopec paid ConocoPhillips $4.65 billion for its stake in a Canadian tar sands project, one of China's largest investments ever in North America.
This comes on top of its $2.46 billion acquisition of Angola's deep water oil reserves and its $7.56 billion acquisition of Swiss oil explorer Addax Petroleum in August 2009.

Last month, China's CNOOC paid $6 billion to acquire the Brazilian Peregrino oil field, while PetroChina recently announced a $20 billion loan to Venezuela to be repaid with oil.

Earlier this year, PetroChina also announced that it added a 37.5% stake in the development of Iraq's Halfaya oil field. The oil field holds reserves of around 4.1 billion barrels, which PetroChina will produce at a cost of less than $1.75 per barrel.

Last month, China's sovereign wealth fund, China Investment Corp. (CIC), paid $817 million for a 45% share of a Penn West Energy Trust project, worth up to 50,000 barrels per day. They also paid $435 million for a 5% stake of Penn West.
China is gradually cornering the market in oil.
And just hours after Beijing announced it would revalue the yuan higher last Monday, CIC lead a consortium of investors buying up $900 million of equity in Chesapeake Energy, America's third-largest natural gas company!
My view: Like gold, everyone should also have a core stake in black gold, oil.
Especially since — as I've been pointing out in my recent video updates — the price of oil is making another long-term bottom at the $65 to $75 level, and is likely to exceed $200 a barrel by 2012.
So if you haven't already followed my oil recommendations, it's not too late here either.
Here are four primary ways to consider in order to get your stake in black gold …
1. Energy Select Sector SPDR (XLE), an ETF comprised of the world's top oil and gas exploration and production companies.
2. iShares S&P Global Energy Sector Index Fund (IXC). This ETF invests at least 90% of assets in the underlying securities of the S&P Global Energy Sector Index.
3. PetroChina (PTR), one of the leading Chinese energy conglomerates, a must-own for the long haul.
4. CNOOC Ltd. (CEO), another leading China oil and gas company, and another must-own for a core holding in energy.
Lastly, keep a very close eye on China, its currency the yuan, and of course, the dollar. And keep watch on Washington and Beijing as well.
Understand the deals that are being cut between our country and China will go a long way to helping you protect and grow your money.
Best wishes,
Larry
P.S. To get all of my specific gold and oil and other natural resource recommendations the moment I pull the trigger, including strategies to reduce risk — subscribe to my Real Wealth Report. It will be the best money you ever spent, guaranteed!
This investment news is brought to you by Uncommon Wisdom. Uncommon Wisdom is a free daily investment newsletter from Weiss Research analysts offering the latest investing news and financial insights for the stock market, precious metals, natural resources, Asian and South American markets. From time to time, the authors of Uncommon Wisdom also cover other topics they feel can contribute to making you healthy, wealthy and wise. To view archives or subscribe, visit http://www.uncommonwisdomdaily.com.
© 2005-2019 http://www.MarketOracle.co.uk - The Market Oracle is a FREE Daily Financial Markets Analysis & Forecasting online publication.

Only logged in users are allowed to post comments.
Register/ Log in