No Dow Theory Stock Market Sell Signal
Stock-Markets
/
Dow Theory
Jul 24, 2010 - 03:46 PM GMT

On June 30th both the Industrials and the Transports closed below their June 7th lows. In doing so, anyone who had not already proclaimed a Dow theory "sell signal" seems to have done so at that time. I stated here in my last post, as well as in recent audio interviews, that I disagreed with anyone who has made such statements in regard to Dow theory. I have since received a number of questions asking me how so many people could be wrong about Dow theory and if my position has changed.
My position has not at all changed. My read is that the Dow theory bullish primary trend change that occurred in conjunction with the advance out of the March 2009 low still remains intact in accordance to orthodox Dow theory. Reason being, once a trend change occurs, it must still be considered to be in force until it is authoritatively reversed.
According to orthodox Dow theory, the decline into the July low was not an authoritative reversal because in reality price held above the previous secondary low points. I also continue to believe that the advance out of the March 2009 low is one large counter-trend move that will serve to separate Phase I from Phase II of the ongoing secular bear market. It is for this reason that I continue to refer to the advance out of the March 2009 low as a bear market rally. Once the proper DNA Markers are all in place and confirmed, the Phase II decline will assert its deflationary forces far and wide. The current Dow theory chart can be found below. For more details regarding my views that a Dow theory primary trend change, which is erroneously referred to as a Dow theory "sell signal", has not occurred, please see the July 9th article that was last posted here.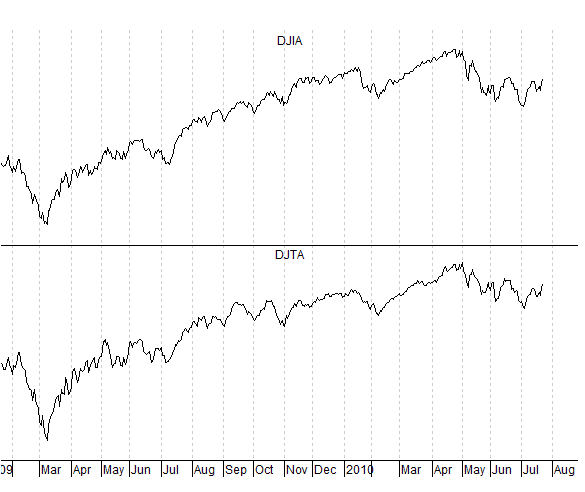 Now, with this all being said, I want to explain another point in regard to erroneous Dow theory calls that so many made in regard to the June 30th violation of the June 7th closing low. Assuming for the moment that the violation of the June 7th low is correct in that it did trigger a bearish primary trend change, which I do not agree is the case, then by default this would in turn mean that these same people are saying that the June highs marked secondary highs points. More details on the reasoning for this is available at Cycles News & Views. Anyway, the June closing highs occurred on June 15th at 4,467.25 on the Transports and on June 18th at 10,450.64 on the Industrials.
Therefore, if price were to move back above these levels on a closing basis, then the same people who called the erroneous Dow theory "sell signal" on June 30th would then have to call a Dow theory "buy signal." By not fully understanding the Dow theory, which is likely a function of having not read and studied Dow theory, one can easily find themselves on the wrong side of the market. Right as everyone was proclaiming the Dow theory "sell signal" in late June, the market bottomed and at Cycles News & Views, I was calling for a low and a rally on July 2nd as the market was bottoming. This was based on both my Dow theory work as well as my cyclical and statistical analysis. The Phase II decline is ahead of us. We are monitoring the averages as we watch for the DNA Markers and confirmation that has been seen at every major top since 1896. Please, do not misunderstand the message here. Longer-term, the entire advance out of the March 2009 low is a bear market rally that should be followed by the Phase II deflationary decline. All I'm saying here is that we have not yet seen a bona fide Dow theory primary trend change at this time. What may or may not be occurring from other technical disciplines, be it cycles, statistics, my DNA Markers, Elliott wave, fundamentally or whatever are separate issues, which are outside of the scope of Dow theory.
I have begun doing free market commentary that is available at www.cyclesman.info/Articles.htm The specifics on Dow theory, my statistics, model expectations, and timing are available through a subscription to Cycles News & Views and the short-term updates. I have gone back to the inception of the Dow Jones Industrial Average in 1896 and identified the common traits associated with all major market tops. Thus, I know with a high degree of probability what this bear market rally top will look like and how to identify it. These details are covered in the monthly research letters as it unfolds. I also provide important turn point analysis using the unique Cycle Turn Indicator on the stock market, the dollar, bonds, gold, silver, oil, gasoline, the XAU and more. A subscription includes access to the monthly issues of Cycles News & Views covering the Dow theory, and very detailed statistical based analysis plus updates 3 times a week.
By Tim Wood
Cyclesman.com
© 2010 Cycles News & Views; All Rights Reserved
Tim Wood specialises in Dow Theory and Cycles Analysis - Should you be interested in analysis that provides intermediate-term turn points utilizing the Cycle Turn Indicator as well as coverage on the Dow theory, other price quantification methods and all the statistical data surrounding the 4-year cycle, then please visit www.cyclesman.com for more details. A subscription includes access to the monthly issues of Cycles News & Views covering the stock market, the dollar, bonds and gold. I also cover other areas of interest at important turn points such as gasoline, oil, silver, the XAU and recently I have even covered corn. I also provide updates 3 times a week plus additional weekend updates on the Cycle Turn Indicator on most all areas of concern. I also give specific expectations for turn points of the short, intermediate and longer-term cycles based on historical quantification.
© 2005-2019 http://www.MarketOracle.co.uk - The Market Oracle is a FREE Daily Financial Markets Analysis & Forecasting online publication.

Only logged in users are allowed to post comments.
Register/ Log in