Two Doctor Shocks - Torture and Chicago School Fundamentalism - Part 1
Politics
/
Global Financial System
Sep 22, 2007 - 01:38 AM GMT

Reviewing Naomi Klein's "The Shock Doctrine: The Rise of Disaster Capitalism" - Introduction
Following a crisis shock, another quickly follows. The corporate piranhas exploit disorientation with economic "shock therapy" along with "police, soldiers and prison interrogators" with torture their method of choice "to build a model country (by) erasing people and then trying to remake them from scratch."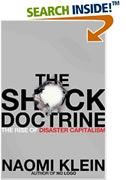 Klein reviews the history of CIA's interest in torture as a way to control the human mind. It began with the Montreal doctor they funded to perform "bizarre experiments on his psychiatric patients (by) keeping them asleep and in isolation for weeks, then administering huge doses of electroshock (plus) experimental (psychedelic LSD and hallucinogen PCP angel dust) drug cocktails."

The experiments were performed at McGill University's Allan Memorial Institute by Dr. Ewen Cameron even though they clearly violated all standards of medical ethics using human guinea pigs without their permission with permanent damage their reward. Cameron believed by blasting the human brain with an array of shocks, he could "unmake and erase faulty minds, then rebuild (on a blank slate) new personalities" cleansed of their previous nature. It was voodoo science, and it failed. His patients were his victims, but CIA gained a wealth of knowledge it now employs with no pangs of conscience or regard for ethics.

Klein traces CIA's interest in mind manipulation to a 1951 trinational meeting of intelligence agencies and academics in Montreal when concern was that Communists could brainwash POWs to control them. That was when the spy agency engaged Canadian researchers to learn how, and one of them was Dr. Donald Hebb, director of psychology at McGill, who was working on the problem. Intelligence agencies were impressed enough with his work to fund classified sensory-deprivation experiments on volunteer McGill students.

They proved intensive isolation interferes with clear thinking enough to make people more receptive to suggestion. They were also "formidable interrogation techniques" amounting to torture that Hebb knew violated medical ethics. He later characterized Cameron's work as "criminally stupid," but CIA got what it wanted - a way to interrogate "resistant sources" in a "new age of precise, refined torture, not the gory, inexact" kind from the Spanish Inquisition or what Nazis and other tyrants often practiced. Cameron's experiments with human guinea pigs built on Hebb's earlier work laying the foundation for CIA's "two-stage psychological torture method" of sensory deprivation followed by sensory overload. University of Wisconsin historian Alfred McCoy in his book, "A Question of Torture" on CIA interrogation, called it "the first real revolution in the cruel science of pain in more than three centuries."

Pre-9/11, these techniques were freely used covertly as any form of abuse or torture violates the Geneva, UN and other statutes prohibiting these practices as well as the US Army's own Uniform Code of Military Justice barring "cruelty" and "oppression" of prisoners. No longer, as "On September 11, 2001, that longtime insistence on plausible deniability went out the window" as well as any claim this nation respects the law and rights of free people everywhere. What once was done sub rosa or by proxy is now condoned and authorized at the highest levels of government on the fraudulent claim of national security to hide the real aim of social control.

Klein notes torture is still technically banned in the US, but only when pain is the "equivalent in intensity to (what accompanies) serious physical injury, such as organ failure." Simply put, anything goes, but it's not put that way. In Iraq, it was thought "shock and awe" would be so stunning, Iraqis "would go into a kind of suspended animation." A second makeover Chicago School fundamentalism shock could then be imposed on a blank post-invasion slate, and bingo, mission accomplished. Klein notes "there was no blank slate, only rubble and shattered, angry people" who were blasted with more shocks when they resisted. Like Cameron and his experiments, "Iraq's shock doctors can destroy, but they can't seem to rebuild," and the same is true wherever these shock doctors show up.

Milton Friedman and the Search for a Laissez-Faire Factory

The epicenter of shock ideology is the University of Chicago Economics Department. It came out of the 1950s "in the thrall" (of a) man on a mission to fundamentally revolutionize his profession," and on that score Milton Friedman succeeded mightily. Friedman, now gone, believed, markets work efficiently and best unfettered of rules, regulations, onerous taxes, trade barriers, entrenched interests, and human interference. Whereas Cameron believed electroshocks could restore natural health, Friedman favored economic shock as extreme and destructive to nations as Cameron and CIA's methods are to human minds.

Friedman taught this voodoo science and believed to the end, all contrary evidence aside, it was perfect and worked. Chicago School fundamentalism developed at a post-war time in the 1950s when leftist ideas supporting worker rights were gaining ground. Where they "promised (workers) freedom from bosses, citizens from dictatorship (and) countries from colonialism," Friedman promised "individual freedom" to choose that appealed to owners of capital who embraced him and his thinking.

It stood in stark contrast to what became known as "developmentalism" or "Third World nationalism" in the post-war developing world. Economists in it favored an "inward-oriented industrialization" strategy to break the cycle of poverty and grow. Like Keynesians and social democrats, they showed it worked in Latin America's Southern Cone with leaders like Juan Peron "put(ting) their ideas into practice with a vengeance (by) pouring public money into infrastructure projects, (providing) local businesses generous subsidies, and keeping out foreign imports with....high tariffs." It brought prosperity to the South and "dark days" for Friedman, his acolytes, and free-wheeling capitalists losing out to social progress.

It sprung corporate America to action by funding a legion of think tank and Chicago School foot soldiers to change the message and fortunes of their businesses. Friedman was their ideological leader preaching public wealth should be in private hands, rules and regulations out the window, accumulation of profits unrestrained, and social welfare programs curtailed or abolished. In short - deregulate, privatize and get government out of the business of everything besides providing security and enforcing contracts. He also believed taxes were onerous and once said he was "in favor of cutting (them) under any circumstances and for any excuse, for any reason, whenever it's possible...."

He also said corporations should be exempt from federal taxes claiming what they pay ends up in consumer prices that, in fact, is pure nonsense as every marketing MBA (like this writer) learns straightaway. The fundamental law of pricing is to charge what the market will bear, no more or less. In other words, get all you can but no more than buyers will pay. Soon enough they'd pay plenty in the developing world.

In 1953, the US declared war against "developmentalism" with CIA's first ever coup against Mohammed Mossadegh in Iran. Another followed the next year in Guatemala, and in both instances democratically elected leaders were ousted because corporate interests opposed them. It was only the beginning, and Friedman and his "Chicago Boys" soon had a real time laboratory to prove their "capitalist utopia" worked.

Salvador Allende's Popular Unity government electoral victory in 1970 was the opportunity. Three years later he was out giving Friedman the chance he wanted. Klein related the results in what she called "the first Chicago School state" with others to follow. They're all the same with "an unstoppable hurricane of mutually reinforcing destruction and reconstruction, erasure and creation" following the crisis. Next is unfettered economic shock therapy with torture and disappearances awaiting resisters and anyone guilty of bad thinking. Friedman's brave new world was beginning to roll. It's devastation is everywhere including at home.
By Stephen Lendman
Stephen Lendman lives in Chicago and can be reached in Chicago at lendmanstephen@sbcglobal.net.

Also visit his blog site at sjlendman.blogspot.com and listen to The Steve Lendman News and Information Hour on TheMicroEffect.com Saturdays at noon US central time.
© 2005-2019 http://www.MarketOracle.co.uk - The Market Oracle is a FREE Daily Financial Markets Analysis & Forecasting online publication.

Only logged in users are allowed to post comments.
Register/ Log in