Market Vectors Vietnam (VNM), Good Morning, Vietnam!
Companies
/
Investing 2010
Aug 25, 2010 - 08:08 AM GMT


Most investors don't pay much attention to where the U.S. dollar is headed … but they should.
Before I get into the U.S. dollar and what you should do about it, let me tell you what the Vietnamese government did to their dollar last week.
The State Bank of Vietnam devalued its currency, called the "dong," by 2.1% last week. The new global interbank exchange rate will increase from 18,544 dong per U.S. dollar to 18,932 dong. Yup, one U.S. dollar is worth more than 18,000 Vietnamese dong.
Those official exchange numbers don't really reflect the true exchange rate for Vietnam's currency. There is a thriving black market for currency exchange that is conducted primarily at gold retailers. The black market exchange rate in Ho Chi Minh City has been as high as 19,335 per U.S. dollar recently.
Nonetheless, this isn't the first time Vietnam's central bank has devalued its currency. It is the third devaluation in the last 10 months: 3.4% in February and by 5.4% in November.
Why did Vietnam do this? To reduce and hopefully reverse the big trade deficit it has been running.
Vietnam's trade deficit has TRIPLED in the first six months of 2010. The deficit hit $1.15 billion in July, up from $742 million in June. For the first seven months of this year, Vietnam's trade deficit totaled $7.4 billion. That is almost double the figure for the same period last year.
The main destinations of Vietnam's exports were the United States (19%), Japan (13%), China (10%), Australia (7%), Singapore (5%), and Germany (4%).
The major imports into Vietnam are oil, pharmaceutical drugs, machinery, military supplies, vehicles, and food. Vietnam's major exports are coal, crude, petroleum, peanuts, rice, rubber, tea, and handcrafted bamboo and rattan products.
Vietnam's problem is that its imports are growing faster than its exports. So far in 2010, imports have increased by 29.4% while exports have only grown by 15.7%.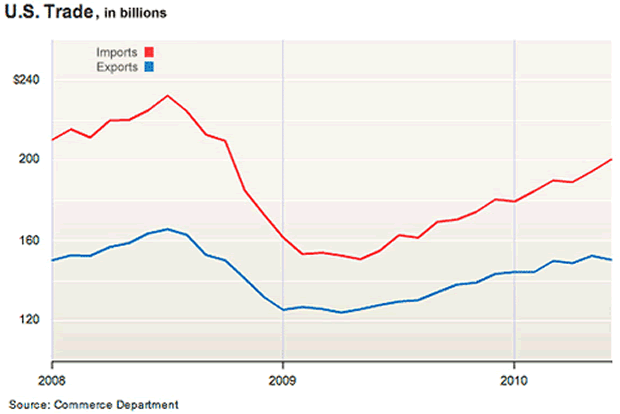 The currency devaluation is going to help stem that deficit. How? A cheaper currency makes Vietnam's exports cheaper for foreign buyers, so this move is designed to make Vietnam exports more affordable in global markets.
Did you know?
Vietnam is the largest producer of black pepper in the world, responsible for one-third of the global supply. Vietnam is the world's second largest exporter of rice, second only to Thailand. Vietnam has one of the lowest unemployment rates of all emerging markets. Bill Clinton was the first U.S. President to visit Vietnam and was given a hero's welcome when he arrived in 2000. Vietnam's official name is the Socialist Republic of Vietnam. Vietnam's 86 million citizens have a literacy rate of 94%.
The four largest motorcycle markets in the world are all in Asia: China, India, Indonesia, and Vietnam.
Vietnam is trying to avoid the slippery slope of becoming hopelessly mired in the cycle of annual trade deficits. Vietnam does not want to follow America's disastrous trade example.
The U.S. is and has been running massive trade deficits for years. Just in the month of June, the U.S. ran a $49.9 BILLION trade deficit. Yup, almost $50 BILLION dollars!
That's because the U.S. has bought a total of $177 billion worth of goods from other countries in the first six months of 2010.
That number is almost double the $20-billion monthly average deficit that the U.S. has been running for years.
By the way, most of that deficit — $26.2 billion — was with China. When you think about all the oil we import, it is an amazing testament to the Chinese economy that we spend more on clothes, electronics, shoes and toys from China.
By devaluing its currency, Vietnam is making its exports cheaper for foreign buyers.
Those gigantic trade deficits (as well as gigantic budget deficits) are why the U.S. dollar has been on a steady downward spiral for years. Since 2002, the U.S. dollar index has lost 25% of its value against a diversified basket of international currencies.
Vietnam has just recently started to implement some free market reforms into its economy and is on track — with moves like this currency devaluation — for sustainable and meaningful economic growth.
Vietnam joined the World Trade Organization in 2007 and is quickly becoming an economic force in the region. It has a young, enthusiastic workforce, and is attracting tons of foreign capital.
This may surprise you, but many Chinese companies are opening new factories in Vietnam. The reason is that Vietnam wages are even lower than Chinese wages, so new manufacturing plants and factories are being opened at a rapid pace.
Perhaps even more important is a new and LARGE government stimulus package to increase consumer demand and boost construction/infrastructure projects. When I look at Vietnam, I see many of the same advantages that turned China into an economic powerhouse.
It may be a bumpy ride, but I believe Vietnam will be one of the most lucrative markets in Asia for stock market investors.
Unlike China, Japan, and Korea, there isn't a single Vietnam stock listed on any American stock exchanges. Plus, the Vietnamese government has made it hard for foreigners to invest directly into the Vietnam stock market.
The most practical way to add Vietnam into your portfolio is with Market Vectors Vietnam (VNM) exchange traded fund, which includes a variety of financial, energy, industrial and consumer stocks.
I would not rush out and buy VNM tomorrow morning, but if you missed out on the early (and HUGE) gains of Chinese stocks, don't make the mistake of ignoring the big opportunities in Vietnam.
Best wishes,
Tony
This investment news is brought to you by Uncommon Wisdom. Uncommon Wisdom is a free daily investment newsletter from Weiss Research analysts offering the latest investing news and financial insights for the stock market, precious metals, natural resources, Asian and South American markets. From time to time, the authors of Uncommon Wisdom also cover other topics they feel can contribute to making you healthy, wealthy and wise. To view archives or subscribe, visit http://www.uncommonwisdomdaily.com.
© 2005-2019 http://www.MarketOracle.co.uk - The Market Oracle is a FREE Daily Financial Markets Analysis & Forecasting online publication.

Only logged in users are allowed to post comments.
Register/ Log in