U.S. Housing Sales Slump Whilst China's Boom
Housing-Market
/
US Housing
Sep 01, 2010 - 12:25 PM GMT


I'm back in Montana for a short visit and I am really enjoying my time here.
I've hiked around two of my very favorite spots in the world, Jewell Basin area of the Flathead National Forest and Glacier National Park, and even picked a couple buckets of wild huckleberries. Fortunately, I did not run into any grizzly bears, but I didn't see Huckleberry Hound either.
After sweating like a pig in the 100-plus tropical heat of Southeast Asia, the mild daytime temperatures in the 80′s and the cool Montana nights are a very welcome change.
And best of all, I've enjoyed every second of the wonderful time I've spent with my family and reconnecting with old Montana friends.
The only disappointment of my trip has been the dramatic and painful change of financial circumstances that has affected many of my friends that were involved in the real estate and construction business.
Affluent retirees, second-home buyers, and successful telecommuters have been flocking to Montana for its natural beauty, outdoor activities, low crime, and peaceful quality of life for years and that made its real estate market one of the strongest in the entire country.
Like the rest of the country, however, the market has cratered and taken the fortunes of everybody in the real estate and construction market with it.
HORRIBLE NEW HOME SALES. The Commerce Department reported that new homes were sold at an annualized rate of 276,000 in July, a painful 32.4% drop from the same period a year ago. That was the slowest pace of new home sales since the government began keeping records in 1963.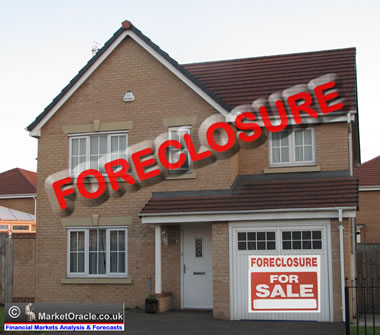 Both new and existing home sales have reached a new low.
HORRIBLE EXISTING HOME SALES. The new home sales data is important but new homes represent a very small fraction — only 7% — of the overall real estate market. Existing homes sales, which makes up the other 93%, is the key number and that number was horrible. Sales of previously owned homes plunged by 27.2% in July, the biggest fall in the last 15 years! Worse yet, there are 4 million homes on the market, a number that will take at least one year to sell.
The "experts" were expecting real estate sales to fall because of the April 30 expiration of the $8,000 home buyer's tax credit, but the July dip was much worse than expected and not even a drop in mortgage rates to an average of 4.42% was enough to pull buyers into the market.
"Basically, we know that probably a third or more of the borrowers who bought homes between the 2005 and 2007 period can't qualify now, so that eliminates them as trade-up buyers."
Inside Mortgage Finance Report
No wonder my Montana buddies are struggling:
One of my good friends (and my personal realtor) had been making a six-figure income as a realtor for years, but business is so slow that he is now working as a backhoe operator … and not making much money doing that either.
Business was so bad for another friend of mine, who I think is the best carpenter in the world, that he gave up and moved to Louisiana to work as an underwater welder. Unfortunately, that work disappeared when the Obama administration slapped a moratorium on new Gulf of Mexico oil rigs.
Another friend, a top-notch electrician, has been collecting unemployment for months and is taking whatever odd jobs he can find. "It's really hard right now and I don't know how much longer I can last," he said.
My old mortgage broker closed up his business and now tries to make ends meet by delivering newspapers in the early morning and delivering pizza at night.
What does all this have to do with Asia? Not much except that the real estate market in China couldn't be more opposite.
Unlike U.S. banks, Chinese banks are happy to make real estate loans. Chinese banks loaned out a total of $132 BILLION in real estate loans in the first six months of 2010. That is a 22.4% increase over the same period last year.
The result is that the housing market is still vibrant and growing in China. According to the National Bureau of Statistics, home prices in the 70 largest cities in China have increased by 10.3% so far this year and are up by 12.8% over the last 12 months.
To show you that those trailing numbers aren't a flash in the pan, property prices rose by 1.6% just in the month of July. "Many cities are stable. In some cities, price increases are quite large," said the National Development and Reform Commission.
In comparison to the U.S., Chinese real estate is booming.
Even the "big boys" are jumping into Chinese real estate. Blackstone Group, the world's biggest private equity firm, has entered China's property market by teaming up with Hong Kong-based Great Eagle Group for a Dalian development.
Blackstone isn't the only foreign company jumping into Chinese real estate. Morgan Stanley, Goldman Sachs, Macquarie Group, UBS, and Merrill Lynch have entered China's real estate market and brought a total of $1.2 BILLION of foreign capital just in the month of June.
If you want to include some Chinese real estate into your portfolio, there are plenty of options, all of which are listed on a U.S. stock exchange:
E-House (EJ) is the Century 21 of Chinese real estate. It is the largest real estate brokerage company in China and has offices in most of the largest Chinese cities.
Claymore/AlphaShares China Real Estate ETF (TAO) owns the largest Chinese real estate developers like Cheung Kong Holdings and Sun Hung Kai Properties.
China Housing & Land (CHLN) develops entry- and mid-priced homes in Xian, home of the famous terra cotta warriors. To be fair, I need to tell you that my Asia Stock Alert subscribers already own this rapidly growing gem.
Xinyuan Real Estate (XIN) is based in Beijing, but develops and constructs residential real estate units all over China.
Don't rush out and buy any of these before doing your own homework and I suggest that you wait for these to go on "sale" before buying. Just remember that the Chinese are no different than us in that they all aspire their piece of what we call the American Dream, which is to own their own home.
Best wishes,
Tony
This investment news is brought to you by Uncommon Wisdom. Uncommon Wisdom is a free daily investment newsletter from Weiss Research analysts offering the latest investing news and financial insights for the stock market, precious metals, natural resources, Asian and South American markets. From time to time, the authors of Uncommon Wisdom also cover other topics they feel can contribute to making you healthy, wealthy and wise. To view archives or subscribe, visit http://www.uncommonwisdomdaily.com.
© 2005-2019 http://www.MarketOracle.co.uk - The Market Oracle is a FREE Daily Financial Markets Analysis & Forecasting online publication.

Only logged in users are allowed to post comments.
Register/ Log in