Asia Leading the World in Electric Cars, How to Profit
Companies
/
Investing 2010
Sep 15, 2010 - 09:14 AM GMT


In 2009, the world bought 61 million cars and almost all of them were powered by internal combustion, gasoline engines. That's going to change in a big way.
J.D. Power predicts that the world will buy 2 million electric vehicles by 2020. The researchers at HSBC are shooting much higher and expect the world to buy 9 million EVs (electric vehicles).
When it comes to hybrid and electric cars, the Asians are rapidly becoming the global leaders in technology and sales.
Korean auto giant Hyundai unveiled its first all-electric car last week, the BlueOn, which combines an efficient electric motor with the newest generation of lithium-ion polymer battery technology.
The BlueOn can reach speeds as high as 81 miles per hour and can travel up to 80 miles.
The car has two charging docks: One for household 220-volt outlets and a 380-volt industrial-strength power for quick recharging. The household plug takes six hours to fully charge, while the industrial charge can deliver an 80% charge in 25 minutes.
Hyundai expects to produce 2,500 units by the end of 2012, but the Korean government is committed to helping (a euphemism for subsidies and tax breaks) its automobile producers make one million electric cars by 2020.
Nissan, Honda, Mitsubishi, and Toyota have already rolled out all-electric cars. Nissan forecasts that all-electric vehicles will reach 10% of the global auto market by 2020.
The Nissan Leaf, a four-door hatchback due in showrooms late this year, will have a base price of $32,780, but that cost will drop to roughly $25,000 once a $7,500 electric vehicle tax credit is figured in. The price tag puts the Leaf, which can go up to 100 miles on a single charge from a home outlet, within reach of mainstream car buyers.
The Asians are rapidly becoming the global leaders in technology and sales of hybrid and electric cars.
The Mitsubishi i-MiEV (Mitsubishi Innovative Electric Vehicle) will go on sale in the U.S. in 2011 and will be priced at less than $30,000 prior to the $7,500 federal tax credit. The i-MiEV is smaller than a MINI Cooper and has been described as a "glorified golf cart." It does, however, reach speeds up to 80 mph and can go up to 75 miles on a single charge.
Honda has been primarily focused on hybrid vehicles, which make up 6% of its sales now, but will introduce a pure non-gasoline car by 2012. Honda is betting on hydrogen fuel cells instead of battery-powered electric cars, so I expect Honda to either become the kingpin or flop of the green car market.
The Toyota Prius, with more than 1 million cars on the road, is the most successful gasoline/electric hybrid car on the market. So many experts expect great things from the all-electric Toyota IQ. The IQ won't be available in the U.S. until 2012, but Toyota will undoubtedly become a major force if not leader of the EV marketplace.
Pink Sheets: A daily publication compiled by the National Quotation Bureau with bid and ask prices of over-the-counter stocks. Unlike companies on a stock exchange, companies quoted on the pink sheets system do not need to meet minimum requirements or file with the SEC. The name "Pink Sheets" comes from the color of paper the quotes were historically printed on.
Electric cars are here to stay and some automakers are going to make a bundle by delivering the most effective and lowest cost EV to the marketplace. My money is on the Asian automakers and you can invest in any of the above five.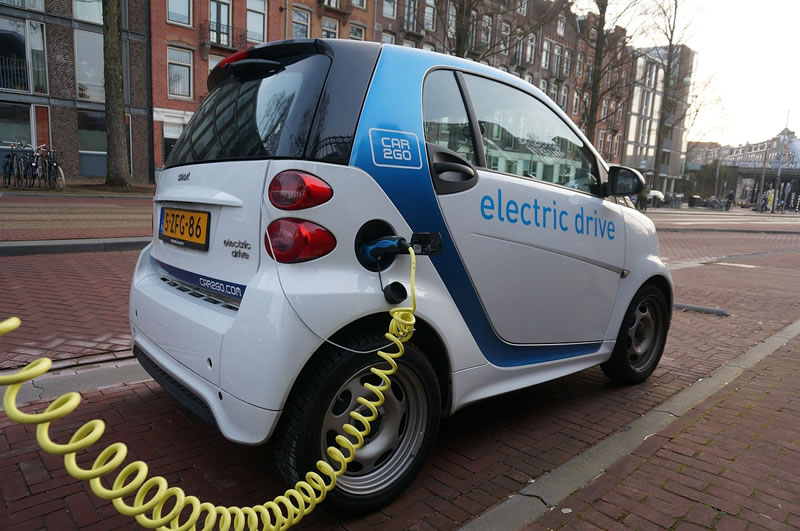 Electric cars are here to stay and some automakers are going to make a bundle delivering them to the marketplace.
Toyota (TM) and Honda (HMC) are traded on the New York Stock Exchange while Hyundai (HYMLF.PK), Nissan (NSANY.PK), and Mitsubishi (MMTOY.PK) are available on the over-the-counter Pink Sheet market.
Many investors aren't familiar or are uncomfortable with the Pink Sheet market. Any stock trading on the Pink Sheets falls into one of these two categories: (1) companies that don't meet the listing requirements of the New York, American or Nasdaq stock exchanges or (2) companies that are unwilling to jump through the regulatory hoops and filings that accompany listing on the major exchanges.
For foreign companies, getting listed on the NYSE or Nasdaq means that they have to have a completely separate American legal department and a completely separate accounting department. A lot of major companies — like Hyundai, Nissan, and Mitsubishi — have no interest in setting up a duplicate accounting and legal department just to be listed on a U.S. exchange.
That's why a lot of big, household-name foreign companies — like Nintendo, Nestle, and Volkswagen — are traded on the Pink Sheets.
The biggest problem for most of the 15,000 stocks that trade on the Pink Sheets is a pathetic lack of trading volume. Many of the Pink Sheet stocks don't trade for days or even weeks at a time and suffer from Grand Canyon-sized bid/ask spreads. It is pretty hard to make money on a stock when the market maker is killing you for a 10% to 25% bid/ask spread on both sides of the trade.
That is why I strongly recommend you always use a "limit" order whenever buying and selling on the Pink Sheets.
On the other hand, all three of those Asian automakers are available on their home exchange in Japan and Korea. In general, you're better off buying in a company's home market, but I've found that a lot of U.S. investors are unwilling to buy on a foreign stock exchange.
Which of the five Asian automakers do I think will win the EV race? At this time, I do not own any automakers, foreign or American, but I believe the head of the class of the auto industry is Toyota. I've traveled ALL over Asia and the one car company that I see in every country I go to is Toyota.
Toyota was a $130 stock as recently as 2007, but is now in the $70 range. That's a big haircut, but I believe the global economic slowdown will take all auto stocks, including Toyota, down a bit further. Look for Toyota to re-test its 2009 lows around $60, at which price I would become very interested.
Who knows? Maybe you'll make enough off of your Toyota stock to buy yourself a shiny new electric car.
Best wishes,
Tony
This investment news is brought to you by Uncommon Wisdom. Uncommon Wisdom is a free daily investment newsletter from Weiss Research analysts offering the latest investing news and financial insights for the stock market, precious metals, natural resources, Asian and South American markets. From time to time, the authors of Uncommon Wisdom also cover other topics they feel can contribute to making you healthy, wealthy and wise. To view archives or subscribe, visit http://www.uncommonwisdomdaily.com.
© 2005-2019 http://www.MarketOracle.co.uk - The Market Oracle is a FREE Daily Financial Markets Analysis & Forecasting online publication.

Only logged in users are allowed to post comments.
Register/ Log in