Three Junior Potash Developers Are Sitting on Big Assets
Companies
/
Investing 2010
Sep 24, 2010 - 06:10 AM GMT


The United Nations estimates that the world's population will reach 7.7 billion by 2020 and 9.3 billion in 2050. Another United Nations estimate says that only 30% of the arable land in use in the 1950's will be available per person in 2050.
"Just when we need more soil to feed the 10 billion people of the future, we'll actually have less -- only a quarter of an acre of cropland per person in 2050, versus the half-acre we use today on the most efficient farms." ~ David Montgomery, author of the 2007 book Dirt: The Erosion of Civilizations
Fertilizers are going to become increasingly important to improve crop yields.
2010 is going to be the remembered as the year of the fertilizer deal. BHP Billiton acquired Athabasca Potash for C$341 million. Vale paid US$3.8 billion for the South American fertilizer assets of US commodity supply chain company Bunge and at the same time acquired a 16 per cent stake in Fertilizantes Fosfatados of Brazil. The recent $38 billion all-cash bid for Potash Corp (POT-TSX) by BHP Billiton (BHP-NYSE) a mere two days after I published "Potash Sector Heating Up...Again" has stirred up the fertilizer sector and reminded the investment community of potash's uniquely attractive economic fundamentals.
There are two junior potash developers in Saskatchewan, and one in Brazil, on my radar screen.
Amazon mining Corp. (TSX.V - AMZ) was founded by Brazilians in 2005. The company is focused on the development of its Cerrado Verde project. Cerrado Verde is source of a potash rich rock from which Amazon plans to produce a slow-release, non-chloride, multi-nutrient, fertilizer product. Brazilian soils are generally poor in potash and Brazil only produces 10% of its current potash needs.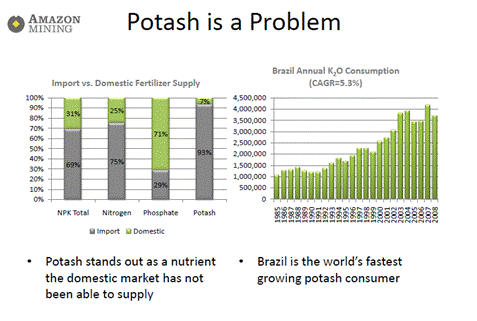 Their leading exports - sugar cane, soy beans, orange juice, coffee, tobacco, beef, poultry and corn - all require potash rich environments. Brazil is one of the few countries left with potential to materially increase arable land and that has an abundance of freshwater (Brazil, Canada, China, Colombia, Indonesia and Russia have half the world's supply of freshwater. Asia has the lowest water supply per capita) - increasing the size of the country's agricultural land base will drive further potash demand.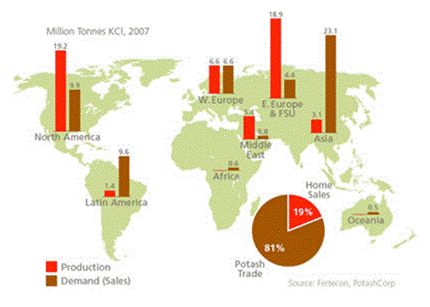 Independent Engineering work began on the Preliminary Economic Assessment ("PEA or Scoping Study") for the Cerrado Verde project in July, 2010. The work is being completed jointly by ECM.S.A - Projetos Industriais and SRK Global Mining Consulting, results could be as early as October.
Amazon is in the midst of lab scale testing of preliminary ThermoPotash products. To date, the company has received excellent results from solubility tests and nutrient availability tests. Tests are also being conducted to demonstrate ThermoPotash's resistance to leaching (The combination of acid soils and torrential rains in Brazil reduces the efficiency of traditional chloride based potassium because it dissolves too quickly) and how effective ThermoPotash is on reducing limestone requirements to reduce the acidity of soil.
The Company has entered into an agreement with the University of Lavras, Minas Gerais, Brazil, to complete a full slate of tests required to register the ThermoPotash product as a fertilizer in Brazil. The goal is to complete the requirements and register the product in Q3 2011.
An interesting development to Amazon's remarkable story is the discovery of Natural Gas close to their Cerrado Verde project - a development that might have economic implications and bears watching.
"We are pleased to see that the discovery of natural gas will also be a boon to the agricultural sector because it will lower costs for the local production of potash. We are undertaking talks with Amazon Mining in order to reach an agreement that will ensure the flow of benefit in the near future." ~ State Secretary Mr. Ribeiro
Analyst coverage includes:
Clarus Securities
Kaiser Bottom-Fish Online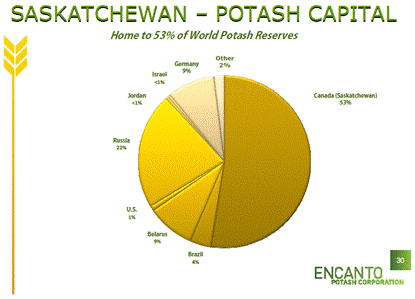 Saskatchewan is the largest potash producer in the world, typically accounting for 30 percent of total production. The value of Saskatchewan potash sales was $3.1 billion in 2009
Encanto Potash (TSX.V - EPO) is steadily working towards its maiden 43-101 resource calculation. And EPO's flagship property, the Muskowekwan, is on trend with all the major players in the potash basin.
Last week EPO published its initial interpretations of the 65 square kilometre 3D survey over project area. The data supports findings from its original 2D survey indicating that the potash bed is continuous and structurally intact.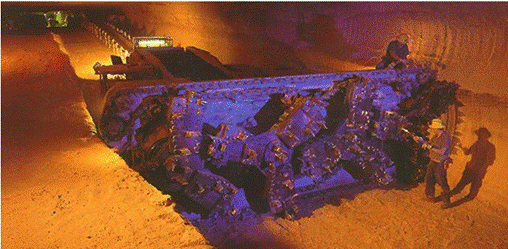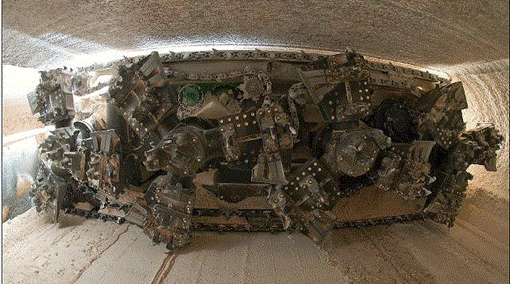 Saskatchewan's competitive advantage is the exceptional extent and quality of its ore reserves. The high-grade ore lies in basically flat beds, allowing the use of highly efficient mining techniques. The province's industry is widely considered to have the lowest production costs in the world.
EPO's first drill hole at its Muskowekwan property in Saskatchewan returned values of 25.2% K2O (39.9% KCl) over 3.6 metres in the Patience Lake potash bed, and 25.5% K2O (40.4% KCl) over 2.4 metres in the Belle Plaine potash bed. Drilling in the lower Esterhazy Member returned values of 5.3 metres of 12.4% K2O (19.6% KCl).
According to a research report dated August 30th 2010 from Industrial Alliance, EPO's first drill hole shows depth, grade and thickness on par with both Potash Corp's Rocanville and Allan producing mines and Athabasca Potash's (Now BHP Billiton) Burr Property in the feasibility stage, recently bought out by BHP for $341 million.
The 2010 drill program, beginning in the next couple of weeks, will verify grade distributions throughout the property. EPO expects an initial resource estimate around Christmas or just into the new year.
According to Boyd PetroSearch, less than 10% of the 69 square mile 3D survey shows anomalies in seismic response, indicating that the potash could be continuous over 30,000 acres.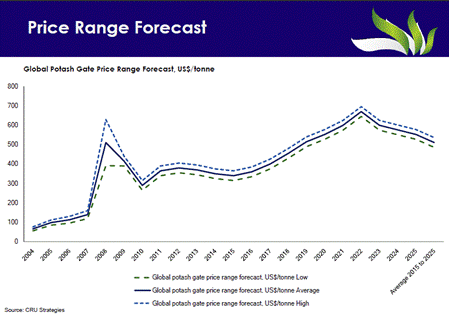 Western Canada's potash deposits occur in the Middle Devonian Prairie Evaporite formation at depths in excess of 900 m. Start up costs can run in access of $2b. Very few junior companies will have the experienced management team and the requisite financial backing necessary to pull off building a conventional underground potash mine. Encanto Potash has the backing of the Endeavor Financial Group so access to capital should not be a problem. First Nations involvement and having the projects on their traditional territory lessens the number of stakeholders in negotiations and consultations.
Western Potash Corp. (TSX.V - WPX) has a NI 43-101 compliant Mineral Resource Estimate for its Milestone property in southern Saskatchewan.
The estimate consists of 41 million tonnes of Measured Resource (contained KCl), 133 million tonnes of Indicated Resource, and 560 million tonnes of Inferred Resource. The resource estimate at Milestone was prepared by Agapito Associates Inc. ("AAI") of Grand Junction, Colorado.
Mineral resources for the potential solution mining intervals (Patience Lake, Belle Plaine, and Esterhazy Members, excluding interbeds, are estimated to be as follows:
• Measured Resource: 409 Mt in place sylvinite grading 31.0% KCl, or 19.6% K2O (41 Mt of recoverable KCl, or 26 Mt recoverable K2O)
• Indicated Resource: 1,382 Mt in place sylvinite grading 30.8% KCl, or 19.45% K2O (133 Mt of recoverable BClKor 84 Mt recoverable K2O)
• Inferred Resource: 7,034 Mt in place sylvinite grading 30.9% KCl, or 19.5% K2O (560 Mt of recoverable KCl, or 354 Mt recoverable K2O)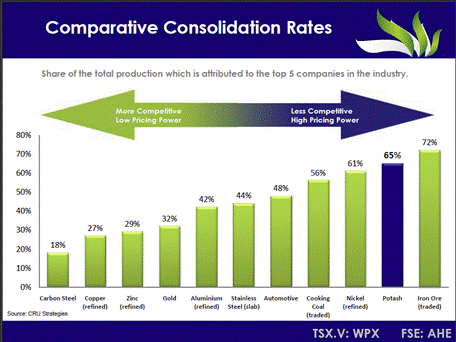 The just published Preliminary Economic Assessment (PEA) confirms that the Milestone resource shows significant positive economics and that the asset is of sufficient size and grade to support solution mining for more than forty years at a production rate of 2.5Mt/yr. The Study recommends immediate commencement of a pre-feasibility study based on the attractive economic assessment in the PEA.
Solution mining takes advantage of the fact that mineral solubility in water improves with increasing temperature. Since temperature increases with depth, deeper potash deposits become candidates for solution mining. In line or primary solution mining, water is sent down a pipe to the deposit and circulated to dissolve halite (sodium chloride) and sylvite (potassium chloride); the solution is then pumped to the surface. In secondary mining, a halite-rich brine is injected into the deposit, selectively dissolving the sylvite and leaving the mineralized halite behind.
Solution mining benefits:
Development costs are significantly lower
Development timelines are shorter
Production is easily scalable
Mining risk is significantly decreased
WPX management is studying the possibility of consolidating the pre and final feasibility processes, and producing and publishing only a final feasibility suitable for reaching a production decision and for attracting project debt finance.
Analyst coverage includes;
Salman Partners
BMO Capital Markets
Wellington West
Scotia Capital
Fundamental Research
"We are pleased that the Scoping Study confirms that the Milestone Potash project is an economically robust, stand alone project capable of delivering significant value for our shareholders. Not only does the Study show that the project is technically feasible and economically positive, it also shows that our favorable formation temperatures contribute to reduce our production costs by approximately 10%. We believe these features identify Milestone as one of the largest and best Tier 1 potash, greenfield, solution deposits, still available in the world today, that are ready for development... The receipt of this positive Scoping Study is a significant milestone on the path towards building Saskatchewan's most efficient potash solution mine" ~ Patricio Varas, CEO and President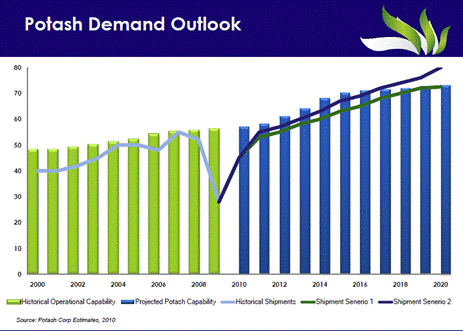 Conclusion
"Companies involved solely in exploration of potash are likely take-out candidates, either by diversified mining companies seeking a way into the potash industry or by countries looking to lock-in supply." ~ Jacob Bout, fertilizers analyst for CIBC World Markets, Global Potash Supply - A Focus on Saskatchewan Exploration
An investor would almost have to think a massive surge in earnings by POT and AGU, the USD 45 billion loan backing BHP Billiton's USD 39 billion bid for Potash Corp being signed last Friday and a possible rival offer from China's state-owned chemical conglomerate Sinochem (China is the world's most populous country at 1.3 billion people but with just 9 per cent of its arable land is the world's biggest user of potash - an annual demand of 10 million tonnes) all bode well for the few small junior companies with big potash resources.
There's certainly longevity to the potash story and as more and more investors become aware of it the most leveraged companies could very well deliver spectacular gains for their shareholders. Potash should be on every investors radar screen.
Is it on yours?
Richard Mills does not own shares of any company mentioned in this report.
Amazon mining Corp. (TSX.V - AMZ) is an advertiser on his website aheadoftheherd.com.
Encanto Potash (TSX.V - EPO) is an advertiser on his website aheadoftheherd.com.
Western Potash Corp. (TSX.V - WPX) is an advertiser on his website aheadoftheherd.com.
By Richard (Rick) Mills
If you're interested in learning more about our junior markets please visit us at www.aheadoftheherd.com. Membership is free, no credit card or personal information is asked for.
Richard is host of aheadoftheherd.com and invests in the junior resource sector. His articles have been published on over 200 websites, including: Market Oracle, Wall Street Journal, USAToday, National Post, Stockhouse, Casey Research, 24hgold, Vancouver Sun, SilverBearCafe, Infomine, Huffington Post, Mineweb, 321Gold, Kitco, Gold-Eagle, The Gold/Energy Reports, Calgary Herald, Resource Investor.
Copyright © 2010 Richard (Rick) Mills - All Rights Reserved
Legal Notice / Disclaimer: This document is not and should not be construed as an offer to sell or the solicitation of an offer to purchase or subscribe for any investment. Richard Mills has based this document on information obtained from sources he believes to be reliable but which has not been independently verified; Richard Mills makes no guarantee, representation or warranty and accepts no responsibility or liability as to its accuracy or completeness. Expressions of opinion are those of Richard Mills only and are subject to change without notice. Richard Mills assumes no warranty, liability or guarantee for the current relevance, correctness or completeness of any information provided within this Report and will not be held liable for the consequence of reliance upon any opinion or statement contained herein or any omission. Furthermore, I, Richard Mills, assume no liability for any direct or indirect loss or damage or, in particular, for lost profit, which you may incur as a result of the use and existence of the information provided within this Report.
© 2005-2019 http://www.MarketOracle.co.uk - The Market Oracle is a FREE Daily Financial Markets Analysis & Forecasting online publication.

Only logged in users are allowed to post comments.
Register/ Log in