The Rise of the Disaster Capitalism Complex - Shock Therapy in the USA - Part 5
Politics
/
Global Financial System
Oct 01, 2007 - 12:25 AM GMT

Richard Nixon knew before the rest of us that Donald Rumsfeld is "a ruthless little bastard." He also has a knack for making enemies even inside the Pentagon he ran as Defense Secretary. He planned to "reinvent warfare for the twenty-first century (making it) more psychological than physical, more spectacle than struggle, and far more profitable" than ever before.


Talk aside, he wanted to revolutionize the military by running it like the corporate world, and that meant using methods like outsourcing and branding. His idea was for fewer full-time troops, more as-needed ones from the Reserves and National Guard, and a lot of backup help from private contractors like Blackwater USA for security and Halliburton for a range of functions unrelated to soldiering. He wanted less staff and more tax dollars diverted to private companies. The Pentagon brass wasn't pleased, but Rumsfeld was boss and Dick Cheney backed him.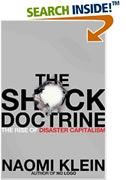 Klein calls them both "proto-disaster capitalists" who practice "the central tenet of the Bush regime (that) the job of government is not to govern but to subcontract." The privatization mania was kick-started in the Reagan era, but Bill Clinton bought it as well. Now the feeling is anything government can do, private business can do better so let them. That means fire departments, prisons, public schools, public health, data management, border control and even parts of the military. As Klein explained: "crisis-exploiting methods....honed over the previous three decades would be used to (privatize) the infrastructure of disaster creation and....response. Friedman's crisis theory was going postmodern (to create a) privatized police state" by auctioning it off.

"Then came 9/11, and the idea of hollowing out government seemed opposite of what a frightened public wanted - a strong central government to protect them. Bush promised it in speeches, but "his inner circle had no intention of converting to Keynesianism." September 11 security failures only reinforced their belief that private firms could handle the challenge better than government, and that meant transferring hundreds of billions of public dollars to corporate pockets. The Bush administration exploited shock and fear "to push through its radical vision of a hollow government in which everything from war fighting to disaster response was a for-profit venture."

Mass disorientation post-9/11 provided the opportunity, and the "war on terror" became a "bold evolution of shock therapy....built to be private from the start" to capitalize on it. It came in two stages. First, policing, surveillance, detention and war-making powers of the executive were dramatically increased though nothing in the Constitution permits it. Then, the whole package, including occupation and "reconstruction," was outsourced to well-connected private firms that responded with generous campaign funds to keep the mutually reinforcing daisy chain humming. Using the ploy of fighting "terrorism," the homeland disaster capitalism complex emerged as a full-blown new economy and what Klein calls "a virtual fourth branch of government."

The Bush administration's idea of government, with security as one function, wasn't to provide it but to buy it at cost-plus market prices with lots of latitude for the plus. Just as the internet launched the dot-com bubble, from 9/11 emerged the disaster capitalism one, and it was off to the races "in an ad hoc....chaotic fashion."

Fighting "terrorism" is big business, and one of the first opportunities was the market for surveillance cameras with 30 million of them installed in the US, billions of hours of footage, analytic software to scan it, digital image enhancement to help it, and information management and data mining technology to handle all data government collects on everyone and everything. September 11 unlocked the potential, a huge new growth market was created, and protection from terror became more important than big brother watching. In six short years, an industry that barely existed is now much larger than Hollywood or the music business, and its potential looks limitless.

Klein calls it "an unprecedented convergence of unchecked police powers and unchecked capitalism, a merger of the shopping mall and the secret prison" in a frightening brave new world most people barely understand or know exists. It generates enormous wealth that creates a powerful incentive for its winners to sell fear for more of it and partnering with government makes it easy, especially the kind in power now.

Capitalism Becomes Corporatism in a Corporatist State

Proto-disaster capitalism defines the Bush administration as crises, wars and other disasters "conflate with what's good for Lockheed, Halliburton, Carlyle and (Rumsfeld's old company) Gilead" Sciences. Cataclysm is a growth business that in the current climate involved "some of the seediest and most blatant corruption scandals in recent history," war-profiteering in the hundreds of billions, and a "whirling revolving door between government and business" taken to a new level. The limitless homeland security and war-profiteering markets are so alluring, hundreds of administration officials can't wait to cash in like earlier ones did. Klein names some noted ones like Richard Pearle, James Baker, Henry Kissinger, Paul Bremer, George Shultz, John Ashcroft, Tom Ridge, Rudi Giuliani, Richard Clarke, James Woolsey, Joe Allbaugh, and Michael Brown who wrote an infamous memo to a fellow FEMA staffer asking: "Can I quit now?"

That's the whole idea in a get rich quick environment - get an impressive government title, stay in office long enough in a department handing out big contracts, collect insider information with market value, then quit and cash in. Klein calls public service now "little more than a reconnaissance mission for future work in the disaster capitalism complex." She also quotes Danielle Brian, executive director of the Project on Government Oversight (a nonprofit watchdog group) saying: "It's impossible to tell where the government ends and Lockeed begins." She also believes that corporatist economic goals and right to limitless profit seeking lie at the heart of the most committed neocons who talk a good game but value great wealth their top priority. They partnered permanent war and homeland security with the disaster capitalism complex to get it, and it's hard indeed telling where one ends and the other begins. But it's centerpiece project is Iraq, and its headquarters is in Baghdad's heavily fortified Green Zone.
Reviewing Naomi Klein's "The Shock Doctrine: The Rise of Disaster Capitalism" - Introduction ,
Part 1 - Two Doctor Shocks - Torture and Chicago School Fundamentalism
Part 2 - Chile The First Test - The Bloody Birth of the Counterrevolution
Part 3 - The Shock Doctrine: Surviving Democracy
Part 4 - The Shock Doctrine: Lost in Transition: Slamming the Door on History - Part 4
By Stephen Lendman
Stephen Lendman lives in Chicago and can be reached in Chicago at lendmanstephen@sbcglobal.net.

Also visit his blog site at sjlendman.blogspot.com and listen to The Steve Lendman News and Information Hour on TheMicroEffect.com Saturdays at noon US central time.
© 2005-2019 http://www.MarketOracle.co.uk - The Market Oracle is a FREE Daily Financial Markets Analysis & Forecasting online publication.

Only logged in users are allowed to post comments.
Register/ Log in