Dajin - Lithium and Potash
Companies
/
Metals & Mining
Oct 06, 2010 - 04:10 AM GMT


The Puna plateau sits at an elevation of 4,000m, stretches for 1800 km along the Central Andes and attains a width of 350-400 km. The Puna covers a portion of Argentina, Chile and Bolivia and hosts an estimated 70 - 80% of global lithium brine reserves.
The evaporate mineral deposits on the plateau - which may contain potash, lithium and boron - are formed by intense evaporation under hot, dry and windy conditions in an endorheic basin - endorheic basins are closed drainage basins that retain water and allow no outflow - precipitation and inflow water from the surrounding mountains only leaves the system by evaporation and seepage. The surface of such a basin is typically occupied by a salt lake or salt pan. Most of these salt lakes - called salars - contain brines which are capable of providing more than one potentially economic product.
A Brine "Mining" Business Model
The salt rich brines are pumped from beneath the crust that's on the salar and fed into a series of large, shallow ponds. Initial 200 to +1,000 parts per million (ppm) lithium brine solution is concentrated by solar evaporation and wind up to 6,000 ppm lithium after 18 - 24 months.
The extraction process is low cost/high margin and battery grade lithium carbonate can be extracted. The cost-effectiveness of brine operations forced even large producers in China and Russia to develop their own brine sources or buy most of their needed raw materials from brine producers.
These brines are considered primarily potash deposits with lithium as a by-product.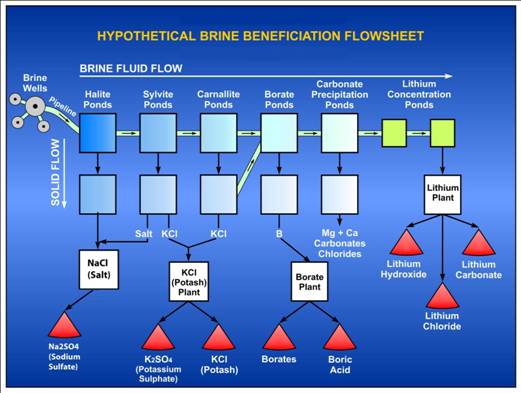 The above diagram was designed to show that several commercial products can be recovered from typical brine and that the recovery takes place in a series of steps over the entire evaporation process. Note that the final product in each step may require processing in a specialized plant. Also please note that the actual sequence of process steps may vary from brine to brine, and as such, the process steps shown above may not be in the correct order for any specific brine.
The key factors that determine the quality, economics and attractiveness of brines are:
Potassium content
Lithium content
Presence of contaminants ie magnesium (Mg)
Porosity
Net evaporation rate
Recoverable by-products
Infrastructure - or lack thereof
Country risk
100% control over production
Low capex, low production costs, high margin products
Contributing to efficient solar evaporation and concentration of the Puna Plateau brines are:
Low rainfall
Low humidity
High winds
High elevations
Warm days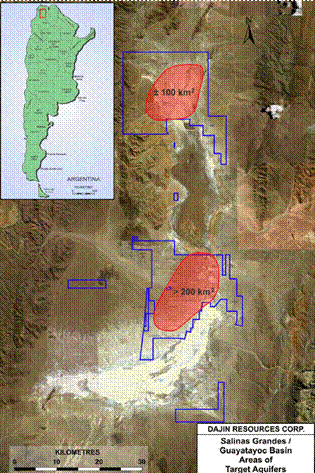 Dajin Resource Corp. DJI - TSX.v Cash: $2,500,000.00 Debt: $300,000.00 Shares Outstanding: 61,223,967 Fully Diluted: 75,201,032
Dajin controls a 100% interest in mineral concessions in Salta and Jujuy provinces of Argentina that cover regions known to contain brines rich in lithium, potassium and boron.
These concessions total approximately 101,000 hectares in various drainage basins including 81,000 hectares of salar and Tertiary paleo-salar in the Salinas Grandes/ Guayatayoc salt lake basins.
Dajin has recently received, from Safari Energy Inc., a Calgary based geophysical consultant, the interpretation of 417.6 line kilometres of 2D seismic lines shot on and around Dajin's Salinas Grandes/Guayatayoc project.
The data indicate stacked salt deposits (the basin may be more than 800 meters in depth and contain several salt layers as much as 150 to 200 meters thick) deposited in sedimentary/structural basins which have potential to be collection zones for denser, higher grade brines.
The potential exists for the older, deeper, brines that flood the sedimentary and structural basins to contain substantially greater concentrations of lithium and potassium than the current near surface brines due to the more extreme climatic conditions when these older salt deposits were precipitated.
High lithium concentrations, up to 1,600 parts per million (ppm), in near surface brines are present in specific regions of the Salinas Grande salt lake - Dajin believes these high lithium concentrations are due to the recharge of the salt lake by the seepage of these older deeper brines along faults penetrating the sedimentary/structural basins.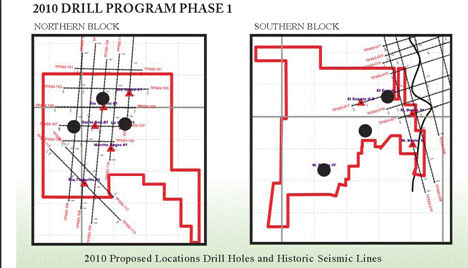 Based on geophysical factors eleven drill sites were selected for initial delineation and evaluation of possible reservoir quality lithologies. Phase 1 consists of 6 holes
"The commencement of this drill program is one more positive step forward for Dajin to test its target of a substantial economic resource of potash, lithium and borates in one of the largest brine basins in Argentina." ~ Brian Findlay, President Dajin Resource Corp.
Mr. Findley went on to point out that as a consequence of Dajin's 100% ownership in the concessions the company will have no payments or work commitments to previous owners and no royalties to pay to third parties.
Conclusion
Ahead of the Herd's first Lithium stock went from .05 to .80, our second Lithium pick was recently bought out by the world's largest pure lithium producer for $1.25 a share.
Dajin Resource Corp. has an exciting story to tell and is involved in two of today's dominant global investment themes - Lithium for the electrification of our transportation system and Potash to feed the world. This story should be on every investors radar screen.
Is it on yours?
By Richard (Rick) Mills
If you're interested in learning more about our junior markets please visit us at www.aheadoftheherd.com. Membership is free, no credit card or personal information is asked for.
Richard is host of aheadoftheherd.com and invests in the junior resource sector. His articles have been published on over 200 websites, including: Wall Street Journal, SafeHaven, Market Oracle, USAToday, National Post, Stockhouse, Casey Research, 24hgold, Vancouver Sun, SilverBearCafe, Infomine, Huffington Post, Mineweb, 321Gold, Kitco, Gold-Eagle, The Gold/Energy Reports, Calgary Herald, Resource Investor and Financial Sense.
Copyright © 2010 Richard (Rick) Mills - All Rights Reserved
Legal Notice / Disclaimer: This document is not and should not be construed as an offer to sell or the solicitation of an offer to purchase or subscribe for any investment. Richard Mills has based this document on information obtained from sources he believes to be reliable but which has not been independently verified; Richard Mills makes no guarantee, representation or warranty and accepts no responsibility or liability as to its accuracy or completeness. Expressions of opinion are those of Richard Mills only and are subject to change without notice. Richard Mills assumes no warranty, liability or guarantee for the current relevance, correctness or completeness of any information provided within this Report and will not be held liable for the consequence of reliance upon any opinion or statement contained herein or any omission. Furthermore, I, Richard Mills, assume no liability for any direct or indirect loss or damage or, in particular, for lost profit, which you may incur as a result of the use and existence of the information provided within this Report.
© 2005-2019 http://www.MarketOracle.co.uk - The Market Oracle is a FREE Daily Financial Markets Analysis & Forecasting online publication.

Only logged in users are allowed to post comments.
Register/ Log in