U.S. House Prices Continue to Fall, Down Over 80% in Gold and Silver
Housing-Market
/
US Housing
Dec 10, 2010 - 02:16 AM GMT


Median prices declined 3% from 11/09.
The peak was 63 - 64 months ago. The historical peak to trough real estate prices is 46+ months. 01/10 was the low for the 4.5 yr. decline that began in the summer of 2005. It really is "different this time".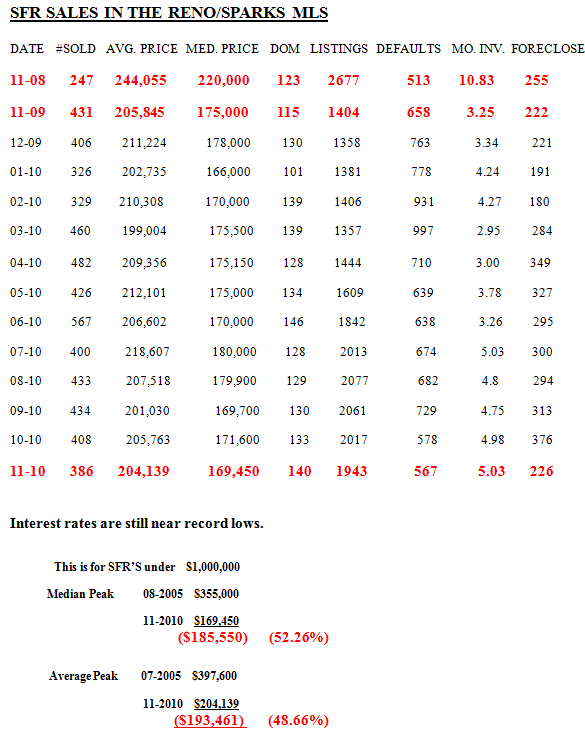 Foreclosures for Washoe County:
2006 69
2007 779
2008 2,194
2009 3,623
Foreclosures 226 for Washoe Country were up 2% from 11/2009.
Notices of default 567 were down 13.8% from 11/09. NOD'S have exceeded MLS sales for 38 consecutive months. Many of the large number of defaults will be added to Real Estate inventory with a 4 - 5 month lag time (Foreclosure process).
33.5% of notices of default for 07/10 (4 months) ended in foreclosure last month.
Unsold inventory in the Reno/Sparks MLS is 5.03 months, a 71% increase over 03/10.
Sales are down 31.9% since 06/10 (expiration of first time homebuyer tax credit).
REO'S and short sales represent 58% of listings, 59% of sales (11/2010), and 85% of pending sales. No one can sell for less than a lender.
Nevada Unemployment is 14.2% (the highest in the US) which has increased since the beginning of the year. Reno/Sparks unemployment is 13.6%. Nevada has the highest default rate in the U.S. (16%). Nevada has led the nation in personal bankruptcies for 2 consecutive years and is now at 1.14% ( 29.8% higher than No. 2).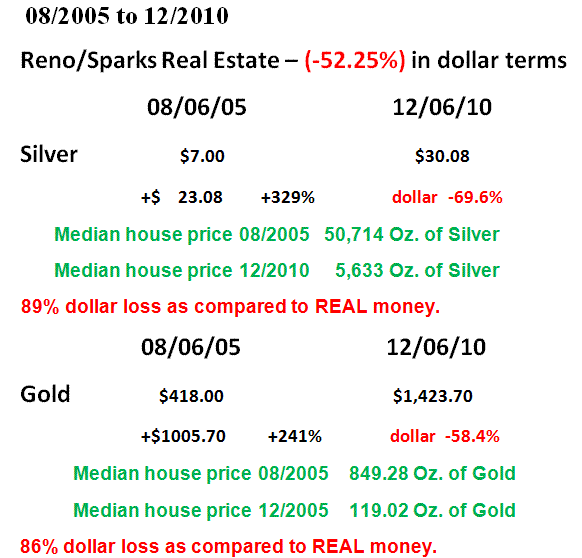 This is happening throughout the entire world and is a result of ALL Reserve Banks determined to make paper money worth less. Just like slowly boiling a frog. This is happening with EVERY currency in the world and the process is accelerating. A very important part of the success of this confidence game is comparing devaluing currencies against each other ie. Dollar, Yen, Euro, Won, Peso, Ruble, Rupee etc. The effort to re-inflate assets (real estate and the equity markets) has contributed to the above phenomenon. These asset classes have the appearance of being stable or even going up in nominal terms but, collapsing in real terms (spending power). This is designed to make us all feel better but, you must know, there are more millionaires per capita in Zimbabwe than anywhere on the planet.
"The best way to destroy the capitalist system is to debauch the currency. By a continuing process of inflation, governments can confiscate, secretly and unobserved, an important part of the wealth of their citizens. By this method they not only confiscate, but they confiscate arbitrarily; and, while the process impoverishes many, it actually enriches some. The sight of this arbitrary rearrangement of riches strikes not only at security but [also] at confidence in the equity of the existing distribution of wealth". - Vladimir Lenin

"There is no subtler, no surer means of overturning the existing basis of society than to debauch the currency. The process engages all the hidden forces of economic law on the side of destruction, and does it in a manner which not one man in a million is able to diagnose". – Maynard Keynes

"But the U.S. government has a technology, called a printing press (or, today, its electronic equivalent), that allows it to produce as many U.S. dollars as it wishes at essentially no cost. By increasing the number of U.S. dollars in circulation, or even by credibly threatening to do so, the U.S. government can also reduce the value of a dollar in terms of goods and servicees, which is equivalent to raising the prices in dollars of those goods and services. We conclude that, under a paper-money system, a determined government can always generate higher spending and hence positive inflation. - Ben Bernanke 11/21/2002.
This is one of the many consequences of abandoning the constitution. The founders of this country had an extreme revulsion for FIAT currency because of its long history of 100% failure.
Article 1 - The Legislative Branch
Section 8 - Powers of Congress
The Congress shall have Power To lay and collect Taxes, Duties, Imposts and Excises, to pay the Debts and provide for the common Defence and general Welfare of the United States; but all Duties, Imposts and Excises shall be uniform throughout the United States; To coin Money, regulate the Value thereof, and of foreign Coin, and fix the Standard of Weights and Measures; To provide for the Punishment of counterfeiting the Securities and current Coin of the United States. It is impossible to counterfeit a metal from the Atomic table, also known as an element.
Article 1 - The Legislative Branch
Section 10 - Powers Prohibited of States
No State shall enter into any Treaty, Alliance, or Confederation; grant Letters of Marque and Reprisal; coin Money; emit Bills of Credit; make any Thing but gold and silver Coin a Tender in Payment of Debts; pass any Bill of Attainder, ex post facto Law, or Law impairing the Obligation of Contracts, or grant any Title of Nobility.
The Coinage Act or the Mint Act, passed by the United States Congress on April 2, 1792, established the United States Mint and regulated the coinage of the United States.[1] The long title of the legislation is An act establishing a mint, and regulating the Coins of the United States. This act established the dollar as the unit of money in the United States, declared it to be lawful tender, and created a decimal system for U.S. currency.[2]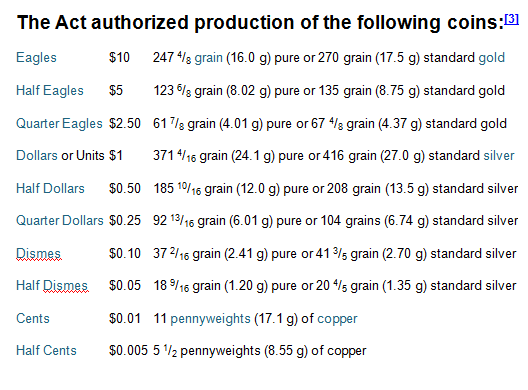 By Mark B. Rasmussen
markrasmussen@charter.net
Mark is a real estate appraiser/broker by profession
Copyright © 2010 Mark B. Rasmussen

Disclaimer: The above is a matter of opinion provided for general information purposes only and is not intended as investment advice. Information and analysis above are derived from sources and utilising methods believed to be reliable, but we cannot accept responsibility for any losses you may incur as a result of this analysis. Individuals should consult with their personal financial advisors.
© 2005-2019 http://www.MarketOracle.co.uk - The Market Oracle is a FREE Daily Financial Markets Analysis & Forecasting online publication.

Only logged in users are allowed to post comments.
Register/ Log in