U.S. Housing Market Foreclosure Gate Distraction
Housing-Market
/
US Housing
Dec 27, 2010 - 01:04 AM GMT


Over the past few months we have heard about a variety of questionable practices from banks looking to seize the homes due to chronic mortgage delinquencies. Each day more drama is added to the picture. It has become the center of focus for many media hacks who want to exploit the frustration and anger they have with Wall Street and Washington.
These hacks are the same individuals who hid the realities of the real estate bubble a few years ago. Back then, they ran advertisements for mortgage companies and get-rich-quick real estate schemes. Today, they have positioned themselves as your savior, all while pitching gold and silver.
Do not be fooled by these hacks. All the care about is making money selling ads. A few years ago, mortgage and real estate companies were forking over the most money for ads. Today, gold and silver dealers lead the way.
While your favorite media hero continues to fool you as a consumer advocate, you need to ask why this individual did not warn you about the economic collapse. Furthermore, you need to ask why the big fraud is not being addressed; real estate securities fraud that resulted in the collapse of the global economy.
In my opinion, extensive coverage of this "foreclosure gate," as it has been termed, is merely a distraction to keep Americans focused on smaller issues.
We still have not seen any of the Wall Street banking executives face criminal investigations for securities fraud. This remains as the biggest unresolved issue in the nation today.
Even Angelo Mozilo, former CEO of Countrywide recently settled with the SEC to the paltry sum of $67.5 million, much of which will be paid for by Bank of America. From 2002 to 2006, Mozilo landed nearly $400 million in salary and stock compensation, including millions of dollars (in excess of the amount of the SEC settlement) from stock he dumped just prior to the collapse of Countrywide.
This bailout by Bank of America shareholders allows Mozilo to escape facing charges of insider trading. This is preposterous, but should come as no surprise if you understand how things work in the U.S.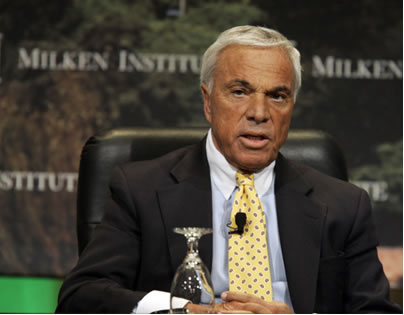 I find it quite ironic that Mozilo has been rubbing shoulders with one of Michael Milken's "philanthropic" organizations.
As you will recall, Milken was labeled the junk bond king after pleading guilty to numerous counts of insider trading and other forms of securities fraud, resulting in billions of dollars of fraud during the Savings and Loan Crisis in the 1980s. In exchange for retaining some $500 million, Milken served a couple of years in club fed.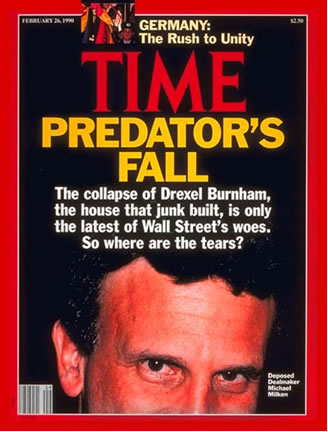 "Where are the tears?" asks TIME Magazine (another partner of Wall Street). As you can see, Milken was nothing but smiles back then because he had already arranged a sweet deal with his friends at the SEC and Department of Justice.
In return for guilty pleas, Milken would be confined to a federal detention facility for two years, sipping tea daily as he planned his return to society with $500 million he stole from investors.
When Milken left club fed, he immediately began to plans to effectively erase the tarnish of his crimes, through buying off the media, offering lucrative positions in one of his many philanthropic organizations, so as to build more support for his "rebirth."
After spending large sums of money on a PR campaign which included donations to various charities with the money he stole from the S&L crisis, Milken was rebranded as a "philanthropist."
Each year as he graces Forbes Richest 500 Americans, Milken is described as an investor and philanthropist, with no mention of his crimes. Like all other media, Forbes is a complicit partner of Wall Street fraud. Keep that in mind the next time you think about buying these publications.
As Milken hides under the guise of his new image, he continues to work with his huge network of hedge fund associates, who rob investors of their retirement through stock manipulation.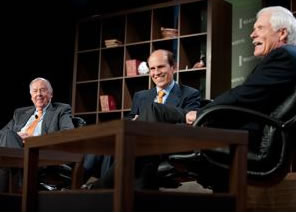 If you research Milken, like other Wall Street elite, you will see that he is connected to Picower (the billionaire who received $7 billion from Madoff's Ponzi scheme), Carl Icahn (the scumbag billionaire vulture who like many others, received his money through unprosecuted fraud), Madoff himself, and many other criminals.
And of course we cannot forget about his very close associate, Ivan Boesky. Once you spend a good deal of time researching these connections, you will realize just how deep the rabbit hole is. Let me tell you right now. It's like a bottomless pit.
You should note that one of the SEC commissioners that were involved in the investigation was none other than Mary Shapiro, who was appointed SEC Chairman by Obama.
If you research who the other SEC Commissioners were, as well as and SEC Chairman, as well as the head of the Department of Justice, you will see that having friends in high places does indeed matter.
We see the same situation when we look at the failure of the SEC to investigate Bernie Madoff despite having received compelling evidence of fraud submitted for years by Harry Markopolous.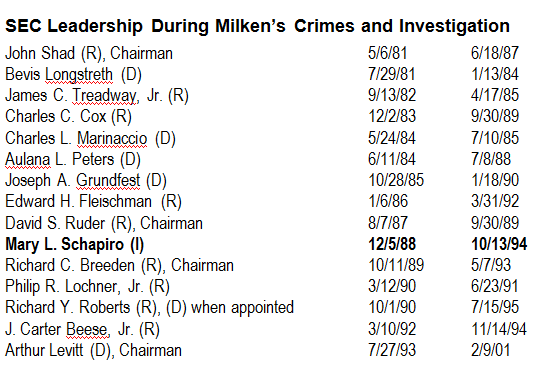 I invite you to join other subscribers who wish to become great investors, as they learn how to navigate the financial landmines that promise to be commonplace for years to come. The best way to achieve this difficult task is to subscribe to the AVA Investment Analytics newsletter. There is simply no other investment newsletter like it in the world. www.avaresearch.com




By Mike Stathis

www.avaresearch.com
Copyright © 2010. All Rights Reserved. Mike Stathis.
Mike Stathis is the Managing Principal of Apex Venture Advisors , a business and investment intelligence firm serving the needs of venture firms, corporations and hedge funds on a variety of projects. Mike's work in the private markets includes valuation analysis, deal structuring, and business strategy. In the public markets he has assisted hedge funds with investment strategy, valuation analysis, market forecasting, risk management, and distressed securities analysis. Prior to Apex Advisors, Mike worked at UBS and Bear Stearns, focusing on asset management and merchant banking.
The accuracy of his predictions and insights detailed in the 2006 release of America's Financial Apocalypse and Cashing in on the Real Estate Bubble have positioned him as one of America's most insightful and creative financial minds. These books serve as proof that he remains well ahead of the curve, as he continues to position his clients with a unique competitive advantage. His first book, The Startup Company Bible for Entrepreneurs has become required reading for high-tech entrepreneurs, and is used in several business schools as a required text for completion of the MBA program.
READ THIS LEGAL NOTIFICATION IF YOU INTEND TO REPUBLISH ANY PORTION OF THIS MATERIAL
Market Oracle has received permission rights to publish this article. Any republications of this article or any others by AVA Investment Analytics must be approved by authorized staff at AVA Investment Analytics. Failure to do so could result in legal actions due to copyright infringement.
Our attorneys have determined that the so-called "Fair Use" exemption as it applies to the Digital Millennium Copyright Act does not permit use by websites that have ads or any other commercial application.
In addition, fair use does not imply articles can be republished or reproduced. The distinction between fair use and infringement may be unclear and not easily defined. There is no specific number of words, lines, or notes that may safely be taken without permission. Acknowledging the source of the copyrighted material does not substitute for obtaining permission. Please see this statement from the U.S. Copyright office for more information. http://www.copyright.gov/fls/fl102.html
Requests to the Publisher for permission or further information should be sent to info@apexva.com
Books Published

"America's Financial Apocalypse" (Condensed Version) http://www.amazon.com/...
"Cashing in on the Real Estate Bubble" http://www.amazon.com/...
"The Startup Company Bible for Entrepreneurs" http://www.amazon.com...
Disclaimer: All investment commentaries and recommendations herein have been presented for educational purposes, are generic and not meant to serve as individual investment advice, and should not be taken as such. Readers should consult their registered financial representative to determine the suitability of all investment strategies discussed. Without a consideration of each investor's financial profile. The investment strategies herein do not apply to 401(k), IRA or any other tax-deferred retirement accounts due to the limitations of these investment vehicles.
© 2005-2019 http://www.MarketOracle.co.uk - The Market Oracle is a FREE Daily Financial Markets Analysis & Forecasting online publication.

Only logged in users are allowed to post comments.
Register/ Log in