U.N. Votes to Do a Kosovo in Libya, Be Fearful When Politicians Dream of Rambo
Politics
/
Middle East
Mar 18, 2011 - 07:48 AM GMT


Just for the record I'm not "anti-war", my uncle was awarded a Military Cross for fighting Hitler, and I'm proud of that. But sometimes I wonder was his sacrifice worth it?
The good news I suppose is that The U.N. has managed to agree on something that might have a minimal impact on the propensity of despots with guns, money and backing from a big power, to terrorise their own people; should we now expect that someday soon: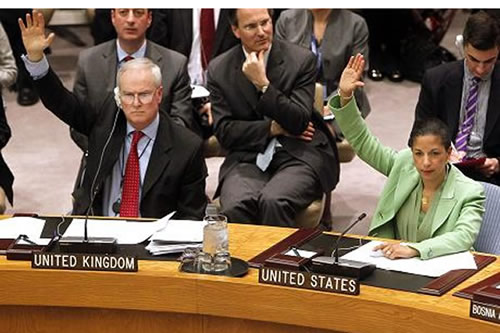 >>USA, Saudi Arabia and Israel will sign up to the jurisdiction of the International Criminal Court?
>>Will they sign Protocol One of the 1977 Geneva Convention? That's the one where you commit to safeguard the safety of civilians in military conflicts like the Americans manifestly did not do in Iraq, and the Israelis manifestly do not do when they "punish" Palestinian civilians. According to the Lancet more than 500,000 Iraqi civilians died as a result of the US invasion of Iraq, the civilian casualties in Libya are chicken-feed next to that.
>>Will Tony Blair who participated in that slaughter, and was the leader of a country that did actually sign Protocol One of the 1977 Geneva Convention, be prosecuted for crimes against humanity under the terms of that protocol?
>>Will the Palestinians who were "ethnically cleansed" be allowed to go home, and be afforded basic human rights?
>>Will the brave British and American individuals involved in authorizing and conducting torture of suspected Al Qaeda "operatives", be prosecuted?
>>Will what the Sydney Herald calls the "US-backed Sunni regime" in Bahrain and the Eastern Province of Saudi Arabia get the same treatment?
>>Will the U.N. censure Russia for their human rights abuses in Cheznya?
>>Will the "Brave Brits" go up against the strong-man Mugabe in Zimbabwe, who has reneged on every commitment he made to UK when they ran away with their tails between their legs, and who has committed a hundred-times more human-rights abuses than Gaddafi?
Not likely, but in any case we should be thankful for small mercies.
At least the U.N. did not hand over carte-blanche to the Anglo-American alliance, to use Donald Rumsfeld's favourite phrase, to "bomb Libya back into the Stone Ages".
As they did in Kosovo and Afghanistan; targeting anything that could remotely be considered as having "military significance"; such as Red-Cross warehouses, bridges, electricity power plants, water supply systems, petrol installations, and even hospitals. As if civilians in a war-zone deprived of those amenities aren't likely to end up as "collateral damage".
Isn't it funny how politicians losing popularity at home can't resist re-focusing their efforts on some great enterprise a long-way-away that can be used to paper-over their own incompetence. When politicians start to play Rambo, well someone is going to get hurt.
The "solution" agreed in the U.N. is a typical politician's compromise, a Green-Light for bombing but no ground troops. Ah the language of the brave, how easy it is to stand-off and bomb without the pain of committing ground troops.
If you put a gun against the head of a six year old child and pull the trigger, that's a crime against humanity. But according to the rules of engagement of the New World Order, if you blow the same child up by dropping a bomb from 10,000 feet, that's just "collateral damage".
Oh well, just let the protagonists use AK-47's which were the weapon of choice that the Serbians used when the brave Dutch "peacekeepers" handed over Muslims to be "processed" in Kosovo, and then "sensibly" retreated to their luxury barracks to watch the fun on CNN. Or let them use knives and hatchets as in Rwanda, where the U.N. and the world stood-by crying crocodile tears.
Everyone knows that the only thing that can sort out Libya would be ground forces and a U.N. managed interim government. But as Angela Merkel wisely pointed out, if you do that in Libya, why not do it in Israel, Bahrain, Iran, the Eastern Province of Saudi Arabia, North Korea, Zimbabwe…etc?
Why pick on Libya?
Well first of all it's an easy target, Gaddafi has a pretty useless air-force (in case it was used against him), and a tank sitting out in the desert is an easy target once you have control of the sky, which will be achieved in about five minutes.
More important, USA, UK and French oil companies all signed up to some great concessions in Libya over the past few years, particularly UK which traded the Lockerbie bomber for "special favours" for BP. Funny how those governments had no problem with what Gaddafi had been doing for years, when they signed those deals, but of course now they see an opportunity to "re-negotiate".
What will happen next is that probably the war will degenerate into street fighting and sieges, and protracted, long-drawn out suffering for civilians, with the victor being the most ruthless man on the block; which is how civil wars play out.
The only quick solution will be if the U.N. starts a dialogue with Gaddafi, gives his family his money back, grants him an amnesty and then sets up a U.N. interim government, on the ground.
But that's pretty unlikely, because as is clearly demonstrated in this article, the U.N. and particularly USA, UK and France, have got "principles". As if anyone cared for the past forty years when Gaddafi was looting his country and stashing the money abroad?
The "evidence" that Gaddafi was using his air-force or his tanks to target civilians, is about as solid as the "evidence" that Saddam Hussein had weapons of mass destruction, standing-by ready to unleash on "peace-loving" nations, but who cares?
Gaddafi is an easy-target who managed to be a threat to both Israel via support for the Palestinians, and also a threat to Saudi Arabia because he deposed a monarch and he is against monarchies (dictators are not monarchs). Thus he is a threat to USA and UK who will support Israel no matter how many human-rights abuses are inflicted on the Palestinians, and they will always support the status quo in Saudi Arabia, so long as they promise to keep oil prices "fair".
What the U.N. resolution is most likely to achieve is much more civilian casualties in exchange for oil concessions for the victors.
Long Live the New World Order! Just please don't insult my intelligence by saying the U.N. resolution was about "human rights" or preventing "crimes against humanity".
By Andrew Butter
Twenty years doing market analysis and valuations for investors in the Middle East, USA, and Europe; currently writing a book about BubbleOmics. Andrew Butter is managing partner of ABMC, an investment advisory firm, based in Dubai ( hbutter@eim.ae ), that he setup in 1999, and is has been involved advising on large scale real estate investments, mainly in Dubai.
© 2011 Copyright Andrew Butter- All Rights Reserved
Disclaimer: The above is a matter of opinion provided for general information purposes only and is not intended as investment advice. Information and analysis above are derived from sources and utilising methods believed to be reliable, but we cannot accept responsibility for any losses you may incur as a result of this analysis. Individuals should consult with their personal financial advisors.
© 2005-2019 http://www.MarketOracle.co.uk - The Market Oracle is a FREE Daily Financial Markets Analysis & Forecasting online publication.

Only logged in users are allowed to post comments.
Register/ Log in