The Stock Market Crash - Market to Fed: Don't fight the tape!
Stock-Markets
/
Financial Crash
Nov 27, 2007 - 04:25 AM GMT


Well seasoned traders know that for any trade to work, to work big, that trade needs to be in synch with primary trend of the market.
Now clearly the Fed is a not for profit enterprise but their well healed trading houses should have know better. For months we have witnessed an expanding money supply and for months we have seen a strong bid come into the markets at the most opportune times.
But regardless of all the stimulus and props, the markets have spoken loud and clear as the Dow closed below its August lows. Reasserting the traders principal that it is never wise to fight the tape. For all the Feds machinations and rate cuts it seems we may still be on the verge of a bear market.

To be honest, we thought the Fed would be able to inject enough liquidity to keep the markets levitated. We thought this Bull Run in Gold Stocks would coincide with further strength in the stock market. But as the Dow broke below its August lows today (and Gold stocks remained above their August lows) it seems this was not to be. We are left asking the question:

Will Gold Stocks eventually fall with the Stock Market or will we see a divergence as in 2000 - 2002?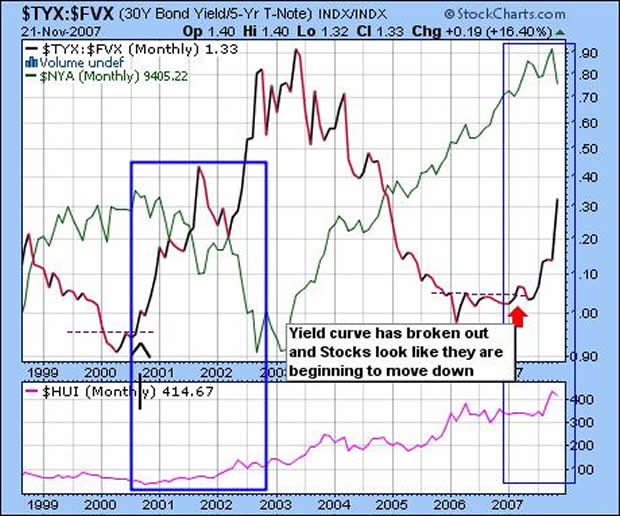 Chart 1- Yield Curve widening; NY Composite falling (green) ; HUI rising (pink)

It is important to remind ourselves that Gold's biggest catalyst is a loss of confidence in the financial system.

A proxy for confidence in financial market terms is the yield curve. When the yield curve widens (the red chart is rising) it signifies a response to slowing economic activity. That is, the Fed reduces short-term interest rates versus long-term rates in order to encourage borrowing short and investing long. This happens during periods of slowing eco growth such as now.

Another proxy for confidence is obviously the stock market itself. The green line is the New York Composite index which by no coincidence is starting to fall as the yield curve widens (much as it did in the 2000 – 2002 blue rectangle).

It was under these same conditions that the HUI (pink line) first took off in late 2000 rising over 300%.

The [false] notion that Gold Stocks are high Beta plays on the stock market arose in 2003 and again in 2005 when both markets rallied together under a deluge of liquidity. In our opinion, the difference between today and then is that earnings growth in the NY Composite index will be hampered by credit and consumer problems, whilst Gold Stocks will be emerging from a 1 year consolidation and likely to offer far better value.

That is, whilst the New York Stock Exchange remains on the Edge , we think Gold Stocks will surge as the primary beneficiaries of fresh liquidity.

More commentary and stock picks follow for subscribers…
By Greg Silberman CFA, CA(SA)
Profession: Portfolio Manager and Research Analyst
Company: Ritterband Investment Management LLC
e-Mail: greg@goldandoilstocks.com
Website: blog.goldandoilstocks.com
I am an investor and newsletter writer specializing in Junior Mining and Energy Stocks and small caps listed in the US, Canada and Australia.
Please visit my website for a free trial to my newsletter http://blog.goldandoilstocks.com
This article is intended solely for information purposes. The opinions are those of the author only. Please conduct further research and consult your financial advisor before making any investment/trading decision. No responsibility can be accepted for losses that may result as a consequence of trading on the basis of this analysis.
© 2005-2019 http://www.MarketOracle.co.uk - The Market Oracle is a FREE Daily Financial Markets Analysis & Forecasting online publication.

Only logged in users are allowed to post comments.
Register/ Log in