US Stock Markets Primed For a Meltdown
Stock-Markets
/
Financial Markets
Dec 02, 2007 - 12:10 AM GMT


FedWatch: ``The degree of deterioration that has happened over the last couple of weeks is not something that I personally anticipated, '' Federal Reserve Vice Chairman Donald Kohn said in response to a question following a speech to the Council on Foreign Relations in New York. ``We are going to have to take a look at'' the stress in credit markets ``when we meet in a couple of weeks,'' he said. I smell another rate cut.


Is the Fed "Alert and Flexible?"
Federal Reserve Chairman Ben Bernanke said Thursday that the central bank remains concerned about consumer spending strength and problems in the financial markets and will stay "alert and flexible" leading up to its next meeting on Dec. 11. Really?
Do you want to know what inspires the rate cuts? It's the market! Take a look at the 3-month Treasury Bill rate to the left. Since 1949 the Federal Reserve has virtually lagged behind every move made by T-bills. In fact, since rates have dropped by more than a full percent since September, the odds of another rate cut are virtually 100%.
It's not the Feds that control rates, it's the rates that control the Feds!
Ready for a meltdown?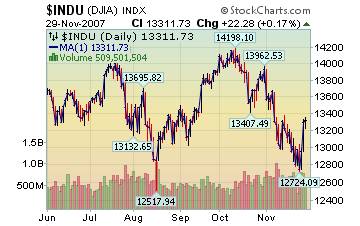 On Monday, the Dow Jones Industrials had achieved a 14% loss from its October high point. In addition, all the gains since February were wiped out. On Tuesday and Wednesday the market rallied, attempting to regain some of its losses. Is this the Santa Rally that everyone has been hoping for? Hardly. Fundamentally, the market has long been priced for perfection…and double digit profit gains. Now that losses are showing up in earnings reports, the market needs to readjust its prices to fit the new reality…a recipe for a meltdown . Brace yourselves. It promises to be bigger than anyone expects.
While Treasury Bonds enjoy the gains, munis feel the pain.
The credit crunch is pouring over into areas that were not expected to be influenced by subprime mortgages… cities, states and municipalities are finding it harder to borrow money . This is especially hard for smaller entities that have no credit rating or larger cities that have had credit troubles in the past. The tough choices are either to cut back on promised projects or pay higher interest rates, a move that will lead to higher taxes.
Gold is not glittering for investors.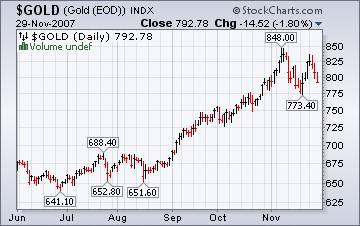 Gold closed below the $800 again on Thursday as traders were squeezed by a rising U.S. Dollar. $800 is an important psychological level for investors. A drop below $773.40 would bring heavy selling as this would be an indication of a possible new downtrend.
Japan rallies, but not for long.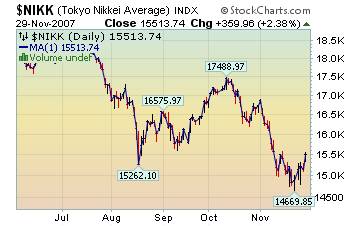 The Nikkei index got a reprieve from its downtrend this week, much like the U.S. markets. This is not because of some pending Fed announcement, but rather because it had completed five waves down and was ready to rally. In the meantime, housing starts dropped 35% year-over-year in Japan . The country also saw headline inflation at .1% , the first sign of it in the official rate in 10 months. The cost of food, which is not included in the headline rate, jumped 3% this year.
Chinese investors getting the chill.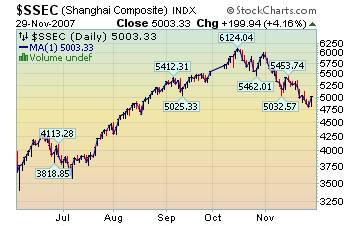 A 20% decline in the Shanghai index has put a chill in mainland investors in China . "There is no sunlight shining through the clouds. Investors are being irrational. If they were rational, they'd buy now because shares have become less expensive after the recent correction," said Zhang Yidong, an analyst with Industrial Securities. Zhang, were investors ever rational?
Is the Dollar ready for liftoff?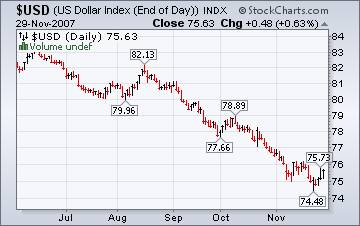 Or will it fall 90%? As Mark Twain once said, "The reports of my death have been greatly exaggerated." The problem is that the U.S. Dollar has been declining so long that pundits are taking rulers and tracing the line to zero, or something close to it. A negative trend can turn people emotionally against an investment so that they fail to recognize the change in trend.
The housing index gets a reprieve…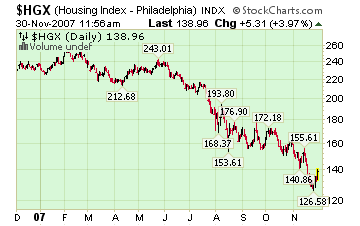 …while foreclosures surge . Foreclosures are 94% of what they were a year ago, but more people than ever before are losing their homes. In the month, 53,609 U.S. homeowners were forced out of homes repossessed by banks, up from 20,768 a year ago, the firm said. Through October, a total of 309,557 homes have been repossessed by banks leading to forced evictions. "Some people are in over their heads, owing more than what they can sell their house for," said Realty Trac spokesman Daren Blomquist.
Relief at the pumps in sight.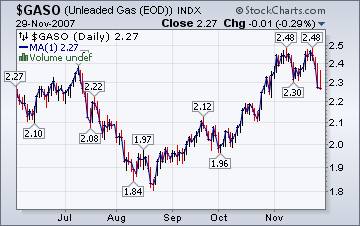 Striving to be above average is not something we want to see with gasoline prices. The latest development in gasoline prices is a welcome relief. At current levels, the price at the pump will remain above $3.00. At least we can say that prices at the pump have stopped rising.
Warmer-than-normal weather helps Natural Gas.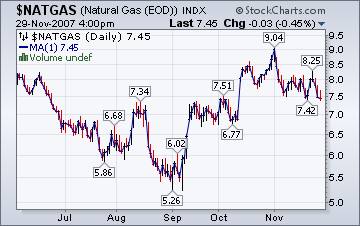 The withdrawal rate of natural gas in storage was about 40% the normal seasonal rate. The result is that natural gas in storage rose again this month to 3.51 trillion cubic feet. The only thing keeping prices high is the assumption of higher usage this year and next. Can we say that the fundamentals will keep the price of Natural gas lower? The charts suggest that outcome.
Is Citigroup's dividend safe?
One of the stated goals of the acceptance of the $7.5 billion cash infusion from Abu Dhabi 's sovereign fund was to preserve the quarterly dividend. The dividend rate had risen as high as 7.2% at Citigroup's lowest price since 2002 on Monday. But the cash infusion comes with some bitter medicine . Citi now owes the Sovereign fund of Abu Dhabi a yield of 11% for its trouble. That puts their fat dividend at risk. A case in point is Freddie Mac, which just announced a 50% cut in its dividend, formerly at 8%. Any investor considering Citi's dividend should know that Abu Dhabi 's investors have precedence over the stockholders. Buyer beware!
Political Philosophy 101.
By Jeff Nyquist . A "must read." "Most Americans would not understand Aristotle's claim that man is, by nature, a "political animal." Admittedly, most Americans don't think about politics. They are busy working and taking care of their families. They are watching TV and playing video games, having love affairs and pursuing hobbies. How, then, could they be "political animals"? The answer is very simple. The modern American belongs to a nation: arguably, the most successful and powerful nation in the history of the world. Belonging to a nation – large or small, rich or poor – is highly significant. If you lost your nationality tomorrow you would quickly come to miss it !"
We're on the air every Friday.
Tim Wood of www.cyclesman.com , John Grant and I have had a running commentary on the markets again this week. John may be gone this Friday, but Tim and I will attempt to give a summary of what we see in the markets. You may listen to our comments by clicking here .
Please make an appointment to discuss our investment strategies by calling Claire or Tony at (517) 699-1554, ext 10 or 11. Or e-mail us at tpi@thepracticalinvestor.com .
Regards,
Anthony M. Cherniawski,
President and CIO
http://www.thepracticalinvestor.com
As a State Registered Investment Advisor, The Practical Investor (TPI) manages private client investment portfolios using a proprietary investment strategy created by Chief Investment Officer Tony Cherniawski. Throughout 2000-01, when many investors felt the pain of double digit market losses, TPI successfully navigated the choppy investment waters, creating a profit for our private investment clients. With a focus on preserving assets and capitalizing on opportunities, TPI clients benefited greatly from the TPI strategies, allowing them to stay on track with their life goals
Disclaimer: The content in this article is written for educational and informational purposes only. There is no offer or recommendation to buy or sell any security and no information contained here should be interpreted or construed as investment advice. Do you own due diligence as the information in this article is the opinion of Anthony M. Cherniawski and subject to change without notice.
© 2005-2019 http://www.MarketOracle.co.uk - The Market Oracle is a FREE Daily Financial Markets Analysis & Forecasting online publication.

Only logged in users are allowed to post comments.
Register/ Log in