China Eyes West Africa's Iron Ore: Junior Posts Positive Drill Results
Commodities
/
Metals & Mining
Sep 28, 2011 - 11:34 AM GMT


Chris Devauld writes: Despite the ongoing economic turmoil and growing concern over a slowdown in global steel production, Chinese demand for iron ore remains strong. Having imported 618 million tons last year, China is by far the world's largest iron consumer. China only produces 14% of the world's Fe, while consuming approximately 50% of it. With 85% of its iron ore coming from Australia, Brazil, India and South Africa, the economic giant finds itself in a war to break from its dependence upon the "Big 3" producers—BHP Billiton [BHP-NYSE] , Rio Tinto [RIO-NYSE] and Vale [VALE-NYSE].
China has recently pushed into West Africa to gain better control over iron ore supply.
Beijing has initiated an ambitious strategy of joint ventures and acquisitions, with a goal to increase up to 250 million tons of ore annually. Leading the pack is Chinese firm Sichuan Hanlong, which recently bid US $1.5 billion for Australia's Sundance Resources [SDL – ASX] in a move to take control of the potential $4.6 billion Mbalam iron ore project in West Africa. While the bid is still under negotiation, with Sundance claiming that Hanlong will need to increase its offer substantially to reflect the project's true value, investors are watching.
And now West Africa is attracting the interests of not only the big players, but the junior explorers and producers as well. As mentioned in our previous article, Canadian-based Afferro Mining [AFF – TSX.V] and West African Iron Ore [WAI – TSX.V] have taken the lead, with projects spanning the region and increased investor demand drawing the attention of some serious players. Looking at the historic price of iron ore and the future BRIC demand for this essential element, it's easy to see why these ambitious juniors are keen to get in on such an important geopolitical commodity: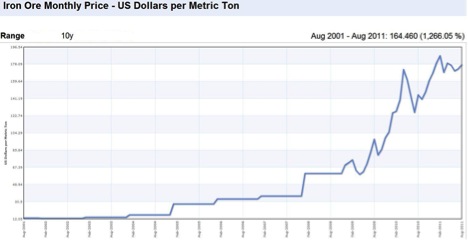 West African Iron Ore
Junior exploration and development company West African Iron Ore is currently focused on its mineral resources in the Forécariah and Kérouané permits in the Republic of Guinea. The Company is trading close to cash value (with no short-term dilution risk) and will have approximately $7 million left on its balance sheet once the current drill program is completed.
WAI's fully-owned subsidiary, Sky Alliance Resources Guinée SA ("SARG"), aims to establish a large quantity of iron ore resources suitable for production on the Forécariah property in Guinea. In phase one of its drilling program at Forécariah, a total of 15 diamond drill holes have been completed on its iron ore concessions in Kalyadi and Sambalama, with an additional 19 RC holes (totaling 2,279m) completed at Sambalama.
WAI recently announced that it has intersected near-surface, high grade iron ore mineralization in its first three diamond drill holes at Sambalama, with an impressive figure of 60-70% Fe in SAM 002 and SAM 003:
Sample ID
Hole ID
From (m)
To (m)
T. Width (m)
% Fe total
SM0123
SAM002
2.28
3.40
1.12
64.90%
SM0124
SAM002
3.40
4.60
1.20
66.40%
SM0125
SAM002
4.60
6.00
1.40
64.20%
SM0126
SAM002
6.00
7.00
1.00
66.70%
SM0127
SAM002
7.00
8.00
1.00
71.60%
SM0128
SAM002
8.00
9.00
1.00
65.90%
SM0129
SAM002
9.00
10.00
1.00
64.90%
SM0130
SAM002
10.00
11.00
1.00
62.00%
SM0131
SAM002
11.00
12.30
1.30
52.20%
SM0132
SAM002
12.30
13.75
1.45
57.60%
11.47 63.18%
SM0215
SAM003
0.00
1.20
1.20
63.80%
SM0216
SAM003
3.40
4.00
0.60
69.00%
SM0218
SAM003
5.40
6.80
1.40
70.20%
SM0219
SAM003
8.40
9.40
1.00
73.30%
SM0220
SAM003
9.40
10.40
1.00
76.70%
SM0221
SAM003
10.40
11.40
1.00
67.10%
SM0222
SAM003
11.40
12.40
1.00
66.70%
SM0223
SAM003
12.40
13.40
1.00
62.90%
8.20
68.65%
These holes show an iron-enriched cap extending downwards with average Fe grades above 63%. According to WAI, high-grade surface deposits could be continuous along a strike length of 800m and initial results are favourable to support this geological continuity. This promising sign, which will be further tested as the program moves forward, is enhanced by the discovery of a very high grade DSO (direct shipping ore) iron ore cap at surface. The grade of the DSO is, in fact, high enough that it may even be shipped directly without processing. The core of another hole, SAM001, has unfortunately gone missing due to powder consistency, although the partially recovered section gave results with an average grade of 47% Fe over a total intercept of 9.46m. It is likely that this hole also had a high-grade iron ore cap and that reverse circulation drilling will be the determining factor, with results to come later this fall.
Now that WAI has hit high-grade mineralization, expect the rest of the Phase 1 exploration program to focus on defining this ore body. Investors can expect the results of 19 more reverse circulation holes and 7 diamond drill holes soon, as well as the 43-101 resource calculation, which is due out late Q4 or early Q1. At its Kalyadi target, diamond drill holes KAL001, KAL002 and KAL003 have been drilled to explore investigation routes across WAI's property.
This project also includes excellent infrastructure and close proximity to the port and railway, which makes the economics of high-grade DSO surface iron ore very attractive. The routing of the 74km of the railway from the proposed port of Matakanto Moussaya has been confirmed with the government, with the first leg of the railway running directly through the Company's Forécariah concession. As for the Chinese interests: the Chinese International Fund has selected the Matakang Deep Sea port, only 40km from WAI's two main projects, as its launch point for iron ore exports.
Location and proximity, in WAI's case, are everything.
With China's export point literally next door, efficient transportation running right through the Forécariah concession and encouraging results from its first phase of drilling, WAI is well-positioned to feed Chinese growth from its strategic position in Guinea. WAI is continuing to develop its properties, having just received a 3-month extension from the Mine Minister (according to the most recent press release).
With mining costs soaring in Australia – West Africa is key to China's national growth strategy. The healthy competition within WAI's region, combined with the lower costs of exploration and the Company's strong iron ore drill results will draw the interest of big players as West Africa develops into a viable mining region.
Chris Devauld
ProspectingJournal.com
Disclaimer: The author does not currently hold any shares of any of the companies mentioned in the article. However, some members of Cordova Media Inc. which owns the ProspectingJournal.com, may or may not have interests in one or more of the companies mentioned at the time of publication. Staff members from the Prospecting Journal reserve the right to acquire interests in any of the companies mentioned after 36 hours have elapsed upon initial publication of this article. West African Iron Ore is a sponsor of ProspectingJournal.com.
© 2005-2019 http://www.MarketOracle.co.uk - The Market Oracle is a FREE Daily Financial Markets Analysis & Forecasting online publication.

Only logged in users are allowed to post comments.
Register/ Log in