Stock Market Price is all that Matters, Everything else is Noise
Stock-Markets
/
Stock Markets 2011
Dec 18, 2011 - 05:36 AM GMT

turned CNBC on one morning this past week just to see what the "squawk on the street" was. The primary concern as I listened was over the Fed meeting and whether or not we get a QE 3 in early 2012. A few months ago, as the August/October lows were being made the worry was all about Europe. Tomorrow it will be some other worry and next week it will be yet another. In reality, none of this matters and to sit and listen to the airheads on TV and try to figure out how this or that will impact the market is a fruitless exercise. Given that every piece of news known to man is discounted into price, then from a technical perspective, all we have to be concerned with is the price action itself. The key, of course, is understanding what price is telling you.
Dow theory and the quantitative methods that cycles analysis offers are very good tools for interpreting price. The most recent example of this occurred at the August/October bottom. While everyone was worried about Europe and we were seeing bearish sentiment at levels not seen since 2008, the cycles work told me that price was making a bottom, which is well documented and which turned out to be correct. Back in July, the cycles work told me that the May high would likely not be bettered and that lower prices should come as price moved down into the expected cyclical lows, which was seen at the August/October bottom. In June 2010, everyone had misinterpreted the Dow theory and was saying that we had a "Dow theory sell signal" in place. I don't recall the fundamental worries that we were seeing on TV back then.
However, it is well documented that my quantitative methods told me that a "Dow theory sell signal" had not occurred and that in reality price had moved into a secondary low point in accordance to Dow theory. As is always the case, the news was the bleakest at these bottoms. Now, I have to ask once again, did the news of the time or the commentators on TV tell you what was about to occur at the 2000 top or the 2007 top? No, they did not, but my cycles and Dow theory work did. I could go on and on with examples, which are well documented on my end. But, the real point I'm trying to make is that what we see and hear on TV does not matter. The worries of yesterday, today, tomorrow, next month or next year, do not matter. What you or I may think does not matter. What congress or the President thinks or says does not matter. All that matters is price as everything is discounted into price and if we understand what price is telling us, then all we have to be concerned with is price. The other point I want to make here is that no matter how much you may want to believe it, the commentators on TV are not going to tell you the truth even if they did know it. As an example, did they tell you about the housing top and what was about to follow, or of the 2000 top or the 2007 top? Did you hear anything about the pending credit crisis in 2005, or 2006, prior to things coming unwound in 2007 and 2008. No! Rest assured, they don't know what is occurring now, what is setting up to occur, what is about to unfold, or what 2012 will bring. Have you heard them talking about the rally out of the 2009 low being a bear market rally? Did you hear them warn you of the decline into the recent August/October low? Again, the answer is NO.
The bottom line is that according to the value and longer-term phasing aspects of Dow theory, which is based on price, the rally out of the 2009 low is a counter-trend advance within a much longer-term and ongoing secular bear market. Once this rally has run its course, the decline into the Phase II low should begin. But, the key to capping this rally will be the appearance of a specific cyclical/structural setup that has been seen at every major top since 1896. Once that setup is in place and complete, the long-term secular bear market that began at the 2007 top will resume. We are not hearing about this on the news. Once it begins, they will not understand it, so again, they will not tell you what is occurring.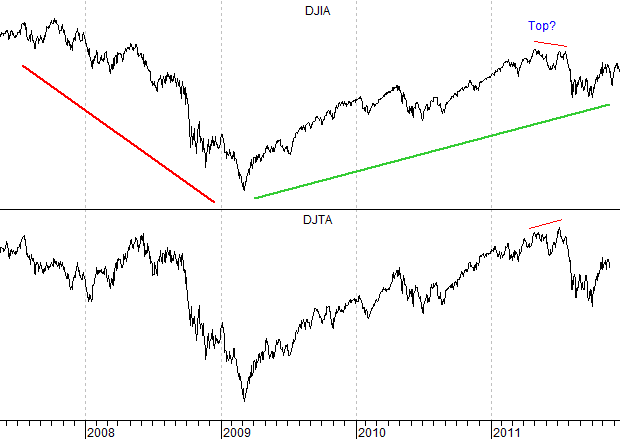 In the chart above I have included both the Dow Jones Industrials and the Transports. I have again received questions as to whether the weakness into November changed anything from a Dow theory perspective or if the advance that has followed has. The answer is, "no," in that the Dow theory bearish trend change from back in August still remains intact. But, as I have also reported here before, not all Dow theory trend changes are created equally. The key will be the appearance of the DNA Markers that have been seen at every major top since 1896. The details of this setup are covered in the research letters at Cycles News & Views.
I have begun doing free market commentary that is available at www.cyclesman.info/Articles.htm The specifics on Dow theory, my statistics, model expectations, and timing are available through a subscription to Cycles News & Views and the short-term updates. I have gone back to the inception of the Dow Jones Industrial Average in 1896 and identified the common traits associated with all major market tops. Thus, I know with a high degree of probability what this bear market rally top will look like and how to identify it. These details are covered in the monthly research letters as it unfolds. I also provide important turn point analysis using the unique Cycle Turn Indicator on the stock market, the dollar, bonds, gold, silver, oil, gasoline, the XAU and more. A subscription includes access to the monthly issues of Cycles News & Views covering the Dow theory, and very detailed statistical-based analysis plus updates 3 times a week.
By Tim Wood

Cyclesman.com
© 2011 Cycles News & Views; All Rights Reserved

Tim Wood specialises in Dow Theory and Cycles Analysis - Should you be interested in analysis that provides intermediate-term turn points utilizing the Cycle Turn Indicator as well as coverage on the Dow theory, other price quantification methods and all the statistical data surrounding the 4-year cycle, then please visit www.cyclesman.com for more details. A subscription includes access to the monthly issues of Cycles News & Views covering the stock market, the dollar, bonds and gold. I also cover other areas of interest at important turn points such as gasoline, oil, silver, the XAU and recently I have even covered corn. I also provide updates 3 times a week plus additional weekend updates on the Cycle Turn Indicator on most all areas of concern. I also give specific expectations for turn points of the short, intermediate and longer-term cycles based on historical quantification.
© 2005-2019 http://www.MarketOracle.co.uk - The Market Oracle is a FREE Daily Financial Markets Analysis & Forecasting online publication.

Only logged in users are allowed to post comments.
Register/ Log in