Gold Soars and Global Turmoil and Plans for China Gold Futures Exchange
Commodities
/
Gold & Silver
Jan 03, 2008 - 11:57 AM GMT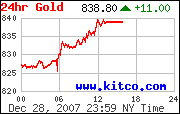 Well, according to gold bears gold was supposed to go down.Instead it is going up. Makes no sense, huh? I'm really not a nut to get hung up over the gold price. I merely see the price as a reaction to events happening around us.
Well, another decade is coming soon right around the corner. Seems like the last decade barely got started. Seems like yesterday was 2001 and an entire fresh ten years was before us. And the older we get time seems to go faster and even faster. I remember in 2001 making estimates of where the new decade would take us and where we would be when 2010 came. What has happened these past years?
We have a perpetual war in the Middle East now that we basically are committed to forever. A military presence in Afghanistan and Iraq with only Iran separating the two countries. If you look at a map real well you will see why our government is itching for an excuse to establish a military presence in Iran .
"House Speaker Nancy Pelosi lashed out at Republicans on Thursday, saying they want the Iraq war to drag…" "They like this war. They want this war to continue," Pelosi, D-Calif., told reporters." "In response, House Minority Leader John Boehner, R-Ohio, said in statement: "Republicans have stood on principle to protect current and future generations of Americans, whether it polled well or not." MSNBC
With Iran subdued and controlled by the west the United States would have a solid hold on all the oil coming from that region. But Iran stands between all and even has a vast shoreline on the Persian Gulf . Take a look at a map and you will notice this shore line starts at the western end of the Persian Gulf and goes all the way to the very edge of the Arabian Sea .
"AMERICA's elder statesman of finance, Alan Greenspan, has shaken the White House by declaring that the prime motive for the war in Iraq was oil." "I am saddened that it is politically inconvenient to acknowledge what everyone knows: the Iraq war is largely about oil…" Times Online
Strategically, Iran must come under western domination for the Middle East and its vast oil reserves to be in the west's hands. As I see it just a matter of time before hostilities erupt there and the United States is forced into another occupation. Iran is a big country and a vast territory but in the end it is militarily insignificant when compared to the might of the United States .
"Tehran today announced, no, Tehran warned that it would fire 11,000 rockets at enemy bases within a minute if the US launched military action against them. The nuclear stand-off between the US and Iran is reaching a critical stage…" "Where does that leave us? Who knows." "All it takes is the situation in one country to get too big to handle, and you can sure as hell bet that the pressure will reverberate to the surrounding area, one Domino piece toppling after another." Blogspot.com
So, Iran has come under the microscope. What else has happened? Alan Greenspan is retired and the old magic that made up the Federal Reserve is now gone and past forever in our generation at least. Bernanke will never have the success Alan Greenspan had and he is already undoing all that Greenspan accomplished. A new decade and a new and a weaker Federal Reserve Chairman. Definitely the old magic is gone.
"The bubble has burst and the economic consequences are now coming into view." BBC NEWS
And what else has changed? The housing bubble which began around 2000 finally burst. The housing bubble had been the last magic bullet to keep the economy rolling along. Now that magic bullet is spent. The term "subprime" has taken on a lot of meaning and it is interesting how many derivative funds are directly related to the housing credit market. This bubble is still in the state of deflating and has another summer to go. So its peak might not be really felt until the summer of 2008. I haven't even mentioned yet the subprime housing disaster raising havoc in the home markets and associated elated derivatives.
"The hangover from the lending spree that fed the real estate boom during the first half of this decade keeps getting worse…" MSNBC
And as I write these very words the Pakistani politically popular former Prime Minister was assassinated.
"The assassination Thursday of Pakistan opposition leader Benazir Bhutto threw the country's election campaign into disarray and sparked a wave of violence across the nuclear-armed nation." "The assassination deals a stunning blow to liberal political forces trying to combat rising Islamic extremism in Pakistan ." " This assassination is the most serious setback for democracy in Pakistan ," said Rasul Baksh Rais, a political scientist at Lahore 's University of Management Sciences ." MSNBC
A country possessing nuclear weapons now with an unstable government or no government. Pakistan . A country on the eastern border of Afghanistan and formally an ally of the United States is now under threat of civil war. The assassination was committed by Islamic extremists. Now, democracy and civil war threaten a major nuclear power in an Islamic country.
" Pakistan 's interior minister blamed al-Qaida and the Taliban for Thursday's assassination…" "Bhutto was slain while campaigning…" Breitbart.com
Did I mention yet a higher oil price at the latter period of this decade? Soon to reach 100 dollars a gallon. Don't even want to mention gold reaching past 800 from a humble 255 an ounce earlier this decade.
"Gold above $830 on weaker dollar, Bhutto's death" "Gold futures rose for a fourth day Thursday and closed above $830 an ounce as a sliding dollar gave the precious metal fresh momentum and as the assassination of former Pakistani prime minister Benazir Bhutto increased geopolitical uncertainties." MarketWatch.com
Anyway, the point I am driving home is that while we have quietly slept our world has been slowly evolving and changing. And these changes will carry into the next decade 2010 – 2020. Sometimes change occurs so stealthily we do not even notice it occurring around us. And the US dollar is stealthily weakening even as we speak. So, what kind of decade will we be entering in 2010? A messy one for sure. Notice in the chart below the US dollars looong slide downhill?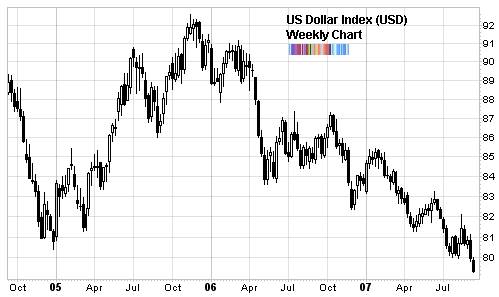 Trader's Narrative
Did we talk about China ? Just in the past decade China has grown into a major contender for super power status and their appetite for gold is ravenous. Very high gold consumption there.
" China approves gold futures trading""The Shanghai Futures Exchange (SFE), one of China 's major futures trading agencies, is expected to launch gold futures trading soon following regulatory approval." "Gold was the second new futures product to be introduced to the country's futures market this year." "Last year, China produced a record 240 tons of gold, a growth of 7.15 percent year-on-year. In the first nine months of this year, it produced 191.456 tons of gold, an increment of 22.175 tons, or 13.1 percent, from the same period last year." www.chinaview.cn
So let's summarize where we've been and where we are going into 2008 and beyond. So in a nutshell the following is where we have evolved in this past decade:
Perpetual war and military occupation in the Middle East .
Iran a simmering boiling pot due to spill over soon.
Alan Greenspan and his magic have departed for our generation.
The housing subprime bubble is slowly suffocating our economy.
Pakistan , a major Middle East western ally, is biting the dust.
The US dollar continues to sink into oblivion.
The gold barometer is finally working properly and rising higher and higher.
China is growing along with her insatiable consumption demand for gold.
The rise, of course, of Islamic terrorism.
The rich are getting richer while the poor are getting poorer.
So, this is where we have been and where we are and where we are yet headed. And do you see a need for gold in this witches brew? Gold will only grow in importance as the new decade slowly prepares for itself. Again, the peace dividend long ago bit the dust and perpetual war waits for us beyond the horizon,
"But whatever process may have been involved, the result has been that the distribution of income and wealth have become much more concentrated during the last several decades. Those in the middle of the income and wealth distribution have lost ground relative to those at the top, despite the absolute increases in their income and wealth." Falling Behind, Robert H. Frank
It's not too late to invest in gold related equities to take advantage of their wealth preserving attributes. We are living in the last days of cheap resources and commodities. Recognizing these facts Gold Letter, Inc. reviews undervalued gold and other resource stocks under valued and poised to rise in this time of increased demand for resources. Gold will only continue to escalate in value.
Click here to review Gold Letter
By David Vaughn
Gold Letter, Inc.
David4054@charter.net
© Copyright 2007, Gold Letter Inc.
"The Worldwatch Institute, an organization that focuses on environmental, social and economic trends, says the current rate of global demand for resources is unsustainable."
The publisher and its affiliates, officers, directors and owner may actively trade in investments discussed in this newsletter. They may have positions in the securities recommended and may increase or decrease such positions without notice. The publisher is not a registered investment advisor. Subscribers should not view this publication as offering personalized legal, tax, accounting or investment-related advice. The news and editorial viewpoints, and other information on the investments discussed herein are obtained from sources deemed reliable, but their accuracy is not guaranteed. © Copyright 2007, Gold Letter Inc.
© 2005-2019 http://www.MarketOracle.co.uk - The Market Oracle is a FREE Daily Financial Markets Analysis & Forecasting online publication.

Only logged in users are allowed to post comments.
Register/ Log in