Keynesian Death By Debt Continues
Economics
/
Global Debt Crisis 2012
Jan 13, 2012 - 12:42 PM GMT


Debt constrains one's enjoyment of life. Without debt to repay, we could use our incomes solely for the pursuit of the good life. You get to define of what that consists, be it food and wine, debauchery or charitable deeds. With debt, life is miserable. Greece has learned that lesson. Spain and Portugal now know that. Those that lost their homes due to the bursting of the Federal Reserve's housing bubble know that. Seems just about everyone but Keynesian economists hiding in their academic cloisters, free of the real world, are fully aware of economic death through debt.
Only condition worse than having debt is having one's debt burden growing. Each day brings one closer to the time when one will not be able to spend money as one wishes because of debt payments. Any kind of enjoyable life will be unaffordable, much less the good life.Seems everyone knows that, with the exception of the Obama Regime and their moribund Keynesian advisors.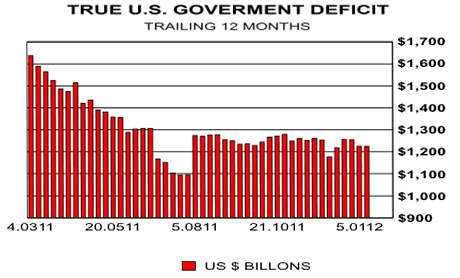 Chart above is the trailing twelve month true U.S. deficit on a weekly basis. This value must be calculated from the current and prior debt levels as the unified budget deficit reported by the U.S. government is believed only by the Mad Hatter. As is painfully obvious, that deficit continues to run at slightly more than $1,200 billion. So much for deficit reduction.
In economics courses one listens to day after day of Keynesian drivel. For example, a common teaching was that the government's debt is no problem as it was owed to the citizens, or ourselves. For that reason, the government mortgaging the future of our grandchildren so that politicians have money with which to buy votes has been deemed acceptable behavior. Well known now is that we no longer owe the money just to ourselves. The U.S. owes money to every conceivable gullible investor in the world.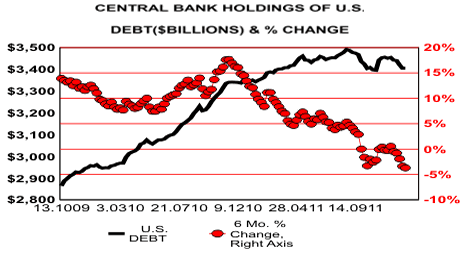 Above chart is one of our favorites. Plotted in black, using the left axis, are the holdings of U.S. government debt by foreign central banks which are held at the Federal Reserve. This data is reported weekly. Line of red circles, using the right axis, is the rate of change in the size of those holdings.
As we have been reporting and as indicated by the red line, these institutions have become essentially net liquidators of U.S. government debt.
Recently, several of the presidents of the district banks of the Federal Reserve have been talking publicly of another round of quantitative easing. Never mind that both of the previous rounds were failures. Keynesians do not deem the lack of success with their policies to be failure, but rather as a reason to do it one more time. Mentally mired in an ideology of the past, they are slow learners.
With foreign institutions becoming absent from the buying of U.S. government debt, someone else must be found to fund that $1.2 trillion of new debt in the coming year. Is the Federal Reserve to simply hand the Obama Regime $23 billion of cash each week with which to buy votes? If so, we certainly have a reason to own Gold. We also see good reasons for the Senate to reject the two latest nominees by the Obama Regime to fill vacant seats on the board of the Federal Reserve. Our economy cannot afford any more debt monetizers at the Federal Reserve.
Just as in polite society certain accepted modes of conduct exist, in markets there also exists a correct behavior. In a bear market, which currently exists in both Gold and Silver, one does not buy. Bear markets generate lower prices that penalize buyers. When bear market rallies occur one must restrain the emotional response of missing a move. When markets dominated by children at hedge funds, using computers without parental controls, push $Gold up ~9% in 10 days and $Silver up ~17% in ten days, try watching the weather channel to calm your emotions. And remember, all bear markets end, just as do bull markets. We should simply retain our long term Gold positions while building cash with which to buy when the bear is exhausted.

By Ned W Schmidt CFA, CEBS
Copyright © 2011 Ned W. Schmidt - All Rights Reserved
GOLD THOUGHTS come from Ned W. Schmidt,CFA,CEBS, publisher of The Value View Gold Report , monthly, and Trading Thoughts , weekly. To receive copies of recent reports, go to www.valueviewgoldreport.com
© 2005-2019 http://www.MarketOracle.co.uk - The Market Oracle is a FREE Daily Financial Markets Analysis & Forecasting online publication.

Only logged in users are allowed to post comments.
Register/ Log in