Chinese Stock Market Winning Streak To Continue During 2008
Stock-Markets
/
Chinese Stock Market
Jan 09, 2008 - 07:00 AM GMT


Tony Sagami writes: Almost exactly a year ago, I told you how the U.S. economy was headed for more weakness while the Chinese economy would continue growing like a weed. And I suggested you "make it your New Year's resolution to add some Asian spice to your portfolio this year."
Look at what the markets have done since then: The S&P 500 was up just 3.5% in 2007; the Shanghai Composite Index, which measures the performance of mainland China stocks, skyrocketed 97%. That's on top of a 130% gain in 2006!
Don't think for a second that those kinds of gains were limited to shares trading in China. There are more than 100 Chinese companies listed right here on the New York, American and Nasdaq stock exchanges, and many of them posted tremendous results last year. Just check out my table for lots of examples!
Of course, the bigger issue is whether or not Chinese stocks can continue to deliver those global-leading gains. My answer: Absolutely!
| | |
| --- | --- |
| Company/Ticker | 2007 Gain |
| AirMedia Group/AMCN | 49.20% |
| Aluminum Corp of China/ACH | 119.60% |
| APT Satellite/ATS | 46.50% |
| Baidu.com/BIDU | 245.90% |
| China Architectural Engineering/RCH | 147.10% |
| China Digital TV/STV | 68.60% |
| China Eastern Airlines/CEA | 383.40% |
| China Finance Online/JRJC | 394.30% |
| China Life Insurance/LFC | 52.20% |
| China Medical Tech/CMED | 65.80% |
| China Mobile/CHL | 105.20% |
| China Petro & Chemical/SNP | 63.10% |
| China Southern Airlines/ZNH | 45.20% |
| China Sunergy/CSUN | 50.20% |
| China Telecom/CHA | 46.70% |
| China Unicom/CHU | 52.80% |
| CNOOC/CEO | 82.90% |
| Ctrip.com/CTRP | 85.20% |
| E-House/EJ | 72.70% |
| Focus Media/FMCN | 71.10% |
| Global Sources/GSOL | 91.20% |
| JA Solar/JASO | 365.30% |
| LDK Solar/LDK | 74.10% |
| Mindray Medical/MR | 80.80% |
| New Oriental Education/EDU | 140.30% |
| Perfect World/PWRD | 74.30% |
| Shanda Interactive/SNDA | 53.60% |
| Sina/SINA | 54.40% |
| Sohu.com/SOHU | 127.20% |
| Solarfun Power/SOLF | 181.50% |
| Suntech Power/STP | 142.00% |
| Trina Solar/TSL | 184.70% |
| Wuxi Pharmatech/WX | 108.90% |
| Yazhou Coal Mining/YZC | 144.30% |
| Yingli Green Energy/YGE | 251.80% |
Four Reasons Why Chinese Stocks Should Post Big Gains in 2008
Reason #1: Foreign money pouring into China. I'm sure you've heard about the Chinese pouring big money into some of America's largest corporations, including Citigroup, Morgan Stanley, and Bear Stearns. In 2007, Chinese buyers spent a staggering $29.2 billion acquiring foreign companies.
More important, however, is the fact that foreign money is pouring into China. In the first 11 months of last year, a staggering $61.68 billion of direct foreign dollars was invested in China. That's more than twice the amount China spent acquiring foreign companies.
Where did the $61 billion go? Into factories, real estate, and businesses. In fact, $21 billion of it went right into publicly-traded Chinese companies.
I think that flood of money is going to grow, which translates into even higher Chinese stock prices.
Reason #2: No Chinese economic slowdown in sight. In 2000, the Chinese Academy of Social Sciences forecasted that the Chinese economy would quadruple in size by 2020. The Chinese government now expects that to happen 10 years ahead of schedule!
That's what happens when your economy expands more than 10% a year for five years in a row.
In my opinion, 2008 is going to bring more of the same — double-digit growth. China's Center for State Information agrees, projecting economic expansion of 10.8% in 2008. Of course, they've been so conservative in the past, that I expect even more than that.
Look, stock prices follow earnings, and strong corporate earnings follow strong economic growth. In other words, Chinese stocks should be headed a whole lot higher.
Reason #3: Three Big Events in China. In a very short time, the world is going to hear nothing but "China, China, China" as we approach the 2008 Beijing Olympics.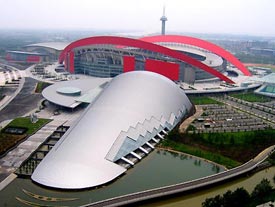 The Beijing Olympics are just the beginning of China's construction spree!
Beijing is building a dozen Olympic sports centers ... a new cross-city underground railway ... dozens of dazzling office towers ... a massive airport terminal ... and a colossal egg-shaped performance center. All told, China will spend $35 billion on Olympic preparation.
And even if you think the Beijing boost is already priced in, you need to think about another economic boom coming in 2010 from both the World Expo in Shanghai and the Asian Games in Guangzhou.
The year-and-a-half-long World Expo is expected to bring 70 million visitors to Shanghai and cost $40 billion. The Asian Games, similar to our Pan American Games, should generate $27 billion in construction spending.
So, while the Beijing Olympics are big, they're hardly the end of the Chinese infrastructure building boom.
And unlike our country, which has to deal with pesky things like budgets, China is a command economy controlled by the communist party. The country's leaders can spend as much money as they want because (a) they have it, with a $1.3 trillion war chest of cash reserves and (b) they make the rules.
Reason #4: Money is on China's mind. To really get the China story, you have to understand the mindset of Chinese investors. A new report from Google China explains it perfectly ...
According to Google China, the most frequently searched word in all of China last year was "stocks." The second, third, and sixth most searched names were the three largest banks in China — "China Merchants Bank," "Industrial and Commercial Bank of China," and "China Construction Bank."
The average Chinese saves more than 20% of his paycheck and many of those dollars are and will continue to go into the stock market. Think of it like a Grand Canyon-sized 401(k) plan that injects billions of dollars into the stock market each month.
So, with all that said ....
Here Are Five Ways to Add Some China Kick to Your Portfolio
#1. Exchange-traded funds: We've been telling you a lot about exchange-traded funds (ETFs). That's because these investments can give you a diversified stake in a particular sector, index or country in one shot.
There are several ETFs that can give you direct exposure to China and its mega-growth neighbors, but the iShares FTSE/Xinhua China 25 Index (FXI) is the most popular Chinese ETF.
#2. Mutual Funds: ETFs are great, but don't forget about traditional, actively-managed mutual funds, either. Some of my favorites are U.S. Global's China Region Opportunity (USCOX), Fidelity's China Region (FHKCX), and T. Rowe Price's New Asia (PRASX).
#3. Chinese companies on U.S. exchanges: As I pointed out earlier, more than 100 Chinese companies are listed on U.S. exchanges. What's more, they are some of the largest and most profitable companies in all of China. My Asia Stock Alert subscribers, for example, own several of the red-hot stocks I listed in my table above!
#4. Chinese companies on foreign exchanges: A lot of really attractive Chinese companies are listed on the Hong Kong Stock Exchange, and others can be found on the exchanges in Singapore and London.
If you've never bought a stock on a foreign stock exchange, you'll be surprised at how easy it is. All you need is a broker with an international trading desk and the ticker symbol of the stock!
#5. U.S. companies doing big business in China. U.S. companies have been doing business in overseas markets for a long time. But these days, some American firms are getting the bulk of their revenues from outside the U.S.
For example, both Yum Brands — which runs Pizza Hut, Taco Bell, and KFC — and casino company Las Vegas Sands both garner more than half of their sales from outside the U.S.
In other words, even carefully selected U.S. companies can give you a very significant stake in China!
Which of these investments is right for you? The answer depends on a lot of things: How aggressive you are, whether you're more of a do-it-yourselfer, and how focused you want to get.
But the most important thing is that you consider adding some Asian investments to your portfolio. That's where I continue to see the biggest profit potential.
Best wishes,
Tony
This investment news is brought to you by Money and Markets . Money and Markets is a free daily investment newsletter from Martin D. Weiss and Weiss Research analysts offering the latest investing news and financial insights for the stock market, including tips and advice on investing in gold, energy and oil. Dr. Weiss is a leader in the fields of investing, interest rates, financial safety and economic forecasting. To view archives or subscribe, visit http://www.moneyandmarkets.com .
© 2005-2019 http://www.MarketOracle.co.uk - The Market Oracle is a FREE Daily Financial Markets Analysis & Forecasting online publication.

Only logged in users are allowed to post comments.
Register/ Log in