Crude Oil Crisis and How to Profit From the Coming Oil Boom!
Commodities
/
Crude Oil
Jan 11, 2008 - 06:42 AM GMT


Sean Brodrick writes: Recently, I told you that I expected oil prices could spike to $150 per barrel in 2008. But, if anything, that target might be too low! In fact, the head of the International Energy Agency just said that demand growth just from China and India alone could cause prices to rise to $150 per barrel.
So imagine what other factors such as geopolitical disruptions would do to prices! Indeed, the fastest-growing bet in the oil market these days is that the price of crude will double to $200 a barrel by the end of this year.
You can see why I've been combing through obscure industry journals, poring over government energy statistics, and scrutinizing supply and demand data to find the best ways to profit from oil's next major move.
What I came up with are five smoking-hot stocks and two red-hot funds that will blast off from the coming surge in oil prices. More on them in a moment.
First, I want to tell you ...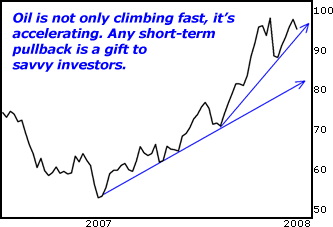 Why We Are Careening Toward The Next Major Energy Crisis
America is the world's largest consumer of oil, guzzling more than 7.5 billion barrels per year. We import more than half the oil we use, and that amount is rising, which is why America is described as being "addicted to oil."
But that's not all ...
More than 81% of the world's discovered and usable oil reserves come from just 10 countries. Most of them don't like us much. And 30% of the world's oil is in three countries — Iraq, Kuwait and Saudi Arabia. Saudi Arabia, home to 15 of the 19 9/11 hijackers and a major source of funds for Islamic terrorists, is the world's "Central Bank of Oil."

The world consumes 173 billion barrels of oil — about 14 Prudhoe Bays — every 2.4 years. At the same time, we find enough new oil to supply just 3% of that.

2008 is when the world will start using oil at a rate of more than 1,000 barrels PER SECOND! According to the International Energy Agency, global oil demand will average 87.8 million barrels per day (bpd) in 2008, which equals 1,016 barrels per second — a sonic boom of energy use.
Just to keep prices stable, in the next decade, we're going to have to find a couple more fields the size of Ghawar — the biggest oil field in Saudi Arabia ... and the world.
The U.S. is running scared!
Since August, the Bush administration has been adding 50,000 barrels a day to the Strategic Petroleum Reserve — the nation's emergency oil stockpile — with plans to kick up the pace to 70,000 barrels a day by the end of January.
The federal government has been soaking up as much as 0.3 percent of the world's supply of light sweet crude at a time when crude is close to $100 per barrel. And all their buying has added as much as 10% to the price of crude, an oil consultant told a Senate panel recently.
My question — what does the Bush administration know that would make them so eager to add to the Strategic Petroleum Reserve when prices are so high? What are they really afraid of?
Maybe the White House is afraid of the fact that U.S. crude stocks have declined by 64 million barrels in the last six months ...
Maybe they're scared because domestic oil supplies are now well below the five-year average of 300 million barrels for this time of year ...
Maybe they realize that the current size of the Strategic Petroleum Reserve is only big enough to keep the U.S. running for 56 days if imports were suddenly cut off ...
Or maybe they're just plain scared of $200-a-barrel oil!
More Panic Ahead at America's Gas Pumps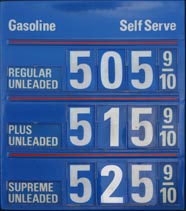 Imagine what $5-a-gallon gas would do to U.S. consumers!
Low crude oil supplies have already driven gas prices past $3 per gallon, but unfortunately, it can get worse.
U.S. consumers are now spending 3.5% of their household budgets on gasoline and fuel costs. But during the Oil Crisis of 1981, that number was more like 3.8%.
In other words, once inflation is factored into the equation, oil prices would have to rise to $140 per barrel to reach the equivalent levels of 1981!
If you believe there is pain at the pump now, how do you think $5 or $6 per gallon gas will go over with the American public?
Of course, the oil crisis isn't just a U.S. issue ...
Plenty of Fast-Growing Countries Are Lining Up for More and More Oil
According to the World Bank, 104 countries expanded by more than 5% in 2006 and most of them kept up that pace in 2007. Businesses and consumers in Asia, South America and Africa are buying more and more cars — 14,000 a day in China alone.
OPEC reports that in 2007, world demand for crude oil rose by 1.2 million barrels per day. They project that in 2008, world oil demand for crude will rise by 1.3 million barrels per day. And by 2030, this thirst is expected to increase about 35%.
Of the world's growing oil consumers, China deserves mention all on its own. China's demand for oil rose from 5.6 million barrels per day in 2003 to 7.6 million in 2007, and will increase another 5.7% this year, the IEA said.
Meanwhile, half of the world's oil production comes from less than 120 giant fields, each producing more than 100,000 barrels per day.
The majority of the largest producers are over 50 years old ... the average size of new discoveries is declining ... and we're getting less production out of existing oilfields every year.
Just look at what's happening in Mexico! The country's state-owned oil company, PEMEX, is the third-largest provider of imported oil to the U.S. And it is facing catastrophic declines.
Production in November fell 8.2% from the same period a year earlier. At the root of this is a three-year, 40% decline at Cantarell, Mexico's largest oil field and the third-largest oil field in the world.
Even worse, Pemex's daily oil production may drop by a third — to 2.1 million barrels — in just nine years.
Yes, there is more oil to be found in the world. But the cheap oil is fast disappearing. Every new barrel we find will likely be more expensive, and that's why $150 may only be a signpost on the way to $200 a barrel!
Make No Mistake, OPEC Wants Triple-Digit Oil Prices!
The Persian Gulf princes are all in favor of triple-digit oil. Chakib Khelil, the current president of the Organization of Petroleum Exporting Countries, recently told reporters that $100-per-barrrel oil is "not necessarily very high." He added, "There is enough oil in the market."
So when OPEC meets next month to discuss production quotas, don't hold your breath for an increase in production. The fact is that with oil at these price levels, OPEC members are pumping near flat-out to rake in the bucks.
They need that money — the economies of many big oil-exporting countries are growing so fast that their domestic need for energy is drying up their exports.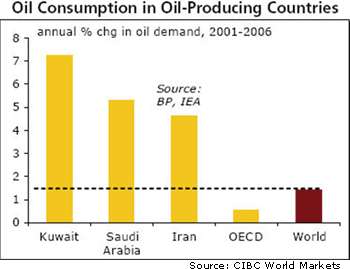 Lehman Brothers analysts say that this year, OPEC countries will increase their use of oil by 4%. And if that sharp growth continues, it means several of the world's most important suppliers may need to start importing oil within a decade.
According to a report from CIBC World Markets, crude exports could drop by as much as 2.5 million barrels a day by the end of the decade. That is about 3% of global oil demand — and MORE than the current spare capacity in the oil markets.
As you can see, everything is pointing to much higher oil prices. And while that's bad news for consumers, it can lead to great profits for savvy investors ...
How You Can Profit From The Coming Oil Boom
If you want a simple way to play the oil sector, you can always buy the Energy Select SPDR (XLE). This exchange-traded fund holds big-name companies like ExxonMobil, Chevron, and Valero.
However, for the really big potential returns in energy, I've picked out five stocks that are leveraged to the price of oil and two sizzling funds that are positioned in the catbird seat of the oil industry.
I'll be naming these companies in a special energy report I'm sending to my subscribers on Thursday, January 17.
I'll also be selling this report — including three follow-ups — for $199. I think it would be cheap at triple the price, but if you contact us at 1-800-291-8545, and mention my name, you can reserve a copy for the low pre-publication price of $99. You can also secure your copy online by clicking here . Then, on January 17, we'll email you a PDF copy so you can jump on my red-hot recommendations as soon as they come off the press.
The best part is that we're seeing a short-term pullback in oil prices right now, which will give you an excellent buying opportunity.
Wall Street didn't see $100-a-barrel oil coming, and it's not prepared for $150 or $200 oil, either. But you can be prepared — to protect your portfolio and potentially reap a whirlwind of gains.
Good luck and good trades,
Sean
This investment news is brought to you by Money and Markets . Money and Markets is a free daily investment newsletter from Martin D. Weiss and Weiss Research analysts offering the latest investing news and financial insights for the stock market, including tips and advice on investing in gold, energy and oil. Dr. Weiss is a leader in the fields of investing, interest rates, financial safety and economic forecasting. To view archives or subscribe, visit http://www.moneyandmarkets.com .
© 2005-2019 http://www.MarketOracle.co.uk - The Market Oracle is a FREE Daily Financial Markets Analysis & Forecasting online publication.

Only logged in users are allowed to post comments.
Register/ Log in