Good As Gold!
Commodities
/
Gold and Silver 2012
Mar 20, 2012 - 01:09 AM GMT


I want to talk about gold today. Two weeks ago when spot gold was around 1,670.00 I wrote a piece entitled "When To Be Greedy" telling investors to buy. Since then we've survived a number of attempts to push the price lower and it is trading at 1,660.00 as I type. In short not much has happened and patience is running thin. In the meantime the dollar tried to rally and failed, the bond suffered a significant break down causing a real spike in interest rates and the Dow broke through significant resistance at 13,323.
The idea being sold by the media is that with stocks headed higher, Dow 15,000 is now being discussed, so who needs gold? Here's a question for you: with the dollar and bonds headed lower, and interest rates headed higher, how can that be good for stocks? In any event the Dow has been headed higher for more than two years and that hasn't stopped gold!
Just as a matter of reference on January 1, 2010 the Dow was at 10,550 so to date it has risen 25.42% while gold has moved from 1,100.00 for a gain 50.54%! So in spite of the Fed's best efforts to pump the stock market up with a barrage of fiat currency while at the same time suppressing the price of gold with relentless intervention, gold has out performed the Dow two to one!! That tells you all you need to know.
They say a picture is worth a thousand words so if that's true
this chart should be worth one thousand ounces of gold. Here you can see the run up from the 2008 low, including the break out to the upside in 2009 and compare it to the break out that occurred just two months ago. The moves are quite similar and notice how the break out in 2009 sputtered a few times before it finally took off. Although none of us can remember that far back I seem to recall that the media was singing the same tune as now. They were wrong then and they are just as wrong now.
Last week we saw several attempts to push gold's spot price
down below good support at 1658.30, and they did manage one close below it on Wednesday, but it bounced right back on Thursday and continued to move higher on Friday. This morning was more of the same as they knocked it down as low as 1,651.50, but right now the spot price is at 1,665.10. I continue to view gold in terms of the big picture, and the big picture can be summarized with these numbers:
CONTRACT SUPPORT RESISTANCE
Spot Gold 1,596.86 1,671.54
1,522.18 1,746.22
1,447.50 1,820.90
1,895.58
1,970.30
These are the only numbers that matter and everything else is polite conversation at a cocktail party. Notice that I have highlighted three numbers. The support at 1,596.86 is key and coincides with the trend line that marks the break out to the upside. The other two numbers are resistance levels that once they are broken will lead to even stronger moves toward the upside.
Now I want to turn your attention to gold stocks. Some of you insist in holding mining shares and while there are worse investments, there are also better investments, like gold. Take a good look at the following three-year chart for the HUI and I will explain: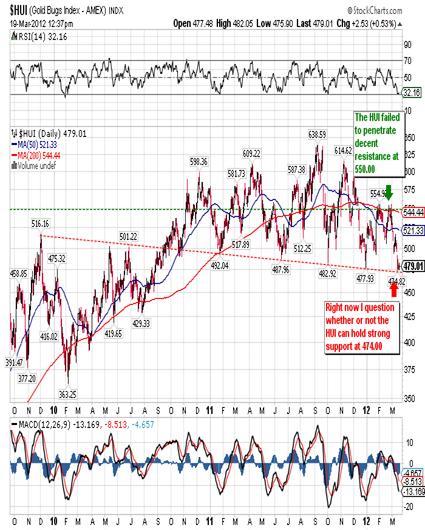 As most of you know by now that gold has posted gains in each and every year going back to 2002. Now look at this chart of the HUI and you'll see that it is currently well below the December 31, 2010 close (and below the December 31, 2011 close). That means you've held these stocks for fourteen months and lost money in the process while gold is up 250.00 from its respective December 31, 2010 close. What's more there is a real danger that the HUI could break major support at 474.00 and that could open the floodgates for major selling.
A lot of you will tell me that large short sellers heavily manipulate the gold shares market and that's true, but there's no column in your statement for that. It only reflects profits and losses.
The HUI is a paper market while physical gold is a real tangible market and manipulation can only go so far and then you need to pony up the gold. Likewise the futures market has to follow the physical market or it will self-destruct. Add to this the fact that the dollar and bond are headed lower so you now have less paper asset shelters from the storm. For the third consecutive session gold is making a higher intraday low and once it moves above the 1,671.54 resistance it will gain speed and strength. Everyone is afraid of gold right now and the media is doing its best to stoke that fire, but now is the time to buy. Buy physical gold and silver, or the futures, and avoid mining shares for the time being. You won't be sorry!
Giuseppe L. Borrelli
www.unpuncturedcycle.com
theunpuncturedcycle@gmail.com
Copyright © 2012 Giuseppe L. Borrelli
- All Rights Reserved Disclaimer: The above is a matter of opinion provided for general information purposes only and is not intended as investment advice. Information and analysis above are derived from sources and utilising methods believed to be reliable, but we cannot accept responsibility for any losses you may incur as a result of this analysis. Individuals should consult with their personal financial advisors.
© 2005-2019 http://www.MarketOracle.co.uk - The Market Oracle is a FREE Daily Financial Markets Analysis & Forecasting online publication.

Only logged in users are allowed to post comments.
Register/ Log in