Copper Projects Push Forward in Prolific Walker Lane Belt
Commodities
/
Metals & Mining
Apr 11, 2012 - 10:27 AM GMT


Perhaps best known as the fault zone that could replace the San Andreas plate boundary if California slips into the Pacific, the Walker Lane Belt also hosts a whole lot of copper. Aligned with the California / Nevada border, the Walker Lane descends across the two states, incorporating the famed Death Valley along with myriad geological features that have attracted scores of miners.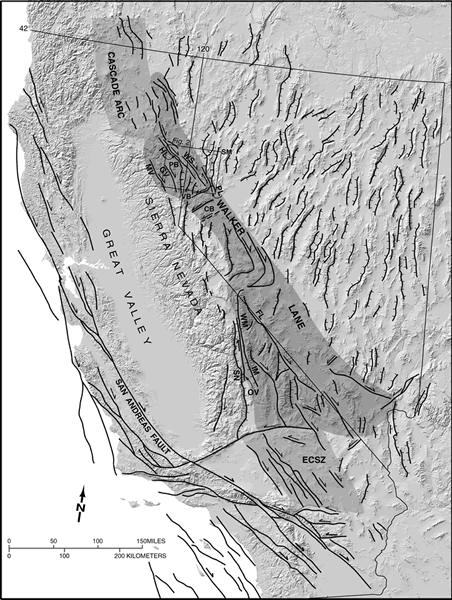 Like other mineral-rich regions in North America that are known for copper and precious metals, the Walker Lane has seen increased activity the last several years. The region was once host to Anaconda Copper's well-known Anaconda /Yerington Mine and is now the source of activity for ambitious companies.
The re-awakened interest in copper, which will no doubt continue to impact the Walker Lane's development, is due to several factors. As mentioned, copper's relation to precious metals has spurred miner interest in the Walker Lane, as the belt is known for both its gold and copper, which can often be found together. As well, the steady demand for copper out of developing countries demonstrates a robust recovery since the 2008 crash: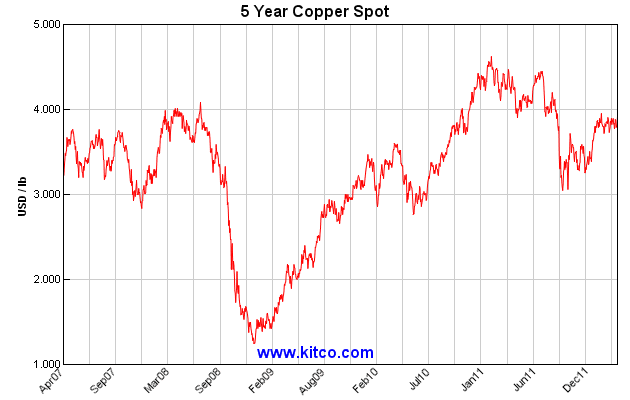 Further, the steady decrease in copper warehouse stock levels suggests an upward pressure on the price, as the future brings what could be a massive supply crunch: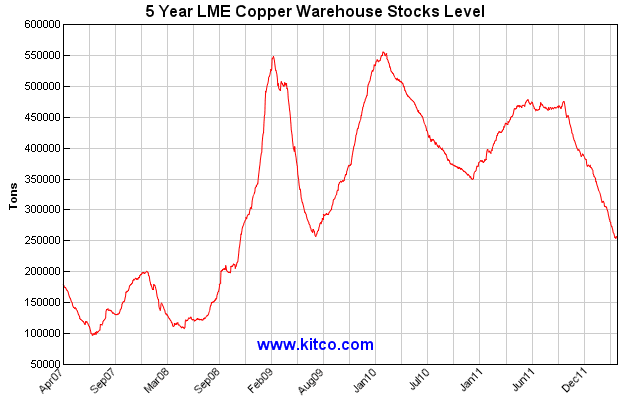 As we have reported in similar articles that focus on the re-emergence of activity in mineral-rich regions, miners are now working fastidiously to prove up resources and reward investors.
Nevada Copper Corp. [NCU – TSX] has recently announced that it intersected 9.08% copper from its 100% owned Pumpkin Hollow project, which is located in close proximity to the Yerington Mine.
The Pumpkin Hollow project is a large, advanced stage coppery property that contains significant quantities of copper: 4.29 billion pounds proven and probable, 3.8 billion pounds measured and indicated in the western open pit, and 1.5 billion pounds of measured and indicated in the eastern underground deposits. Altogether, the Company reports a high-grade deposit with a mineral inventory of over 24 billion pounds of copper.
In January 2012, NCU announced the completion of a feasibility study, which reported the technical and financial viability of a 67,500 ton-per-day copper mine. Share price: $3.76
Quaterra Resources Inc. [QTA – TSX.V] is working on developing its Yerington Copper Project located in Lyon County, Nevada, which was previously owned by Anaconda. With a cutoff of 0.2% copper, the complete NI43-101 (available on the company website), shows a measured and indicated primary copper resource of 71.8 million tons averaging 0.30% total copper, which contains 430 million pounds of copper. Also present is an inferred primary copper resource of 63.9 million tons averaging 0.25% total copper, which contains 323 million pounds of copper. Share price: $0.40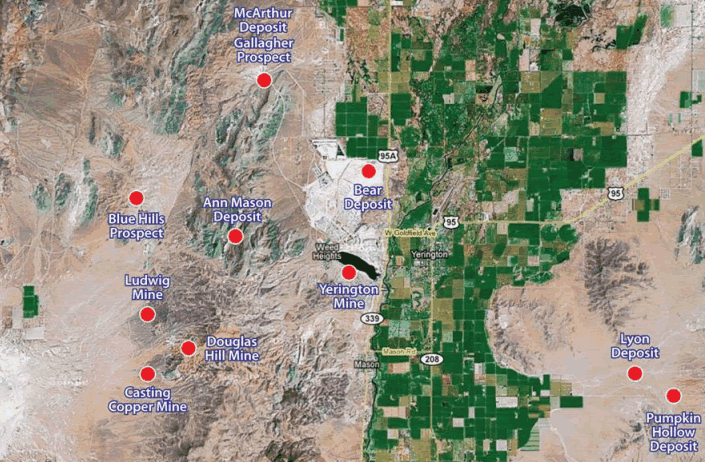 Further down the road but well-within the Walker Lane belt, Canyon Copper Corp. [CNC – TSX.V] has been studiously working on its ambitious New York Canyon copper project. The Company owns to advanced mineral stage properties in the Walker belt—the Moonlight Copper Porphyry Project in California and the New York Canyon Project in Nevada—with the goal to move each project into production.
Both projects host an impressive quantity of resources. The New York Canyon project (below) will see a late 2012 drilling to test areas of historical high grade mining, bordering on the Longshot Ridge deposit. This is a welcome addition to recent good news on the property, as CNC just announced that the 2006 drill results are to be incorporated into the Long Shot Ridge oxide resource estimate, which included a mineral resource of 16,250,000 tons of copper mineralization with an average grade of 0.43% Cu. An additional inferred resource of 2.9 million tons with an average grade of 0.31% Cu is described in the report.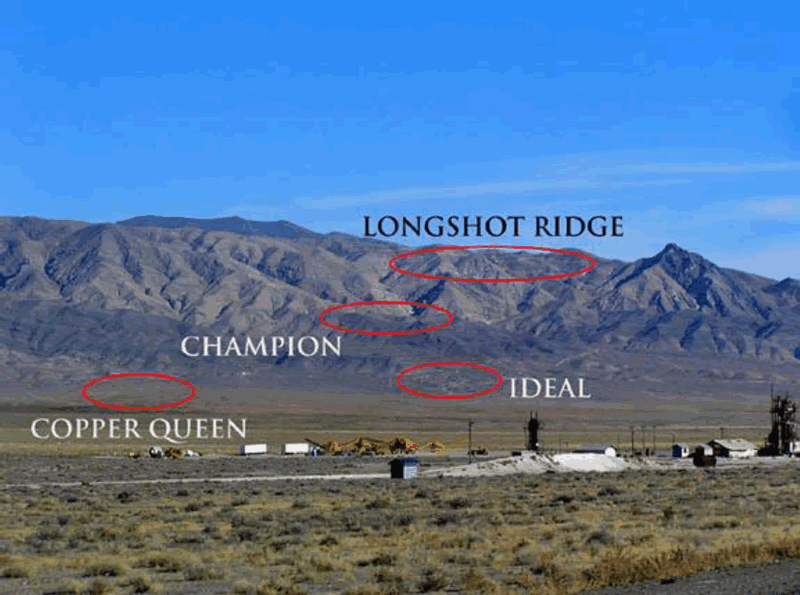 Canyon Copper has also announced that it has started permitting for a shallow reverse circulation drill program at its Moonlight deposit (below) to establish an NI 43 101 oxide resource. The drill program, set for early summer 2012, will seek to verify historical reports of a copper oxide resource of 12.2 million tons of ore at an average grade of 0.54% Cu, and 10.8 million tons of "waste," which, following further sampling by Sheffield, showed significant copper values above the 0.20% Cu cut off grade used in the earlier resource estimates.
A Technical Report and Resource Estimate was filed by Sheffield Resources on SEDAR in April 2007.
The oxide deposit sits atop a historical indicated resource at a cut-off grade of 0.20% copper of 161 million tons of copper sulphide with an average grade of 0.324% copper 0.003 oz/t gold and 0.099 oz silver and an inferred resource of 88 million tons at a grade of 0.282% copper.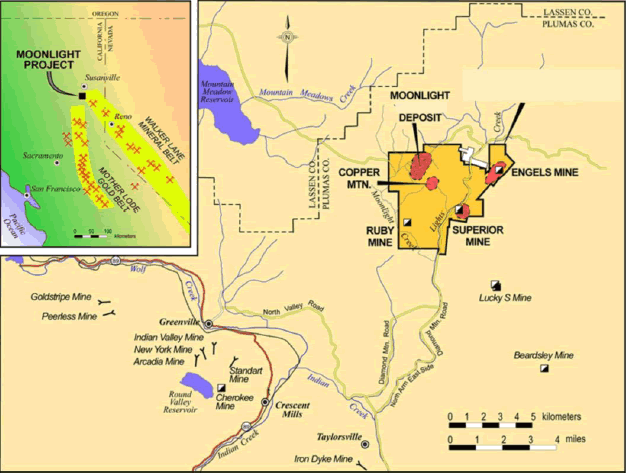 The claims are not exactly as shown but the Moonlight oxide and sulphide deposits are wholly covered by the property optioned by Canyon Copper.
Canyon Copper says it will focus on the oxide deposits during the start of the exploration and development of both the New York Canyon and Moonlight oxide copper properties. Unlike sulphide bodies, both copper oxide projects could be brought into production quickly due to the economics of lower capital and operating expenses for a copper leach operation which is indicates a significantly lower financing cost than that of a much larger sulphide recovery plant. Also, CNC believes that the premium cathode copper from the oxide processing plant could fetch a price premium. This would be a significant improvement over the payment for residual copper from concentrates sent to a foreign smelter which will charge against the world price, currency changes, freight, treatment and refining charges on each ton of concentrate that has only 29% contained copper. Share Price: $0.10.5
The major structural elements, faults, that reflect old seismic events are not the most desirable geological feature for local residents, but the Walker Lane Belt has a lot going for it because these faults smashed the rocks and opened up the permeability and porosity in the bedrock that allowed hot metal bearing fluids to move around and deposit the metal sulfides. Companies such as Quaterra are working feverishly within the region to capitalize near historical hot-spots, with significant deposits next to well-tested infrastructure. Well-established players like Nevada Copper Corp. are also taking a near-proximity approach, with financial muscle propelling the Company towards the production of a mine in the near-future. Finally, ambitious exploration and development companies like Canyon Copper are proving that the region hosts considerable potential, as Canyon's two projects could both see the Company rapidly move into the production phase. Overall, expect 2012 to be a defining year in the region, as the push to fuel the developing world's growth drives the mining frenzy back into one of the world's most well-known copper regions.
Chris Devauld
Disclaimer: The author does not currently hold any shares of any of the companies mentioned in the article. However, some members of Cordova Media Inc., which owns the ProspectingJournal.com, may or may not have interests in one or more of the companies mentioned at the time of publication. Staff members from the Prospecting Journal reserve the right to acquire interests in any of the companies mentioned after 36 hours have elapsed upon initial publication of this article. VOL is a sponsor of ProspectingJournal.com.
© 2005-2019 http://www.MarketOracle.co.uk - The Market Oracle is a FREE Daily Financial Markets Analysis & Forecasting online publication.

Only logged in users are allowed to post comments.
Register/ Log in