Useless Gold Overtakes Platinum
Commodities
/
Gold and Silver 2012
Apr 12, 2012 - 08:45 AM GMT


It's more than "interesting" that platinum prices are lagging gold...
GOLD has risen nicely since the meltdown following Lehmans' collapse, with the gold price in Dollars rising 130%. Until last summer, however, platinum had done better still.
Indeed, a trader "could have made a lot of money buying platinum and selling gold since Lehman Brothers," as Philip Klapwijk, executive chairman of GFMS said Wednesday, taking analyst questions after launching the precious-metals consultancy's new Gold Survey 2012 at Thomson Reuters' HQ in London.
Over the 34 months to August 2011, the white metal rose 150%, recovering faster at first even than the gold price. But it needed to, however, after dropped two-thirds of its Dollar price between March and December 2008.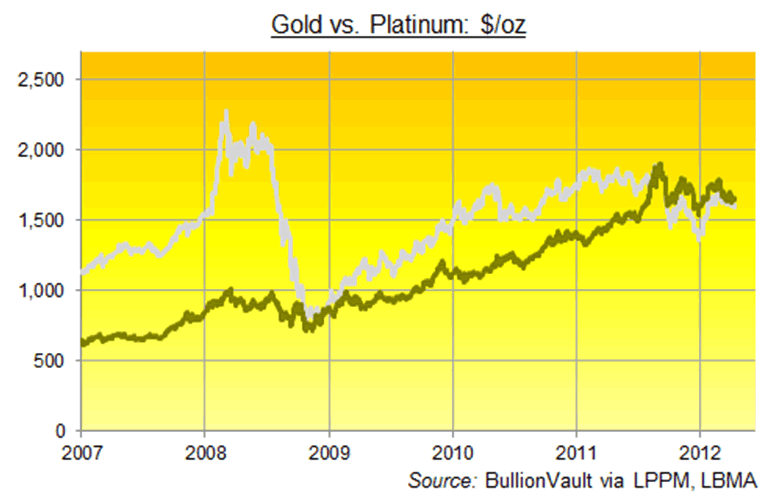 Since last summer, platinum has slipped faster than gold. More notably, it's slipped below the gold price itself – something seen for only three trading days in December 2008 in the immediate aftermath of Lehmans' bankruptcy. And before that, you have to go back to the recession of 1991...the peak of the "strong Dollar" disinflation of 1984...the global stock market's once-in-a-generation low of 1982...and gold's big tops of Jan. 1980 and Dec. 1974 to find platinum trading cheaper than the gold price.
Gold's latest incursion above the platinum price is "interesting," said GFMS's Klapwijk on Wednesday. But scary might be closer to it. Running for 145 of the last 172 trading days, it's getting to be something of a habit, too.
"There's a case to be made for the white metal being priced at a premium to gold," as Klapwijk said. The two metals' scarcity in the earth's crust is about the same, but platinum deposits tend to be more diffuse, making extraction more costly. On the demand side, it is clearly more "useful" than gold too, with one third of annual output going to industry and another third going to make auto-catalysts according to platinum experts Johnson Matthey. Fully 85% of global gold demand, in contrast, is for store-of-value or adornment. And there's the rub.
The vast majority of investors will always prefer gold over platinum, as Klapwijk noted this week, because its store-of-value use is so very much greater than platinum's. You could ascribe that to 50 centuries of habit, gold being "the universal prize in all countries, all cultures and in all ages," as physicist and polymath Jacob Bronowski put it in his Ascent of Man. Today that history is supported by the second, stronger point which Klapwijk made Wednesday: gold's relative lack of industrial use. That makes it a far better defense against the kind of economic turmoil suffered since our financial crisis broke in mid-2007 (platinum up 24%, the gold price up 153%), as well as the economic crises of the mid-1970s and early '80s.
Over the last 9 months in particular, Europe's economic crisis has affected its vehicle demand, GFMS points out. That means lower demand for diesel engines and thus platinum-based catalysts worldwide. Gold may have suffered similarly lower demand amongst Western jewelry consumers, but Eurozone investors have stepped in to pick up that slack. And their counterparts in Asia are buying gold with both hands, according to GFMS's new Gold Survey 2012, along with pretty much anyone else who cares to look.
By Adrian Ash
BullionVault.com
Gold price chart, no delay | Buy gold online at live prices
Formerly City correspondent for The Daily Reckoning in London and a regular contributor to MoneyWeek magazine, Adrian Ash is the editor of Gold News and head of research at www.BullionVault.com , giving you direct access to investment gold, vaulted in Zurich , on $3 spreads and 0.8% dealing fees.
(c) BullionVault 2012
Please Note: This article is to inform your thinking, not lead it. Only you can decide the best place for your money, and any decision you make will put your money at risk. Information or data included here may have already been overtaken by events – and must be verified elsewhere – should you choose to act on it.
© 2005-2019 http://www.MarketOracle.co.uk - The Market Oracle is a FREE Daily Financial Markets Analysis & Forecasting online publication.

Only logged in users are allowed to post comments.
Register/ Log in