The Case For Cheap Gold!
Commodities
/
Gold and Silver 2012
Apr 16, 2012 - 02:39 AM GMT

I want to spend a lot of time talking about gold and looking at it from a different perspective. For years many analysts and gold bugs have made the claim that gold is cheap relative to just about anything else, but they never tell you why. In today's report I want to deal with the "why" because I think it's important to understand that if you purchase gold at $1,400, $1,500, $1,600 or even $1,700, it is totally irrelevant. As a first step toward understanding why it's undervalued, you need to look at the creation of fiat currency in the United States from 1980 to date: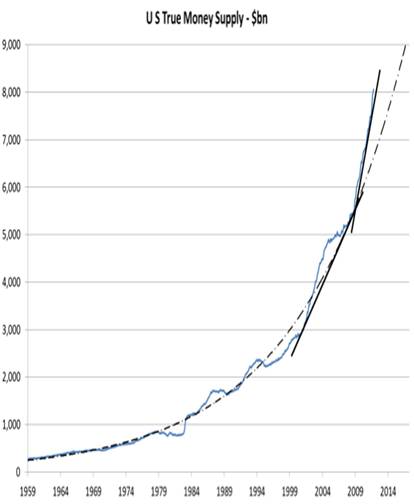 undervalued, you need to look at the creation of fiat currency in the United States from 1980 to date. In 1980 the money supply stood at US $500 billion and today it's at approximately US $8 trillion, a staggering sixteen-fold increase over a thirty-two year period!
Now lets look at how prices increased over that same time period. Here you have a chart of the Consumer Price Index published by the US Federal Reserve: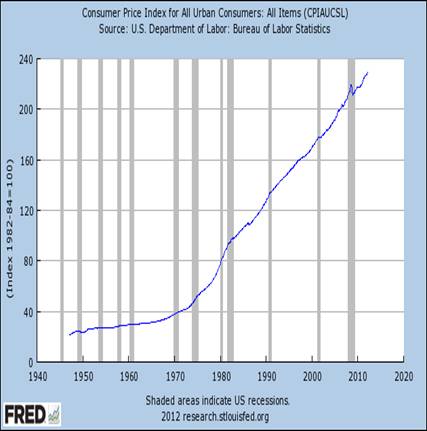 In 1980 the CRB Index was trading around 77 versus today where it trading around 235. That is close to a three-fold increase and that's with the usual Fed games being played. When I say the Fed plays games I mean that they change the weighting of each commodity when it's in their best interest in order to keep inflation artificially lower.
Now let's look at one more chart before we discuss gold. This is a chart of US Federal Debt as prepared by the Federal Reserve: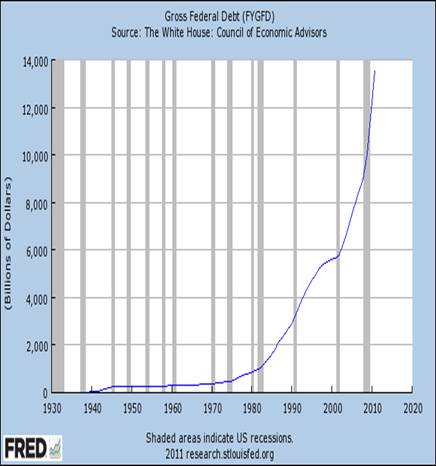 Here you can see that in 1980 the Federal debt was at US $400 billion whereas today it stands at US $15.5 trillion. That's an amazing thirty-five-fold increase in debt! So there you have it; money supply, prices and debt are off the charts.
Now let's take a look at what gold has done since 1980 and I think you'll be a bit surprised: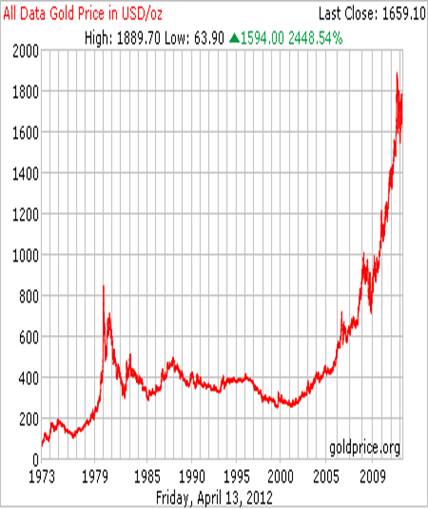 Here you can see that gold has risen from 850.00 to Friday's close at 1,660.40 for a slightly less than 100% increase. So by comparison to prices, the supply of money, and debt we can see that gold is way behind the curve. Finally, just in case if you think that gold is expensive compared to other commodities, take a look at this:
COMMODITY 1980 2012 % INCREASE
Oil 34.00 104.00 205%
Copper 1.20 3.85 196%
Corn 2.55 6.29 146%
Soybeans 6.45 14.36 122%
Gasoline 1.25 3.34 167%
Sugar 8.36 24.50 193%
Lumber 90.00 357.00 296%
These are all things that we use/need in our everyday life and they've all gone up a lot more than gold. So the only logical conclusion that you can draw from all of this is that everything else from commodities, to currencies, and even debt is grossly over done, or gold is grossly undervalued. Admittedly gold is not something that we need in our everyday life, but it does fulfill one purpose that no other paper or tangible asset can accomplish. Gold acts as a store of value/wealth!
Why then is gold undervalued? There are two reasons and they are joined at the hip. The media paints gold as an extravagant, unnecessary and high-risk investment so the public will shy away from it. Then there is the manipulation. Bullion banks and central banks, especially the US Federal Reserve, have been selling gold for more than a decade to cap the rally. That softens the rise that would normally occur when central banks print excessively as they've been doing for the better part of that decade. That makes gold's rise over the last ten years even more impressive!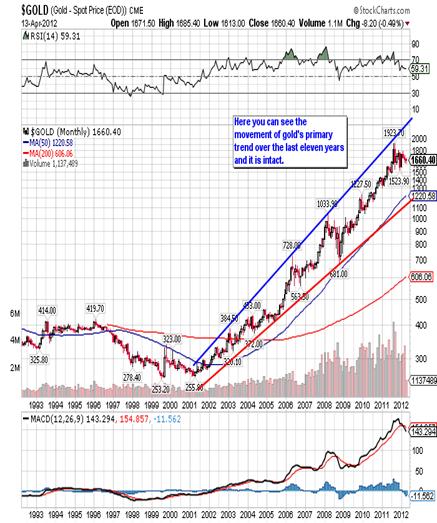 Lately it seems to me that the Fed is becoming desperate because the manipulation has been become obvious, out in the open, and timed to some Fed orchestrated event. The sell-off on February 29th serves as a perfect example. In spite of that gold continues to hold it's own as you can see here: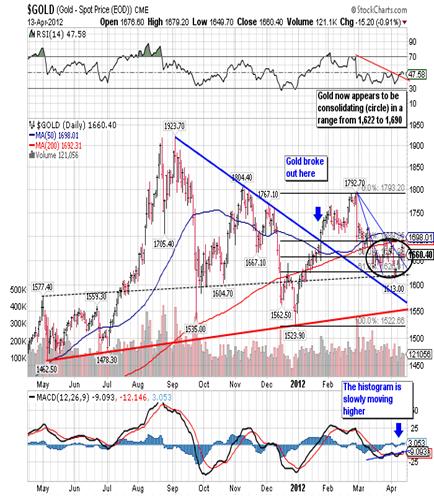 After topping out on August 22nd with a close at 1.900.40 gold declined to test strong support at 1,522.20. It traded as low as 1,523.90 on December 29th and then began to move higher. The initial move up took it as high as 1,792.70 on February 28th and then came yet another decline, this time down to good support at 1,622.80. Many now expect the next shoe to fall and gold to fall back down to test support at 1,522.20 yet again, but every time gold approaches 1,622.80 buyers come out in force.
Finally, I want to show you a picture of what manipulation looks like. This is a 15-minute chart of gold on Friday: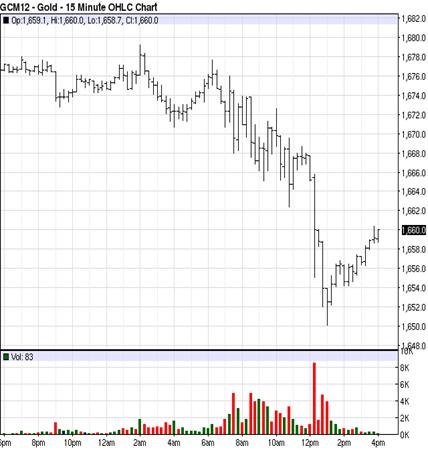 Gold had been trending higher since 10:45 am until noon and then comes a huge spike in volume at noon and gold is 18.00 lower in thirty minutes. On nothing I might add, no news, nothing! We see this behavior day after day, usually around 6 am, and if not about one hour before the New York close. Then they let it go and it finishes 10.00 above the low. A typical day at the office, and yet they still can't break it down!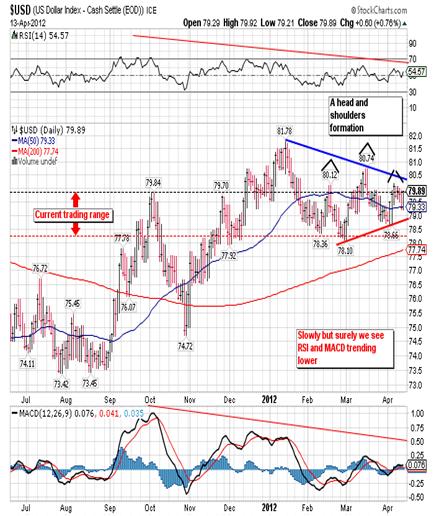 Often selling in gold will be timed to buying in the US dollar and preceded by selling in silver, and we saw all of that on Friday. In spite of attempts to support the dollar it cannot sustain a rally and in the previous chart you can see that we seem to have completed a head and shoulders formation. Both shoulders topped out at good resistance around 80.00 and the neckline comes in at 78.90. Sooner or later we'll break the neckline and go on to test strong resistance at 78.25. Once it's broken the party will be over.
CONCLUSION
I know a lot of people are proclaiming an end to the bull market in gold, just like they did with the 2007 top, and I know they'll be wrong again. How do I know that? I demonstrated that debt and fiat money creation far surpass the rise in the price of gold. There is every indication that trend is going to not only continue, but will only accelerate. Under those circumstances gold can only go higher. You can manipulate until hell freezes over, but you are manipulating paper markets, while the rise in gold's price is all about physical demand. The more you print and the more debt you create, the greater the demand for physical gold because it's a store of wealth! What's finally going to happen is the manipulators will destroy the paper market and then gold will really explode. Could the bull market in gold end today? Yes! It's very simple; stop printing dollars and stop creating debt and gold will drop like a stone. Now here's a question for you: what do you think the chances of that are? Better off to buy gold!
Giuseppe L. Borrelli
www.unpuncturedcycle.com
theunpuncturedcycle@gmail.com
Copyright © 2012 Giuseppe L. Borrelli
- All Rights Reserved Disclaimer: The above is a matter of opinion provided for general information purposes only and is not intended as investment advice. Information and analysis above are derived from sources and utilising methods believed to be reliable, but we cannot accept responsibility for any losses you may incur as a result of this analysis. Individuals should consult with their personal financial advisors.
© 2005-2019 http://www.MarketOracle.co.uk - The Market Oracle is a FREE Daily Financial Markets Analysis & Forecasting online publication.
Comments
Simon Says
20 Apr 12, 19:30
based on inaccurate assumptions


Money supply has nothing to do with gold prices. This ridiculous claim has been accepted by gold bugs, all of which lack financial sophistication. They liken the money supply to gold because they have been told by gold manipulators (gold dealers and other hacks) that gold is a hedge against inflation, but this is another inaccurate assumption as the data affirms. In addition, the change in the money supply is only correlated with inflation (not that it matters since gold does not protect against inflation) if the money is released into the hands of consumers since consumers dictate the economic health. If the banks keep the money for investment activities, it will not necessarily create inflation. This is exactly what has been going on over the past few years. If you are not aware of these facts, I suggest you get with the program. You guys can sit here and blabber your delusional statements about gold and inflation until you turn blue in the face, but that isn't going to change the facts.




Only logged in users are allowed to post comments.
Register/ Log in