Sarkozy's Engame Economics
Politics
/
Euro-Zone
May 15, 2012 - 04:49 PM GMT


Although he drank Diet Coke rather than fine wines, preferred chocolate bars to ripe and smelly French cheeses and in front of the Pope was so squeaky cool, modern and arrogant that he checked for messages on his Blackberry (if he really knew how to use a Blackberry), French voters plucked up enough courage to evict the brash, egotistical and hyperactive President Bling-Bling, the so-called Hyper President from the Elysee Palace. After just one term in office this was courageous - the last time it happened was in 1981- but Sarkozy was out. He was finished along with his less-than-respected Italian supermodel spouse, so proud of having been a live-in sex toy of Mick Jagger (or possibly Keith Richards). Whatever her horizontal claims to fame, she was a lousy singer.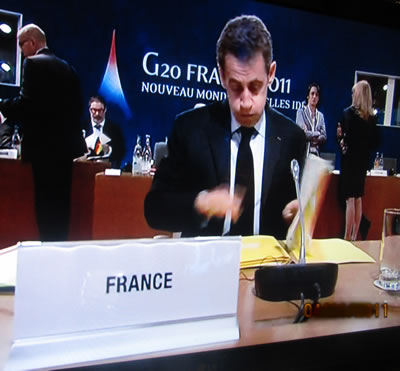 Few will mourn the departure of the man dubbed "Sarko" who seemed to promise so much, if you believed his ramblings, but delivered so little with his strutting cockiness, his quarter-billion-dollar presidential plane, and his super-rich and equally arrogant friends. Despite the Sarko era ending at an Elysee Palace celebration, its right ending would have been at Euro Disneyland - the place where Sarko and the Supermodel had officially met, and the perfect place to say "Dont come back" to France's most divisive and disastrous president for at least 75 years.
WRONG WAY TURN AND NO WAY BACK
Nicolas Sarkozy made the right moves politically on the road to the presidency, then ruined them one after the other, afterwards. His economic management was hands-off, in true neoliberal style, from start to finish - supplying his favoured excuse, belted out at the hustings until his voice was hoarse, that History had done him a bad deal and trapped him in a no-way-out endgame: the post-2008 crisis.
It was the worst financial crisis since 1945, according to his sworn enemy Dominique Strauss Kahn, who Sarko had shoehorned into the IMF, and very possibly booted out in a New York Sofitel sleaze show that held world headlines for weeks on end. Sarko's buffoon-style aggressive way of handling the economy was however nothing strange - it was exactly like his peer group friends, of the Obama, Merkel, Brown and Berlusconi type. Rack up debt, divide society into Losers versus the Greedy and Lucky, and forget all about it. In Sarkozy's case he racked up national debt by about 700 billion euros in 5 years, and most of this in 3 years.
Strauss Kahn had possibly meant the worst crisis since 1929, it wasn't sure. Sarko often confused the dates in his hilarious and hammy, always rambling fireside chats for French TV viewers. Economics to him was a game, poker-type, the natural plaything of his admirers in the trader fraternity huddled over their playstation gambling consoles, losing other peoples' money. But near the end Sarko had found a new playmate who he proclaimed would save the bacon, Germany's chancellor Angela Merkel, who he privately called "The Kraut" while she privately called him "Mr Bean". Not worth a bean !
The two became a seemingly endless double act on the European crisis stage. They were fighting the worst-ever crisis from an awful long way back in time, possibly 1929, or was it 1945? The crisis was even worse than global warming, which they both said was a mortal challenge to the planet until they got bored with the subject exactly like their electorates, and the way out was simple: the people only had to keep their mouths shut, stay low profile, not complain when they lost their jobs, and pay more taxes - because this is Freedom. And neoliberal stability only means one thing: when the rich get richer. Under Sarkozy the rich certainly got richer, only the rich, and it showed. Under Sarko, it stank.
Sarkozy's style, which was hard to call "politics" because all he did was gurgle slogans from a prayer wheel of one-liners, always needed backtracking, always needed lies and fumbled explanations from his constantly shuffled band of Little Ministers, and was brushed aside by extreme left Jean-Luc Melenchon as merely a "throwback to Mrs Thatcher's most purulent playacting of 30 years ago".
Sarkozy's neolib rantings were above all and always "ringard", French slang for outdated, tired and tacky, so much so that extreme right Marine Le Pen simply laughed him aside as a compulsive liar, a fool and a cheat. His own party, called the UMP, had senior figures who for several years had no problem at all, on radio and TV, standing up and saying out loud they thought Sarko was dangerous and bad for the country, even a disaster.
WHAT HAPPENED TO THE ECONOMY ?
The real problem was deeper: nothing at all happened, except bad things, to the economy. Sarko gave every impression of not being concerned one little bit, except right at the end as his campaign rushed to perfect and total defeat. Sarkozy-type liberalism, neoliberalism or bling-bling politics, had changed nothing: it had started bad; it got worse. It always failed. It was junk politics and no hope economics.
Voters noticed, and they reacted. The basic popular rationale was that things would have real problems getting any worse with the buffoon chucked out of power.

Sarko-style no hope economics was ideologically committed to fomenting economic crisis, building them by dozens, inflating them to the sky - and imagining that a magic thing called "market forces" would waft away all problems. Wasnt Jean-Baptiste Say a French philosopher-economist ? He had created the comforting idea, to some, that if you reduce the price of anything, of something like labour costs, enough and a lot, you will get a market for that thing. Hadn't the Chinese and Indians proved that, with vast factories stuffed with workers paid $250 a month, for their most skilled workers, and that's an awful lot of money to them ? At least they can eat. To Sarkozy this was the summit of Ricardo economics, and in some of his most deeply intellectual musings, in page 3 interviews with provincial Sunday papers, he sometimes said it out loud.
This was the Free Market way, and Merkel seemed to say the same to her Mr Bean - but their double act fell apart. They ran out of time. Greece went bankrupt. Club Med Europe fell apart.
Sarkozy occasionally told his fellow French that France still had Airbuses and nuclear power, high speed trains - and video game producers among the highest ranked in the world. But that wasnt enough, and by divine intervention France has a rapidly growing population, even if that's due to second and third generation immigrants, and new immigrants. France still has an agricultural surplus so it can feed its breeding couples. Within 20 years, France would have a population as big as Germany's, which anyway was declining. Things would be good, real good.
This was the Sarko answer to: "What do you intend doing, Mr Presidential re-election Candidate, about de-industrialization ?". Possibly his answer was something to do with "the Chinese model". Sarko confided that he had thought deeply, for minutes on end about the loss of nearly all industries, and it was oh so regrettable but Free Markets had decided. Anyway, he added, nearly all other European countries do the same thing, except Germany. That was the complete Sarko lowdown on the problem. Except when it suited him, Sarko though that taxes on financial transactions or CEO salaries would do nothing, although he also wanted the Tobin tax, to protect France. The complete answer.
SOCIAL SECURITY AND THE LACK OF IT.
To Sarkozy, the main problem was an over-protected populace. The safety net hadn't been stripped away enough - so he, Mr Sarko, was going to protect the French in a better and nicer way. They had had things too easy, but he was going to make things harder, and easier, all at one and the exact same time. SarkoLogics, like dozens of political and media commentators said, was a special thing.
How was Sarko going to protect French better, and give them the most competitive economy on the planet ? Sometimes his answers were plain and straight lies, sometimes only exaggerations, but he had asked a leading Christian Democratic French politician, now retired, to make a 2-year study of the problem, and his friend Jacques Attali had also made a study, along with Joe Stiglitz, and a star-studded cast of other experts. They recommended personal services for the aged and infirm, less regulations for hairdressers, and free Internet connections for selected social groups - meaning unemployed youths.
Sarkozy himself and by his own initiative had dreamed up a vast new region of economic growth and prosperity for all, called the "EuroMed". He invited all his friends to the Elysee Palace and at the time they included the King of Morocco, Hosni Moubarak, Tunisia's ben Ali, Syria's el Assad and even Muammar Gaddafi - with the cherry on the cream pie, of Israel's Netanyahu. All together on stage even if some of them didnt shake hands! The summit cost millions, but a little while later the French people learned that only "moderately" firm action had come out of it - to free up sardine supplies to Europe.
According to the media, the Peepul lapped it all up like hungry dogs back from a day out chasing foxes. This is what the French media, owned by Sarko's richest and greediest friends, told the Peepul they were thinking - as if Peepul think! Sarko's one-liner to a people-type average French person who refused to shake his hand at an agricultural fair, not long after the summit, summed it all up. Sarkozy barked at him "Get lost you old asshole, you stink".
The French voters returned the one-liner to France's most stupid, sometimes evil, and always incompetent buffoon president: he had exulted in the destruction of the country's industrial muscle, because it gave personal benefit to the greedy, the lazy and the lucky - his friends, called the fortunate - but Sarkozy had created a new endgame all on his own. His little Fiscal Anschluss with The Kraut, most likely was just playtime amusement for Sarko the Prince, but his leaden determination to do nothing with the economy was going to have serious consequences, even for the shrinking band of average middle class Muddle Throughs who vote Sarkozy, always, in any language or country.
KICKING OVER THE TRACES OF SARKO
Sarko lasted too long. Do nothing-think nothing went on an awful lot too long, so kicking over the traces of his buffoon presidency will be fast, even very fast. Sarkozy was a true neoliberal president - as easily replaced as a football star or people celebrity, whose name you forgot instantly. A non-person, a nothng. The Sarko playact of defending ancient liberal virtues, of gurgling tried-and-tested economic nostrums, from the 18th century, belting out the litany of fake benefits from Free Markets, this flotsam and jetsam will disappear in seconds. As he sometimes said himself, the Peepul want a job and a place to live, a future that is: even though No Future politics disappeared with Mrs Thatcher, Sarko had magicked it back with his smoke and mirrors, just one more and last time. Maybe it was only stupid, not evil as well as stupid - history will decide.
The Kraut-and-Mr Bean double act made some people guffaw, but it deflected serious attention from the real problem: Club Med Europe, about as unreal as Sarko's EuroMed, but vastly more expensive was literally falling apart. Economy after economy was going down the tube, and nobody seemed either to care or be able to fix the problem. Angela Merkel predictably bleated out the German Rigour line, then toned it down when Sarkozy fell, but years of stolidly doing nothing had taken their toll.
In the last round of the presidential election, at least sometimees the real voice of the people was heard. They said; "For god's sake lets move forward to something better, not always something worse". After Sarko, heavyweight choices and real action will have to happen, the deadweight of liberal laisser faire really leaves No Alternative. Once upon a time, ost recetly with the buffoon Sarko there was the luxury of doing nothing - laisser faire - let things rot and let the fortunate, the greedy and the lucky scoop what they can amidst the chaos. But time ran out.
Sarko the Prince was made for that last between time. As a leading French humorist said - an 18th century mutant dwarf with a Rolex and a groupie wife that we never needed or wanted, but his era was finished decades or even a century back in time.
By Andrew McKillop
Contact: xtran9@gmail.com
Former chief policy analyst, Division A Policy, DG XVII Energy, European Commission. Andrew McKillop Biographic Highlights
Co-author 'The Doomsday Machine', Palgrave Macmillan USA, 2012
Andrew McKillop has more than 30 years experience in the energy, economic and finance domains. Trained at London UK's University College, he has had specially long experience of energy policy, project administration and the development and financing of alternate energy. This included his role of in-house Expert on Policy and Programming at the DG XVII-Energy of the European Commission, Director of Information of the OAPEC technology transfer subsidiary, AREC and researcher for UN agencies including the ILO.
© 2012 Copyright Andrew McKillop - All Rights Reserved Disclaimer: The above is a matter of opinion provided for general information purposes only and is not intended as investment advice. Information and analysis above are derived from sources and utilising methods believed to be reliable, but we cannot accept responsibility for any losses you may incur as a result of this analysis. Individuals should consult with their personal financial advisors.
© 2005-2019 http://www.MarketOracle.co.uk - The Market Oracle is a FREE Daily Financial Markets Analysis & Forecasting online publication.

Only logged in users are allowed to post comments.
Register/ Log in