The Political Significan​ce of Gore Vidal
Politics
/
US Politics
Aug 06, 2012 - 09:18 AM GMT


The Gore Vidal legacy encompasses his numerous novels, literary writings, plays and essays. Few 20th century authors can match the volume of his compositions and consistency in the quality of his thoughts. If one can ignore his anti-religious beliefs and get past his complex sexuality, one can justly focus on the significance within his political viewpoints. Not since Oscar Wilde, has there been a man of letter with comparable wit and ridicule, that capsulated the age of his lifetime. Based upon a keen command of history and a flare for original insights, Vidal was the master political polemicist.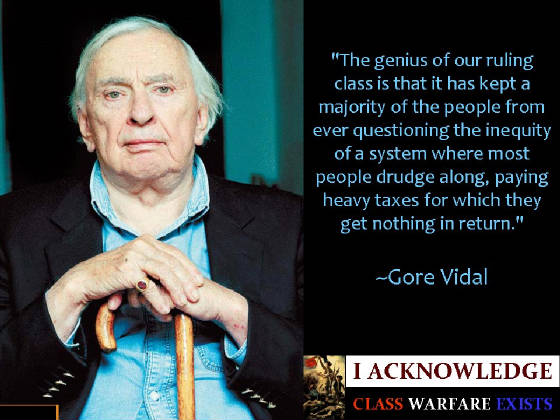 The
New York Times
obituary tribute provides a comprehensive account of his controversial life.
"Mr. Vidal sometimes claimed to be a populist — in theory, anyway — but he was not convincing as one. Both by temperament and by birth he was an aristocrat.

Some of his political positions were similarly quarrelsome and provocative. Mr. Vidal was an outspoken critic of Israel's treatment of the Palestinians, and once called Norman Podhoretz, the editor of Commentary, and his wife, the journalist Midge Decter, "Israeli Fifth Columnists."

America is "rotting away at a funereal pace," he told The Times of London in 2009. "We'll have a military dictatorship pretty soon, on the basis that nobody else can hold everything together."
Mr. Vidal's lifelong interest in politics began to stir back then, and from his grandfather (
Thomas Pryor Gore
, the Democratic senator from Oklahoma), an America Firster, he probably also inherited his unwavering isolationist beliefs."
The anti-war stance and vigorous criticism of American foreign policy is reflected in his works.
David Smith in
Reflections on the life and work of Gore Vidal
expands upon this theme.
"He kept up this position all the way through the Vietnam War and the Iraq war. And what's interesting is he would talk about the historical background to this position as well. He was a very strong defender of the America First Committee, which is a largely demonised organisation that had opposed American intervention in WWII. And going back even further, he criticised Abraham Lincoln and his role in the civil war. So he was very much against militarism and against United States intervention abroad."
Australian Foreign Minister
Bob Carr
sums up that institutional heritage in the following:
"Vidal embodied an anti-imperial tradition that went back to fellow writer Mark Twain, Senator Carr said.

"Representing an isolationist viewpoint that once ran deep in America," he said.

"Gore Vidal believed no foreign war justified a single American life and this view was his fundamental political commitment."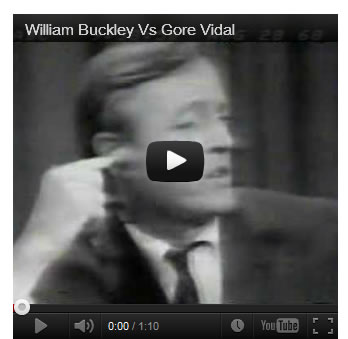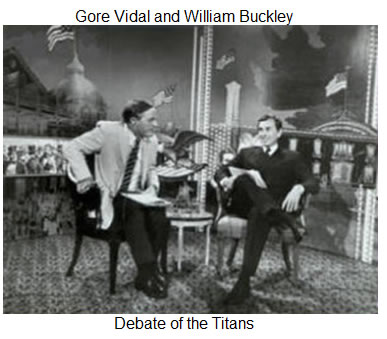 Contrast that original value system at the founding of the country with the NeoCon perversion embodied in the counterfeit conservative conman, William F. Buckley. It is difficult to have any sympathy for the CIA operative that lead so many Americans astray. View the famous
William Buckley Vs Gore Vidal
video where Vidal accurately called Buckley a "
Crypto-Nazi
". Such clarity has seldom been expressed on national television.
In order to achieve a proper understanding of the political magnitude of Vidal, one needs to go beyond his celebrated play and movie, the "Best Man", and deal with the deep seeded concern that he mournfully envisioned for America. In
Reflections on the legacy of an intellectual and political lion
a most significant question is answered. Appreciate this no-holds-barred interview with The Nation's Marc Cooper in late 2005.
MC: Are you predicting a coming military dictatorship? And that the American people would stand for that?

GV: They'll stand for anything. And they will stand for nothing. I deal with a lot of European journalists who are very well versed in American politics. But they will ask me silly questions like, "So, Kerry didn't turn out very well. So who's the next leader of the opposition who can become President?" I answer, Well, first the New York Times won't interview him. He won't get on prime-time television if he looks like a winner. That's out. Or he will be made a fool of, like they did with Howard Dean when they amplified his famous cry. That was all done at CBS to make him look like a maniac. They are very resourceful! So if you have a media that is completely controlled by corporate America--or whatever phrase you want to use to describe our rulers--no information is getting through that is useful to the public. No White Knight is going to be acknowledged in the press or seen on television. He would have no way of connecting with the people. And this a permanent fact in our situation.... If there could be a viable opposition to the oil and gas junta that has seized power--all three branches of government, I think--it will have to be at the grassroots. Then you will have to find a way of publicizing through the Internet the White Knight--or the Black Knight, whoever comes along to save us.
Such dramatic and bold pronunciations are common from this master of the sublime. However, consider the running feud Vidal carried on with the media, especially the venerable Grey Lady. From the same interview, Vidal sets the record straight.  
"For forty years The New York Times has, from time to time, put its collective "mind" to work in trying to find ways of coping with my disturbing presence on the American scene. When my novel Lincoln was recently turned into a miniseries by NBC, I wondered what the fun paper would do to try to kill the project. Richard Nixon's "the easy way" would be to allow the neoconservative reviewer John Corry to give it a bad review; after all, he has even attacked me for my appearance as a guest on the Today show. But wouldn't that be too little, too late? Why not assign a journalist to make a preemptive strike a week before the television program in order to assure the potential audience that Lincoln was a false portrayal based on a book that had been "faulted by historians," to put it in Timesese. This is what happened in the Sunday New York Times of March 20..."
For more examples of a later Vidal mindset, watch the next two videos,
Gore Vidal 9/11, war, etc. Part 1
and
Gore Vidal 9/11, war, etc. Part 2
, that deals with the "so called" war of terror.
Characterizing Gore Vidal as simply a liberal misses the essence of his political perception. Some may call him a court jester in the JFK "Camelot" royal entourage, but no one ever claimed he was a fool. His remarks on Barack Obama illustrate his recent attitude. In Obama 'Dreadful' as President he admits. 
"I was hopeful," Vidal says of an Obama presidency. "He was the most intelligent person we've had in that position for a long time." Now, Vidal says in an interview published in the British paper, The Times, he was wrong and Obama is performing "dreadfully" as president."

It is difficult to surpass the significance of his politics, stated in the Vanity Fair Gore Vidal's essay, "The End of Liberty". The linkage of a failed imperialistic foreign policy has left the nation bleeding from the loss of freedom and constitutional liberties.  
"Meanwhile, a NYT-CBS poll notes that only 6% now oppose military action while a substantial majority favor war 'even if many thousands of innocent civilians are killed'. Most of this majority are far too young to recall World War II, Korea, even Vietnam. Simultaneously, Bush's approval rating has soared from the around 50% to 91%. 

Traditionally, in war, the President is totemic like the flag. When Kennedy got his highest rating after the debacle of the Bay of Pigs he observed, characteristically, 'It would seem that the worse you ***** up in this job the more popular you get.' Bush, father and son, may yet make it to Mount Rushmore though it might be cheaper to redo the handsome Barbara Bush's look-alike, George Washington, by adding two strings of Teclas to his limestone neck, in memoriam, as it were. Finally, [DQ] the physical damage Osama and friends can do us - terrible as it has been thus far - is as nothing as to what he is doing to our liberties."
Eugene Luther Gore Vidal
embodied the marrow of 19th century liberalism, which in today's world would be labeled
radical reactionary
values. An anachronism defending principle in an era of relativity, Vidal's patrician style, spoke for the common person. Populism is implicit in his thinking; the essential American philosophy he expressed, so well. Few have been a more consistent advocate of the nation's conscience.
His death marks a passing of an epoch. The reason why the future is so bleak rests upon the incoherence of the body politic to perceive the nature of the eternal struggle. Liberty is the antithesis of an all-powerful despotism. Until the people learn this lesson and act to eliminate the tyrannical system that combats an America First country, the country will flounder. As a long time expatriate living aboard, Vidal practiced Americanism from the sanctuary of his Italian swallow's nest. Coming home for his final years represents an analogy for the terminal stages of a dying country. Do not let his political message expire.
Discuss or comment about this essay on the BATR Forum
"Many seek to become a Syndicated Columnist, while the few strive to be a Vindicated Publisher"

© 2012 Copyright BATR - All Rights Reserved

Disclaimer: The above is a matter of opinion provided for general information purposes only and is not intended as investment advice. Information and analysis above are derived from sources and utilising methods believed to be reliable, but we cannot accept responsibility for any losses you may incur as a result of this analysis. Individuals should consult with their personal financial advisors.
© 2005-2019 http://www.MarketOracle.co.uk - The Market Oracle is a FREE Daily Financial Markets Analysis & Forecasting online publication.

Only logged in users are allowed to post comments.
Register/ Log in