Bill Clinton, Barack Obama, and the Politics of Public Relations
ElectionOracle
/
US Presidential Election 2012
Sep 10, 2012 - 04:08 AM GMT

Political language… is designed to make lies sound truthful and murder respectable, and to give an appearance of solidity to pure wind." - George Orwell, "Politics and the English Language," 1946
"It's important, because a lot of people believe this stuff." – Bill Clinton, speaking at the Democratic National Convention, 5 September 2012
In case you were unaware, Bill Clinton gave a speech at the Democratic National Convention on the evening of September 5, which, the media tells us, revealed Clinton's "special gift"[1] to "give a boost to Obama's middle-class hero image."[2] The speech has been hailed as Clinton's "come back,"[3] and a "spirited defense" of Obama..[4] The "rock star,"[5] Bill Clinton, received heaps of praise from celebrities who endorsed his speech, and it's obviously very important that the public know what Whoopi Goldberg, Chris Rock, and Alicia Silverstone think of the speech, so lucky for us, the media tells us. It was, "fantastic… common sense," that Clinton was "up there teaching," and "breaking it down."[6]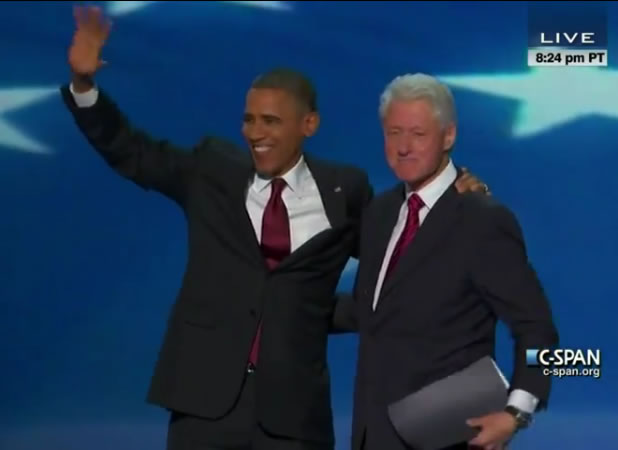 But it's also important that the public receive more 'expert' analysis from political commentators and reporters, so CNN reporter Wolf Blitzer explained that he had been watching Clinton since 1992 when he was CNN's White House correspondent, and that, "[t]his may have been the best speech I have ever heard Bill Clinton deliver," while GOP strategist Alex Castellanos proclaimed, "This will be the moment that probably re-elected Barack Obama." Brit Hume on Fox News ("fair and balanced") said that Clinton, "is the most talented politician I've ever covered and the most charming man I've ever met… No one in my view can frame an argument more effectively than he can." Anderson Cooper shared his wisdom and analysis, explaining that, "[t]he level of detail in the speech was quite surprising… and yet there was a personality." Chris Matthews on MSNBC chimed in, "I wouldn't want to be the guy fighting Bill Clinton if the issue is Barack Obama." But of course, there was some "intelligent criticism" of the speech within the media, so it wasn't all praise. For example, John King of CNN noted that the speech could "use an editor," because as various other critics noted, it was "too long."[7]
So what exactly did Bill Clinton say that was so inspiring and praiseworthy? Well, he went up on stage, and for fifty minutes, successfully achieved the highest degree of hypocrisy possible. His speech could not have been better constructed if it had been written by a public relations firm, itself. And perhaps it was. After all, it's not that the Clinton's don't have a cozy relationship with public relations firms, as Burston-Marsteller, the most prominent PR firm in the United States, ran Hillary Clinton's failed presidential campaign in 2008.[8] The firm is venerable and highly respected, and has built a very prominent resume of individuals and institutions it has represented, such as Ceausescu in Romania, the Saudi royal family, the Nigerian government when it wanted to discredit claims of genocide during the Biafran war, the Argentine dictatorship which killed roughly 35,000 of its own people, the Indonesian government as it committed genocide in East Timor (ultimately eliminating a third of the entire population while Bill Clinton armed it to do so). Burston-Marsteller also represented Union Carbide following the Bhopal gas leak that killed 15,000 people in India, among other reputable clients.[9]
Controlling the "Bewildered Herd" of "Ignorant and Meddlesome Outsiders"
I mention the public relations industry, because elections are essentially run by the PR industry, and public relations is the officially-sanctioned term for "propaganda." It is no small coincidence that the founder of the public relations industry, a man named Edward Bernays, also happened to have literally written the book on Propaganda (1928), in which he wrote, "The conscious and intelligent manipulation of the organized habits and opinions of the masses is an important element in democratic society. Those who manipulate this unseen mechanism of society constitute an invisible government which is the true ruling power of our country." He added: "it remains a fact that in almost every act of our daily lives, whether in the sphere of politics or business, in our social conduct or our ethical thinking, we are dominated by the relatively small number of persons… who understand the mental processes and social patterns of the masses. It is they who pull the wires which control the public mind, who harness old social forces and contrive new ways to bind and guide the world." Naturally, explained Bernays, this is merely "a logical result of the way in which our democratic society is organized."[10]
Bernays of course had experience. In 1917, he was asked by President Woodrow Wilson to join the Committee on Public Information (CPI), a propaganda agency created by the government to rally the American population to support entering World War I, which was popularly perceived at the time as "a rich man's war." The CPI was highly successful, and the American people went to war. Bernays and the other propagandists who were involved were so impressed with their manipulation of the public during war-time, that they felt they could do it during peace time as well. Thus, after the war, Bernays soon founded one of the first PR firms in the United States. Walter Lippmann, the most influential intellectual in the United States at that time, encouraged President Wilson to create the CPI, and even suggested the concept of "making the world safe for democracy," which became Wilson's "idealistic" democratic vision for the world, still discussed in political science today. Lippmann and other intellectuals of the era recommended using social scientists and other intellectual elites to undertake "systematic intelligence and information control" as a "regular organ of popular government." This was what Lippmann called the "manufacture of consent."[11]
Lippmann wrote that, "propaganda, as the advocacy of ideas and doctrines, has a legitimate and desirable part to play in our democratic system." Harold Lasswell, another leading political scientist of the era, wrote that, "[p]ropaganda is surely here to stay." In his 1922 book, Public Opinion, Lippmann wrote that for the "manufacture of consent," society needed "intelligence bureaus" or "observatories" which would distribute "disinterested" information to journalists, governments, businesses, and the society at large. This essentially is the function of think tanks and PR firms. The term "disinterested" is used to refer to the concept that the information and ideas are not shaped by emotional, irrational, or utopian concepts like "morality" or "ethics," they are simply facts without a perceived ideology.[12]
In his 1925 book, The Phantom Public, Lippmann defined democracy for the modern state-capitalist system, which would not only be firmly entrenched within the United States, but exported around the world. Lippmann was quite emphatic: "A false ideal of democracy can lead only to disillusionment and to meddlesome tyranny." That "tyranny," of course, was the public interfering in the affairs of the state. Lippmann wrote that, "the public must be put in its place… so that each of us may live free of the trampling of a bewildered herd." Referring to the public as "interested spectators of action," Lippmann explained that, "the opinions of the spectators must be essentially different from those of the actors," designed in such a way that the rulers of society – the corporate-financial elite and the intellectuals that serve them – would be able to continue controlling society with "the least possible interference from ignorant and meddlesome outsiders." What Lippmann recommended in 1922 as the "manufacture of consent," Bernays recommended in 1923 as "the engineering of consent." Engineering consent, Bernays later wrote in 1947, "affects almost every aspect of our daily lives." He explained: "When used for social purposes, it is among our most valuable contributions to the efficient functioning of modern society."[13]
Presidents and politicians are products of public relations. We are presented with officially sanctioned concepts of democracy, politics, and ideology. We are subsequently given a 'choice' between – usually two – different accepted views. This is called "balance." The difference between the views are primarily tactical, but the fundamentals remain the same. Thus, no matter the political party in power, war and empire are on the agenda, but different views can proliferate on the tactics and assessment of the results of imperial policies. Imperialism itself cannot be questioned, or even acknowledged; it's simply accepted. The same goes for serving the interests of the corporate and financial elite, which of course are the main actors in determining foreign imperial policy itself. Imperialism and war for the benefit of a parasitic economic and financial elite, however, is not something which the public could openly accept, so we are given different words, definitions, and mythologies of our society and its policies, so that the "invisible governors" – as Bernays referred to them – may continue to "manufacture consent" to the system; thus maintaining 'social order', which means to maintain the social hierarchy of power.
Idealistic Democracy in the Land of Simplistic Hypocrisy
When we discuss Woodrow Wilson as president, we give warm and boisterous praise to his "enlightened" vision of "democratic idealism." In fact, so consistent and engrained is our officially sanctioned respect for Woodrow Wilson's profound vision, that it was given a special name: "Wilsonian idealism" or "Wilsonian liberalism," to "make the world safe for democracy." It was conceived of as a kind of "internationalist" vision for world order predicated on "international cooperation and integration," countering political realism which viewed the international arena as one of anarchy where states act in their own self-interest.[14]
Wilson of course, was not concerned with acting in "self-interest," because he had an enlightened vision of "liberal idealism." No doubt it was this "idealism" upon which Wilson based his invasions and occupations of Haiti and the Dominican Republic, literally sending the Marines into the Parliament to disband it at gunpoint, killing tens of thousands of Haitians and crushing a liberation struggle in the country-side, and re-writing the constitution to allow American corporations to control the resources and buy land. In fact, Franklin D. Roosevelt, another democratic "idealist" president, was the Assistant Secretary of the Navy during the Haitian occupation (which began in 1915 and lasted until the Roosevelt administration in 1934). FDR took credit for writing the Haitian constitution, and claimed that he was responsible for "running several Caribbean republics." Roosevelt referred to the Haitian occupation and his work on the new constitution as "an excellent piece of constructive work," for which "the world ought to thank us." He explained the common view of elites toward the general population – foreign and domestic – when he explained that in relation to Latin Americans, "You have to treat them like children." The American media, with the New York Times at the helm, praised the ruthless occupation as a way for America to "advance" the Haitians, who were "a horde of naked niggers." Wilson's Secretary of State William Jennings Bryan reflected on his profound knowledge of Haitians when he stated, "Dear me, think of it! Niggers speaking French."[15]
Wilson occupied the Dominican Republic in 1916, the neighbouring country to Haiti on the island once called Hispaniola when Columbus landed there and eradicated the indigenous population. When the U.S. ended the occupation of the Dominican Republic in 1924, a US-army trained commander, Rafael Trujillo, rigged the elections and became the country's new dictator. President Hoover congratulated Trujillo on his "auspicious" victory. When FDR became president in 1933, he implemented his "Good Neighbor" policy for Latin America, meaning that America would be a "good neighbour" to ruthless tyrants like Trujillo so long as they served American interests. During this time, Trujillo, America's "staunch friend" – as one American businessman referred to him – murdered roughly 25,000 Haitians in Dominican territory in an effort to "purify" and protect the ethnic superiority of the Dominican race. The genocide, however, created bad publicity for America's support of Trujillo, since it drew obvious comparisons to similar dictators of the same era in Italy and Germany. So FDR's administration undertook a "massive public relations effort" for the Trujillo regime, which included having biographies written about Trujillo in which he was described as emblematic of "democratic" and "humanitarian" virtues.[16]
In his speech at the Democratic National Convention, Bill Clinton referenced all the good work he has done for Haiti, explaining that he was "honored" to have worked with both president's Bush and Obama in Haiti through various crises in the impoverished country. He presented this as evidence of how he is not a divisive politician, but seeks to work "with Democrats, Republicans and independents," and that they "focus on solving problems and seizing opportunities."[17] Well, how is Clinton's record in Haiti? Should this question not be asked?
After the American occupation of Haiti ended, a dynastic dictatorship emerged as father and son Duvaliers ruled Haiti with an iron fist, and US support. When the dictatorship could no longer be sustained, it collapsed in the mid-80s, and following a series of military governments, Haiti undertook mass democratic elections in 1990, through which a populist priest and practitioner of Liberation Theology (the view that the purpose of Christianity was to fight for and liberate the poor from their poverty and oppression), Jean Bertrand Aristide, became victorious in securing the presidency. Aristide campaigned on empowering the extremely poor peasant population, which infuriated the local economic elite, who called him "the devil," as well as U.S. corporate investors, since he attempted to implement the rather radical policy of doubling the minimum wage in the poorest country in the Western Hemisphere. This was obviously unacceptable and "irresponsible," so in September of 1991, less than a year after being elected President, Aristide was deposed in a military coup. The CIA had formed close links with Aristide's political opponents, and undertook a campaign to discredit him. Officially, the American government denounced the coup, though within days urged the military dictatorship "toward sharing power with the Parliament." Economic sanctions were imposed, but quickly lifted in 1992 for the benefit of American corporations in Haiti as the State Department sought an "acceptable" political compromise. Aristide was pressured to sign an agreement that would allow him to "share" power and return to Haiti to continue the rest of his term as little more tan a figurehead.[18]
When Clinton came to power in 1993, his administration continued the process of negotiations aiming to bring Aristide into the "solution," but only "when conditions permit," and he agreed to share power with the US-favored candidate in the 1990 elections, a former World Bank official who was installed by the military coup. Meanwhile, the military government had killed thousands of Haitian civilians who were Aristide supporters. When an agreement was announced with Aristide, the military government in Haiti – armed by the US – quickly accelerated its murderous campaign. The US negotiations with Aristide focused on the perceived "need" for Aristide to "share" power with the military, because the Americans – who created the Haitian military force during the first US occupation of the country – viewed it as a source of "stability." However, the military government refused to have Aristide return and share power with him in any capacity. Thus, Clinton's National Security Advisor Anthony Lake instructed his staff at the National Security Council (NSC) to construct "Haitian invasion scenarios." The United States, however, was a promoter of "democracy," so it needed to install a "civilian" government, and not be seen supporting a ruthless military dictatorship so openly. Aristide was given advice by the United States Agency for International Development (USAID), run by the U.S. State Department, as well as the World Bank and IMF, who "educated" Aristide on "suitable" economic plans for Haiti once he returned to power. It should be noted, however, that the CIA, several State Department officials, as well as several Democratic and Republican politicians felt it was a bad idea to return Aristide to power, and commonly referred to him as a "psychopath." Obviously, someone would have to be a "psychopath" to attempt to raise the minimum wage in the poorest country in the Western Hemisphere.[19]
In 1994, Clinton invaded Haiti with 20,000 troops in what was called "Operation Uphold Democracy," which not only re-installed Aristide to finish his term, but ensured that the coup leaders and perpetrators of atrocities were not held to account for their crimes, the result of a deal brokered by the "human rights" president Jimmy Carter, whom Clinton dispatched to Haiti in order to negotiate a deal with the military. The United States occupation forces handed over "control" of Haiti to a United Nations 'mission' of 6,000 soldiers in 1995, with US forces expected to leave in 1996, when Aristide's term finished and he was replaced with a business-friendly leader. Though in 1995, Clinton's Deputy Secretary of State Strobe Talbott, reassured the U.S. Senate that, "even after our exit in February 1996, we will remain in charge by means of USAID and the private sector."[20]
This is called the "restoration of democracy." While Clinton sent 20,000 troops to Haiti to "restore democracy," Obama sent 10,000 troops to Haiti to "restore order" following the devastating earthquake which killed several hundred thousand people who were living in the slums that were created through World Bank and IMF policies of austerity and structural adjustment, many of which were imposed during the Clinton administration. When Obama sent his troops to Haiti, he pledged that the "United States is in Haiti for the long haul."[21] Indeed the U.S. has been invading and exploiting Haiti and punishing its population for over 200 years, so why stop now?
"The Price is Worth It": How To Get Away With Murdering Half a Million Children
In his speech at the DNC, Clinton also praised Obama's "successful end of the war in Iraq." Clinton, of course, has had a great deal of experience when it comes to Iraq. After Iraq had stopped being a pliant U.S. puppet, George Bush Sr. waged a brutal war against the country, after which economic sanctions were imposed, lasting through the duration of the Clinton administration. The sanctions, in fact, began in 1990 before the first Gulf War, which destroyed the entire infrastructure of the country. Margaret Thatcher explained that the purpose of the Iraq war was to "destroy the entire military, and perhaps industrial, potential of that country." The sanctions from 1990 to 2000 resulted in the deaths of roughly 1.5 million Iraqis, over 500,000 of which were children under the age of 12. The New York Times praised the sanctions as one of the "greatest successes" for the UN in Iraq. Three top UN officials who were sent to Iraq to monitor the sanctions and provide humanitarian assistance resigned in protest against the sanctions, explaining that they were causing immense harm to the civilian population. When Clinton's Secretary of State Madeleine Albright was asked in 1996 about the 500,000 children killed by the sanctions, Albright stated, "we think the price is worth it."[22]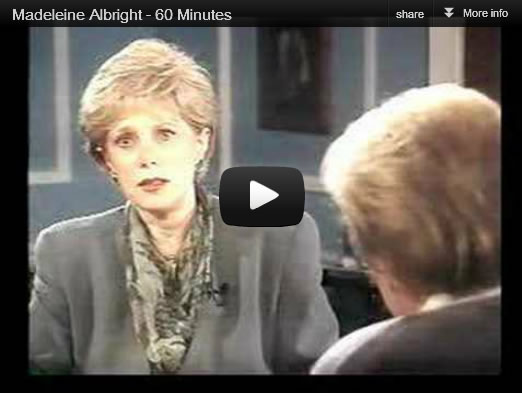 Obama of course, has learned a valuable lesson from Clinton, and imposed sanctions on Iran in order to punish the Iranian population. The day before Clinton spoke at the DNC endorsing Obama, the Financial Times reported that the US-imposed sanctions on Iran were having the predictable effect as they were hitting medical patients especially hard, as deliveries of medicine and raw material for Iranian pharmaceutical companies was either stopped or delayed, as "access to medicine has become increasingly limited." One Iranian medical NGO official commented, "This is a blatant hostage-taking of the most vulnerable people by countries which claim they care about human rights."[23]
However, these are exactly the intentions of sanctions. When Castro overthrew the U.S.-supported dictatorship in Cuba in 1959, Cuba became the primary enemy of the United States because, in the words of a 1960 National Intelligence Estimate, of Cuba's "successful defiance of the U.S." As the Eisenhower administration – and the Kennedy administration following him – designed and implemented harsh economic sanctions, top officials were quite blunt in their internal discussions about the effects and intent of the policies. Eisenhower noted that if the Cuban people "are hungry, they will throw Castro out," since the "primary objective" of the sanctions, the president noted, was "to establish conditions which will bring home to the Cuban people the cost of Castro's policies." Kennedy administration officials explained that the sanctions – and the accompanying covert warfare – were designed to alienate "internal support" in Cuba to Castro's government, "based on economic dissatisfaction and hardship," which meant that US policy had to aim "to bring about hunger, desperation and [the] overthrow of the government," explained one State Department official.[24]
"It Takes Some Brass": Serving the Corporate Consensus with the Politics of Poverty
The media outlet, PolitiFact, reported on Bill Clinton's DNC speech, writing that the former president "received a hero's welcome," and then confirmed Clinton's statements on the economy as "true."[25] Well, what are some things that Clinton said about the economy? One thing Clinton stated was that, "It turns out that advancing equal opportunity and economic empowerment is both morally right and good economics," adding that, "poverty, discrimination and ignorance restrict growth." He proclaimed that the Democrats "think the country works better with a strong middle class, with real opportunities for poor folks to work their way into it." Clinton noted that the Republicans "want to get rid of those pesky financial regulations designed to prevent another crash and prohibit future bailouts." Clinton, while referring to a Republican politician, noted, "it takes some brass to attack a guy for doing what you did."[26] While the audience laughed, applauded, and cheered at that statement, the irony was lost on the fact that Clinton was doing just that: "attacking a guy for doing what [he] did." Clearly, Clinton has "some brass" to not only do that, but to actually comment on that technique.
It's truly an amazing exercise in absolute hypocrisy to see a man stand up in front of millions of people and blame Republicans for wanting to get rid of "pesky financial regulations" when his administration was largely responsible for getting rid of the most important "pesky financial regulations" – such as the repeal of the Glass-Steagall Act – which Obama has obviously not even considered re-instating. The economic crisis – which is only going to get worse, since Obama has ensured that the next financial crisis will be much more severe than the last one – was not caused by a political party, it was caused by a socio-political and economic ideology that we call 'neoliberalism.' This ideology was and still is endorsed and promoted by Republicans and Democrats alike. So from Reagan onwards, every single U.S. president is responsible for creating and making the economic crisis worse, because they implemented policies which were designed to benefit the few at the expense of the many. And when the system crashes, as it inevitably does, the government moves in to save the banks and financial institutions from their crimes, and hand the people the bill.[27]
Under Bill Clinton, the derivatives market exploded as financial institutions were deregulated, major mergers approved – creating what we now call "too big to fail" banks – which since Obama's "economic recovery" are bigger and more dangerous than ever. Under Clinton, the Federal Reserve kept interest rates at historic lows and provided liquidity (money) to help build the housing bubble, with which Clinton's unregulated derivatives market saw an explosion in speculation, not only allowing banks and hedge funds to help create the financial crisis, but also to profit from it, as Goldman Sachs did (which was Obama's main campaign contributor in his 2008 election). Clinton's administration had the Department of Housing and Urban Development pressure the mortgage giants – Fannie Mae and Freddie Mac – to provide mortgages to low-income borrowers, which helped build the housing bubble under an illusion of prosperity. The Glass-Steagall Act, which was put in place in 1933 in response to the Great Depression, was designed to prevent another Great Depression. So of course, banks like JP Morgan, Citicorp and others lobbied heavily to have it repealed (as a barrier to "growth"), and the Federal Reserve and Clinton's Treasury Department responded to the demands of their constituents – the banks and corporations that they represent in government – by dismantling these "pesky financial regulations." Thus, Alan Greenspan at the Fed, Robert Rubin and Larry Summers at the Treasury were among the key architects of the economic collapse, along with their constituents at JPMorgan Chase, Citigroup, Bank of America and Goldman Sachs.[28]
So naturally, when Obama became president, it was important to appoint all the people who caused the crisis to positions in which they are responsible for solving the crisis they helped create. So Obama appointed Larry Summers to be his chief economic adviser, and of course, Timothy Geithner who previously served as President of the New York Federal Reserve, where he was appointed to that position by the major Wall Street banks he was to represent. Geithner was also a protégé of Clinton's Treasury Secretary Robert Rubin. Rubin had since become an executive at Citigroup, rewarded for his work in dismantling "pesky financial regulations" and thus able to profit from the crisis he helped create. Summers had previously shown his propensity for "morally right and good economics" – as Clinton described it – when he was Chief Economist at the World Bank in 1991, where he wrote a secret memo advocating Western nations and corporations to dump toxic waste in poor African countries because by the time the effects of cancer emerge, statistically speaking, the population would already be dead because their life expectancy was so low. Thus, wrote Summers, "I think the economic logic behind dumping a load of toxic waste in the lowest-wage country is impeccable and we should face up to that."[29]
Clearly, Clinton's economic policies as president – and those of which he has endorsed in Obama's administration – were a triumphant success for the dominant banks, financial institutions and corporations that own the government. Despite all the evidence of Goldman Sachs having engaged in repeated criminal activity in causing the financial crisis and profiting off of it (not to mention getting massive bailout funds from Obama), Obama's [In]Justice Department recently announced that the U.S. government "will not prosecute Goldman Sachs."[30] And of course not, why would Obama prosecute the bank that was his number one financial contributor in his 2008 election campaign. Though of course, it should be noted, that Obama's 2008 campaign had some diversity among its top donors: JPMorgan Chase, Citigroup, and UBS, among others. The financial institutions preferred Obama over John McCain in 2008, and it was a smart investment for them.[31] After all, Obama's bailouts gave the banks $16 trillion.[32]
No surprise then, to see that Obama's top campaign donors in 2012 include Wells Fargo, JPMorgan Chase and Goldman Sachs. And since the U.S. Supreme Court voted in January of 2010 to allow corporations to contribute as much money as they want to election campaigns – under "constitutional free-speech rights" – campaign spending has increased dramatically.[33] Thus, while Wall Street gave the Obama campaign $16 million in 2008, that number has soared during the current election, with the same contributors donating to Romney.[34] Among Romney's current top supporters are Morgan Stanley, Bank of American, JPMorgan Chase, and Goldman Sachs, with Obama getting more support from Microsoft, Google, IBM, and others.[35] While Obama parades around calling Wall Street executives "fat cats," Obama and the Democratic National Committee raised more than $14 million from the "fat cats" through the end of April 2012.[36]
Clinton stated at the Democratic Convention, reflecting upon his economic policies of the 1990s, "We could see that the policies were working, that the economy was growing… [and] by 1996 the economy was roaring," neglecting to mention it was a roaring bubble built upon speculation and debt. This, of course, received a thunderous applause for Clinton as he spoke, adding that President Obama "has laid the foundation for a new, modern successful economy of shared prosperity. And if you renew the president's contract, you will feel it. You will feel it."[37] He had to repeat that part because people haven't been "feeling it," so it was important to remind them that current conditions are no basis for assessing the future. One must assess the future based upon pure "faith." Hence, "you will feel it" is repeated despite all the policies that indicate otherwise.
Neil Barofsky, the special inspector general responsible for oversight of Obama's bailout program, recently published a book entitled, "Bailout: An Inside Account of How Washington Abandoned Main Street While Rescuing Wall Street," in which he wrote, "I had no idea that the U.S. government had been captured by the banks," but this became clear as the bailouts were "setting the country up for potentially catastrophic losses."[38] In his final report as inspector of the bailouts, Barofsky wrote: "The prospect of more bailouts will continue to fuel more bad behavior with potentially disastrous results." In other words, the concept of "too big to fail" is an insurance policy for banks, telling them that the government will always be there to save them, and thus, they have no incentive to engage in safe financial practices, and are actually encouraged to continue making highly risky and speculative investments, paving the way for the next financial crisis at which time they will be bailed out again. Barofsky called the bailouts a "colossal failure," under which the Treasury Department "made almost no effort to hold [the banks] accountable, and the bounteous terms delivered by the government seemed to border on being corrupt."[39] Just more of Clinton's "morally right and good economics," no doubt.
"Free Trade" and Costly Poverty: A Bi-Partisan Consensus
Clinton of course, also implemented the NAFTA agreement, which is a protectionist corporate-dominated system of economic integration and exploitation between Mexico, Canada, and the US, undermining labour, de-industrializing the northern countries, exploiting the labour of poor Mexicans, and undertaking a concerted assault against the middle class. Thus, it is called a "free trade agreement," though it consists of thousands of pages of rules and regulations expanding corporate rights and domination of the economy. This is perhaps what Clinton was referring to when he said that Democrats work towards "advancing equal opportunity and economic empowerment" in order to provide "real opportunities" for "a strong middle class." Those statements were of course met with thunderous applause and cheers.
Back during the 2008 campaign, both Barack Obama and Hillary Clinton said that they would renegotiate NAFTA, and even suggested that the United States would pull out of the agreement. While campaigning, they made these statements at a debate in Cleveland, Ohio, where NAFTA is "wildly unpopular with blue-collar workers," due to all the manufacturing jobs that were lost as a result of the trade agreement. Hillary Clinton stated that she would "renegotiate it on terms that are favourable to all of America." Obama agreed with Hillary at the debate, stating, "I will make sure that we renegotiate in the same way that Senator Clinton talked about, and I think actually Senator Clinton's answer on this one is right." Obama said that he would "ensure that we actually get labour and environmental standards that are enforced… That is something that I have been consistent about."[40]
The Canadian business and financial elite – and their mouthpieces in the media – immediately declared the sky to be falling as a result of presidential hopefuls suggesting to renegotiate NAFTA. It was leaked to the Canadian media that a senior member of Obama's campaign team contacted the Canadian Consulate in Chicago to inform them that when Obama talks about renegotiating or "opting out" of NAFTA, "it was just campaign rhetoric not to be taken seriously." In other words, he was just lying to get into power. The statements were made by Austan Goolsbee, Obama's senior economic adviser during his campaign.[41] Goolsbee further informed Canadian officials that Obama's stand on free trade during the campaign trail was "more reflective of political maneuvering than policy," and that Obama's language "should be viewed as more about political positioning than a clear articulation of policy plans."[42] In other words, it is important to completely ignore everything Obama says while he is campaigning for president, because it is all lies meant to be consumed by the "ignorant and meddlesome outsiders," the voting public. It does not reflect the actual policies and plans of Obama, which the public is not to be informed of.
So why lie about NAFTA? In Ohio, where the pledges to renegotiate NAFTA were made, the trade agreement led to the loss of roughly 200,000 manufacturing jobs, while the U.S. as a whole lost some 3.1 million jobs between 1994 and 2009 due to NAFTA, which also led to a trade deficit with Mexico and Canada that was $9.1 billion in 1993, and has since risen to $138.5 billion in 2007. During the presidential campaign, national polls revealed that 56% of the American population was in favour of renegotiating NAFTA. In Mexico, hundreds of thousands of people had marched in opposition to NAFTA, demanding renegotiations, and in Canada, 61% of the population favour renegotiation.[43]
Public opinion polls are extensively studied by the public relations industry and political strategists, who advise politicians during their campaigns (and once they take power). Because public opinion is in favour of renegotiating NAFTA, the rhetoric of politicians must reflect public opinion, so that the politicians are viewed in a good light and get the votes they need to get into power. However, because politicians are put in power to serve the interests of corporate and financial institutions, it can only remain as rhetoric, because renegotiating is against the interests and desires of the economic and financial elite, who are, after all, the major financial contributors to electoral advertising campaigns. So public opinion must be studied so that it can be used to manipulate the public – "the engineering of consent" – but then it must also be immediately undermined and dismissed, so that policy does not actually follow public opinion. Rather, public opinion – to the best degree possible – must be influenced to follow policy.
Raymond Chretien, former Canadian Ambassador to the U.S. and nephew of former Canadian Prime Minister Jean Chretien (who implemented NAFTA in cooperation with Bill Clinton), said in November of 2008, just following Obama's successful election, that Obama "will likely find a way to back off his election campaign promise to renegotiate" the agreement, adding, "once in power in January, once apprised of what is at stake here," meaning, massive corporate profits, "I doubt very much that he will want to reopen that."[44] Within less than a month of becoming president, Obama stated that his promise to renegotiate NAFTA "will have to wait"; forever, no doubt.[45] Kind of like closing the torture camp at Guantanamo.
So apart from just lying about trade agreements to get into power, what is Obama's actual record as president on trade agreements? Negotiations were begun under the Bush administration in 2008 for the Trans-Pacific Partnership (TPP), and of course, since the difference between Obama and Bush was one of rhetoric, the negotiations continued in the same manner: secretly.
The Office of the U.S. Trade Representative (USTR) has been working for over three years on a massive so-called "trade agreement" behind closed doors, with input given only to 600 corporate lobbyists who have had access to the draft deal and negotiations, which have otherwise been kept secret from the public. Just part of Obama's promised "transparency," no doubt. The agreement includes the U.S., Australia, Brunei, Chile, New Zealand, Peru, Singapore, Malaysia, and Vietnam, among others. Roughly 133 Democratic representatives wrote a letter to Obama demanding access to the "secret texts" of the trade deal, with public interest groups warning that millions of jobs could be lost as a result of the agreement.[46]
While it is called a "trade agreement," only 2 of the 26 chapters in the TPP have to do with trade, with the majority of the rest dealing with establishing corporate rights, protections, privileges, as well as constraints on "pesky" government regulations. Among these new "rights" and "privileges" for corporations (who obviously do not have enough rights and privileges as it is) include more job offshoring, protections to allow monopolies to raise prices, as well as new corporate controls established over natural resources. The deal also includes threats to food safety, land use, environmental protection, energy use and control, as well as a special chapter on "copyrights" which includes a massive threat to Internet freedom, which was previously stalled in Congress with the attempted Stop Online Piracy Act (SOPA). Obviously, dismantling Internet freedom through a corrupt institution like Congress failed due to public pressure, and thus, Congress is still too influenced by the "meddlesome and ignorant outsiders," so it's better that such an agreement be negotiated in secret with 600 corporations.[47]
Documents from the deal have been leaked, which is the only way that any of this information has become public. When the documents were leaked, it was reported that the Obama administration "intends to bestow radical new political powers upon multinational corporations." In the documents, it was revealed that Obama's administration has emerged as a very strong advocate "for policies that environmental activists, financial reform advocates and labor unions have long rejected for eroding key protections currently in domestic laws." In other words, the already ineffective and almost-useless and toothless environmental, financial, and labour protections that exist are simply unacceptable to the Obama administration and the 600 corporations Obama is taking his orders from. The agreement stipulates that foreign corporations operating in the United States would no longer be subject to domestic US laws regarding protections for the environment, finance, or labour rights, and could appeal to an "international tribunal" which would be given the power to overrule American law and impose sanctions on the U.S. for violating the new "rights" of corporations.[48]
During his 2008 presidential campaign, Obama stated, "We will not negotiate bilateral trade agreements that stop the government from protecting the environment, food safety, or the health of its citizens; give greater rights to foreign investors than to U.S. investors; [or] require the privatization of our vital public services." I suppose that was somewhat true, since technically it isn't a "bilateral" agreement, but rather a "multi-lateral" agreement. Referring to the changed rules for medication – which would allow companies to increase prices and control monopolies over life-saving medications, as well as prevent poor countries from developing cheap alternatives – the U.S. manger of Doctors Without Borders Access to Medicines Campaign, stated, "Bush was better than Obama on this." The agreement would of course grant similar rights to American corporations in the other countries of the TPP agreement, thus, it serves as a profitable and exploitative bonanza for all multinational corporations involved, and of course, all the populations from the countries involved will suffer as a result. The "international tribunal" which would dictate the laws of the countries would be staffed by corporate lawyers acting as "judges," thus ensuring that cases taken before them have a "fair and balanced" hearing, as in, fairly balanced in favour of corporate rights over… everything else. The TPP deal is strongly supported by the U.S. Chamber of Commerce, the largest business lobby in the United States, as well as by presidential hopeful Mitt Romney, who has urged the U.S. to finalize the deal as fast as possible.[49]
Public Citizen is the organization that published the leaked document, a public research institution whose director, Todd Tucker, stated, "The leaked document… shows that in all of the major respects, this is exactly the same template that was used in NAFTA and other agreements that President Obama campaigned against," and noted that the TPP has provisions that allow other countries to join in the future, potentially becoming a new "global trade agreement, larger than NAFTA."[50] The American Prospect reported on the TPP leaks, writing that, "the TPP now threatens a slow-motion stealth attack against a century of progressive domestic policy," though it's hardly slow-motion, and the policies that exist can hardly be said to be "progressive," but nonetheless, all the little concessions granted to the demands of the "bewildered herd" of "interested spectators" were simply too much to bear for corporate dominance. Gary Horlick, a former U.S. trade official who had spent four decades involved in trade deals, stated, "This is the least transparent trade negotiation I have ever seen." In fact, participants in the negotiations and discussions have to sign a memorandum of understanding which forbids them from releasing any "negotiating documents until four years after a deal is done or abandoned." In short, Obama's TPP is a "corporate coup."[51]
The objective with the "unprecedented secrecy" in the negotiations is to have the deal signed before the elections. As the U.S. Trade Representative Ron Kirk noted, "I believe … that we have very faithfully operated within the spirit of the Obama administration to have the most engaged and transparent process as we possibly could." Though he explained what he meant by "as we possibly could," when he added that, "there's a practical reason" for all the secrecy: "for our ability both to preserve negotiating strength and to encourage our partners to be willing to put issues on the table they may not otherwise, that we have to preserve some measure of discretion and confidentiality." In other words, the secrecy is necessary because if people knew what we were doing behind closed doors, they would oppose it, and the deal would be stopped. Yes, that is very "practical." When asked if he would release a draft text of the agreement, Kirk replied that it was too early to do that, "there will be a time, once we have agreed on text, that we may – as we have with other agreements – be able to release that." In other words: "maybe, and by maybe, I mean… nope!" Meanwhile, other nations don't want to be left out of such an ambitious and "prosperous" trade agreement, as Japan, Canada, and Mexico have been lobbying to be included. But this would require the three countries to implement changes to their already-existing policies which would allow them to even be considered to enter the TPP. In other words, even Mexico doesn't meet the required standards of desirable corporate exploitation and domination to be considered.[52]
All the secrecy is very important, because as public opinion polls show, the entire population is adamantly opposed to these types of negotiations. An opinion poll from 2011 revealed that the American population has – just over the previous few years – moved from "broad opposition" to "overwhelming opposition" to NAFTA-style trade deals. A major NBC News-Wall Street Journal poll from September of 2010 revealed that "the impact of trade and outsourcing is one of the only issues on which Americans of different classes, occupations and political persuasions agree," with 86% saying that outsourcing jobs by U.S. companies to poor countries was "a top cause of our economic woes," with 69% thinking that "free trade agreements between the United States and other countries cost the U.S. jobs," and only 17% of Americans in 2010 feel that "free trade agreements" benefit the U.S., compared to 28% in 2007. A Democratic Party polling firm revealed that 45% of voters were much more likely to support a Democratic candidate if the candidate pointed out how their opponent supported various "free trade agreements" negotiated by George Bush. The same polling agency revealed in 2010 that Americans do not feel "warmly" towards corporations and banks, with only 29% of voters feeling "warm" toward corporations (compared to 13% among non-voters), and 12% of voters felt "warm" toward banks (compared to 16% among non-voters). These are lower ratings than those for Obama, Sarah Palin, the GOP, Democrats, Newt Gingrich, the NRA, labor unions, and much more. Polling showed that voters who vote for Democrats cited "job offshoring" as "the most important issue facing the country," and felt that Republican support for offshoring was the "most important reason to not vote Republican."[53]
The extensive polling, which politicians are well aware of, reflects a view that citizens look at corporations and banks unfavorably, and that issues of "free trade" and "job offshoring" feature extremely high in their concerns, and whether Democrat, Republican, or Independent, the population is overwhelming in opposition to "free trade" agreements. So, the lesson from all this research on public opinion is not to change the policy to meet the demands of the public, but rather to change the discussion. So "free trade" agreements are simply not discussed, hence the enormous secrecy behind the TPP. Since corporations and banks are viewed so unfavorably, you simply remove them from the discussion. After all, it is the corporations and banks that the politicians are there to serve, and you don't want to bad mouth your bosses in public too much or too loud (unless it's "just campaign rhetoric"). Thus, when it comes to blaming the economic crisis on someone, the discussion must be simplified to an absurd little fairy tale in which you remove facts from reality, and create an image and establish a political discourse in which it was either: a) the Republicans did it, or b) the Democrats did it. By framing the discourse at this very basic, black and white manner, you immediately divide people against each other, instead of uniting them in opposition to the banks and corporations which control the politicians and the government. This is done for obvious reasons. You can't expect a parasite to help you find a way to get rid of parasites. That's why public relations was invented.
"Jobs, jobs, jobs. Jobs jobby-jobs, jobby job-jobbin… Jobs." – Every Politician Ever
When politicians blather about, they almost always mention this magical word called "jobs." They usually state that their intention is to "create jobs" or that they have already "created jobs." This is taken as a testament to their tireless work on behalf of the population that elected them. Jobs are good. So if politicians create jobs, they are doing good… right? Well, what if the word "jobs" meant something different when politicians say it? Perhaps, it would be helpful to seek a definition, so that we can translate political language and understand what is really being said. After all, if you only speak English, and you're listening to someone who only speaks Spanish, you might recognize a couple of words now and again, but ultimately, you need a translation in order to understand what is being said. As Noam Chomsky has pointed out in countless public speaking events, when politicians say "jobs," what they mean to say is, "profits." Perhaps this is worth investigating, no?
First, we must ask some basic questions. Why are jobs important? Because they provide a means of living, of earning income, and thus, generating wealth and prosperity for all. That's the story, anyway. But essentially we can deduce that jobs are important because they provide income, which we depend on to live. So, if we are to talk about jobs, we have to talk about income.
In June of 2012, the OECD – an international organization of economists representing 34 of the wealthiest countries on earth – released a report noting that the United States is facing "record long-term unemployment, income inequality and lack of investment in education and innovation." The report noted that for the U.S., "income inequality and relative poverty are among the highest in the OECD." Only Chile, Mexico, and Turkey rank higher among OECD nations in terms of income inequality. The chances of staying poor are higher in the U.S. than in Europe. As Deputy Secretary-General of the OECD and former State Department official Richard Boucher explained, "If your parents are poor, the chances are you are going to stay poor." As the comedian George Carlin once said, "It's called the American Dream, because you have to be asleep to believe in it." The OECD report also noted, "the ongoing tide of foreclosures will continue to put downward pressure on house prices." Just more of that "economic recovery" that we are told we are experiencing. Long-term unemployment in the U.S. is especially bad, with 40% of the unemployed – that's officially 5.3 million Americans – have been out of work for 27 weeks or more. As the report also noted: "Although the middle class have seen their taxes remain roughly constant, or slightly increase, average income taxes have significantly declined for the most wealthy, especially the 1% top earners."[54]
In 2008, the average household income for the top 1% was $1.2 million, though the percentage is highly skewed, as entry to the top 1% starts at $380,000. The share of total national income going to the top 1% reached an 80-year high in 2007, of 23.5% (and 17.6% in 2009 as the financial market deflated). For the top 0.1%, the inequality is even more pronounced. Their share of total income for the United States was 12.3% in 2007, sinking to a "still disproportionate" level of 8.1% in 2009 with the financial crash. Though this is a general trend in most countries of the OECD nations, it "began sooner, and has gone further, in America." Increasingly, those who are within the top 1% work in finance, a trend which has increased faster than any comparable business between 1979 and 2005. In 1979, 8% of those within the top 1% worked in finance; in 2005, 13.9% of those in the top percentile worked in finance. For the top 0.1%, in 1979 roughly 11% were in finance, and in 2005 roughly 18% were in finance. The last time that income inequality was even comparable to the present day situation was during the Great Depression.[55]
Nobel Prize winning economist Joseph Stiglitz said in June of 2012 that the United Sates is "no longer the land of opportunity" and "the 'American dream' is a myth." As he detailed in his newest book, The Price of Inequality, "America has the least equality of opportunity of any of the advanced industrial economies." This inequality will only widen in the coming decades, he warned, because the lack of mobility makes it a reinforcing system, and America will become a two-class society: "People will live in gated communities with armed guards. It's an ugly picture. There will be political, social and economic turmoil." Stiglitz, however, said there was a solution: eliminating "corporate welfare" and policies that "create wealth but not economic growth."[56] In other words, instead of just creating profits for the few, focus on prosperity for the many. However, all U.S. administrations – whether Democrat or Republican – have done the exact opposite.
Between 1979 and 2006, the share of national income that went to the top 1% doubled, while the top 0.1% have amassed a larger share of the national income than at any other point on record. Between 2009 and 2011, the S&P500 (the stock prices of the top 500 companies) went up by over 80%, while median household income declined by more than 10%. While the bottom 50% of Americans own 2.5% of the national wealth, the top 1% own 33.8%. The bottom half of Americans own 0.5% of stocks, bonds, and other investment assets, while the top 1% own 50.9%. As of 2007, the top 1% had 5% of the debt, while the bottom 90% had 73% of the debt. Tax rates for the richest Americans are almost the lowest they have ever been. Productivity of workers has increased exponentially since 1947, but inflation-adjusted wages have remained flat for the same period of time. Between 1990 and 2005, the average pay for a CEO increased by 300%, and corporate profits have doubled, while pay for "production workers" (labour) has increased by 4% and the minimum wage has dropped. In 1970, the top CEOs earned 45 times as much as the average worker; in 2006, the top CEOs earned 1,723 times as much as the average worker. America has more income inequality than Egypt, India, China, Russia, and Iran. This inequality is further strengthened when you examine the generational divide. Between 1984 and 2009, the median net worth of people under the age of 35 has dropped by 68%, while seniors have gotten 42% richer. Adjusted for inflation, in 1984, the median wealth of someone under 35 was $11,521; in 2009, it was $3,662.[57]
Now we get to the actual subject of "jobs," of which Clinton spent so much time discussing in his speech at the DNC, that Democrats are better at creating "private-sector jobs" than Republicans, which was met with thunderous applause, and endless articles in the media explaining how "right" he was. Well yes, the "private sector" has added some jobs. This led Obama to say in June that the private sector was "doing fine." When this created a public relations problem for Obama, he later clarified that it is "absolutely clear that the economy is not doing fine." He added: "If you look at what I said… we've actually seen some good momentum in the private sector… record corporate profits… so that has not been the greatest drag on the economy."[58] Indeed, this is partly true. In May of 2012, the largest 500 corporations (the Fortune 500, as they are called) reported record-breaking profits, with ExxonMobil and Wal-Mart in the top spots. Further, "the combined earnings for the Fortune 500 corporations rose 16% from 2010 to a record high of $825 billion in 2011."[59] As profits increase, the pay for CEOs increases too, jumping just 6% in one year.[60] In June of 2012, the Federal Reserve revealed that between 2007 and 2010, Americans saw their wealth plummet by 40%.[61] So, Obama was correct in saying that we have seen "record corporate profits," but incorrect in saying that this was not a "drag on the economy," as it rapidly accelerates income inequality, which, quite directly, creates a drag on the economy, to say the least.
While the private sector has been adding jobs, the public sector has been cutting them, at both the state and federal level, which has been hitting black Americans the hardest.[62] This has been a significant "drag" on economic growth (it's called "austerity"), and it is a growing trend, and will continue regardless of whether a Democratic or Republican politician is in office, because it is what is demanded by the economic and financial elite and neoliberal ideology: which dictates "austerity" and "structural reform" as a response to a crisis. When you translate those words, you get "impoverishment" and "exploitation." This leads to "growth," which means "profits." Just like the word "jobs" also often means profits.
Continues here....
Andrew Gavin Marshall is an independent researcher and writer based in Montreal, Canada, writing on a number of social, political, economic, and historical issues. He is also Project Manager of The People's Book Project. He also hosts a weekly podcast show, "Empire, Power, and People," on BoilingFrogsPost.com.
I am a 24 year old independent researcher and writer based out of Montreal, Canada. I have written dozens of articles, essays, and reports online and in print on a wide array of social, economic, and political issues, always from a highly critical perspective. My writing can be found on my blog, www.andrewgavinmarshall.com. I am Project Manager of The People's Book Project (www.thepeoplesbookproject.com), an initiative through which I am attempting to write a comprehensive book on the institutions and ideas of power in our world, and what we can do about it.
© 2012 Copyright Andrew Gavin Marshall - All Rights Reserved Disclaimer: The above is a matter of opinion provided for general information purposes only and is not intended as investment advice. Information and analysis above are derived from sources and utilising methods believed to be reliable, but we cannot accept responsibility for any losses you may incur as a result of this analysis. Individuals should consult with their personal financial advisors.
© 2005-2019 http://www.MarketOracle.co.uk - The Market Oracle is a FREE Daily Financial Markets Analysis & Forecasting online publication.

Only logged in users are allowed to post comments.
Register/ Log in