ECB Game Over, Draghi and Bernanke's Worst Nightmares Are About to Unfold
Interest-Rates
/
Global Debt Crisis 2012
Sep 19, 2012 - 05:19 AM GMT


Ben Bernanke and Mario Draghi must be absolutely terrified.
These two men, in the last two weeks, have both initiated open-ended bond buying programs. The purpose of these programs, aside from keeping insolvent banks in business, was to scare the markets into believing that no matter what happens, the Central Banks will be able to step in and support the financial system.
From a philosophical standpoint, this was Draghi's and Bernanke's "all in" moment. I won't say they they've gone "nuclear," as they have yet to truly monetize everything, but they're not far from that.
And they've both failed.
Spain, which I've been warning will bring about the break-up of the Euro, saw the yields on its ten-year bonds break back above 6% yesterday. This is absolutely extraordinary. It indicates that within two weeks of the ECB announcing it's going to do an "unlimited" bond purchasing plan, Spanish bonds are once again imploding.
Indeed, if you analyze the Spanish ten-year yield chart from a technical analysis perspective, you'd say that it's bounce off former resistance (indicating that it's now support) and is ready for the next leg up (north of 7% again).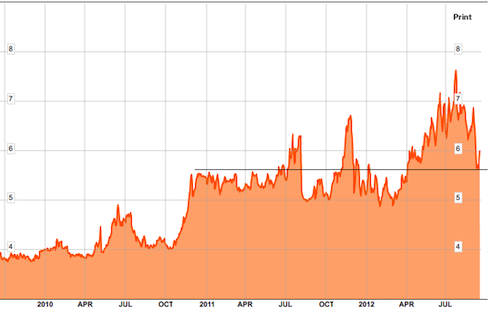 This is Game Over for the ECB.
The EBC cannot announce an even larger program now as that would completely destroy its credibility in the markets.
Congratulations Mario Draghi, the markets were intimidated by your promise of unlimited bond buying for a total of less than two weeks.
On the other side of the pond, Ben Bernanke is rapidly approaching his own Game Over moment.
The US Federal Reserve bought roughly three quarters of all Treasury issuance last year. Let that sink in for a moment. Roughly $0.74 out of every $1 in debt created by the US in 2011 was bought by the US Fed… not by the bond market, not by foreign countries, but by our own Central Bank.
Despite this massive intervention, the US economy (according to the ECRI) has officially re-entered a recession. This is why the Fed announced QE 3 now, because Bernanke is growing truly desperate, both in terms of losing control of the markets and the potential of losing his job if Mitt Romney is elected President.
So the Fed chose to monetize Mortgage Backed Securities this time around. And the result is that the US Treasury market is tanking. If it takes out its trendline, things will get very ugly very fast.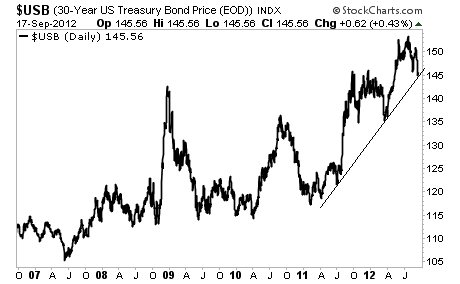 Here's a thought… what happens if the Treasury market begins to implode despite the Fed buying roughly 75% of all Treasury issuance?
GAME OVER for Bernanke and the Fed.
The only option left would be to monetize everything, which would mean hyperinflation (all hyperinflationary episodes have been created by monetization of deficits… you can pull this off until you lose credibility… at which point you suffer a currency crisis).
Congratulations Ben Bernanke, you've managed to screw up the capital markets so badly that the US is on the verge of its own European-style debt crisis… despite you taking over the entire interbank money-market and nearly all US Treasury issuance.
Folks, this is the reality we're dealing with. The ECB and Fed have gone "all in" in their efforts to stop the debt implosion… and they've failed. All they've done is unleashed an even more serious inflationary storm than the one we were already facing.
The time to start preparing is now. The printers are running. The Great Currency Debasement has begun. Some folks will walk out of this mess winners. Most will walk out as losers.
At Phoenix Capital Research, we're taking steps to insure our clients are among the winners. We are currently preparing a Special Portfolio of unique inflation hedges: investments that will not only maintain their purchasing power but will outperform even Gold and Silver as the Fed and ECB debase their respective fiat currencies.
We're talking about investments of extraordinary value that 99% of investors are unaware of: asset plays trading at massive discounts to their underlying values. The kind of investments that can show you double-digit returns in a very short period.
Those investors looking for actionable investment ideas could also consider our Private Wealth Advisory newsletter: a bi-weekly detailed investment advisory service that distills the most important geopolitical, economic, and financial developments in the markets into concise investment strategies for individual investors.
To learn more about
Private Wealth Advisory

…
and how it can help you navigate the markets successfully…
Graham Summers
Chief Market Strategist
Good Investing!

PS. If you're getting worried about the future of the stock market and have yet to take steps to prepare for the Second Round of the Financial Crisis… I highly suggest you download my FREE Special Report specifying exactly how to prepare for what's to come.
I call it The Financial Crisis "Round Two" Survival Kit. And its 17 pages contain a wealth of information about portfolio protection, which investments to own and how to take out Catastrophe Insurance on the stock market (this "insurance" paid out triple digit gains in the Autumn of 2008).
Again, this is all 100% FREE. To pick up your copy today, got to http://www.gainspainscapital.com and click on FREE REPORTS.
Graham also writes Private Wealth Advisory, a monthly investment advisory focusing on the most lucrative investment opportunities the financial markets have to offer. Graham understands the big picture from both a macro-economic and capital in/outflow perspective. He translates his understanding into finding trends and undervalued investment opportunities months before the markets catch on: the Private Wealth Advisory portfolio has outperformed the S&P 500 three of the last five years, including a 7% return in 2008 vs. a 37% loss for the S&P 500.
Previously, Graham worked as a Senior Financial Analyst covering global markets for several investment firms in the Mid-Atlantic region. He's lived and performed research in Europe, Asia, the Middle East, and the United States.
© 2012 Copyright Graham Summers - All Rights Reserved
Disclaimer: The above is a matter of opinion provided for general information purposes only and is not intended as investment advice. Information and analysis above are derived from sources and utilising methods believed to be reliable, but we cannot accept responsibility for any losses you may incur as a result of this analysis. Individuals should consult with their personal financial advisors.
© 2005-2019 http://www.MarketOracle.co.uk - The Market Oracle is a FREE Daily Financial Markets Analysis & Forecasting online publication.
Comments
lawisevil
19 Sep 12, 09:10
Same ole clock; eventually it will be right twice a day.


Heard this all before. He was absolutely wrong about ECB and QE3. Before then it was the great deflation that was going to destroy us.

The great disaster is always two weeks around the bend.

Now the disaster is a hyper-inflationary one.




Only logged in users are allowed to post comments.
Register/ Log in