Stock Market Forecasts for Dow, Dax, FTSE, Kospi and ASX
Stock-Markets
/
Global Stock Markets
Nov 10, 2012 - 12:14 PM GMT


After an election, we may expect one thing that there will not much window dressings but that is only an expectation, not guarantee. In this moment it will be hard job for US to balance between reduction in budgetary deficit and corresponding imminent recession which experts are talking about. Experts and media may talk about many things that is threatening global growth but I do feel that debt loads (especially for nations with big debt market) is one of the biggest matter that are hampering global growth, both directly and indirectly.
The way 10-year US Treasury yield is going, it looks to me that Yield may drop around 1.40 range in coming future but I am not sure whether it is going do that in coming week or later. If 10-year US Treasury yields breaks around 1.60 support ranges and visits such lower position then that may not be good for stock market. On the other hand Euro is also in a bear phase so unless market is getting some positives from these things I do not think stock indexes will see more up moves from here.
Most of the stock indexes are moving on a same range that is quite possible when it is trying to test higher ranges but during last few weeks they are making multiple lows and later days of this week most of these stock indexes were threatening to break recent lows which may create problem if they follows the same trend in coming week. As those stock indexes are still holding their recent lows so there is a possibility that they may again bounce in the upside to follow the same trend which they are doing during last few weeks or months.
Most of the experts are seeing that market is going to crash in coming days but are not we listening this same music again and again either in form of US fiscal cliff or Euro zone fever! Market is in over-bought zone but was not that in past! So there is nothing new. It is true that in these circumstances it will be hard for general investors to hold long positions but being a day trader I love this type environment.
Let talk about stock indexes,
During last few weeks I was talking about medium term bearish pattern of Dow Jones I.A. and now finally this week it reacts to some extent on that. During last two days it looks to me that Dow is trying to make a base here so in early days of the coming week Dow may try to reverse from this range but I will be confident about Dow if it breaks 13000 levels. In fact chance of making couple of flat early days may not be ruled out.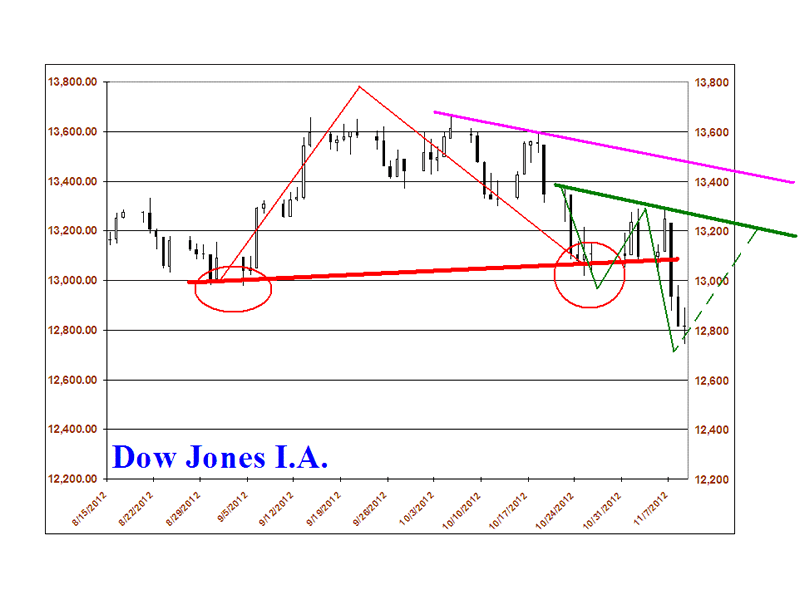 But if Dow does not able to hold this level or it drops in the middle days of the coming week then around 12400-12500 will be a good support for Dow.
Dow did not drop much in the last day so the short-term bullish pattern which I talked about though that is not clear yet but that option is still there. I think that picture will be clear if Dow tests around 13200 in coming future.
German DAX is in a position where it has the option of testing around 7000 levels but as we are seeing recent trends, it is not dropping much. In the last day its close was better from its low so it may again reverse from here. Last week I was not confident about creating probable bullish pattern and after this week it is technically out of that but the way Dax is moving in 7200-7400 range, we may get different options. I think if Dax tests 7400 range in the upside then that picture will be clear.
Dax is testing 7400 range during couple of months but during last couple of week it is making lower lows that is not a good sign. This week it faces 3 straight negative days though last day was better but if it again continues that trend in coming week then we may see it testing 7000 level.
If in coming few weeks Dax does not break 7400 ranges then there is a chance of change in environment. Long-term position of Dax is not totally clear, it has both the options open so taking a decisive call is difficult. If we go with long-term reversals then it may drop up to around 6730 level (around 50.0% reversal).
FTSE 100 is still moving in that 5800-5900 ranges. In later days of this week it was trying to break 5800 levels but it is hard to predict from it, especially its close in the last day. If I consider that Ftse is making a base at around 5780 then it may try to reverse from that range in coming week. In the upside it has multiple options but all depend upon breaking 5900 levels in the upside.
Last week I was talking that I may change my opinion about probable bearish pattern of Ftse if it does not drop below 5800 though it did not break it but Ftse is in a position where I have to still hold my past opinions about that medium-term bearish pattern. Though its last day was better but if it fails to hold that gain then there is a chance that Ftse may break around 5700 levels.
On longer time basis its moves in last few weeks are quite expected and I am still hopeful about the upside movement so long it maintains around 5800 ranges in the downside. It is very necessary for Ftse to break around 6150 level to avoid the long-term bearish pattern.
South Korean KOSPI is threatening to make a medium term bearish pattern and as I was expecting it showed little up move this week. Its last day's move was not good yet if it maintains levels above 1920 then there is a chance that it may test higher levels. Even if coming week becomes good for Kospi but still there will be the chance of creating bearish pattern unless it breaks around 2000 levels in the upside.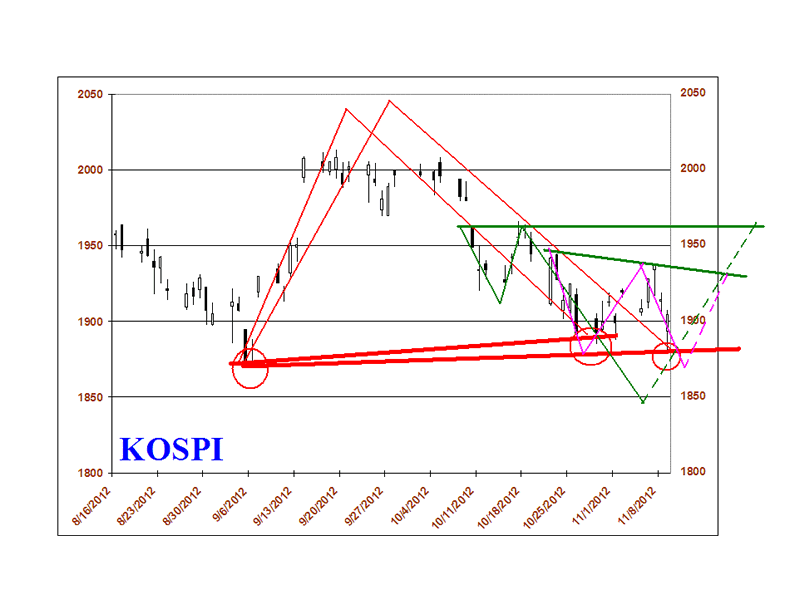 Kospi is making lower highs and lower lows and in a medium term bullish situation that is not bad but it is very hard to define any time. For any kind of up moves Kospi needs to break around 1960 in the upside. Earlier I was talking about a short-term bullish pattern for Kospi, though in last week it revealed nothing on this matter but in coming week if Kospi tests 1960 levels then we may get more information on that. In fact in the upside Kospi has multiple opportunities.
At past I told that Kospi is trying to break an initial uptrend line and now it is completely out of that. In coming week if Kospi breaks around 1880-1900 support ranges then it may react on its bearish pattern which may take Kospi towards around 1800 ranges.
Last week I was expecting that if S&P/ASX 200 failed to test 4525 levels then it may drop but it is good to see that again it is maintaining 4450 levels.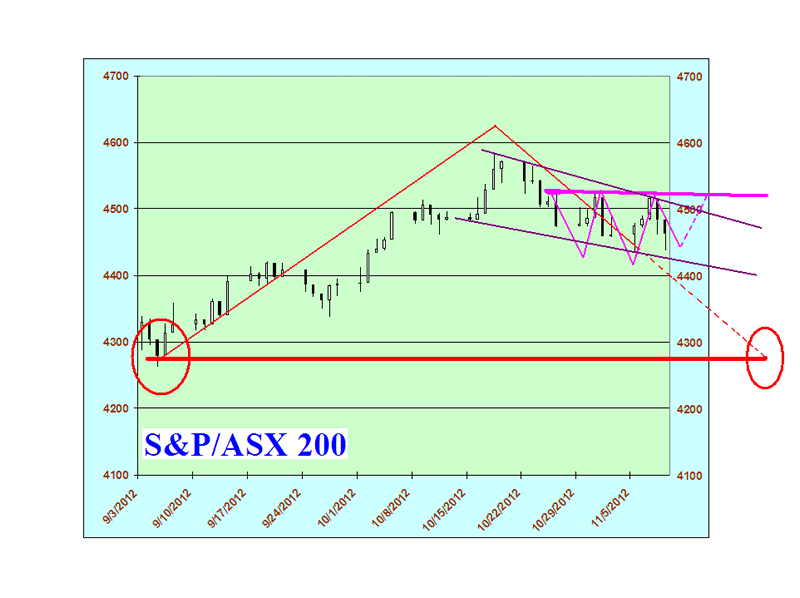 Last day's close was better and in last week it was also looking for support in these ranges but considering the top it made this week I am not very pleased with S&P/ASX. There is a chance that it may break 4450 levels and if it drops from here then 4350 level may act as a good support area though it has initial support level at around 4420 ranges. As I said in past that chance of making medium term bearish pattern is still there if S&P/ASX tests below 4300 level in the downside.
On the other hand if it again reversed from 4450 support level then S&P/ASX needs to first break the 4525 resistance range which it failed to break in last few weeks. If S&P/ASX again tests around 4525 range then there is a good chance that it may make a very short-term positive pattern which may take it towards around 4600 levels.
If we consider that S&P/ASX is in a medium term bullish phase then sometime these types of small corrections (or lower lows) are good sign. Here it is important matter whether S&P/ASX will drop more or it will reverse from this level. I think early days of the coming week may give us a good indication of that and special attention should be given on 4450 level for downside and 4525 level for upside.
Reports due in coming days (from US)
Tuesday, 13th November, 2012 – Small Business Optimism Index
Wednesday, 14th November, 2012 – Producer Price Index, Retail Sales, FOMC minutes.
Thursday, 15th November, 2012 – Unemployment Claims, Consumer Price Index, Empire State Mfg Index, Phila Fed Index.
Friday, 16th November, 2012 – Industrial Production
Others
Monday, 12th November, 2012 – Japanese industrial production, German WPI.
Thursday, 15th November, 2012 – German GDP
About me : I am an active stock trader, I trade on Indian market. I am not a writer but in weekends, I love to spend sometime with it. Though it is an Equity market blog but it also covers Bond & Treasury market as well as currency market.
NOTE : Disclaimer of my blog www.worldequitymarket.blogspot.com is also applicable to the above writing.
© 2012 Copyright Manas Banerji - All Rights Reserved
Disclaimer: The above is a matter of opinion provided for general information purposes only and is not intended as investment advice. Information and analysis above are derived from sources and utilising methods believed to be reliable, but we cannot accept responsibility for any losses you may incur as a result of this analysis. Individuals should consult with their personal financial advisors.
© 2005-2019 http://www.MarketOracle.co.uk - The Market Oracle is a FREE Daily Financial Markets Analysis & Forecasting online publication.

Only logged in users are allowed to post comments.
Register/ Log in