Obama's State of the Delusion Speech, US Adrift At Sea
Politics
/
US Politics
Feb 18, 2013 - 05:21 PM GMT

"In individuals, insanity is rare; but in groups, parties, nations and epochs, it is the rule."– Friedrich Nietzsche
The big story this past week, besides the annual State of the Delusion speech by Barack "It won't add a cent to the deficit" Obama, was the fate of the passengers on the Carnival Triumph as their skyscraper sized ship was left adrift at sea for days without power. This 900 foot long, 100,000 ton goliath is one of the largest passenger cruise liners in the world, carrying 3,400 passengers and 1,100 crew members in luxurious splendor through warm Gulf of Mexico seas to sun drenched exotic isles.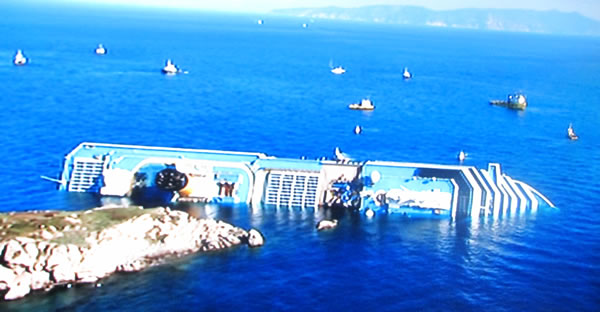 These ships are practically floating countries, with passengers treated to an endless American buffet of never ending quantities of bacon, sausage, biscuits, gravy, fried chicken, mashed potatoes, waffles, pizza, cheesecake, soda, beer and the rum drink of the day. It's as if all 3,400 passengers have a SNAP card with no limit. There are retail stores, restaurants, bars, ice skating rinks, movie theaters, showplaces, and staff waiting on you hand and foot. No cash changes hands. You charge everything to your room number and then just pay with one of your 13 credit cards at the conclusion of your voyage into debt. Then you pay 18% interest on the 25 Funky Monkeys you consumed for the next 14 years. Cruising captures the essence of America as we traverse our voyage to hell.
The ordeal at sea of the Carnival Triumph and the leadership displayed by the Carnival management and executive officers is a microcosm of our declining empire. The $420 million Carnival Triumph was put into service in 1999 and has run continuously for the last fourteen years, with only periodic dry dock maintenance. These massive ships are replenished within hours of docking and depart within twelve hours of dumping their 3,400 passengers back onshore. The CEO and top management of Carnival care only about ROI and whether their stock options are vested. Their goal is to bilk the passengers out of as much cash as possible, while paying their foreign slave labor crew members as little as possible. The ships are registered in foreign countries for tax purposes and the crew members are mostly from third world countries. Carnival executives and shipboard officers have a history of recklessness, mismanagement, and willingness to endanger its passengers in its greedy thirst for short term profits. Ask the families of the 32 passengers killed in the sinking of the Costa Concordia.

The engine room fire that disabled the Triumph was not an isolated instance. This was the fourth engine room fire on a Carnival owned ship resulting in a loss of power, the others being the Tropicale in 1999, the Carnival Splendor in 2010, and the Costa Allegra in 2012. The Carnival Triumph should not have been at sea. It had been plagued with mechanical problems for weeks prior to the engine fire. Voluntarily taking the ship out of service would have hurt the 1st quarter earnings per share of this public company, therefore the leadership of Carnival told the engineers to patch it up and get it back out on the seas. Two weeks prior to the engine room fire the Carnival Triumph experienced propulsion issues that caused it to be five hours late returning to its Galveston home port on January 28, 2013 and delaying the ship's departure for its next cruise until 8:00 pm that night. The ship departed, but the problems had not been fixed. The Associate Press reported a story about that cruise that provides a different assessment than the public relations drivel released the corporate office:
An email informed Debbi Smedley and other passengers that the propulsion problem would prevent them from docking at two ports. "Due to the limited cruising speed, our itinerary will be impacted. Depending on the progress of the repairs, we will either visit Progreso or Cozumel," stated the email, signed by Vicky Rey, vice president of guest services. Smedley said the ship was in poor condition overall. During her five-day cruise, a water line broke in the hallway ceiling near her cabin, and a separate sewer line broke outside the main dining hall, she said. Metal was protruding from handrails on the staircases, and the elevators often did not work. Rather than docking in Progreso for only a few hours as planned, the ship stayed in the port for two days, and cruise workers repeatedly told passengers they were waiting for parts to fix a mechanical problem, according to Smedley.
Carnival's public relations machine then admitted to an electrical problem with the ship's alternator in the last voyage before the fire, but claimed it was repaired. What they didn't reveal is that it was a Coast Guard inspection that revealed there was a short in the high voltage connection box of one of the ships generators causing damage to cables within the connection box. A directive with a compliance due date of February 27, 2013 was issued following the inspection requiring that "the condition of the ship and its equipment shall be maintained to conform with the regulations to ensure that the ship in all respects will remain fit to proceed to sea without danger to the ship or persons on board." The Coast Guard Marine Information Safety and Law Enforcement System showed that this deficiency remained unresolved at the time of the subsequent fire and loss of power while at sea on February 10. So you have a company PR maggot lying and you have another useless Department of Homeland Security branch not enforcing regulations that are supposed to protect passengers. This is par for the course in our corporate fascist states of America today.
Shit Happens
George: Aha. Aha. Could it be because you don't want him to know that you have a friend who pees in the shower, is that it?!

Elaine: No, that's not it!

George: Oh, I think it is! I think that's exactly what it is!

Elaine: Why couldn't you just wait?

George: I was there! I saw a drain!

Elaine: Since when is a drain a toilet?!

George: It's all pipes! What's the difference?!
George Costanza would have enjoyed sailing on the Carnival Triumph as passengers were left to piss in showers and shit in red plastic bags for days. It finally became socially acceptable to pee in the shower. Most of the ship's electrical power went down after the engine room fire, causing extensive breakdowns of vital shipboard mechanical systems, including taking out sanitary systems. Passengers reported sewage sloshing around in hallways, flooded rooms and trouble getting enough to eat. Passengers waited in line for three hours to get a lousy hot dog. On the lower decks sewage came up through the shower drain, pooling in the sinks and flowing into the hallways. The allegory of the poor people on the lower decks being inundated with feces and living in wretched conditions, while the rich people living in luxury on the upper decks are blissfully ignorant of the fate of their fellow passengers is so easy to apply to our society in this day and age. The 1% glory in their stock market gains, while 20% of U.S. households are on food stamps.
These direct quotes from passengers and pictures taken onboard this voyage from hell provide a taste of what our future portends:
"We have to urinate in the shower. They've been passed out plastic bags to go to the bathroom. There was fecal matter all over the floor."
"They're walking around in a lot of urine and fecal matter, and the sewers are backing up."
"The sanitation situation was gross and the stench was awful."
"Just imagine the filth. People were doing crazy things and going to the bathroom in sinks and showers."
"A lot of people were crying and freaking out."
"We are trapped aboard a floating petri dish without power, air conditioning, or fresh water."
"It's degrading. Demoralizing, and then they want to insult us by giving us $500″
After reading a number of articles describing what happened before, during and after the engine fire aboard the Carnival Triumph, the parallels between this Ship of Horrors and our Ship of State become self-evident. You have the CEO and top executives of Carnival only concerned about their wealth, power and control of the company. Rather than thinking long term and making decisions that might be detrimental to their short term quarterly earnings, but insure the long –term financial health and reputation of the company, their decision was driven by their true masters on Wall Street. Instead of taking the ship off-line to make vital repairs and necessary investments, they just papered over signs of an imminent disaster and turned to public relations spin and propaganda as there preferred course of action. When disaster "suddenly" struck, the management and executive officers were unprepared, slow to react, and more concerned with their reputations than about the health, safety and welfare of the passengers. Much more could have been done to alleviate the misery of the 3,400 passengers. Carnival could have had a large generator helicoptered onto the deck and used to produce enough electricity to run some lights, ventilation, refrigeration and toilets. It appears that this ship had two engine rooms and only one was damaged by fire. They could have restarted the undamaged engine room and would have had enough power for most normal functions in the cabins of the ship, and probably some capability to propel the ship towards port. The disgraceful lack of urgency and refusal of top management to attempt every possible solution to this crisis is a lesson to be learned by passengers and citizens alike. They don't care about you.
Rev. Wendell Gill's experience onboard the Triumph provides a glimpse into our future. He immediately recognized the leadership of the ship was non-existent and it would be up to people helping people if they were to make it through the ordeal:
"What you had was a tale of two ships. You seldom saw a deck officer. I never saw the captain. Some of the people in the upper areas had plenty of air, but down below, it was unlivable. It was like a sauna of sewage. It was the people on the boat that saved Carnival. In an adverse situation, most people will rise to help -- that's just the human spirit."
Reverend Gill and his wife noticed that no one from Carnival was stepping up to help the elderly and sick get around. The Gills, along with other concerned passengers, decided to take matters into their own hands, carting mattresses and bedding up from the lower decks. They witnessed the worst side of human nature in the inaction of Carnival leadership, along with some people becoming drunk, disorderly and fighting over food. But they also witnessed people coming together under difficult circumstances, with many in the upper cabins sharing their space with those from the lower uninhabitable decks. The passengers created their own shanty town of tents on deck and in the cooler hallways. The vast majority of people acted like decent human beings. Kindness, sharing, and helping one another won the day. This voyage through hell is a precursor of what lies ahead for everyone in this country. When vital systems fail, the lights go out, and your beloved government leaders are nowhere to be found, how will you fare? Don't count on someone from the government to lead when we are set adrift in a sea of chaos created by them. The politicians, bankers and bureaucrats will be scrambling to save themselves. Your family, friends, and neighbors will be the only people you can rely on. Your caring government doesn't really care about you.
Cruisin for a Bruisin
"Sometimes people don't want to hear the truth because they don't want their illusions destroyed." – Friedrich Nietzsche

The similarities between the horrific voyage of the Carnival Triumph and the tragic voyage of the dysfunctional ship of state we call America are many. We have a ruling class consisting of the President, Congress, Judiciary, Central bankers, Media titans, and goliath corporation CEOs who care not for the citizens of this country. You are ignorant peasants in their eyes. They only care about maintaining and expanding their wealth, control and power through the complete capture of our financial markets, political system and media propaganda to the masses. The health and welfare of the peasants isn't even on their radar screen. The ruling class steering this ship of fools have no interest in the truth or the best long –term interests of the country. The vast majority of the passengers on this impaired listing ship prefers to believe the propaganda and lies spewed by the captain and his minions. They prefer the illusion of safety and security to the truth about the real condition of this ship. When the engines of this ship come to a grinding halt, their illusions will be shattered. Big government will come up small when it counts. The government propaganda and public relations will be revealed as nothing but hot putrid air and fecal matter.

Speaking of fecal matter, President Obama's State of the Union address, which was watched by 33 million (down from 52 million in 2009) believers, was a perfect reflection of the thinking that led to the Carnival Triumph disaster. The reality facing the country is: $220 trillion of unfunded entitlement liabilities; a $16.5 trillion national debt; annual deficits exceeding $1 trillion; 48 million citizens on food stamps; 11 million people on SSDI; a true unemployment rate of 23%; true inflation exceeding 5%; record high gasoline prices; 0% interest rates for senior citizen savers; free money for criminal bankers provided by their sugar daddy Bernanke; not one criminal prosecution of a Wall Street executive for the greatest financial fraud in history; a war department that spends $1 trillion per year and fights undeclared wars around the world; a chief executive that invokes dictatorial executive orders to murder Americans with his fleet of predator drones and imprison citizens indefinitely without charges; and a bureaucratic nightmare called Obamacare that will drive up deficits, drive up healthcare costs for every family, enrich the healthcare industrial complex, drive doctors into retirement, and drive small businesses into bankruptcy.
Rather than deal with this reality, Obama chose the Carnival Cruise Line method of public relations, misinformation, denial and delusion. He has embraced the Big Lie concept as if he had created it. With a straight face he proposes "investments" in infrastructure, new jobs programs, new education initiatives, more green energy projects, pollution control schemes, bailing out more underwater mortgages, and raising the minimum wage, all done for the children – and it won't add one cent to the deficit. Instead of leveling with the American people and explaining the dire economic issues confronting our nation that require sacrifice, reality based thinking, and tough choices, we got more platitudes, class warfare, divide and conquer, phantom spending cuts, disingenuous twisting of the truth, intellectual dishonesty and fuzzy math. Public relations spin created by Madison Avenue maggots and pronounced grandly by corrupt puppet politician hacks will not prevent the catastrophic engine failure that will leave this country adrift in a sea of its own feces.
Our cruise of illusions and delusions is headed for troubled water. The math challenged citizens on this ship have been enjoying the 24 hour pizza buffet without the labor required to pay for the bounty. When your leaders boldly lie and tell you we don't have a spending problem, refer to proposed spending increases as "investments", and hail $1.6 trillion of spending cuts that did not happen, you've got a ship that will be signaling SOS in the imminent future. Both political parties are laughable in their blathering about spending cuts as Bush and his Republican cronies drove spending from $1.9 trillion in 2001 to $3.0 trillion in 2008 with their unfunded wars, unfunded new entitlements (Medicare Part D), Wall Street bailouts, and creation of police state agencies (DHS); while Obama and his Democrat co-conspirators have driven spending up to $3.8 trillion in four years with new unfunded entitlements (Obamacare), expansion of warfare in the Middle East (they sit on top of "our" oil), $800 billion stimulus handouts, $60 billion hurricane relief pork handed out for $25 billion of uninsured losses, and bailing out banks, auto companies, homeowners, and other gamblers who took undo risks and lost to the tune of hundreds of billions. Politicians and the inhabitants of this country have forgotten there are consequences to their actions and inactions.
Carnival Cruise Line is trying to buy off the passengers with refunds and $500 bribes to keep them quiet and sedated, while protecting their continued hundreds of millions in profits and million dollar bonuses for their executives. The ruling class in the United States has bought off the American people with entitlement promises that can't possibly be honored, food stamps, SSDI, tax rebates, homebuyer tax credits, loan modification programs, Cash for Clunkers, payroll tax cuts, $1 trillion of taxpayer financed student loans, taxpayer financed subprime auto loans, and a myriad of other handouts designed to keep the masses sedated, while the ruling class continues to pillage the national wealth. It's as if the entire country has been charging their food, drinks, excursions, and purchases to their room number and the bill has reached $16.5 trillion, rising by $3 billion per day. This voyage is reaching an end and the bill is coming due. The engine is on fire but the captain is telling us all is well. Eventually, everyone will know the captain lied.
Everybody knows that the dice are loaded
Everybody rolls with their fingers crossed
Everybody knows that the war is over
Everybody knows the good guys lost
Everybody knows the fight was fixed
The poor stay poor, the rich get rich
That's how it goes
Everybody knows
Everybody knows that the boat is leaking
Everybody knows that the captain lied
Everybody got this broken feeling
Like their father or their dog just died
Leonard Cohen – Everybody Knows
Join me at www.TheBurningPlatform.com to discuss truth and the future of our country.
By James Quinn
James Quinn is a senior director of strategic planning for a major university. James has held financial positions with a retailer, homebuilder and university in his 22-year career. Those positions included treasurer, controller, and head of strategic planning. He is married with three boys and is writing these articles because he cares about their future. He earned a BS in accounting from Drexel University and an MBA from Villanova University. He is a certified public accountant and a certified cash manager.
These articles reflect the personal views of James Quinn. They do not necessarily represent the views of his employer, and are not sponsored or endorsed by his employer.
© 2013 Copyright James Quinn - All Rights Reserved
Disclaimer: The above is a matter of opinion provided for general information purposes only and is not intended as investment advice. Information and analysis above are derived from sources and utilising methods believed to be reliable, but we cannot accept responsibility for any losses you may incur as a result of this analysis. Individuals should consult with their personal financial advisors.
© 2005-2019 http://www.MarketOracle.co.uk - The Market Oracle is a FREE Daily Financial Markets Analysis & Forecasting online publication.
Comments
Trader_Joe
20 Feb 13, 18:13
Obama's a Puppet


Obama is just a puppet as are most if not all Presidents.

The elite ALWAYS win.




Only logged in users are allowed to post comments.
Register/ Log in