How to Survive the Gas / Petrol Crisis
Commodities
/
Gas - Petrol
May 10, 2008 - 09:12 AM GMT


Sean Brodrick writes: With gasoline prices up 15 cents a gallon in the last two weeks — and about 63% in the last 18 months — American drivers are feeling a pinch at the pump. Consumers are demanding that Congress "do something" to drive down the price of gasoline.
Two weeks ago, I listed seven things you could do to prepare for $200 per barrel oil . They included tips on getting the most miles from every gallon. Today, I have ideas for how we can get gasoline back to $3 per gallon — maybe even lower.
And we have to start now. Because if you hate paying nearly $4 a gallon for gasoline now, you're really going to hate paying close to $5 per gallon gasoline 12-18 months from now. That's right — if we continue on as we are and don't change a thing, the pain at the pump will become excruciating!
First, let's take a look at what we're up against ...
Everybody Wants to Drive Like Americans!
The U.S. consumes about 20.6 million barrels of oil per day, or roughly 25% of global demand. China is the second-largest consumer, at 7.2 million barrels per day. Japan, with 5.2 million barrels per day, is third.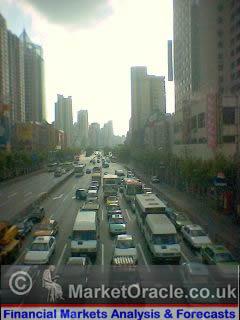 Gasoline demand has soared across China, which is home to over 200 cities with populations of one million people or more. By contrast, the United States has just nine cities with at least a million residents.
As you can see, we use A LOT more petroleum than other countries. Heck, China has more than four times the people that America does, and uses only a third of the oil.
They're catching up, though. According to the International Energy Agency, China's overall oil demand rose by 7.8% in February from a year earlier, much higher than earlier estimates of a 5.3% gain. And gasoline demand rose by 22.8%!
As a result of that surge in demand, China's crude oil imports rose 15% in the first quarter and 25% in March. Its imports are rapidly accelerating! And every barrel the Chinese buy is one that we can't buy.
It's not just China. According to preliminary data from India, oil product sales — a proxy of demand — surged by 10.9% in February compared to a year earlier. That's the fastest pace of growth in demand since 2006. Transportation fuels — gasoline, jet fuel/kerosene, and gasoil — jumped by 13.4% year-over-year.
Across the developing world, oil use is ramping up. This year, emerging markets combined (China, India, Russia and their other "life in the fast lane" buddies) will pass the U.S. in oil use.
So even if our use stays the same — even if there's no big emergency, hurricane in the Gulf of Mexico's Energy Alley, war with Iran, etc. — the global demand for oil is going to get worse.
And the new oil production coming online can barely keep pace with declining production.
Here's what I mean: Every year, producers need to find an additional 3 million to 3.5 million barrels per day of oil production per day just to offset declines from older fields. According to researchers, there are 546 giant oilfields in the world that currently account for just more than half of production. Only 80 of those fields are not fully developed. In other words, the easy, low-hanging fruit has already been picked.
In fact, oil production is already shrinking in 60 of the world's 98 oil producing countries. For example, Great Britain saw its output peak in 1999 and since then it has plunged by more than half.
So it's no surprise that in March, global oil supply fell by 100,000 barrels per day, led by lower supplies last month from OPEC, the North Sea and non-OPEC Africa.
Do you think that, if we ask them nicely, those folks in China and India will stop using so much gasoline? Ha-ha-ha! Heck, their governments subsidize the price of oil at ridiculous levels as a way of promoting economic growth and keeping a lid on their restless populations.
So the ball is in our court.
Three Things We Can Do to Lower The Price of Oil
The good news is that prices for oil and gasoline are made on the margins — if America cuts its oil use by 10% or even 5%, that should send the price lower ... maybe a lot lower.
After all, 5% of the 20.6 million barrels we use every day is about 1 million barrels per day. That's more than the current spare capacity on the global market.
So let me tell you what we need to do to get there — and I'll start by saying you aren't going to like it.
1) Bring Back 55-Mile-Per-Hour Speed Limits . America has amnesia. That's the only explanation for why our elected leaders don't know how to deal with an energy crisis. After all, we've had one before. And how did we solve it? One part of the solution was driving 55 mph.
The 55-mph speed limit was repealed in 1995. With apologies to Sammy Hagar and his song, " I Can't Drive 55 ," we all have to start driving at slower speeds again.
The average driver uses 22.8 barrels of oil per year. Driving at 55 mph, depending on what speed you have been driving previously, could increase your fuel efficiency anywhere from 7% to 21%. For every mile per hour faster than 55 mph you go, fuel economy drops by about 1%.
According to fueleconomy.gov, you can assume that each 5 mph you drive over 60 mph is like paying an additional 20 cents per gallon for gas. In other words, if you're paying $3.60 per gallon gasoline, and you drive 80 mph, you're actually paying $4.40 per gallon.
Driving at slower speeds, along with other tips I talked about last week including regular maintenance for your car and keeping your tires properly inflated, could — and should — be our first attack against higher oil and gas prices.
2) Telecommute. These are the facts: Nearly half of all commuters travel more than 20 miles round-trip to and from work; 22% travel more than 40 miles; and 10% travel more than 60 miles. And ALL of them could save a lot of money by telecommuting.
According to a report by the American Electronics Association, an estimated 1.35 billion gallons of gasoline could be conserved annually if every U.S. worker with the ability to telecommute did so 1.6 days per week (in other words, some people do it one day a week, some work in their bathrobes two days per week).
Your boss may not agree to let you telecommute. In that case, see if he or she will let you adjust your hours to come in and leave 30 minutes later or earlier, so you can avoid rush hour. Traffic congestion cuts your fuel efficiency by 10% to 15%. According to the U.S. Department of Transportation, in 2003, drivers in the 85 most congested urban areas in the United States experienced 3.7 billion hours of travel delay, and as a result they burned 2.3 billion gallons of wasted fuel.
3) Peer Pressure. Humans are pack animals, and we respond to group-think like any herd. If the leaders of the herd (President and Congress) get up and say it's our patriotic duty to do away with fuel economy exemptions for SUVs ... if movies and TV shows in Hollywood show that conserving is "cool" and people who drive big fat SUVs 80 miles roundtrip to work are "not cool" ... if the government, Hollywood and industry together lay out the case for how telecommuting and conserving gas is the plain ol' smart thing to do, it could really help.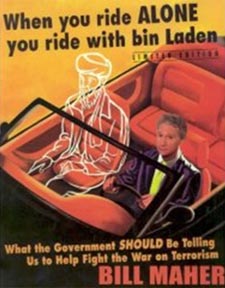 A few years back, humorist Bill Maher wrote a book called "When You Ride Alone, You Ride With bin Laden." It was a riff on a propaganda poster from World War II, "When You Ride Alone, You Ride With Hitler."
If it was good enough for the "greatest generation" to conserve gasoline, it should be good enough for us, too. And peer pressure — real leadership on this issue — will magnify the results from points #1 and #2.
Now let's have more fun with math and determine ...
Just How Much Can We Save?
According to data from the state of California, Americans use 456 gallons of gasoline per person per year. Roughly, that's 400 million gallons of gasoline per DAY.
Simply rolling back the speed limits and doing the other gas-saving tips I talked about cuts our gasoline use by 10%. That's 40 million gallons of gasoline per day, or 14.24 billion gallons of gasoline a year.
Now, there are 42 gallons in a barrel, right? But wait! Not all of the oil in a barrel is made into gasoline — some is made into heating oil, jet fuel, diesel, etc. On average, only about 20 gallons of gasoline comes out of your average oil barrel.
But bear with me and let's assume a straight 42/1 ratio. That's 339 million barrels of oil per year.
And let's say that HALF of the people who can telecommute actually do so, one or two days a week. Half of 1.35 billion gallons is 675 million gallons, or 16 million barrels.
So these two steps together could potentially save 355 million barrels a year. And that's nearly 5% of what America uses.
The aftermath of Hurricane Katrina cut America's gasoline use by 6%, and we saw gasoline futures contracts drop by 33%. I'm not saying things would work out exactly the same — we do have that rip-roaring demand from Asia to account for — but a 33% drop at my corner gas station would bring the price down to less than $2.50 a gallon.
And that, my friend, is how you get cheap gas.
Already a regular sight on the streets of Paris, Rome, Barcelona and London, the Smart fortwo coupe has now arrived in the United States.
BONUS TIP: Buy a more fuel efficient car. A vehicle that gets 25 MPG will cost you $900 less to fuel each year than one that gets 15 MPG (assuming 15,000 miles of driving annually and a fuel cost of $3.60). Over five years, that increases to a savings of $4,500.
Americans are already cluing in to this solution. Last month, about one in five vehicles sold in the United States was a compact or subcompact. When the SUV craze was at its peak a decade ago, only one in every eight vehicles sold was a small car.
What's more, sales of big SUVs are down more than 25% this year. And last month saw sales of vehicles with four-cylinder engines pass those of six-cylinder models.
It takes four to five years to turn over America's auto fleet, so this isn't a short-term solution. In fact, it may take longer than that. But it's one we're going to have to take. American cars get on average 22 miles per gallon. In Europe, the average car gets 32 miles per gallon.
Investing for Higher Gasoline Prices
The sad thing is that I don't think America is going to find the political will to take these steps until after the Presidential election, if at all. So, you might want to invest accordingly in an attempt to hedge your portfolio against higher fuel prices.
For example, you could look into the United States Gasoline Fund (UGA), which aims to track the price of reformulated gasoline futures.
And if you want to broaden your energy exposure, you could also buy the United States Oil Fund (USO) or United States Natural Gas Fund (UNG). We have those in the Red-Hot Commodity ETFs portfolio, and I'm quite happy with them.
Yours for trading profits,
Sean
This investment news is brought to you by Money and Markets . Money and Markets is a free daily investment newsletter from Martin D. Weiss and Weiss Research analysts offering the latest investing news and financial insights for the stock market, including tips and advice on investing in gold, energy and oil. Dr. Weiss is a leader in the fields of investing, interest rates, financial safety and economic forecasting. To view archives or subscribe, visit http://www.moneyandmarkets.com .
© 2005-2019 http://www.MarketOracle.co.uk - The Market Oracle is a FREE Daily Financial Markets Analysis & Forecasting online publication.
Comments
Marie Broderick
12 Jun 08, 08:10
How to Survive Gas/ Fuel Prices


Might I suggest that highlighting the health implications of fossil fuels might be added to Sean Brodricks list of ways to survive the fuel crisis..... If people knew the damage that toxins such as carbon monoxide and nitrous oxide (toxins released from burning fossil fuels in poorly ventilated cities) do to our health I believe that the demand for fossil fuels would drop sharply......

Trouble is that governments throughout the western world have hidden this information from the public for almost a decade all in the name of economic progress......

Marie Broderick



Ijaz Khan
26 Jun 08, 01:09
How to Survive Gas/Fuel Crisis


Prices of Gas/Fuel are soaring unexpectedly. What we can do is to start saving fuel,think smart, share your vehicle if your neighbour is also going to the same destination. Be prepared to walk long distances when you are home and thinking to go buy something from nearby market. Starat riding bicycle it will help increase your stamina. be conservative.

You may also use local transport to reach office or home instead using your own car. Now technology should also do something to reduce our dependence on gasoline fuel. Our scientists should invent new fuel using other sources like sun light, using water, air or any artificial gas that may not harm human health.

May Almighty help us get rid of these crisis.

Ijaz Khan, Pakistan




Only logged in users are allowed to post comments.
Register/ Log in