Why Israel Should NOT Exist, Just Like Any Other Rogue State
Politics
/
Israel
Jul 29, 2014 - 04:24 PM GMT


Before I am instantly accused of antisemitism, I add that in my opinion all nation states are Rogue States and only some, like Israel are intensely rogue, or if that is not an adjective they are "rogueish". In other words the intense ones are a permanent threat to peace, while the others are only a constant background threat to peace. The only difference.
Concerning Israel or the Jewish Homeland, its foundation or creation is the subject of literally hundreds of major studies, thousands of books, and tens of thousands of articles not forgetting the Hollywood and other films usually loosely based on the "epic struggle to create Israel". Related genre material includes, for example, The Raid on Entebbe helping seal the fate of Ugandan dictator Idi Amin Dada (known for eating the livers of his human victims), who fled, and was warmly welcomed and heavily protected in another regional and very dangerous Rogue State – Saudi Arabia.
Whether or not Israel is a theocracy like Saudi Arabia, or a police state like Saudi Arabia, has little final importance. Both are aggressive and itching for war at the slightest opportunity.
The Jewish Homeland is therefore an Alpha Male Nation, fantastically armed by US taxpayers and those of European Union states. Defenders of Israel in another genre-material spawning hundreds of articles, can argue that the "Hebrew State" is an unsinkable aircraft carrier of the West, anchored in the east Mediterranean, serving as an advanced listening post and local security guard. Like a pittbull its bite is at least as bad as its bark. Its proven specialty is running over children with 40-ton tanks, using artillery to shell hospitals, schools and mosques, and firing missiles with the same crazy abandon as Hamas. - which isn't yet a Rogue State! The only difference.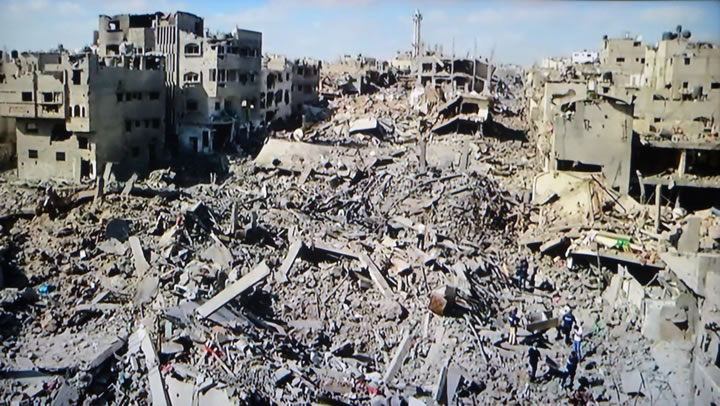 Coming Very Late to the Party
Introducing a little historical theory, we can first note that the concept of "the sovereign nation state" existing in "internationally recognized borders" only started in about the 1760s. Before that, they didn't exist. They are totally invalidated by, for example, economic globalization and the ersatz "world culture" of the Internet. They are now literally useless for anything except starting wars and of course for World Cup football where "national" football teams include players from all over the world..When needed, they shuffle their stock of purchased passports.
Israel came very late to the party. More Israel genre-material includes the exceptional or special status of the Hebrew State and its men-only and women-only public buses rivaling the nonsense of Saudi Arabia or Afghanistan. It also guards Jerusalem, since it used military force to take the city in 1967. Israel is supposedly a "western-type democracy", but also a theocratic state, which it doesn't admit. It does have nuclear weapons, which it also doesn't admit, unlike the failed state of Pakistan which does admit having nuclear weapons and is proud of it.
Pakistan can easily be compared with Israel. Both were spun off from the collapse of British Imperial power and featured the same divide-and-rule "strategy" of the former British colonial masters. In the Israeli-Palestinian case this was flagrant. Throughout the British Mandate period of the Society of Nations, from 1918 to 1948, the British elite trick was to receive Jewish delegations and promise them the Promised Land when the British left. Then they received Palestinian delegations and promised them the same thing! That way they didn't fight each other and Pax Britticana tottered forward, but of course they got around to serious fighting almost the moment the British quit. The record got stuck exactly there, 1948.
In the Pakistan case, simultaneously created with Israel in 1948, this especially concerned the Baluch, promised the world by the Brits and getting nothing. Why nuclear-armed India and Pakistan should have hard-wired indelible animosity towards each other is another tribute to "British nation building".
Israeli nationalists if not Zionists (who regard the precedent as humiliating) can point to the 1995 creation of the Clinton Micro State of Kosovo, a fake and failed state in Europe, to justify Israel's creation and existence. Why not East Timor?
Too Late Now
The party effectively ended decades ago. Events like the "Kosovo moment' were a sardonic joke played by western elites "to show they still ruled". Nation states as supposedly rock-solid as the "United Kingdom of Great Britain and Province of Northern Island", as printed on passports and AKA UK, are directly threatened by even admitting the legitimacy of a Scottish referendum on full independence. Catalonian strivings for full independence are harder and harder to put down or thwart by the Madrid government. Need we go on to talk about Ukraine, Belgium, Syria, Iraq, Somalia, Mali or Libya?
To be sure, and almost totally ignored by the media, their pastiche image of Vladimir Putin ruling a heavily centralized and united Russia – united to do harm to the west – is as nonsensical as the glove puppet media's sudden primitive cravings for all-out nuclear war with Russia. One reason for Putin's intransigence is "simply" that the 19-subnation Russian Federation is riven with separatism.
Like Israel, Russia does not exist. Americans can feel proud and different about their Union of States but this is another "artful" illusion.
As already noted, states like India and Pakistan have hard-wired animosity due to their creation. Using another and possibly surprising example, we could take Switzerland and ask why its voters, every time, refuse any question of joining the European Union, despite the Swiss elite desperately wanting that?
The simple reason is that Switzerland's existence was conflict-driven. Napoleon of France, who used blitzkrieg war to take the two Savoie provinces from Switzerland, and incorporate them in his French police state, said the Swiss flag was "a white cross on a sea of blood". Because the Swiss dared to resist French aggression.
They actually resisted the French land grab! Israeli attitudes to Palestine are exactly the same. The Palestinians dare to resist! As a direct result and today, Swiss voters shun the EU because it includes France and other aggressors of Switzerland through the ages. Blitzkrieg war leaves long-lasting traces. Also not well known to many but a fact that can be proven, another result is that Switzerland is not really a "modern unified nation state" but a confederation of micro states with a total population of only 7 million. The Swiss rejected the "nation state model" because of History.
No Reason To Get Worried
To be sure western elites are "highly concerned and dismayed" about their Ukraine circus act and rush to war with nuclear-armed Russia. This only proves their arrogance and stupidity. The Swiss model could save them a lot of sweat.
The European Union is already an ultra-loose pseudo Confederation of former nation states, that people accept on a "Why not?" basis. Not too many, if any EU states are anxious for war with other members of this pseudo confederation, in part because it almost does not exist! Ukraine could very likely or certainly be "organized" or dissolved on the same basis.
Likewise Israel and Palestine. As is now scientifically proven by ADN testing, at most 5% of Israel's population can be called "True Jews" and at least 5% of Palestinians are also "True Jews". They have no racial-genetic base for claiming national identity – whatever "national" means. They therefore have a "pure and simple" ontological crisis of identity which is a philosophical problem unable to be solved using heavy artillery, missiles, mortars and the senseless death of civilians.
By Andrew McKillop
Contact: xtran9@gmail.com
Former chief policy analyst, Division A Policy, DG XVII Energy, European Commission. Andrew McKillop Biographic Highlights
Co-author 'The Doomsday Machine', Palgrave Macmillan USA, 2012
Andrew McKillop has more than 30 years experience in the energy, economic and finance domains. Trained at London UK's University College, he has had specially long experience of energy policy, project administration and the development and financing of alternate energy. This included his role of in-house Expert on Policy and Programming at the DG XVII-Energy of the European Commission, Director of Information of the OAPEC technology transfer subsidiary, AREC and researcher for UN agencies including the ILO.
© 2014 Copyright Andrew McKillop - All Rights Reserved Disclaimer: The above is a matter of opinion provided for general information purposes only and is not intended as investment advice. Information and analysis above are derived from sources and utilising methods believed to be reliable, but we cannot accept responsibility for any losses you may incur as a result of this analysis. Individuals should consult with their personal financial advisor.
© 2005-2019 http://www.MarketOracle.co.uk - The Market Oracle is a FREE Daily Financial Markets Analysis & Forecasting online publication.

Only logged in users are allowed to post comments.
Register/ Log in