Uranium Stocks- The Alternative Energy Bargain
Commodities
/
Uranium
May 21, 2008 - 07:13 AM GMT


Sean Brodrick writes: All eyes are on oil as the price of crude trends higher and higher. But one of the rules of smart investing is to look at things others have ignored or written off, because you might find real bargains there.
And this may be a good time to look at a sector we haven't looked at in a long time: uranium and nuclear power. Why? Because as oil prices dominate the headlines, the smart money is looking at uranium. As a result ...
Uranium Stocks are Rallying Sharply
Just look at this chart of the Uranium Focused Energy Fund, an investment trust in Canada. The stocks in it include Cameco, Denison Mines, Paladin Energy, Rio Tinto, Uranium One — all the big producers.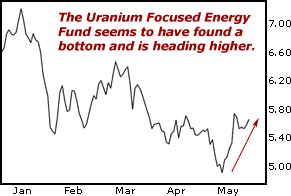 The fund has come roaring back, up a whopping 15% from its lows earlier this month . In other words, this index of uranium stocks is heading higher in a hurry.
Looking around at some of my favorite uranium stocks, I can see not only rising prices, but also methodical accumulation and rising volume. These trends indicate that the smart money is picking up shares. And I can see some reasons why.
Industry analysts are turning bullish. In fact, I've read two different positive reports on uranium recently, from MacQuarie and Merrill Lynch. I think that is re-igniting investor interest in uranium stocks. And that could lead to these stocks heating up this summer.
But despite the powerful rally currently underway, most investors are still stuck on ...
Why Uranium Prices Pulled Back
Last year I really thought that, if trends continued, uranium prices would be a lot higher than they are now. However, five things happened to derail the bullish trend:
1) Utilities stockpiled enough uranium that they weren't desperate, so they stopped emergency buying on the spot market. Now, utility companies are well covered for the next few years by their contracts with uranium suppliers. What's more, utilities are avoiding buying uranium on the spot market in the hope that the price will decline even further.
2) A supply of enriched uranium came into the market, including 200 metric tonnes from U.S. government stockpiles.
3) The downturn in uranium prices stopped investors from buying more uranium through funds like the Uranium Participation Corp.
4) Japan shut down its reactors due to safety concerns. This should continue to weigh on demand through 2008.
5) Paladin's new Langer Heinrich mine in Namibia ramped up to full capacity by the end of 2007, and mines in Kazakhstan also ramped up production.
Most of these are short-term forces. Meanwhile ...
Why Prices of Uranium and Uranium Miners Should Now Go Up!
China has announced its intention to aggressively buy uranium resources around the globe. And it hasn't yet bought fuel for all the new reactors it plans to build. In fact, demand from China hasn't been significant ... yet.
According to the World Nuclear Association, China will build 35 nuclear reactors in the next 10 years and has 86 more on the drawing boards. This would raise its nuclear electricity producing capacity by 300%!
There are 433 nuclear plants in operation worldwide, 33 under construction, 91 in advanced planning stages, and over 200 proposed. Four plants in the United States have applied for regulatory permission to begin construction, but the bulk of the new construction is targeted for China, India, Russia, South Korea and Japan.
China and France enhanced their cooperation in nuclear power recently, establishing a number of joint ventures.
To the fullest extent possible, nuclear operators have been locking in forward contracts to shift the risk of shortfalls to producers. But legacy contracts at very low prices are hitting the end of terms, and new contracts will likely be negotiated at higher prices.
The U.S. government could sell more uranium from its stockpiles. However, the government says it will limit sales going forward.
Finally, rumors of takeovers and mergers are on a slow boil. At these prices, uranium miners can be screaming bargains. The latest stock of interest is Paladin Energy, based in Australia, which was trading at half the levels of a year ago when it shot higher on Monday. Driving the move: Rumors that Canada's Cameco, the world's largest uranium producer, is interested in picking up Paladin on the cheap.
Looking Forward — a Small Surplus, Then a Deficit
The uranium markets were in deficit through 2007, which drove prices through the roof. Then that new supply I talked about came on. We'll probably see a surplus of 195 tonnes of uranium on the global market this year, according to Macquarie Research and Ux Consulting, and that will increase to 318 tonnes by 2009.
But by 2010 and 2011, Macquarie believes the market should switch back to a shortage ... a deficit of 565 tonnes in 2010, 2,250 tonnes in 2011, and a whopping 4,042 tonnes in 2012. If we do go into a supply deficit, what do you think that will do to prices? Add in 160 gigawatts of new nuclear generating capacity expected to come online in the next 10 years, and I think prices could soar through the roof!
Now, not all analysts think the long-term for uranium is so rosy. Merrill Lynch, for example, thinks the market could go into surplus from 2011 to 2013. I think Merrill is counting on Cameco's flooded Cigar Lake Mine coming into production in 2011. Cigar Lake is a huge deposit, with initial production of 9 million pounds a year that should eventually produce over 18 million pounds of uranium oxide a year — 10% of the world's current demand. The problem is there's enough water flowing through the mine to make it a hydropower project.
Cameco recently said it expects Cigar Lake to be in production by 2011 "at the earliest." We'll have to see.
The Olympic Dam uranium mine in Roxby Downs South Australia is the largest known single deposit of uranium in the world.
Meanwhile, Merrill also said in a recent report: "We believe the spot price (of uranium) is close to the marginal cost of mine production of some newer producers, and expect it will stabilize around current levels. This stability should be seen as a short-term floor, and a key buying signal." So even Merrill's outlook seems pretty bullish to me.
None of this is written in stone, of course. We could see more or less demand OR supply depending on future events.
And there's another factor to consider — the price of building nuclear power plants is soaring, because commodity prices are soaring. In the U.S., the projected cost is $5 billion to $12 billion a plant, double to quadruple earlier rough estimates.
To speed construction, the federal government set aside $18.5 billion in loan guarantees for the industry. But just the two nuclear plants that Florida Power & Light is planning on building by 2020 will cost around $18 billion. We need at least 30 new nuclear plants within that timeframe just to keep the amount of electricity we generate from nuclear power the same.
Plus, China, Russia, Korea, India and other nations — where labor costs are cheap, even if commodity costs are high — are building nuclear plants at a breakneck pace.
How You Can Play This Move
Bottom fishing in the uranium sector isn't for everybody. But if you're interested, the stocks in the Uranium Focused Energy Fund that I mentioned earlier are probably a good place to start. For example, I think Paladin looks cheap here. And Cameco is also pleasing investors. Cameco said its first-quarter net income more than doubled to C$133.4 million as uranium sales rose.
Just be aware that there is risk of more delays at Cigar Lake, and production this year at Cameco's Inkai mine in Kazakhstan may be as much as 50% less than the planned 1.2 million pounds due to a shortage of sulphuric acid used to leach uranium from the rock.
You could also consider the Uranium Focused Energy Fund itself. It trades under the symbol UF-UN on the Toronto Stock Exchange and there is a pink sheet tracking stock for it in the U.S.: UFEFF. This way you have a stake in a bunch of stocks in the uranium sector, so you can ride the rally without worrying that one company will torpedo your position.
Yours for trading profits,
Sean
P.S. As you read this, I'm traveling to Mexico to check out some red-hot silver mines. I'll be posting about my adventures on my new blog on the Money and Markets website . So be sure and check it out!
This investment news is brought to you by Money and Markets . Money and Markets is a free daily investment newsletter from Martin D. Weiss and Weiss Research analysts offering the latest investing news and financial insights for the stock market, including tips and advice on investing in gold, energy and oil. Dr. Weiss is a leader in the fields of investing, interest rates, financial safety and economic forecasting. To view archives or subscribe, visit http://www.moneyandmarkets.com .
© 2005-2019 http://www.MarketOracle.co.uk - The Market Oracle is a FREE Daily Financial Markets Analysis & Forecasting online publication.

Only logged in users are allowed to post comments.
Register/ Log in