Now The British Are Fleeing America
Politics
/
US Politics
Nov 25, 2014 - 05:37 PM GMT


Remember when Americans fled Britain and the monarchy? Well, now the British are fleeing from America and its modern tyranny...
Take London Mayor Boris Johnson, for instance.
Johnson has been London's mayor since 2008 and is even planning on running for Parliament. His big mistake was being born in New York, though. Even though he moved at age 5, the US government wants him to pay capital gains taxes owed by American citizens earning income abroad.
Johnson has not been quiet about this perceived injustice. In 2006 he wrote a column in which he stated he was "getting a divorce from America" and would renounce his citizenship, writing "for years I have travelled exclusively on a British passport." Johnson never did renounce, and he is probably regretting this now. As he told NPR,
"It is very hard but I will say this: the great United States of America does have some pretty tough rules, you know...You may not believe this but if you're an American citizen, America exercises this incredible doctrine of global taxation, so that even though tax rates in the UK are far higher and I'm Mayor of London, I pay all my tax in the UK and so I pay a much higher proportion of my income in tax, that I would if I lived in America."
He comes across as perplexed...
"The United States comes after me, would you believe it, for the - for capital gains tax on the sale of your first residence which is not taxable in Britain, but they're trying to hit me with some bill, can you believe it?" Johnson rhetorically asked. If you've been reading the TDV Blog, then yes, perhaps you can believe it. Will the mayor ultimately pay the bill?
"Well, I'm - no, is the answer," the mayor admits. "I think, it's absolutely outrageous. Why should I?"
"I could but I pay -- I pay the lion's share of my tax, I pay my taxes to the full in the United Kingdom where I live and work," Johnson added.
Johnson could renounce his citizenship, and if he did he would not be alone as increasing amounts of people renounce their US citizenship. They've simply been left no choice. As Robert Wood writes for Forbes, Johnson has already made some mistakes.
"When you exit you must certify five years of US tax compliance to the IRS. And any tax for the current or prior years must be paid. So, maybe Mayor Johnson should have renounced when he threatened to in 2006," Wood wrote.
Approximately 2,353 Americans have renounced their citizenship since the start of 2014, and the current trend is on pace to shatter last year's record-breaking statistic of 2,999.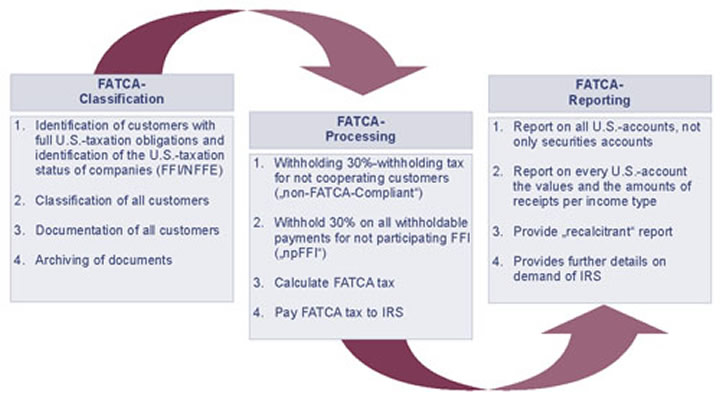 FATCA OVERREACH
We have not heard the end of FATCA. In fact, the opposite is true. More stories will come in regarding the lives FATCA is destroying. It is already tearing families apart and impoverishing people abroad.
We've already reported on a survey called "FATCA: Affecting Everyday Americans Every Day", conducted by Democrats Abroad, in which many respondents stated they felt like "second class [citizens]" or even criminals because of FATCA.
"I faithfully meet my tax obligations every year but this nonsense is forcing me to actually consider expatriation," replied one respondent.
The details on what FATCA has done is stupefying.
US citizens abroad report that they are not being promoted (5.6%) thanks to FATCA, and that employers don't want to deal with it at all so they are not hiring Americans.
Americans abroad cannot open businesses.
"I cannot open a business without local partners and no one is foolish enough to go into business with an American given the privacy issues and the unwarranted access the IRS wants to their finances," one respondent stated.
"[I was] told they did not want an 'American person' and refused to recognize my EU citizenship. Too costly, complicated and dangerous, they said," another one added.
2% of respondents reported that relationships have even ended over FATCA.
"My German ex refused to marry an American because of filing requirements. So we split up," said one expatriate.
"FATCA has caused enormous friction in my marriage. My non-US spouse is refusing to let the US government know about his salary/earnings/savings … and I therefore cannot fill out all the necessary paperwork. Moving to separate bank accounts would leave me very vulnerable as I have no income of my own and according to Belgian law would have no right to access my spouse's accounts. It is very stressful to be so beholden to my husband as well as not in compliance with my own government," an unemployed stay-at-home mother lamented.
TIME TO BREAK THE CYCLE
So, as you can see, FATCA is devastating individuals and families. Even politicians in other countries who had the great misfortune of being born an American are considering renouncing their US citizenship.
There is hope, though. With TDV Wealth Management our experts can give you the tools you need to plan for your future and retirement in the post-FATCA world. All of our techniques and portfolios have been audited by experts and will increase your international exposure. This is fundamental to surviving The End Of The Monetary System As We Know It (TEOTMSAWKI).
As some of you know, I have sworn off the United States. Never again will I go there! I find it too dangerous and creepy.
So, if you still would like to see me speak, meet me and share some great conversation, then an upcoming conference in Cancun is the perfect solution.
From January 15th to 17th in Cancun, I'll be making a special surprise appearance at the Passport to Freedom conference in Cancun.
If you are interested in internationalization then the Passport to Freedom conference is the place to go.
It is three days jam packed with information on offshoring and internationalizing yourself (residencies, passports, expatriating) and your wealth (offshore companies, bank account, trusts, tax avoidance and investment strategies) and more. I highly recommend that Boris Johnson head down to Mexico for the conference. It will be much warmer than Britain, anyway.
I will be talking about all our internationalization solutions including second passports, offshore banking and incorporation, self-directed IRA's and our FATCA proof internationalization solution for Americans that is the only 100% legal way to get around FATCA if you are an American who wants to internationalize. Many of these solutions are new and haven't been announced publicly anywhere.
Instead of ending up like Boris Johnson - the totally unprepared London Mayor who now risks being thrown in a cage because he won't pay his taxes - be prepared. There are steps you can take TODAY to ensure your FREEDOM tomorrow. It's simple, really.
Anarcho-Capitalist. Libertarian. Freedom fighter against mankind's two biggest enemies, the State and the Central Banks. Jeff Berwick is the founder of The Dollar Vigilante, CEO of TDV Media & Services and host of the popular video podcast, Anarchast. Jeff is a prominent speaker at many of the world's freedom, investment and gold conferences as well as regularly in the media.
© 2014 Copyright Jeff Berwick - All Rights Reserved Disclaimer: The above is a matter of opinion provided for general information purposes only and is not intended as investment advice. Information and analysis above are derived from sources and utilising methods believed to be reliable, but we cannot accept responsibility for any losses you may incur as a result of this analysis. Individuals should consult with their personal financial advisors.
© 2005-2019 http://www.MarketOracle.co.uk - The Market Oracle is a FREE Daily Financial Markets Analysis & Forecasting online publication.

Only logged in users are allowed to post comments.
Register/ Log in