This New Currency Could Wipe Out the Euro
Currencies
/
Euro
May 28, 2015 - 06:15 PM GMT


Sean Brodrick writes: Greece, the cradle of Western civilization, is poised to rock the world again.
For a country with gross domestic product equivalent to the Miami metropolitan area, that's no small feat. But it could rock the financial world in an old-fashioned way that many historians would recognize - by printing money.
The situation in Greece is much more dire than most people realize. You may have heard that Greece recently made a $494 million payment on $32 billion that it owes the International Monetary Fund (IMF).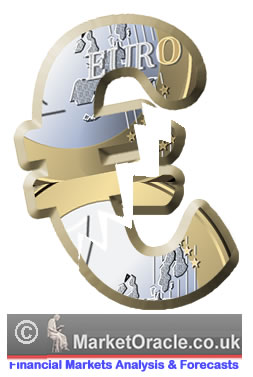 That's just a piece of the $353 billion in bad debts the Greeks have borrowed from every bank, Dick and Harry. But if Greece can cover its debts, the crisis is over... right?
Wrong. Greece "paid" the IMF by using a special drawing rights account at the IMF. In other words, it borrowed money to pay debt. It's the equivalent of using your credit card to pay the mortgage.
This isn't going to end well. And the end game may be in sight.
Multiple economists are now saying Greece needs a "dual currency" regime. In other words, the Greeks should start printing their own currency again, right beside the euro. And the Greeks might be foolish enough to listen to them.
Time to Roll Out a New Trojan Horse?
Sure, governments print money all the time. But there was a time when rolling a wooden horse into a city was no big deal, either. And sometimes, as the Trojans found out - and as the Europeans may be about to find out - such an event can be catastrophic.
Here's the deal...
Greece seems at loggerheads with Europe over the conditions attached to its bailout. The Iron Bank of Brussels is demanding that Greece slash pensions, clamp down on wages and sell state assets. So far, Greece is refusing these demands.
The clock is ticking.
If Europe (read: Germany) stops funding the Greek government, which runs in the red, then Greece will have no way to issue more euro-based debt and no way to pay state employees, pensioners and anyone owed money by Greece.
The European Union funds about 3.3% of Greece's budget. That doesn't seem like a lot. But the EU also underwrites the debt that Greece issues. That is a big deal. Greece has already had two bailouts since 2010, for a total of 240 billion euros ($267.5 billion).
The Dawn of a New Currency
Greece used to have its own currency, the drachma. I used it myself when I honeymooned there decades ago with my first wife (She Who Must Not Be Named).
Flash forward to today...
Now proponents of a dual-currency regime are saying that Greece should start printing its own currency again. This one probably wouldn't be called the drachma. Since it would be printed alongside the euro, maybe they could call it the "greuro."
If Europe balks at lending Greece more money, proponents of the new currency say Greece could start paying state employees with greuros. They would have no choice but to accept it.
Greece would also be able to solve its unemployment problem by putting people to work on infrastructure projects. Sure, they'd only be paid in greuros. But the logic of dual-currency proponents goes, "at least they'll be working and getting paid something."
All external debts denominated in euros would continue to be honored in euros. All existing bank deposits would be maintained in euros. Hopefully, that would prevent bank runs while the new currency is slowly introduced.
How Things Could Go Terribly Wrong
Let's say Greece does start printing a new currency and paying people with it. Any shopkeeper who sells imported goods would probably close up shop. The alternative is jacking prices sky-high and hoping the new currency doesn't fall so far, so fast, that even new prices don't make up the difference.
And that's only the start of the problems. Greek banks could easily go bust as they are unable to pay loans made in euros.
So, this path pretty much implies that Greece nationalize its banks. Hey, I thought this was supposed to be a path out of financial crisis?
Finally, we could see a good ol' fashioned panic. That's when people reject the new currency, buy and hoard what they can with dwindling euros, and the Greek economy stagnates into chaos. Simple items like toilet paper could become unaffordable luxuries. (See Venezuela for an example of how that can happen.)
And what if economic unrest in Greece spills over its borders, affecting other members of the European Union?
That's just one way it could go bad. Let me tell you about another...
What If Things Go Terribly Right?
Let's say Greece introduces the greuro and things go differently. Confounding all the naysayers (like me), the greuro actually works.
People are paid in something a little better than Monopoly money, but the economic stimulus actually gets the economy moving again... The banks survive (maybe even thrive)... Greece focuses on local-sourcing former imports... The economy booms!
Well, if that happens, that would be HORRIBLE for Europe as it exists today.
Because, suddenly, all the nations that have chafed against the austerity choke collar that German bankers impose on them would see a path to prosperity. And it will be paved with new, national currencies. The euro might shatter like it was printed from glass.
And then, well, who knows how that could go? There's $13.6 trillion in European publicly held debt ($27,000 per person). No one can see the future, and I don't want to get too scary, but this could work out like one of those Greek fables where one little thing goes wrong and brings down an empire. In this case, an Empire of Debt.
What Would You Do in the Greeks' Shoes?
I have only the greatest respect for Greece and the Greek people. Movies like 300 may be pumped up with hype, but there's no arguing the fact that we wouldn't have Western civilization as it is today without Greece and its long and storied history.
But if I lived in Greece, and I even entertained the thought that my government might start issuing a new currency, I would do two things.
Get my hands on as many euros as possible, and stash them away. Not in a bank, either.
Buy gold and silver. Heck, I might do that if I lived somewhere else in Europe, too, just to diversify. Because once a government starts fiddling with a currency, there's no telling where it will end.
I hope the Greeks find a way out of their problems. And I hope the smarter ones are making preparations just in case things don't work out.
All the best,
Source: http://www.investmentu.com/article/detail/45449/greece-new-currency-could-wipe-out-euro-eurozone#.VWd2c03bK0k
Copyright © 1999 - 2015 by The Oxford Club, L.L.C All Rights Reserved. Protected by copyright laws of the United States and international treaties. Any reproduction, copying, or redistribution (electronic or otherwise, including on the world wide web), of content from this website, in whole or in part, is strictly prohibited without the express written permission of Investment U, Attn: Member Services , 105 West Monument Street, Baltimore, MD 21201 Email: CustomerService@InvestmentU.com
Disclaimer: Investment U Disclaimer: Nothing published by Investment U should be considered personalized investment advice. Although our employees may answer your general customer service questions, they are not licensed under securities laws to address your particular investment situation. No communication by our employees to you should be deemed as personalized investment advice. We expressly forbid our writers from having a financial interest in any security recommended to our readers. All of our employees and agents must wait 24 hours after on-line publication or 72 hours after the mailing of printed-only publication prior to following an initial recommendation. Any investments recommended by Investment U should be made only after consulting with your investment advisor and only after reviewing the prospectus or financial statements of the company.
© 2005-2019 http://www.MarketOracle.co.uk - The Market Oracle is a FREE Daily Financial Markets Analysis & Forecasting online publication.

Only logged in users are allowed to post comments.
Register/ Log in