Gold a Bargain in Real Terms
Commodities
/
Gold and Silver 2015
Nov 22, 2015 - 12:11 PM GMT

For those you who like to break things down to the fundamentals, this chart should serve as an eye-opener. Why? Because it tells us gold's value in real terms when adjusted to depreciation in the purchasing power of the dollar. Secondly, it tells us where gold stands today with respect to past peaks in the price – once again in real terms – thus providing an indicator whether or not it is a good buy at current prices.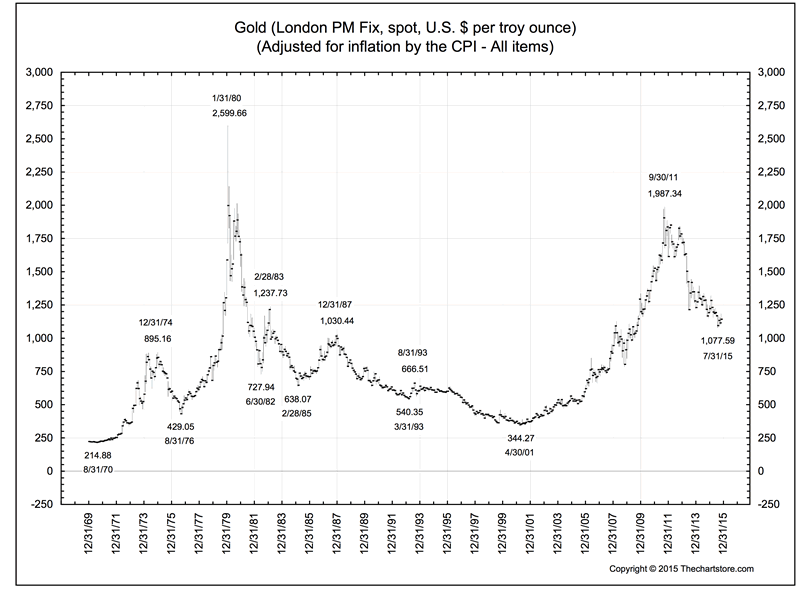 At the present, gold is priced at 41% of the inflation-adjusted peak in 1980 ($2600/oz), when the nominal price was $875, and 54% of the 2011 peak ($1987/oz) when the nominal price was $1895. For the value conscious investor, today's prices amount to an impressive discount in real terms and good level for either entering the market or averaging down your all-in acquisition price.
This chart is based on the Bureau of Labor Standards consumer price index – a measure that many experts view suspiciously because of the many changes that agency has made in its composition over the years. Shadow Stats' John Williams has devised his own chart on the inflation-adjusted price of gold using the BLS/CPI formula from 1980 with even more impressive results. The inflation-adjusted peak on his chart, as reported at Casey Research, is over $8500 in today's dollars and the current price is bumping along an inflation-adjusted bottom near all-time lows seen in the early 2000s.
That said, I will remind our readers that we at USAGOLD come at gold from the defensive side of the football – as a means to long-term asset preservation. None of this is posted to lure you into a sense that runaway profits are just around the corner. In the end, we view gold simply as portfolio insurance and an alternative savings vehicle rather than an investment for speculative capital gain.
"The whole point about gold, and the quality that makes it so special and almost mystical in its appeal, is that it is universal, eternal and almost indestructible. The Minister will agree that it is also beautiful. The most enduring brand slogan of all time is, 'As good as gold.' The scientists can clone sheep, and may soon be able to clone humans, but they are still a long way from being able to clone gold, although they have been trying to do so for 10,000 years. The Chancellor may think that he has discovered a new Labour version of the alchemist's stone, but his dollars, yen and euros will not always glitter in a storm and they will never be mistaken for gold." – Sir Peter Tapsell in a speech before the British parliament in opposition to the sale of British gold (1999)
By Michael J. Kosares
Michael J. Kosares , founder and president
USAGOLD - Centennial Precious Metals, Denver
Michael J. Kosares is the founder of USAGOLD and the author of "The ABCs of Gold Investing - How To Protect and Build Your Wealth With Gold." He has over forty years experience in the physical gold business. He is also the editor of Review & Outlook, the firm's newsletter which is offered free of charge and specializes in issues and opinion of importance to owners of gold coins and bullion. If you would like to register for an e-mail alert when the next issue is published, please visit this link.
Disclaimer: Opinions expressed in commentary e do not constitute an offer to buy or sell, or the solicitation of an offer to buy or sell any precious metals product, nor should they be viewed in any way as investment advice or advice to buy, sell or hold. Centennial Precious Metals, Inc. recommends the purchase of physical precious metals for asset preservation purposes, not speculation. Utilization of these opinions for speculative purposes is neither suggested nor advised. Commentary is strictly for educational purposes, and as such USAGOLD - Centennial Precious Metals does not warrant or guarantee the accuracy, timeliness or completeness of the information found here.
© 2005-2019 http://www.MarketOracle.co.uk - The Market Oracle is a FREE Daily Financial Markets Analysis & Forecasting online publication.

Only logged in users are allowed to post comments.
Register/ Log in