Understanding the Gravity of Current Stock Market Crisis Condition..
Stock-Markets
/
Global Stock Markets
Jul 16, 2008 - 11:05 AM GMT


Many investors don't look at the long term picture of what is happening. I am talking about looking at
10 to 20 year periods of time. If you looked that far out on a number of key stocks and indexes, you would understand the gravity of the current condition we are in.
This morning, we will look at 6 long term charts that will give you a clearer picture of the incredible damage that has occurred to our financial structure and economy. As you will see in the last paragraphs, there is also an important message behind today's analysis.
The first chart we will look at is a 10 year chart of the Banking Index. There is no other way to describe it other than a crash on the Banking Index. The Index is now far below any levels seen since 1998.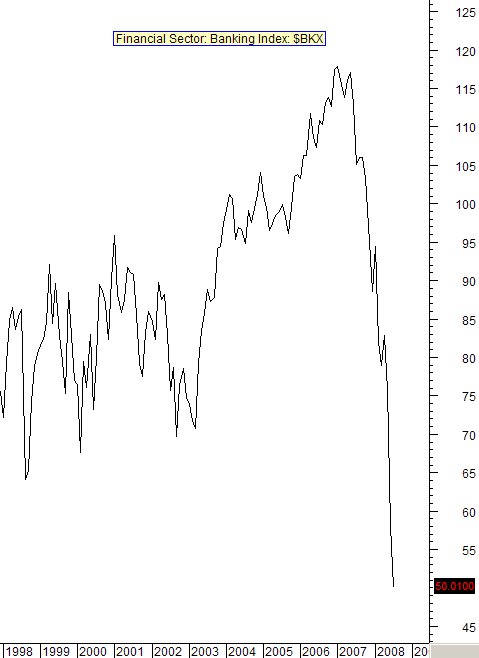 The next two charts show what has happened to Fannie Mae and Freddie Mac. Together, they hold over 50% of all the mortgages in the United States.
Freddie and Fannie have been the under pinning structure of our mortgage industry. Both of these stocks and institutions have crashed to levels not seen in 18 years. The gravity of the situation is very serious and a challenge that Bernanke and Paulson either don't understand, or don't know how to solve.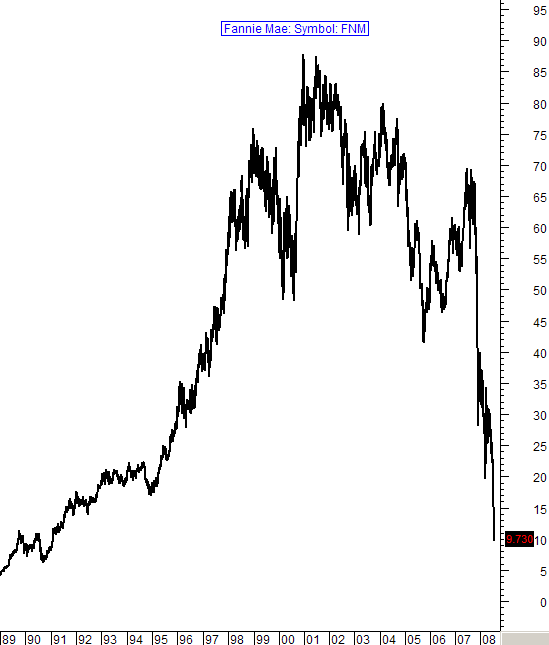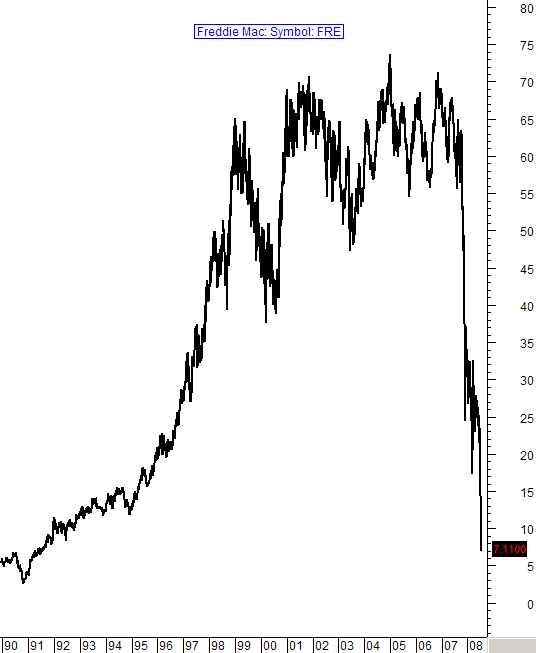 It used to be said that, "As the automotive industry goes, so goes the country". That was said in the days when we were still a manufacturing country. Then in recent years, Greenspan consistently stated that we were shifting from a manufacturing economy to a service economy. In other words, we were shifting all our manufacturing jobs overseas.
General Motors is still an important facet of our economy, only their stock has crashed as well, and GM is now in some very serious trouble. As of yesterday, its stock was lowest value it has seen in decades.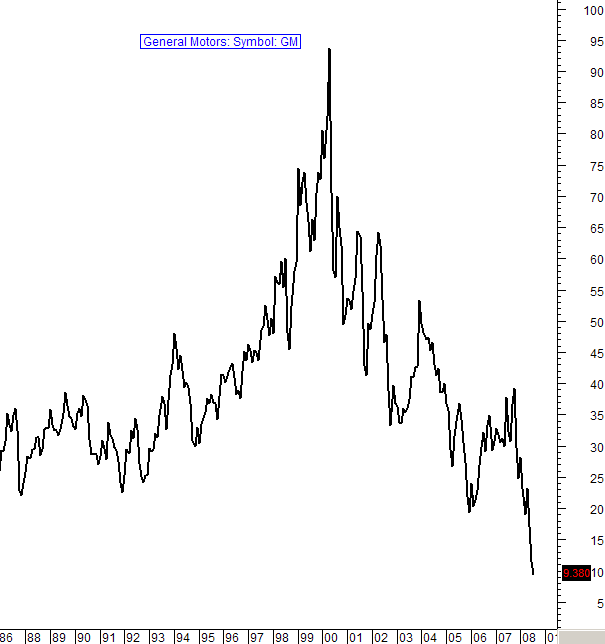 This one is not a surprise ... everyone knows what has happened to the home building industry.
Still, not many are cognizant of the fact that Hovnanian has dropped from $70+/share to $4.95 as of yesterday.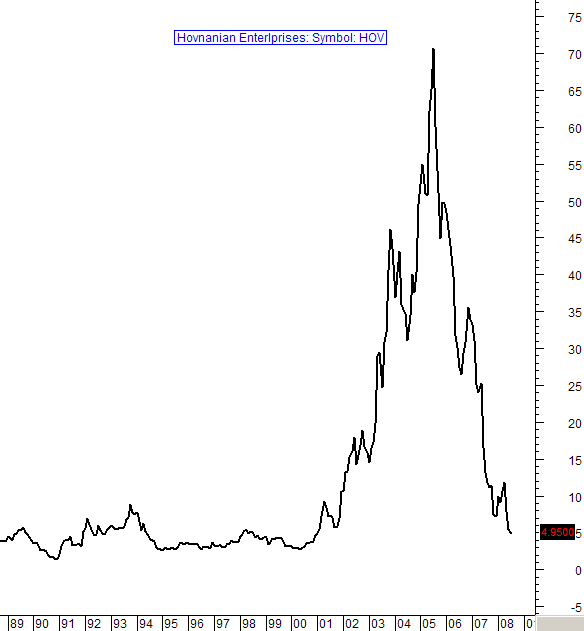 And our last chart is on China's Shanghai Composite Index. Everyone seems to have the idea that China is booming and that everything is rosy.
Once again, China's stock market has not been a picnic. Their stock market is no different looking than our internet bubble that crashed. This chart shows its amazing spike up from 2006 to 2007.
The beginning of 2008 exhibited a downside failure on the Shanghai with a drop that is now reminiscent of our internet bubble and housing industry fall. See the next paragraph for today's message ...
Why am I posting all these gloom and doom charts?
The answer is because I am getting many emails from Free Members who are consistently looking for a great buy at a perceived bottom ... every time some stock or index goes lower. Everyone seems to have thrown away the old piece of paper that said, "Don't try to catch a falling knife".
When I started StockTiming.com, preservation of capital was one of the key mission statements for subscribers. Like many others, I am one of the Baby Boomers just over 60 years old. (Okay ... 61 to be exact!) For Baby Boomers, preservation of capital is very critical because we have fewer working years ahead of us compared to the younger generations. It means that aggressive behavior like trying to catch a falling knife has no place in one's investment strategy.
If you ever ran a race when you were younger, you huffed and puffed for some time afterwards trying to catch your breath ... before you could resume walking or running again. The stock market is not much different ... only that "huffing and puffing" is what is called consolidation or "base building" after a large drop. Please ... give up the concept that "bargain stocks" are a good buy when their movements have been nothing but unabated down trends. When they reverse their trends to the upside, there will be plenty of time to shop around.
By Marty Chenard
http://www.stocktiming.com/
Please Note: We do not issue Buy or Sell timing recommendations on these Free daily update pages . I hope you understand, that in fairness, our Buy/Sell recommendations and advanced market Models are only available to our paid subscribers on a password required basis. Membership information
Marty Chenard is the Author and Teacher of two Seminar Courses on "Advanced Technical Analysis Investing", Mr. Chenard has been investing for over 30 years. In 2001 when the NASDAQ dropped 24.5%, his personal investment performance for the year was a gain of 57.428%. He is an Advanced Stock Market Technical Analyst that has developed his own proprietary analytical tools. As a result, he was out of the market two weeks before the 1987 Crash in the most recent Bear Market he faxed his Members in March 2000 telling them all to SELL. He is an advanced technical analyst and not an investment advisor, nor a securities broker.
© 2005-2019 http://www.MarketOracle.co.uk - The Market Oracle is a FREE Daily Financial Markets Analysis & Forecasting online publication.

Only logged in users are allowed to post comments.
Register/ Log in