Euro Desperation will achieve Self Destruction - MAP Wave Analysis
Currencies
/
Euro
May 05, 2016 - 04:29 PM GMT


In between migrating sites I have lost some pages and they largely appear to be from currencies!!!

The Euro was what started me off with the development on my analysis and fortunately that was not lost and can be found here from 2012 , as that was what I used initially to explain my methods.
So starting with the big picture as context is everything and if you understand where you have come from unless you change your ways you can tell where you are going to! Todays problems are the result of yesterdays thinking and with much of the travelling I do I certainly do not like the changes going on and it appears we are going to loose all our freedoms gained following the lessons learned after WW1 and WW2. It appears our social memory is just not present beyond three generations, and this we can see in business as well, where typically and statistically very few last beyond 3 generations. The innovation - wave 1, wave 2 is consolidation until breakout with success to generate wealth with the hand over to second generation in wave 3 which peaks as arrogance sets in and spending becomes opulent resulting in wave 4 where family feuds occur in hand over to generation 3, who largely are left to sort out the mess in wave 5 where the reputation mostly together with the business dissolves into thin air. The war years are 3 generations ago, desperation drove inspiration - wave 1, consolidation with hand over to generation 2 the 70's followed by wave 3, the financial collapse of 2007-9, and now the last of generation 2 holding onto what they can which will result in a big mess that will be handed over to generation 3, and the cycles will repeat until we learn to live with them! We do have a choice as we never know the larger fractal we are on - we simply do not have enough data... and the best I have is for the British pound.
The Euro hit its top in 2008 as money fled the US crisis brewed up largely by Goldman Sachs and US banking buddies who together with the ratings agencies and total corrupt US political system brought the global economy into shock, and once it was discovered the Europeans were the stupid money that got left holding the hot pie the collapse of the Euro commenced!

There are 3 upsloping golden lines - the top broke support in 2000 and the second held. In 2014 prices dropped straight through which typically on a 3rd attempt will result in a retest and this will fail. We can see we have tested the second line in 2000 and again early 2015 followed by a third late 2015, so this is not a good sign..... once the first line is retested. Europe has until 2023 to reform or the fall through the golden line which ever comes first. Brussels is NOT making the required structural changes to rebuild for long term continued growth this will fail, and as they have chosen to do what those in power typically do - become totalitarian dictatorships where our human rights are removed as are our assets in the name of our safety and Marxist state is god bullshit - those in power are turning to force and this will only increase as they get more desperate. The people currently are still too comfortable to challenge the establishment but we can see growing discontentment being meet with further reduction in our rights - in many places you now are not allowed to protest and can get thrown into jail - aka Spain.... amongst others.

We will drop through the second line and find support on the third and can stretch this decision out until 2029. This period is when things are going to get more extreme - both in protests and the force used by those in power to retain their status quo.... and the politicians are only the paid puppets of the real money. The current sharing of information is going to back fire as do the best government plans.... why? because ot will show faces behind entities. and we will not be privy to the information of who is behind the real money as the Panama papers recently highlighted those are above the law. I think it was chairman Mao who said there is only one problem with Marxism - some people are more equal than others! This whole sharing of information has nothing to do with terrorism, and Obama had publicly stated that if the government does not have access to our information we could all be walking around with Swiss bank accounts in our phones during the recent battle against Apple to de-encrypt mobiles. More and more are beginning to realise that this has nothing to do with terrorism but finding out who has what where so the rich do not have to fulfill their pension promises to their paid politician puppets who must go steal it from the less deserving wealth generating voting sheep!

So again at the third line we have a choice - do we drop down to the three black lines down the bottom or do we cause a wave extension to the existing top and double up over the next decades!

On the yearly interval we can see structural reform will not be carried out and we will drop to the third line unless major reform and confidence can be rebuilt this year and that will be reflected if the Euro can reach 1.18052. Next year it must reach 1.19773. Failing that the Euro will hit dollar parity before the end of 2017 and may even drop down to 0.912, the third golden line.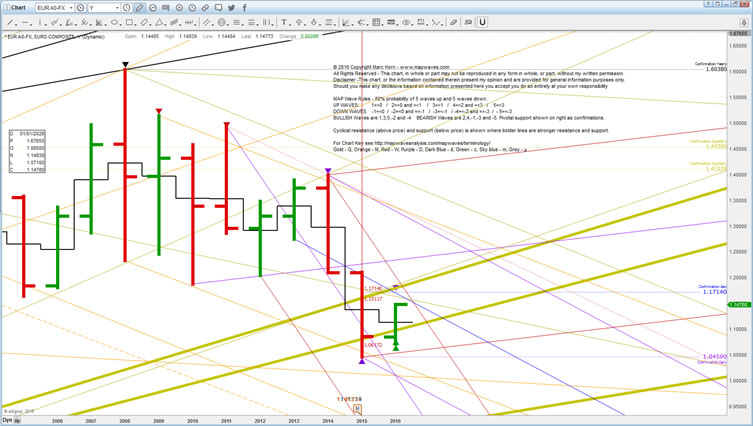 We have a choice to make the third golden line the MLL and the high of 2008 the ML. History does not need to repeat itself. We choose it to do so. Become involved and accept you have a responsibility to maintain the checks and balances against those in power. They only follow human nature of doing as little as possible for as much as possible as we all do. Like a child who needs to learn boundaries, this is applicable to our politicians - we need to tell them what the boundaries are and we must enforce them.

For shorter term analysis see my blog.
By using
MAP Wave Analysis (MWA)
you confirm that you are personally responsible for any and every decision you make based on any content found on this site.
You confirm that you have read and agree to abide by the Copyright and Intellectual Property Rights as stated .
You confirm that you have read and agree to follow Your Duty of Care as stated
You confirm that you have read and agree to and take full personal responsibility for your decisions as stated in the Disclaimer.
You confirm that you have read and agree to and will abide by principles of my Terms of Service as stated.
For other articles published click here
© 2016 Copyright Marc Horn- All Rights Reserved Disclaimer: The above is a matter of opinion provided for general information purposes only and is not intended as investment advice. Information and analysis above are derived from sources and utilising methods believed to be reliable, but we cannot accept responsibility for any losses you may incur as a result of this analysis. Individuals should consult with their personal financial advisors.
© 2005-2019 http://www.MarketOracle.co.uk - The Market Oracle is a FREE Daily Financial Markets Analysis & Forecasting online publication.

Only logged in users are allowed to post comments.
Register/ Log in