The State Of The Economy
Economics
/
US Housing
Jul 28, 2016 - 01:50 PM GMT


If the economy was a game of bingo, we'd all be waiting for the 75 ball to get pulled. Things are going well - in some areas, at least - and it looks like things will continue to improve. Unfortunately, it also seems like we can't quite get back to that pre-2008 level of prosperity that we left so long ago. Something seems to be missing, and there are disagreements on what that might be. Waiting for that proverbial ball to get pulled is difficult, but it helps to know what to be on the lookout for. As always, though, there are multiple possibilities.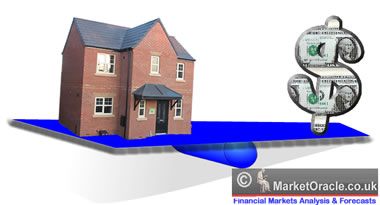 One reason the economy is waiting for the ball to be pulled is because of difficulties with lending. The housing market's crash was precipitated by bad lending practices, but the remedies have still caused issues. It's difficult to get a home loan these days if you have poor credit, and the market crash left quite a few people with horrifying credit. Since they can't borrow, these people can't buy homes - and thus home sales are still slower than they should be in some areas, and these effects are still trickling down through local economies.
Debt issues in general might be one of the biggest culprits for why things aren't lining up as well as they should. Medical debt and student loan debt are an unnecessary drag on the economy, and they're targeting the young. While you're not necessarily looking towards the young to be the motivators of the economy in all situations, what you're seeing is a lack of wealth building among those in their 20s. When young people are in deep debt, they're less likely to be buy homes, less likely to borrow money wisely, and less likely to make the major purchases that drive the economy forward.
Finally, that elusive 75 ball might have a great deal to do with the lack of recovery among small businesses in the United States. Yes, things are much better than they were a few years ago - but small businesses are still struggling, and these important economic machines can't improve the economy when they're not making money. The shuttering of many businesses that kept small communities afloat still reverberates today, and the opening of replacement businesses might be the panacea needed to cure the ills of many small towns. Waiting on a return to prosperity is difficult, and in some areas the damage may already be done.
The economy is more like bingo than some might like. We're still waiting on that one last ball to be pulled, and we don't know when it's coming. When everything lines up, we can expect a return to peace and prosperity. If it doesn't come soon enough, though, the game may well be over. Fortunately, we're not just relying on luck - pushing forward the important aspects of the economy will force that metaphorical ball to be pulled and allow the cries of "Bingo!" to echo throughout the nation's economy.
© 2005-2019 http://www.MarketOracle.co.uk - The Market Oracle is a FREE Daily Financial Markets Analysis & Forecasting online publication.

Only logged in users are allowed to post comments.
Register/ Log in