Could a S&P500 Stock Market Flash Crash be Round the Corner?
Stock-Markets
/
Stock Market Crash
Oct 04, 2016 - 02:29 PM GMT


There has been general speculation among the trading community recently about the possibiity of a flash crash of the types in 1988. In our morning meeting, we looked at some triggers which can potentially cause a major correction. We will look at if there is any real posibility. As many of you know, we do not like to just talk some nonsense about gold and Silver being precious metals and S&P500 as worthless papers and hence S&P 500 should be trading at under 10 and gold to be at 10,000. That kind of talk we leave to the uninformed punters of the kind we find at various bearish sites. MESH framework is a statistical tool which analyses various trading instruments for trading opportunities. Here we will look at the posibility of a major risk aversion this month.
There are certain times when we would like to alert our clients about odd things in the markets. This is one such moment where we believe we should alert client on some oddities and potential minefields out there. Our aim is to keep you on your toes.
First up we look at VIX.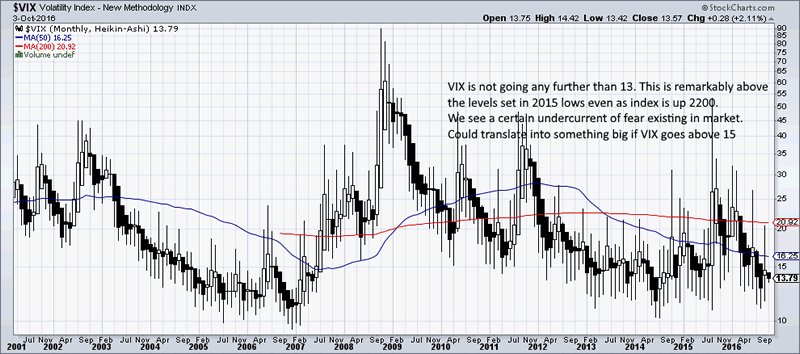 VIX is showing under current of fear even as it is at 13. This is much higher than the lows in 2014 and 2015.
Real Estate is softening
FT reports that
Global property investment volumes have fallen for the first time in seven years as investors retreated from mounting international risks. Roughly $919.7bn was committed to property globally in the year to the end of June, excluding development land — 5.7 per cent below the total a year earlier, according to Cushman & Wakefield, the property adviser. The reversal after years of rising investment levels marks a late stage of the property cycle and indicates investors' worries over factors such as Chinese market instability and the UK's exit from the EU, said David Hutchings, head of European investment strategy at Cushman.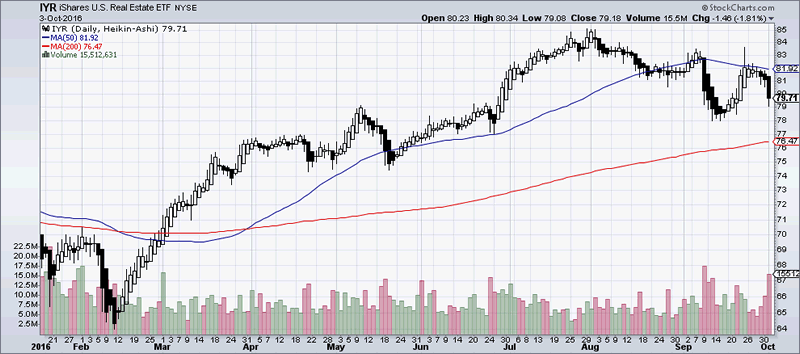 The ETF tracking real estate sector had a big down day yesterday. This is up on big volumes and much above the 50 DMA of volumes. Real Estate has been the backbone of the equity markets since times past. Gloval curbs on money laundering and rate rises by FED will put pressure on the sector.
Wikileaks Emails Clinton exposure could be the real thing
While this may not be much of a issue, but keep a tab on Julian Assange who has threatened to release damaging emails of Clinton. He has said that this will be enough to end Clinton bid for presidency and also may land her in jail. Currently markets are do not give Trump much of a chance but if those released documents are going to be damaging enough, we could see panic set in. The move from 1800 to 2200 is devoid of much support on the S&P500 as shown below.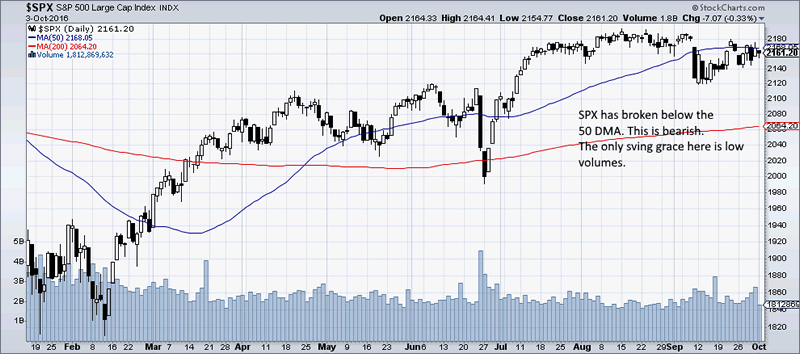 SPX has broken below the 50 DMA. It has then struggled to close above it. This is bearish. But the saving grace here may be that volumes have been on the lower side.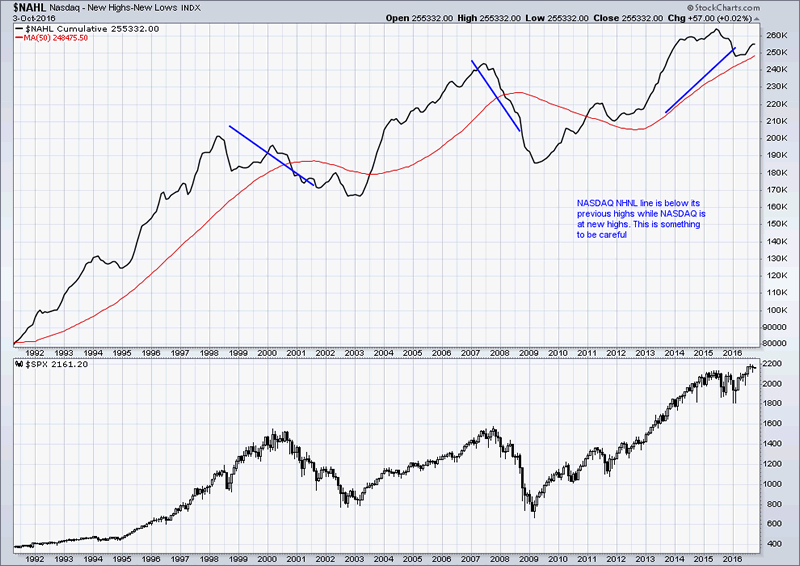 The NASDAQ New High - New Low line is below the previous highs. This is something to be careful about. Less stocks are pushing in to new highs.
SPX : USDJPY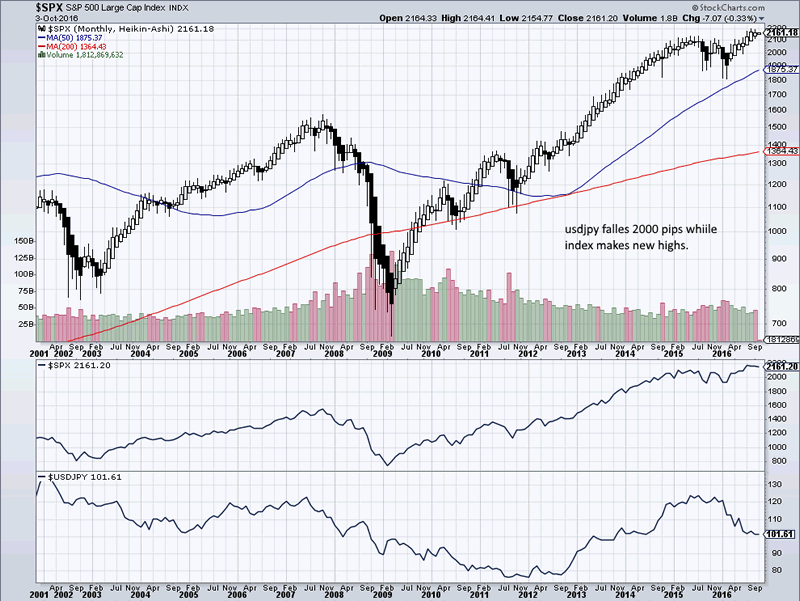 usdjpy has been a barometer of risk appetite up until Feb 2016. However the relationship has since then broken down. USDJPY has fallen to 101 while SPX has continue to rise to new all time highs. yen is a carry currency. Markets borrow the yen and hence sell the yen and then invest into high yield currencies like USD. When market is comfortable, USDJPY rises along with general risk appetite. When it is not comfortable, USDJPY falls. We need to be careful. Ultimately USDJPY could just come back up to 110 if none of the risks materialise.
Final Thoughts
There are some triggers for a extended correction in equity markets. We draw our analysis from news reports, fear index, bond markets, forex markets and real estate. All of them are showing one or other trigger points for correction. We need to be very careful at least till the SPX moves well above 2200.
JM is the partner at FXMesh. Over 15 years of trading, hedge fund and research experince background, he now provides investment advice and economic reasearch to clients around the world from his site http://fxmesh.com
He has worked at some of the most marquee names in trading and hedge fund industry. He invented the MESH Framework of trading. He will also like publish regular free articles at marketoracle for benefit of the readers.
Copyright 2016 John Mesh. All rights reserved.

Disclaimer: The above information is not intended as investment advice. Market timers can and do make mistakes. The above analysis is believed to be reliable, but we cannot be responsible for losses should they occur as a result of using this information. This article is intended for educational purposes only. Past performance is never a guarantee of future performance.
© 2005-2019 http://www.MarketOracle.co.uk - The Market Oracle is a FREE Daily Financial Markets Analysis & Forecasting online publication.

Only logged in users are allowed to post comments.
Register/ Log in